Every musician has a story, and part of that story is finding the right instrument that resonates with their soul. If you're an intermediate concertina player, your journey to mastery might be filled with uncertainty, especially when graduating from a beginner's instrument. Fear not, for we've put together a list of the top five concertinas under $2,500, which can serve as your reliable companion on this exciting journey.
At this stage of their playing, a concertina player is only as good as their instrument. That's why it's important to choose the right one.
There's no shortage of beautiful instruments available, handcrafted by talented makers. Many of these concertinas can be expensive though. It's tough to know whether a cheaper instrument will be reliable enough to take you to the next level of playing.
That's why I've put together this handy list featuring my recommendations of the best intermediate concertinas currently available on the market. These are mid-range anglo concertinas in the key of C/G. These gems blend affordability, reliability, and sound quality – all the things you need to progress in your musical journey.
Every concertina on this list costs under $2,500.
Yes, it's possible to have a high-quality, responsive instrument that creates a beautiful tone, at an affordable price! 
Are you ready to delve deeper into the wonderful world of concertinas? Keep reading to discover the 'Top Five Concertinas under $2,500'.
Unveiling the Best-Kept Secrets in the Concertina World: Top 5 Intermediate Concertinas Under $2,500
1. The Phoenix
For playability, sweetness of sound and affordability of price you won't find better than the McNeela Phoenix Concertina. Especially not on the current concertina market for under $2500.
The Phoenix is a remarkable all-rounder. Why not have a listen for yourself?
At McNeela Music we're dedicated to bringing the highest quality instruments to our customers at the most affordable prices. The Phoenix concertina continues this trend. 
A superb fit for intermediate players, its superior features will ensure that anyone graduating from a beginner will make better quality music instantly.
The Phoenix Concertina is a fast, highly responsive 30 button concertina in C/G tuning. The durable domed buttons are made of black Delrin which is an incredibly robust polymer. This gives them great longevity, as they'll survive daily wear and tear.  
The Phoenix has been crafted using premium quality materials, including premium Czech reeds. These hand-finished reeds, made from high quality Swedish sound steel, produce a bright, sweet, melodious tone. Like all good reeds, they open out and improve with more playing. 
Its strength of volume and brightness of tone makes the Phoenix the perfect concertina for when you need to be heard but not to dominate.
This concertina easily tops the list because of its quality to price ratio. It's available in our online store for just €1,539, £1,366 or $1,674. 
2. The Céilí
The iconic Céilí Anglo Concertina by Morse & Co is a 30-key anglo concertina, available with either a Jeffries or Wheatstone/Lachenal fingering layout. Like all Morse concertinas, The Céilí Anglo is handcrafted to offer the best features of high-end vintage concertinas. These concertinas are made to order and have several customisation options in addition to fingerboard layout. 
R Morse, has been meticulously designing and building high quality, reliable concertinas in western Massachusetts since 1999. His concertinas are nimble with a full, bright tone and incredibly satisfying to play. 
They're also easy on the eye.  Finish choices for the Céilí include cherry laminate with a rosewood stain or a satin black finish
Like the Phoenix, this concertina features sturdy Delrin buttons which offer smooth and quiet action. It's a highly responsive instrument featuring traditional riveted action paired with stainless steel springs.
A notable feature of the Morse Céilí is how light it is. This is a result of the reedpan and action board being integrated. The reeds are high quality Italian made accordion reeds which provide a great dynamic range and a full and bright sound. Hand-finished (tipo a mano) reeds are also available for an additional charge. 
The Céilí makes a sound that would rival most vintage concertinas. An amazing feat for a newly built modern concertina. So why isn't it top of the list? 
At $2,675 this beautiful concertina comes in $175 over budget. I couldn't resist including it however. For this slight price difference, you could own a real gem of a concertina.
3. The Clover
Third on my list is the beautiful Clover Anglo Concertina from Concertina Connection. This 30 button hybrid anglo concertina with C/G tuning is one of the best midrange concertinas on the market.
The Italian made accordion reeds provide a strong, bright sound, while the traditional riveted brass action allows for a fast response from the concertina. Riveted levers allow for much better action on an instrument and are highly recommended for the playing of Irish Music.
The Clover is fashioned with traditional domed metal capped buttons and fitted in either Wheatstone or Jeffries layout.  It's also available with either ebonized (black) or natural finished ends.
Coming in just slightly over budget at $2,525 (approx. €2135), this is still a beautiful instrument that would serve any player well. 
4. The AP James
At number four, this anglo concertina has the features of an advanced beginner's concertina. It prides itself with its clear bright sound and quick response.
This 30 button concertina is handmade in England by the brilliant concertina maker Anthony James. It features Tipo A Mano Italian steel reeds and riveted action. The 6 fold leather bellows on this instrument are quite flexible, thanks to the individual cards that Anthony has used.
The AP James concertina comes with the option of steel ends or solid Sapele ends. Both versions feature beautiful solid Sapele hand bars with adjustable straps. APJ Music sells their anglo concertina for £1200 GBP (approx $1600).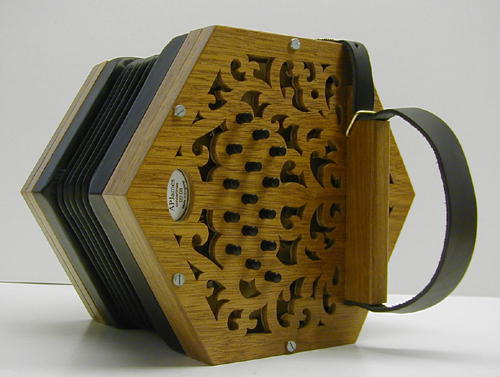 5. The Standard Tedrow
In at number five is a beautiful little concertina that can be tough to get your hands on, but is still a worthy investment if you can find one.
Sadly for us, but happily for him, its talented maker Bob Tedrow has developed a fondness for fly fishing that now occupies his time.
Don't despair! Second hand models do occasionally make their way back to him and can be found through the music shop Homewood Music:
Like the Clover, this handmade 30 button C/G anglo concertina uses Italian accordion reeds and is handcrafted using traditional methods.
The ends are solid mahogany with hand cut fretwork and the springs and rivets are stainless steel. The action on this concertina is quite responsive. It features a seven rather than a six fold black leather bellows.
When in stock, Homewood Music sells this instrument for around $2250 (approx. €1902).
Ultimate Guide to Intermediate Concertinas
______________________________________________
Do you still need our help to buy a concertina? If you're finding it difficult to choose a concertina, why not sign up to receive our Exclusive Buyers Guide to Choosing an Intermediate Concertina. 
We'll talk you through the essential features to look for when choosing an intermediate Anglo Concertina. We'll also highlight those features most needed for the Irish concertina playing style.
Sign up below to receive this must-read guide to buying an intermediate concertina
You should also take a look at our range of concertinas for sale. We stock the best beginner concertinas online. We also offer Lachenal concertinas and Jeffries concertinas for sale along with modern makes such as Marcus Concertinas.
We are lucky to receive the occasional Suttner concertina too. Of course we are best known for our all star intermediate anglo concertina, The Phoenix Concertina. 
Get in touch directly with us if you need further advice or assistance buying a concertina. 
Frequently Asked Questions
Is the concertina easy to play?
Yes, the concertina is a very easy instrument to play. Its compact size and fixed tuning mean that any age can pick it up. You'll find it quite simple to get a sound from it immediately.
What key is a concertina in?
Concertinas come in different keys but the most common key, especially for traditional Irish music, is the key of C/G.
Who invented the concertina?
The first concertina was invented by English scientist and inventor, Charles Wheatstone in 1829.
How does a concertina work?
A concertina is a bellows-driven, free-reed instrument, like the piano accordion and the button accordion. It features expanding and contracting bellows, a reed pan, an action pan, and buttons on each end. Pushing a button while pushing/pulling the bellows will raise a lever on the action pan, uncovering the corresponding valve. This allows air generated by the bellows to travel through the valve to the corresponding reed on the reed pan. This vibration causes the reed to sound. It's a bit like blowing air through a blade of grass in your cupped hands.