Are you looking for some Christmas gift ideas for the musician in your life? I'm firmly of the opinion that there's no better way to put a smile on someone's face than to give them the gift of music. So, in order to help you find the perfect gift for that special someone – be they a total beginner or a master of their craft – I've put together this list of my favourite Irish music gifts for Christmas 2022.
I've included options for all ages, abilities and budgets. So if someone in your life lives and breathes music or you want them to, why not surprise them with one of my suggestions below?
STOCKING FILLERS: Under €50/$50
During the holiday season we can often feel the pressure to spend big but you don't need to break the bank on an expensive Christmas present to show someone you care. These stocking filler gift ideas are perfect for the Irish music enthusiast in your life. 
Check out this great selection of books, CDS, musical accessories and more, for under €50/$50. Personally I would be thrilled to receive any of these wonderful offerings…
1. MCNEELA MERCH
To celebrate my 40th anniversary back in 2019 I had a custom McNeela T-Shirt designed and printed. It flew off the shelves in record time, and I've had so many inquiries since from interested customers that I decided to have a new shirt made.
The new McNeela '79 T-Shirt is a soft organic cotton that's sustainably produced from eco-friendly materials and is screen printed right here in Dublin. With chain stitch detailing on the shoulders and nape of the neck, and twin-needle stitching to the hem and cuffs, this is a quality garment that's ethically made (we don't support sweatshops) and will serve you well wherever you choose to wear it. 
It's the perfect stocking filler to share with my McNeela Music family around the world: McNeela '79 T-Shirt 
---
2. IRISH MUSIC CDS
We offer some of the finest recordings of Traditional Irish Music from Ireland's leading musicians. I've listed some of my personal favourites below, but you can browse our full range here: McNeela Irish Music CDs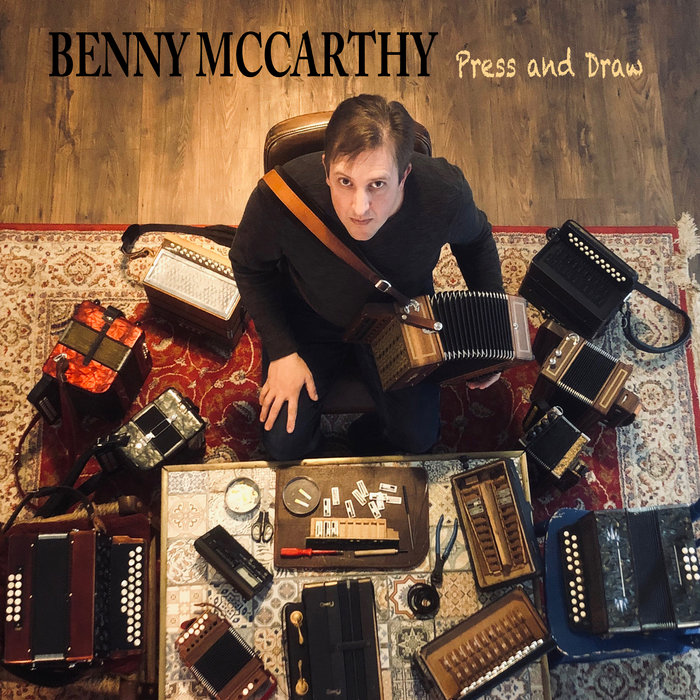 Press And Draw
Press and Draw by Irish button accordion player extraordinaire Benny McCarthy is a must listen for all accordion enthusiasts. Featuring 15 tracks recorded on 15 different accordions, it's an exciting exploration of all the Irish button accordion has to offer.
This innovative album is unaccompanied throughout, allowing the accordion – or accordions in this case – to fully shine from start to finish. Benny is a master of the button accordion whose versatility and skills are evident on each track. You couldn't ask for a better advocate to shine a spotlight on the rich tradition of Irish accordion playing. 
From hop jigs to flings and traditional set dances, Benny offers an exciting and varied selection of tunes, far more than just your standard jigs and reels. Best of all, for fellow accordion lovers, this masterful album is accompanied by detailed sleeve notes that tell us which accordion was played for which tune.
Nasc
'Vitality and verve fuel the fire of this album… cut-glass performances and imaginative tune pairings are a joy throughout… Nasc holds a raft of sparkling new tunes and judiciously chosen borrowings. Generous of spirit and wide open of arms, this is an album to savour, often and long.'
– The Irish Times
NASC sees award-winning Clare musicians Tara Breen & Paraic Rynne join forces – on fiddle and concertina respectively – to offer a superb selection of traditional Irish tunes, alongside newly composed tunes and folk music from other Celtic regions including Brittany and Asturias.
The pair are joined by legendary Irish musicians Dónal Lunny on bouzouki and Jim Murray on guitar with Elaine Hogan on harp. 
---
3. IRISH MUSIC BOOKS

Irish music tutorials, tune collections, biographies, stunning coffee table books and more. You can brows our full collection of Irish Music Books here: McNeela Irish Music Books
We've been busy this year expanding our collection of Irish Music Books and my goodness do we have some wonderful choices for you. I myself would be delighted to receive any of these beautiful books on Christmas morning. What better way to spend the holidays than curled up beside the fire, book in hand?
The Jackie Daly Collection
Jackie Daly is a renowned Irish button accordion and melodeon player and one of the greatest exponents of the iconic Sliabh Luachra style of the southwest of Ireland. He was the first accordion player with supergroup De Dannan, and he has played and recorded with some of the greatest musicians in traditional Irish music including legendary fiddle player Kevin Burke. Jackie Daly is responsible for changing the perception of the accordion in Irish music, and garnering it a reputation as a concert instrument.
With this collection of his original compositions, Jackie reveals another dimension to his creative achievements. This wonderful book includes 226 new tunes, ranging across the many different tune types within traditional Irish music, including jigs, reels, polkas, slides, hornpipes, waltzes, planxties and more. All tunes are written in a traditional style and are suitable for playing on various different melody instruments.
A treasure trove of tunes, this wonderful collection is a must have for all musicians: The Jackie Daly Collection – Original Irish Tunes
O Neill's Music of Ireland
Known as The Bible of Traditional Irish Music, O'Neill's Music of Ireland is one of the most comprehensive collections of traditional Irish folk music ever made. Chief Francis O'Neill (of the Chicago Police Department) emigrated to the US from Bantry, Co. Cork where he collected tunes from the thriving Irish community in Chicago. He is credited with saving approximately 3,500 melodies.
Mel Bay's facsimile edition of this iconic publication contains the original 1903 collection of a whopping 1,850 melodies consisting of airs, jigs, reels, hornpipes, songs, and marches. Suitable for all melody instruments, this iconic collection presents tunes in standard notation, with stylistically appropriate ornamentation. Tune titles are given in both Irish and English.
The book also features a section devoted to the music of Irish harper Turlough O'Carolan which includes many of Carolan's most famous planxties: O'Neill's Music of Ireland – Eighteen Hundred and Fifty Melodies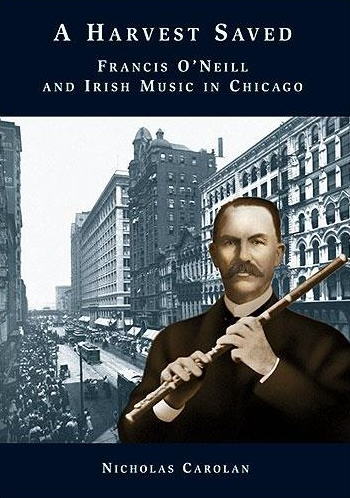 A Harvest Saved: Francis O'Neill & Irish Music in Chicago
If you'd like to learn more about the man behind one of the most significant collections of Traditional Irish music ever made, then A Harvest Saved: Francis O'Neill and Irish Music in Chicago is the book for you.
This is a wonderfully illustrated study of Francis O'Neill and his life and work as both a musician and policeman in Chicago at the beginning of the 20th century. Containing hundreds of rare photos, this in-depth study of his extraordinary career and his crucial role in the preservation and dissemination of Irish music is a must-have item for any Irish music lover: A Harvest Saved – Francis O'Neill & Irish Music in Chicago
The Tailor's Twist
This stunning publication is the perfect coffee table book for any music lover. The Tailor's Twist is many things – a documentary, a biography and ethnography, a tune collection and a superb photographic archive. The legendary Irish fiddle player Ben Lennon's life has been superbly documented here by renowned musicologist and Irish music historian Fintan Vallely. This book is sure to delight anyone with an interest in Irish music or history.
Traditional Slow Airs of Ireland
A wonderful exploration of Ireland's rich musical heritage, Traditional Slow Airs of Ireland is a collection of some of Ireland's most famous slow airs, curated by celebrated Irish uilleann piper Tomás Ó Canainn.
With 118 tunes in total, this book is full to the brim with sweet, haunting melodies that offer the perfect opportunity to expand your repertoire and knowledge of traditional Irish music. In addition to these beautiful airs, Ó Canainn has included some of the best-loved compositions by Irish harper Turlough O'Carolan, as well as other iconic folks tunes including Tabhair Dom Do Lámh by Seán Ó Riada.
This would make a wonderful gift for any musician and is suitable for all melody instruments: Traditional Slow Airs of Ireland
---
4. IRISH TIN WHISTLES
You can never own too many whistles – the curse (or blessing) of the tin whistle player is that we are always seeking to expand our collections. These affordable tin whistles are the perfect stocking fillers for beginner or experienced whistle players. You can browse our full range of Irish Whistles here: McNeela Irish Whistles
Dixon Trad Cupro Tin Whistle
You really can't go wrong with a Tony Dixon whistle and the Trad Cupro Whistle is one of Tony's best tin whistles. This lightweight, affordable whistle features a clean, bright, sweet tone and offers great playability. It's ideal for tin whistle players of all ages and abilities and will see you well beyond the beginner stage. Dixon whistles have served me well over the years and I highly recommend them to any player starting out, or looking to upgrade from their starter instrument.
Oak C Whistle
I've played many C whistles in my time and keep coming back to this good old reliable. If you're looking for a whistle with a more rich tone than your standard D tuning, then this Oak C Whistle is for you. It's perfect for breathing a new lease of life into tunes.
Generation Bb Whistle
These iconic tin whistles make great stocking fillers. Costing less than €10 each, they're perfect for branching out and trying new keys without having to break the bank on a new whistle. Of course the old reliable Generation D Whistle will serve you well too , but why not encourage the whistle player in your life to do a little musical exploration and try something new? This Bb Generation Whistle offers a warm mellow tone and is perfect for grooving along to some modern whistle tunes.
---
5. MUSIC LESSONS
The perfect gift to accompany a brand new instrument on Christmas morning. Our exciting series of online lessons offer expert tuition in a number of instruments. You can browse our full range here: McNeela Irish Music Lessons
Irish Concertina Lessons with Jack Talty
The concertina is a complex instrument with plenty of moving parts – like most musical instruments it can be a little daunting to navigate when you're first starting out. That's where the Ultimate Concertina Masterclass comes in. Under the expert guidance of leading Irish concertina player Jack Talty, you'll learn to navigate the concertina with confidence and master the basics of traditional Irish concertina playing in record time. It's the perfect gift for any beginner concertina player:
Sign Up Here: The Ultimate Concertina Masterclass
Irish Tin Whistle Lessons with John O'Brien
These Irish Tin Whistle Lessons will take you from beginner to pro, under the watchful eye of legendary Irish whistle player John O'Brien. What better to accompany your brand new tin whistle than expert tuition from one of Ireland's top whistle players? You could master your first tune before Christmas dinner is even on the table:
Sign Up Here: Irish Tin Whistle Lessons
---
6. IRISH PERCUSSION INSTRUMENTS
Spoons, bones or a selection of bodhrán beaters make the perfect stocking fillers for the percussionist in your life. We offer an assortment of traditional Irish percussion instruments and accessories that are guaranteed to liven up your Christmas! You can browse our full range of percussion instruments here: McNeela Irish Percussion

Bodhrán Beaters
It's a truth universally acknowledged that you can never own too many bodhrán beaters – there's simply no such thing. So rest assured that a selection of quality beaters or tippers is always an appropriate Christmas gift for a bodhrán player. 
If you're not certain which bodhrán beater is right for you, or you'd like the opportunity to try a wide variety then look no further than my Bodhrán Beater Set. This exclusive set contains seven different beaters – more than enough to get you started on your bodhrán playing journey. Explore an array of tonal possibilities with this varied collection. It's the perfect gift for any bodhrán player! 
If you're looking for something extra special however, then I have just the thing for you: 
The McNeela Deluxe Bodhrán Beater comes in Tigerwood and Ebony offering a sleek, handsome finish. These premium beaters are perfect for low-end playing and produce a strong, clear, resonant tone – ideal for exploring rich bass tones!
Mulberry Cheating Spoons
The spoons have been played as a percussion instrument in traditional Irish music for hundreds of years, if not longer. Unlike simple spoons, cheating spoons are joined at the base and were developed to make spoon playing easier. These Mulberry Cheating Spoons are easy to hold and easy to play, and are suitable for beginner to advanced percussion players alike. This beautifully crafted pair of wooden spoons would make a great addition to any percussion players collection: McNeela Mulberry Cheating Spoons
Tigerwood Bones
The bones, also known as rhythm bones or percussion bones, are a percussive folk instrument used to much the same effect as the spoons. Historically, they consisted of a pair of animal bones but today they are far more frequently made of wood. These Tigerwood Bones are crafted from quality wood with distinctive burnt-orange stripes (hence the name) and polished to give a smooth finish and produce a strong, clear, resonant tone. They also come with an adjustable O ring for ease of playing: McNeela Tigerwood Bones
---
IRISH MUSIC GIFT ACCESSORIES: From €10 to €100/$10 to $100
The perfect accompaniment to the perfect instrument – choose from this varied selection of musical accessories, from cases, stands and maintenance kits, to capos, tuners and amplifiers – perfect for all budgets. To browse our full range of musical accessories click here: McNeela Music Accessories
1. Flute Maintenance Kit
Featuring an oiling rod, a drying rod, grapeseed oil and cork grease, the McNeela Flute Maintenance Kit contains everything you need to keep your Irish wooden flute in prime condition. Regularly oiling your flute can help to improve its longevity, preventing the wood from drying out and reducing the risks of cracks. A well-maintained flute will produce a superior tune. For further advice on caring for your flute, make sure to check out my handy blog: Caring For Your Irish Wooden Flute
2. Tin Whistle Pouch
The McNeela Tin Whistle Pouch can comfortably fit two soprano tin whistles, up to C whistle size. With its tough protective canvas exterior and light padding, it's ideal for keeping your whistles looking and sounding like new: McNeela Tin Whistle Pouch
3. Pub Prop
"Don't drop it, pub prop it!" Perfect for any session-goer, the Pub Prop is a portable instrument holder that screws securely to table surfaces and can be adapted for banjo, fiddle and guitar. Keep your precious instrument safe and make room for other musicians at busy pub sessions with this ingenious invention: Pub Prop Portable Instrument Holder
4. Premium Concertina Hard Case
This Premium Concertina Hard Case is lined with a faux-fur-lined interior so your concertina can be stored snugly when not in use. Measuring 20cm x 20cm x 17cm this sturdy but lightweight, compact case is ideal for securely storing and transporting your instrument. The robust polymer exterior is guaranteed to keep your concertina safe.
This case fits Wheatstone, Lachenal, Jeffries and Crabb concertinas, as well as most Anglo-style concertinas, but please note that it does not fit the McNeela Wren or Rochelle concertinas: Premium Concertina Hard Case
5. Flute & Whistle Combo Hard Case
This combination hard case is perfect for storing your Irish wooden flute alongside three tin whistles up to Bb size. It's foam lined to protect the finish on your flute and whistles and keep them safe from unwanted knocks or bumps. The sturdy exterior makes this a reliable case that's perfect for travel: McNeela Flute & Whistle Combo Hard Case 
6. Adjustable Multi-Instrument Stand
Perfect for guitars, banjos, bouzoukis, mandolins or even bodhráns, this adjustable instrument stand will keep your instrument safe when it's not being played. I've witnessed terrible fates befall far too many unattended instruments that were left on seats or the floor at Irish music sessions, so I always recommend investing in a stand of some sort – for safety sake! This sturdy but compact instrument stand adjusts easily and folds up neatly, perfect for sessions, live gigs or even just displaying your instrument at home: McNeela Adjustable Instrument Stand
7. Quick Draw Capo
A must have for guitar or bouzouki players, this quick draw capo allows for seamless keychanges. With zero friction, it glides effortlessly over frets making it ideal for traditional Irish musicians accompanying fast-paced sets. We have options for guitar, bouzouki, mandolin and even banjo: McNeela Quick Draw Capo
8. Kustom KG1 10 Watt Combo Amp
This compact, lightweight amp may be small but it packs a punch. Perfect as a practice amp or for small, intimate venues the Kustom KG1 is a 10 watt combo amplifier that's suitable for a variety of instruments from guitar to electro-acoustic bouzoukis, mandolins, violins, and more.
This amp offers full-bodied, clean tones with the option to turn up the gain and really rock out. With a standard 1/4″ input and 3.5mm auxilary input (perfect for connecting your phone) and headphone output, this versatile little amp offers a multitude of options making it the perfect gift for the musician in your life. 
---
HANDS ON CHRISTMAS GIFTS
These fun and friendly instrument building kits make perfect Christmas gifts for both serious and inexperienced musicians alike and guarantee hours of entertainment…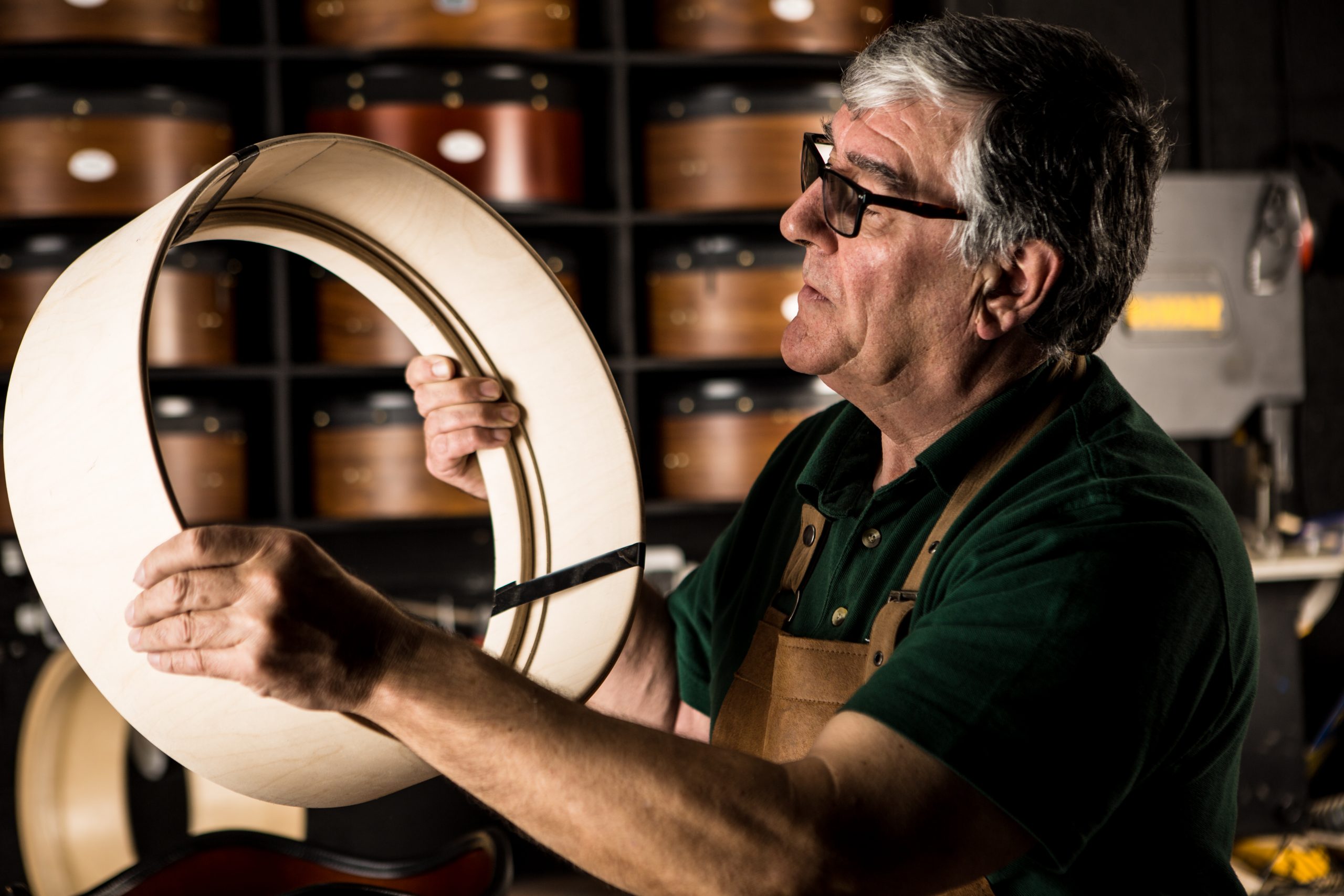 DIY Build Your Own Bodhrán Kit
This is the perfect Christmas gift for the musical DIY enthusiast in your life. For those musicians and non musicians alike that have always wondered about the bodhrán making process, I've put together this very special Build Your Own Bodhrán Kit with everything you need to make your very own bodhrán at home. Each DIY Kit is complete with everything you need to make a quality, fully playable drum, including detailed step by step instructions to take you through the process. 
DIY Build Your Own Ukulele Kit
If you're intrigued by the idea of building your own bodhrán, why stop there? Become a master craftsperson and build your very own ukulele with my Build Your Own Ukulele Kit. Each DIY Kit includes everything you need to make your very own soprano ukulele. Don't worry though, I've taken the liberty of completing some of the more difficult steps on your behalf, to make the process a little easier.
---
BEGINNER-FRIENDLY MUSICAL INSTRUMENTS: From €50 to €150/$50 to $150
These budget-friendly instruments are perfect started instrument for the beginner musician in your life, though many can carry you through several stages of your musical journey with ease. 
Carbon Fibre Ukulele
A Ukulele is the perfect gift for musicians of any age or ability and the McNeela Carbon Fibre Ukulele makes a great introductory instrument for younger musicians. This beginner-friendly starter instrument is built from carbon fibre making it incredibly sturdy and robust and particularly user-friendly for young children – you won't need to worry about any unexpected damage before Christmas Day is over: McNeela Carbon Fibre Ukulele
The McNeela Melodica
Melodicas make great musical toys for young musicians. They can also be played by great musicians to produce quality musical performances, making it the perfect instrument for all ages and abilities! The McNeela Melodica is an accessible instrument that will guarantee hours of fun on Christmas morning. It's lightweight and compact, and ideal for musicians on the go. It's also easily transported for those seasonal visits to friends and family: McNeela Melodica
Brunswick BT200 Acoustic Travel Guitar (3/4 Size)
Built with a shorter scale length than a regular acoustic, the Brunswick BT200 is a compact, lightweight, 3/4 size travel guitar that's perfect for young musicians and traveling musicians alike. Whether you're looking for your first guitar, or an instrument that's easily transportable for festivals, roadtrips or even travel abroad, this quality guitar offers an enjoyable playing experience for all.
Light on the fingers, and wonderfully playable, the BT200 manages to pack a punch, offering good volume despite its smaller size. Its mahogany satin-finished body produces a rich, mellow, resonant tone that's perfect for playing any style of music. If you have someone in your life – especially a young musician – who wants to learn to play the guitar, this is the perfect choice: Brunswick BT200 Acoustic Travel Guitar
The McNeela 61-key Keyboard
Perfect for young musicians who want to take their first steps toward being a piano player, this lightweight keyboard, complete with 61 keys and a wide range of sounds makes an ideal starter instrument. With 61 lightweight keys spanning almost 5 octaves, the McNeela keyboard offers the perfect range for little hands. Designed with student musicians in mind this lightweight, compact keyboard is easy to store and easy to transport, and makes the perfect stepping stone for any aspiring keys player: McNeela Keyboard
Shallow Rim Non Tuneable Bodhrán
This style of bodhrán is perfect for beginners. A shallow rim drum is particularly helpful for young musicians with shorter arms, allowing for a more comfortable reach and easier movement. A 14″ diameter bodhrán is ideal for young musicians, while adult beginners may prefer a 16″ drum. The McNeela 14″ Non-Tunable Bodhrán and McNeela 16″ Non-Tunable Bodhrán are perfect starter instruments for beginners of any age.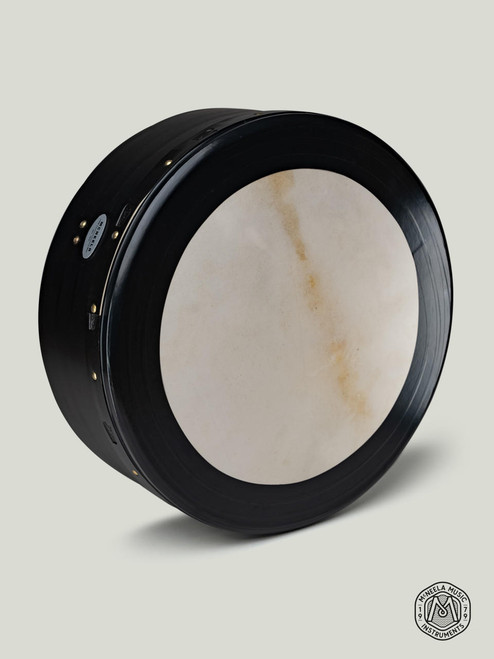 Deep Rim Non Tuneable Bodhrán
This style of bodhrán is perfect for a beginner who wants to explore the tonal range of the bodhrán. The deeper rim will produce a deeper tone, allowing you to produce different bass sounds on your drum. The McNeela 16″ Deep Rim Non Tunable Bodhrán is an ideal starter instrument for beginners of any age.
McNeela EasyString Violin
Available in a range of sizes from Full Size (4/4) to Quarter Size (1/4) the McNeela EasyString Violin is one of my best selling beginner violins. Perfect for beginners of all ages and any style of music, this responsive violin has been designed specially for small hands and little fingers with pliable strings that will make playing your first notes even easier: McNeela Easy String Violin
---
PREMIUM BEGINNER INSTRUMENTS: From €150 to €750/$150 to $750
A selection of some of our premium beginner instruments offering luxury at a modest price…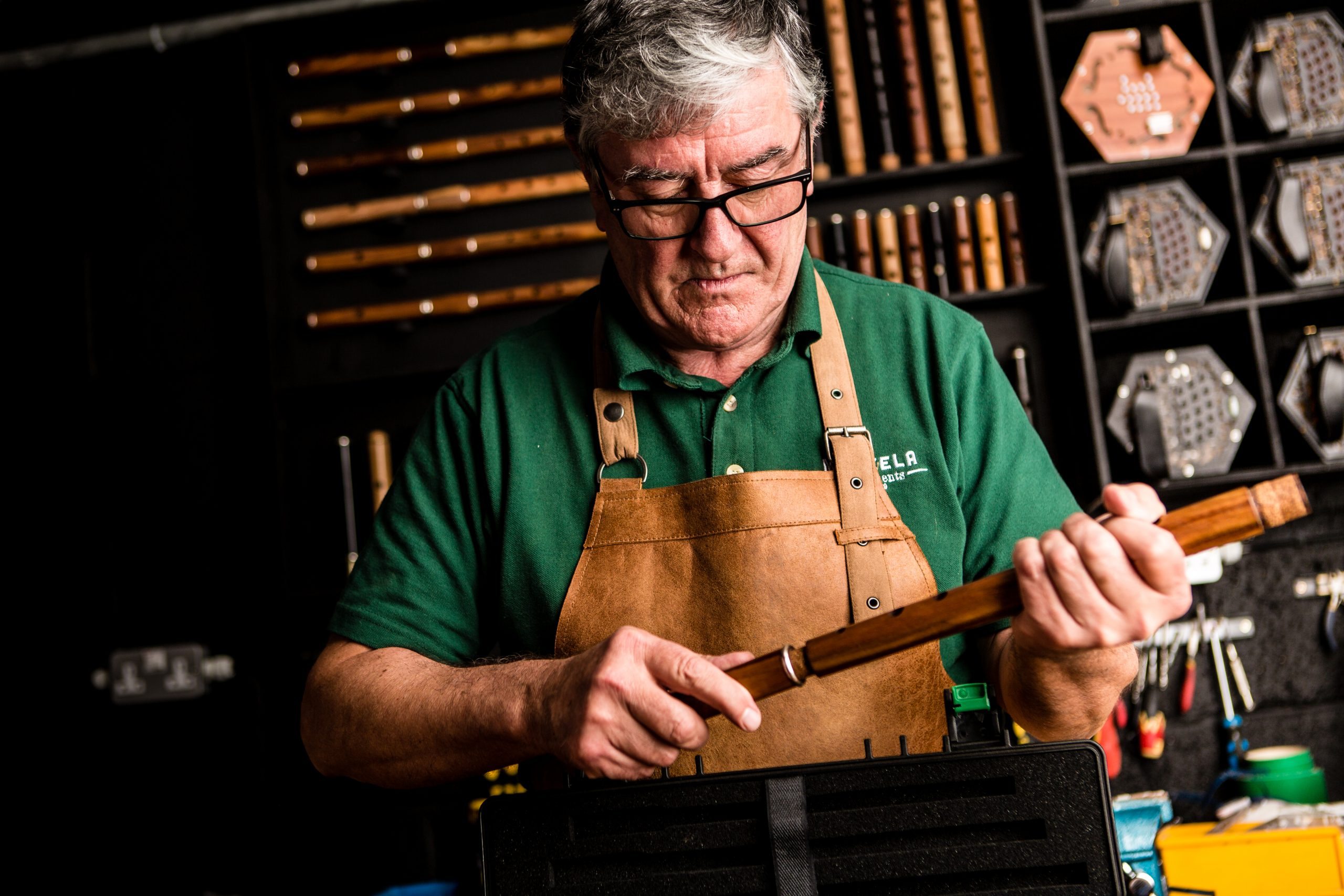 The Cygnet Flute
My best-selling beginner flute, The Cygnet, is a keyless Irish wooden flute designed to cater to the needs of beginner flute players.  It's easy to fill with air and easy to play, producing a moderately strong tone with that signature Irish wooden timbre. Made from beautiful Rosewood, this is a flute that looks more expensive than it is, giving you a luxury musical experience without the hefty price tag: McNeela Cygnet Rosewood Flute
McNeela Beginner Button Accordion
Available in McNeela Beginner Button Accordion is an attractive and affordable instrument that's ideal for any beginner accordion player. This lightweight beginner accordion is a 21 key, two row, diatonic button accordion in the key of B/C – perfect for anyone taking up the Irish accordion for the first time. Its sleek pearlescent celluloid grey finish is reminiscent of the great Italian makers Paolo Soprani, giving you that luxury feel for a fraction of the price: McNeela Beginner Button Accordion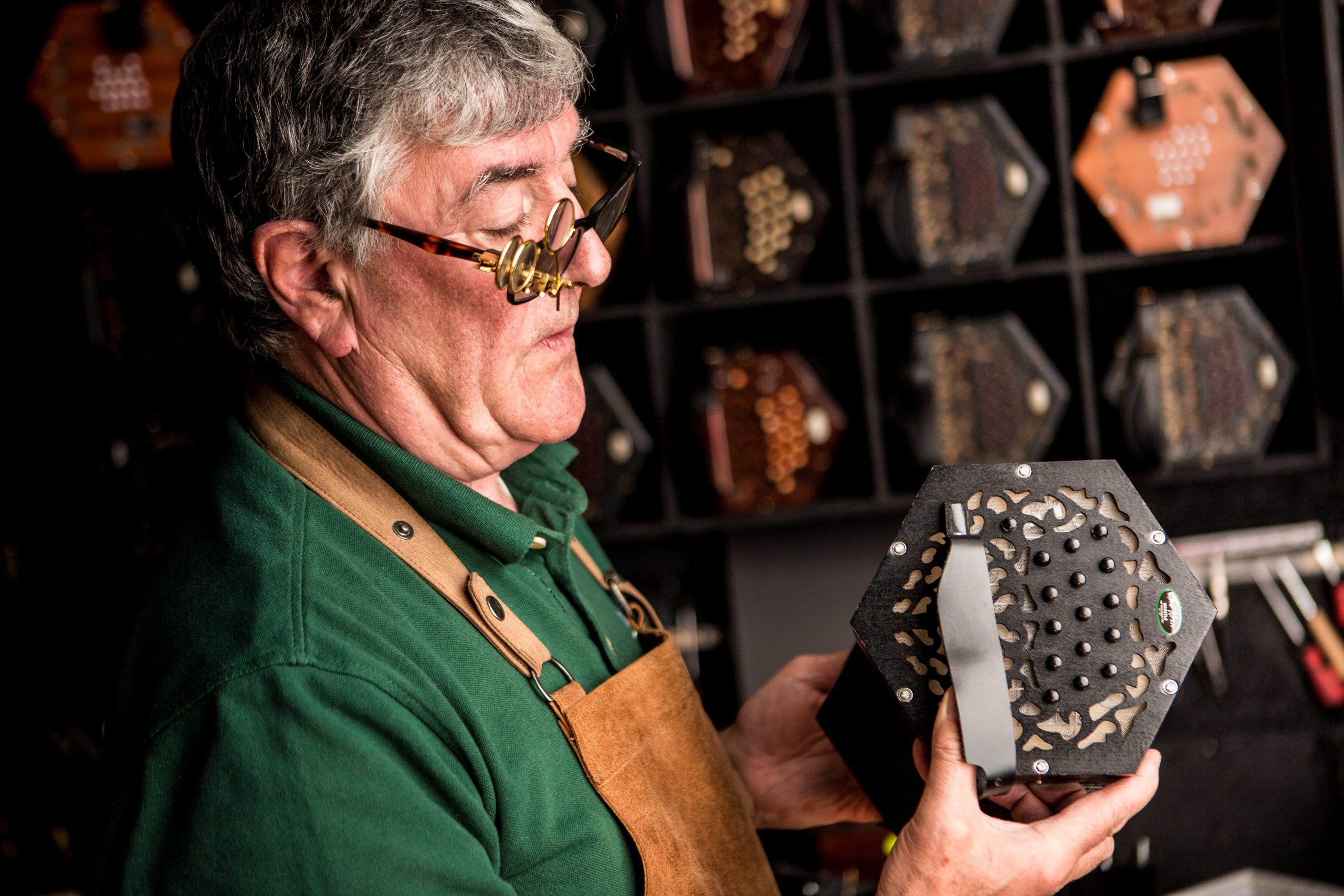 The Wren Concertina
The Wren is my most popular beginner concertina and it's easy to understand why. It offers is specially designed to cater to the needs of beginner concertina players. It offers superb value for money and is one of the best beginner concertinas on the market today!
This affordable 30 button Anglo Concertina in the key of C/G offers everything you need to learn to play the Irish concertina including access to free concertina lessons with one of Ireland's top teachers and players: McNeela's Wren Concertina
The Celt Banjo
If you're looking for a quality student banjo at an affordable price you can't beat my McNeela 17 Fret Celt Banjo. A 17 fret banjo offers many advantages for beginners – the shorter neck and fretboard mean less stretching for small or inexperienced hands. It's also lightweight and comfortable to play.
With a mahogany neck and head, rosewood fingerboard, maple bridge and Remo top, this is a well crafted instrument that will make even the most inexperienced players sound good. It's also available with 19 frets should you prefer: McNeela 19 Fret Celt Banjo.
Premier Electro Acoustic Violin
The Premier has been one of my best selling instruments for many years, but it's recently undergone a bit of an upgrade. The latest model features a denser spruce top which offers improved tone and volume and adds to its robust design. It also features a maple back and sides with pear wood fingerboard for a strong, powerful tone and great volume. Even more exciting however is that The Premier also comes with an inbuilt pickup, transforming it into an electro acoustic violin that's ready to plug in and play: McNeela Premier Electro Acoustic Violin
---
PREMIUM CHRISTMAS GIFTS: From €50 to €250/$50 to $250
A selection of some of our premium instruments suitable for novice and experienced musicians alike, offering luxury at a modest price…

The Wild Whistle
This sleek tin whistle is the latest addition to the McNeela whistle range. It's ideal for tin whistle players at any stage of playing – beginner, intermediate or advanced. The Wild Whistle is designed with ease of playing in mind, offering excellent playability and responsiveness. It doesn't require too much airflow to produce a great sound, which makes playing a breeze.
From its playability to its beautiful tone and sleek finish, this stylish black tin whistle makes learning to play an enjoyable experience right from your very first note. The Wild is available in a range of keys including Eb, D, C, Bb and A: McNeela Wild Irish Whistles
Sunbeam Ukulele
Perfect for more experienced musicians, or adult beginners, the Sunbeam Ukulele is a premium ukulele that would serve well as a beginner instrument but can also cater to the needs of more advanced players: McNeela Sunbeam Ukulele.
Brunswick BTK50 Advanced Stage Guitar
The BTK50 cutaway stage guitar is the perfect guitar for those ready to take their guitar playing to the next level. Featuring an in-built tuner, EQ and pick-up, this guitar can fill any size space, offering superb volume while ensuring that none of the natural acoustic tone is lost along the way. 
This is a guitar that sounds great either plugged or unplugged, producing an exceptional tone. The quality machine-heads are easy to turn and hold their tuning well, meaning you'll have to tune less often – ideal for stage performance. With its comfortably contoured body and quality sound, this is a guitar that offers an exceptional playing experience at an exceptional price: Brunswick BTK50 Electro Acoustic Guitar
---
PREMIUM CHRISTMAS GIFTS: From €250 to €500/$250 to $500
If you want to indulge and truly spoil your loved ones then look no further. Here's a selection of some of our premium instruments offering luxury at mid-range prices…
McNeela Beginner Alto Saxophone
I'm very excited to introduce my brand new saxophone range, just in time for Christmas. The McNeela Beginner Alto Saxophone is perfect for musicians of any age who want to learn to play this exciting instrument. The alto saxophone is suitable for any genre of music from classical to jazz, or even traditional Irish music.
Designed with ease of play in mind, the brand new McNeela Beginner Alto Saxophone is a responsive instrument that offers a comfortable playing experience and easy blowing response. Its lightweight construction and smaller size make the alto sax the perfect choice for young musicians in particular.
This quality saxophone comes as part of a set that includes everything you need to keep your instrument looking and sounding its best, including:
A sturdy saxophone case for storage and transport
A neck strap for added comfort and support
A protective mouthpiece cap to keep the tip and reed safe from damage
A pack of 10 cane 2.5 strength reeds
Best of all, this stunning instrument is available in two different finishes: Gold Lacquer or Black Nickel.
The McNeela Original Wooden Button Accordion
The McNeela Original Accordion is an attractive and affordable option that's ideal for any beginner or intermediate accordion player and one of the best options for sale on the market today.
This lightweight wooden frame accordion is a 23 key, two row, diatonic button accordion in the key of B/C. It features top quality Premium Czech reeds for great tone and volume and has large, smooth pearlescent buttons, an adjustable bass strap and a thumb grooved fingerboard for ease of play.
The McNeela Tuneable Performance Bodhrán
This bodhrán combines the lush tonal range of a deep rim bodhrán with the control a quality tuning system has to offer. If you're serious about your bodhrán playing I highly recommend investing in this style of drum.
The McNeela Classic Performance Bodhrán is an accessible instrument with which to explore this next level of music making. It's available as either a 14″ drum or 16″ drum in a range of colours, styles and tonewoods. You can also purchase it as part of a comprehensive bodhrán set, including a selection of beaters, bodhrán gig bag, drum diddly bodhrán cream and free bodhrán lessons.
You can browse the full range here: McNeela Performance Bodhráns
---
DELUXE CHRISTMAS GIFTS: From €500 to €1500/$500 to $1500
For those who are definitely on the nice list…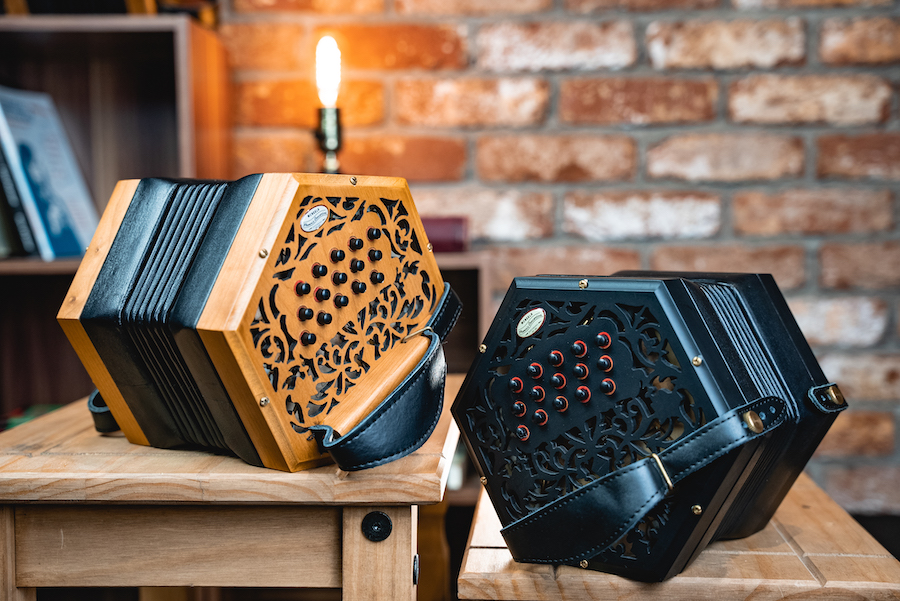 The Phoenix Concertina
For both affordability and playability it really is tough to beat The Phoenix Concertina. A remarkable all-rounder, it's a great fit for any concertina player and can carry you through every stage of playing. Crafted to the highest standard it's perfect for players who are ready to master their instrument.
For a limited time only, with every purchase of my best-selling Phoenix Concertina, I'm including one year's free access to my brand new Concertina Masterclass Series under the expert guidance of leading Irish concertina player, Jack Talty. This innovative online course is accessible from anywhere in the world and will take you from beginner, right through intermediate, and all the way to advanced level if you wish: McNeela Phoenix Concertina
The McNeela Melodeon
This 10 button, single row melodeon is perfect for the button accordion enthusiast in your life – or any musician who wants to branch out and try something new! Follow in the footsteps of the great Bobby Gardiner with this diatonic instrument in the key of D – perfect for playing traditional Irish music!
Despite its small size this four voice LMMH melodeon packs a punch, offering four registers – one low, two middle and one high piccolo register, all easily operated by stops. With is sleek cherrywood frame, pearlescent polymer buttons and ornate grillework, this is a premium instrument that would delight any Irish music lover on Christmas morning: The McNeela Melodeon.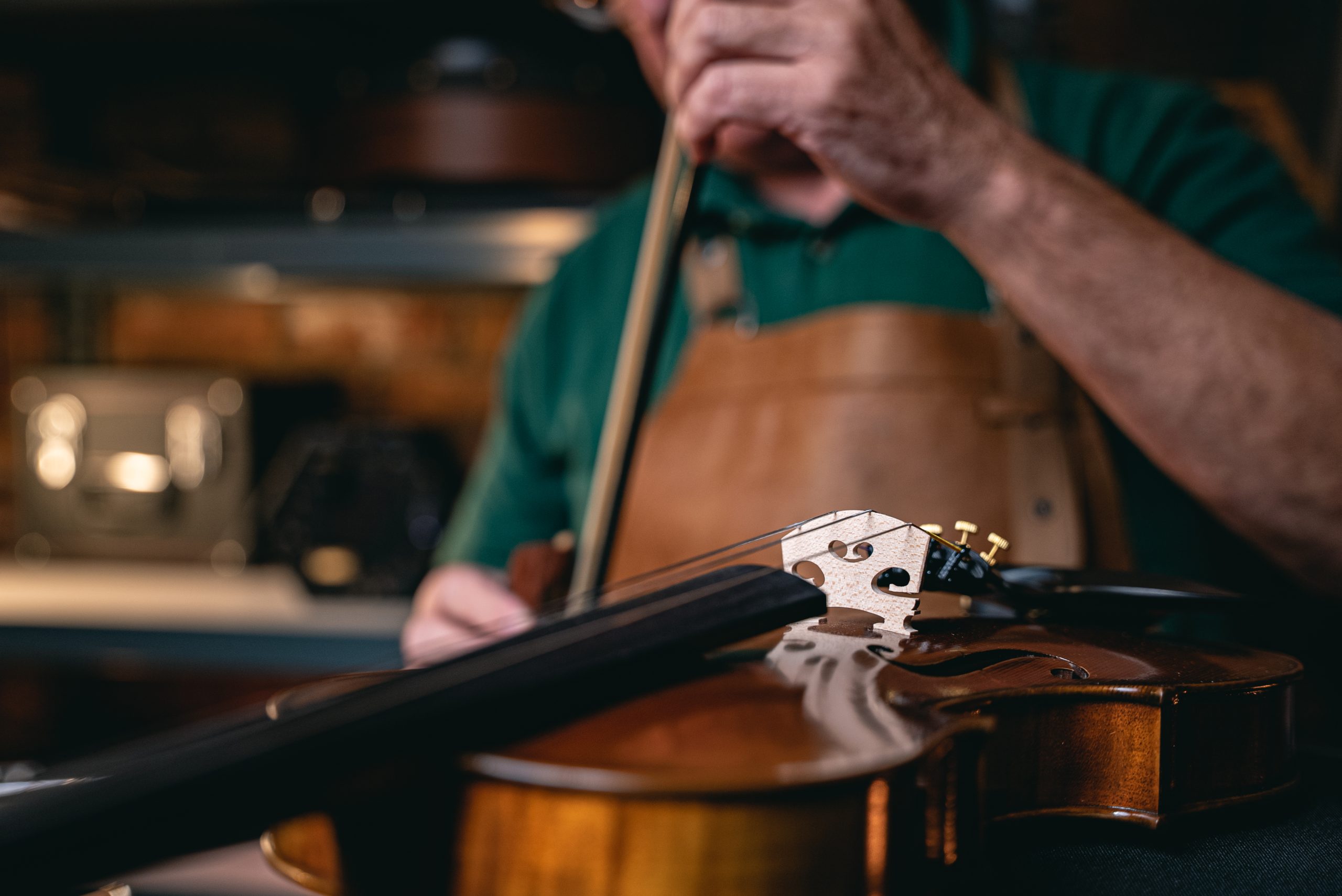 The Maestro Violin
My best selling Maestro Violin is ideal for any intermediate player and would also serve an advanced player long into the future. It's also the perfect way to start out your fiddle playing journey in style. With a maple body and spruce top, oil varnished for a beautiful finish, this handcrafted instrument looks as good as it sounds (and vice versa). It offers a rich, resonant tone and superb response, for optimum ease of playing. The set also includes a carbon fibre bow and a top quality violin hard case to protect your new instrument from any unwanted knocks or bumps: McNeela Maestro Violin.
McNeela Digital Piano
With 88 weighted keys, three pedals and a wide range of sounds, the McNeela Digital Piano gives you the experience of a grand piano with all the versatility of a digital instrument. The touch sensitive, hammer action keyboard simulates the mechanism of an acoustic piano allowing for expressive playing with a range of dynamics. With 140 tones, you'll be able to choose from a wide range of sounds, allowing you to customise your sound and play comfortably in any genre: McNeela Digital Piano
---
SUPER DELUXE CHRISTMAS GIFTS €1,500+/$1,500+
The sky's the limit…
McNeela Virtuoso Violin
Designed for the intermediate to advanced musician, to truly elevate your playing, the Virtuoso is expertly crafted to bring you the very best musical experience.
The Virtuoso Violin demonstrates the pinnacle of traditional violin craftsmanship. Handcrafted from the finest tonewoods, with an oil varnished finish, its classic design is based on the iconic Messiah Stradivarius of 1716 by master luthier, Antonio Stradivari.
If you've reached a crossroads on your musical journey and want to take the next step, this is the violin for you. From its exceptional tone to its stunning good looks, this premium violin offers a luxury playing experience right from your very first note: McNeela Virtuoso Violin
Paolo Soprano Jubilee
The Jubilee III is a beautifully crafted 3-voice (MMM) button accordion, while the Jubilee IV is its powerful 4-voice (LMMM) counterpart. Both instruments feature an iconic pearlescent finish with a choice of red or grey, and offer the signature Paolo Soprani sound – courtesy of the top quality Voci Armoniche Tipo a Mano reeds.
Described as the Rolls Royce of Irish button accordions, the Jubilee would make a stunning addition to any accordion player's collection and is one of the best long term musical investments you can make. In fact, so great is my admiration for this magnificent instrument that it's earned a coveted spot on my list of Top Five Accordions for Irish Music.
McNeela Ultima Sterling Silver Flute
Part of my brand new concert flute range his stunning Ultima Sterling Silver Concert Flute offers an exceptional playing experience. Built to last, this flute is the perfect long term investment for flute players who want to expand their flute playing.
The B foot joint brings added weight to the design, offering a rich, warm tone with plenty of depth. The keys and mechanism are highly responsive, allowing you to soar effortlessly through each register on this well balanced, resonant instrument.
This superb flute responds instantly to the player's touch, breath and intent, allowing your musicality to shine through and offering a superb playing experience. You won't want to put it down: McNeela's Ultima Sterling Silver 17 Hole Concert Flute
---
Have A Very Merry McNeela Christmas
There you have it – my own personal recommendations for some brilliant musical Christmas gifts this December. I hope they put a smile on someone's face and bring a little joy to your holiday celebrations. 
Remember though, it's never about how much money you spend. It's always the thought that counts. So don't overextend yourself this Christmas!
Now if you'll excuse me, like Santa I must return to my workshop to make sure everything is ready to go in time for Christmas Day. Wherever you are in the world I wish you a very merry Christmas, filled with all of your favourite things.
Nollaig faoi shéan is faoi mhaise daoibh go léir! 
Slán go fóill,
Paraic