– Published: December 6 2020
Now more than ever, the world needs music. Music has been scientifically proven to have a profoundly positive effect on your mental health.
Learning and playing music is also the ultimate brain train game and keeps the brain healthy and active and can even reverse decline.
I started selling bodhráns over 41 years ago. Since then McNeela Music has grown to include concertinas, flutes, whistles, fiddles, banjos, accordions and so much more. 
Giving the gift of music is one of the greatest things you can do. So to help you choose the perfect traditional Irish musical gift I've compiled my list of top gifts for Christmas 2020.
You'll find musical stocking fillers and Secret Santa ideas to beautifully crafted Irish instruments and that something extra special for the person who already has it all.
If you don't see what you're looking for get in touch and I'll do my best to help.
– Paraic

Musical Stocking Fillers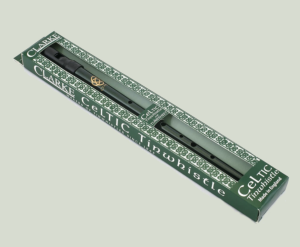 – The original penny whistle is a perennial favourite. This dark green Celtic whistle is the perfect musical Christmas gift for all ages and abilities, and is very pocket friendly too!
– A colourful way to display your instruments and keep them within easy reach. This is a nifty fold away instrument stand and will hold a whole host of string instruments.
– For the percussionist in your life who wants to try out the spoons these cheating spoons make it easy to get started.
– A best-seller, we sell at least one practically every day, being a flute player myself I find that this is an invaluable kit designed to keep your wooden flute in tip-top condition.
Selection of Bodhrán Beaters
Bodhrán players are constantly trying out new beaters and tippers and will always welcome new additions to their collection. Take a look at my selection, all at stocking (!) friendly prices. I recommend the Fiddle Bow Beater and the Brush Beater if you're stuck for ideas.
Shaskeen Live and kicking Double CD
– I'd recommend this for all lovers of traditional Irish music and the céilí band style and makes a great gift for the Irish music lover in your life
Everyone who wears this comes back raving about the quality of the material and the comfortable fit. It also gets great feedback at sessions. Better still, it has been screen printed using cutting edge water based inks by local Dublin lads. Oh and the answer is on the back!
This is my best-selling premium bodhrán conditioning cream, so good you can use it on your own hands, because you're worth it! It also resurrects the goatskin to a startling degree and really enhances the tone. Sixty 5-star reviews can't be wrong!
-My best-selling Capo, slide it on and never take it off. Perfect for nearly all stringed instruments.
Bodhrán Mic – This five-star rated bodhrán mic has astounded bodhrán players thanks to its ability to capture that beautiful bass tone plus the price ain't bad at all!
The McNeela Violin Shoulder Rest
Designed to fit 3/4 and full size violins this beautifully crafted fully adjustable professional maple wood shoulder rest boasts an excellent fit, high comfort value and a professional finish plus it fits neatly into a Christmas stocking!
The FZONE Chromatic Violin Clip-On Tuner
-I use tuners all the time and this one is a top seller garnering great reviews plus it's handy. Just attach it to the violin neck and tune up.
Premium Carbon Fibre Violin Bow – my coffee brown violin bow with snakewood frog weighs only 65 grams and gets a gorgeous rich tone from the strings.
Secret Santa Around €50
Gallon Cross Bodhrán Set – This beautiful screen printed 12″ bodhrán not only looks great but comes with a beater and an instruction DVD by yours truly. This is a perfect Celtic music Christmas gift for the percussionist in your life.
Lee Oskar Harmonica – You can't go wrong with a Lee Oskar Harmonica. Suitable for playing Blues, Rock, Country, Folk and Jazz.
Books & CDs
Feadóg Tin Whistle Set – Tom Maguire's classic method has inspired and introduced countless players to the joys of the tin whistle and this set contains everything you need in one with a tin whistle and demonstration CD.
The Irish Flute by Fintan Vallely – I still consult my Vallely Irish flute book for everything from practice tips to flute maintenance, very comprehensive and full of interesting information all presented in Vallely's unique style.
The Foinn Seisiún Series starts with the Foinn Seisiún 1 book and is a library essential for those of you interested in getting to grips with Irish session tune sets. You can also buy the accompanying CD to play along with, magic.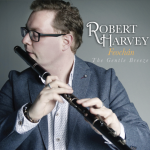 Feochán CD by Robert Harvey
– 7 time All-Ireland champion, Robert Harvey, was in with us recently playing some McNeela flutes and whistles. His playing astounded me. His acclaimed debut album would be a great Christmas gift for whistle and flute lovers or anyone who appreciates great traditional Irish music.
Extreme TGI Banjo Gig Bag – TGI make very smart instrument cases and their Extreme range is a particular favourite. Get it for the tenor banjo player in your life. It also fits a mandola.
Irish Flute Box – Another best-selling item and one of my top selling cases. It's foam-lined, shock-proof and has a section for whistles. This is a must-have for the flute player in your life.
Gifts For Children
McNeela 14 inch Bodhrán – this bodhrán is a perfect size for ages 7 and up, it has all the features of a professional bodhrán, including the rich & warm McNeela signature bass, but in a child-friendly size
The Wren Concertina – This beginner concertina has been a best-seller of mine for years with good reason; it's a great child-friendly size, it features large white buttons for easy finger placement, a clean bright sound and it comes with free beginner lessons with Caitlín Nic Gabhann.
Easy String Violin – My Easy String violin range is perfect for young delicate fingers. It takes the pain out of practicing and helps them get their note placement faster and more comfortably. The price cannot be beaten!
Cygnet Rosewood Wooden Flute – the Cygnet is specially designed for beginners both young and older. I've made the embouchure easier to fill and the flute itself is lightweight for a wooden flute. Not only that but it produces a beautiful soft tone, enough to get them hooked on the Irish flute style.
Tony Dixon Practice Flute – for the very young player this lightweight polymer practice flute will be a great entry to Irish flute playing and it's at a nice learner level price too.
Irish Music Gifts for Under the Tree
Under €100 ($)
Premium bodhrán Gig Bag – we designed this bag to be sturdy yet lightweight and with plenty of cushioning for your bodhrán. I also added a handy beater pocket at the front plus rubber floor protectors. It looks fantastic in striking black and carmine and Celtic forest green colourways.
– one of my best sellers, this comes with taped goatskin to get that signature luscious bass sound. A joy to play it's perfect for young or petite players and a great travel size too.
This is a top choice for many an established whistle player in Ireland. No one could believe the tone they could get from a 'plastic' whistle! It's a great Christmas gift for the tin whistle or flute player in your life.
Bodhrán Beater Set 2020 Edition 
You will never go wrong giving a bodhrán player more beaters! Firstly, we're always losing them and secondly we love to try out new styles. This set has it all.
Under €250 ($$)
Duo-Head Low D Flute & Whistle (TB022) by Tony Dixon
– An excellent low D whistle and flute combo by Tony, you get two great instruments for the price of one with its dual-head accessory. It's great for learners.
Setanta Low Whistle in D
– John O'Brien has made the Setanta Low Whistle even more perfect. I'd even go so far as to say it is unmatched. This is a serious whistle, grab one before they sell out (again!).
The Setanta Low Whistles are also available in a Full Set of E, Eb & D
14″ Tuneable Bodhrán 
– this perfect travel size bodhrán comes with tuners so you never have to leave your perch at the session! It's a great Christmas gift for a young beginner or for someone who wants to add to their bodhrán collection.
The Koda Mandolin
– if they can play the violin, they can play the mandolin, the fingering's the same. This vintage style mandolin by well known makers, Koda, will look great under the tree too!
Under €500 ($$$)
This magical music machine is my best-selling concertina and just perfect for the beginner concertina player. I upgraded it in 2020 and it is even better than ever. The reviews are consistently excellent and it's a lovely gift for any aspiring musician, plus you get superb online video beginner lessons absolutely free when you buy.
The Lon Dubh Delrin Irish Flute – it sounds so good, no one will know it's not wood! I recommend this gorgeous flute for players in very hot, dry or cold climates. It is virtually maintenance free and it will never crack. It's fast becoming a favourite here at McNeela Music.
Rosewood Performance Deep Rim 15" Tunable Bodhrán
I think the addition of tuners to bodhráns was a major leap forward for this great Irish drum; hand tuners are very convenient for uninterrupted playing all night long.
The deep Rosewood rim adds a beautiful aesthetic, this is one you'll want to hang on your wall when you're not obsessively playing it!
Oh, and how can I forget you also receive a comprehensive online introduction and beginner lesson to the bodhrán by yours truly – free with all purchases of McNeela tuneable bodhráns PLUS 8 bonus bodhrán lessons with bodhrán playing legend, Rónán Ó Snodaigh.
The Wave Bodhrán Set – One player has described receiving his Wave bodhrán as 'a religious experience'! For the bodhrán player that has it all, this will seriously impress them.
The set includes everything an experienced player needs including a selection of advanced beaters, a premium travel bag plus full access to Rónán Ó Snodaigh's complete Beginner to Master Bodhrán Course.
Under €1,000 ($$$$)
I currently have a small number of these stunning African Blackwood flutes ready to ship. Arie is famous for crafting beautiful wooden flutes for the traditional Irish market. His African Blackwood Irish flute would be a market leader. Hurry, if you want one as stock is very limited.
McNeela African Blackwood Flute – I'm very proud of this flute as it represents a culmination of many years of playing and research. It's a powerful instrument thanks to the density of the blackwood, I've ensured that the low D is strong, and the sound has just the right amount of chiff for a great Irish trad sound
Swan Premium Beginner Concertina
– this is not just a very good looking concertina. Its looks showcase a superb instrument featuring terrific action, a great sound and sublime ease of play.
Perfect for beginners and improvers who want something a little more premium from their concertina; it's also a favourite with pros. Plus it comes with free online lessons by Caitlín Nic Gabhann exclusive to McNeela Instruments!
Maestro Violin – this is one of those gems that no one can believe costs less than a €1,000. It produces a heavenly sound and is just made for traditional and folk music the world over. Listen to Liam O'Connor play it if you don't believe me.
McNeela Keyed Delrin Flute – You won't find such a superb keyed flute for a lower price anywhere. It's crafted from low-maintenance hardwearing Delrin yet produces a gorgeous woody tone and is great for playing traditional and folk tunes both solo or in a group.
Under €2,000 ($$$$$)
– my best selling intermediate concertina is a game changer for the market. Superb sound, fast riveted action, ease of play second to none and the finish is a study in subtle elegance, you may never need another concertina.
Sam Murray Keyless Blackwood Flute – Sam Murray is one of Ireland's greatest flute makers. I currently have two of these sought after flutes ready to ship now. So beat the queue and get your hands on the Rolls Royce of Irish flutes.
McNeela 3 Voice Premium B/C Accordion – Stun them with a gift of this premium 3 voice concertina featuring Czech made 'tipo a mano' reeds for a powerful accordion tone. It sounds as good as it looks and comes with a hard case and sturdy shoulder straps for a limited time only.
Sam Murray Keyed Blackwood Flute – Sam's list of admirers is endless and includes myself so I'm deeply honoured to be an exclusive stockist of Sam's work – his keyed African blackwood is a superstar among Irish flutes, there aren't enough superlatives really.
Money No Object
Sam Murray Keyed Blackwood Flute – Sam's list of admirers is endless and includes myself so I'm deeply honoured to be an exclusive stockist of Sam's work – his keyed African blackwood is a superstar among Irish flutes, there aren't enough superlatives really.
For the man, woman or child who already has everything, we have some very special antique concertinas. Each one is unique, displaying the ultimate in craftsmanship and musicality and most importantly has been hand selected with superb playability in mind and that inimitable quality of vintage warmth and all the stories the instrument has to tell.
This Wheatstone Linota Concertina is a rare specimen and a really special 'find' for the concertina lover in your life. Feel free to call me about this if you wish to discuss shipping etc.
I can't think of a more special way to wish someone all the joys of the Christmas season. This is truly a gift for life.
Choose from antique Jeffries, Wheatstone & Lachenal concertinas and vintage violins bows.
Please get in touch with me for any extra details you may require and to experience the legendary 5-star McNeela customer service.
Contact: service@mcneelamusic.com or call me on +353 1 8322432