The Irish tin whistle is one of the greatest instruments in the world. Accessible and affordable, this small yet iconic instrument is my go to recommendation for anyone hoping to learn traditional Irish music for the first time.
When buying a tin whistle it's easy to make a quality investment right from the start. A good quality beginner whistle will cost far less than say, a beginner concertina or fiddle.
In the grand scheme of things, a premium, professional standard whistle won't set you back an arm and a leg either. So really, when it comes to choosing the best tin whistle, your options are boundless.
Where should you begin your search for the best tin whistles? Right here.
I've put together this handy guide, packed full of my own personal recommendations, to help you find not only the best tin whistle, but the best tin whistle for you.
Whether you're a total beginner looking for your first tin whistle, or a seasoned pro who could rival the greatest tin whistle players of all time, I have an instrument to suit your needs.
So keep reading and together we'll explore some of the best penny whistles that Irish music has to offer.
What is a Tin Whistle?
The tin whistle is a simple six-holed woodwind instrument. A type of fipple flute closely associated with traditional Irish music, it also known as a penny whistle, Irish whistle, Celtic whistle or feadóg stáin (the Irish word, pronounced fa-dohg-stawn).
While most people are familiar with traditional metal whistles, modern tin whistles can be made from a variety of materials including brass, nickel, aluminium, Delrin, polymer or wood.
Each material produces its own unique timbre or tonal quality. Nickel plated brass whistles usually produce a brighter tone than their brass counterparts which produce a more mellow sound. Delrin whistles on the other hand produce a surprisingly woody tone, similar to a wooden tin whistle.
Irish Whistle Variants
Modern tin whistles come in a range of sizes and a variety of different keys.
These keys are are divided into three categories:
Soprano, Alto and Tenor are simply terms which refer to the key or range the whistle plays in.
Choosing a Key for Your Irish Tin Whistle
Tin whistles are available in a wide variety of keys, generally from Low D to High G.
A tin whistle in the key of D is considered to be the standard concert pitch tin whistle and is recommended for beginners and intermediate players alike.
D is the standard key for the majority of Irish whistles. It produces the iconic tone associated with traditional Irish music. A D tin whistle will allow you to play comfortably in the keys of D major and G major – two of the most common keys found in traditional Irish music.
If you want to explore playing whistles in other keys, here are two important things to remember:
The higher the key, the brighter the sound, while the lower the key, the more mellow the sound.
The higher the key, the smaller the instrument, the lower the key, the larger the instrument.
Some of the most popular tin whistle keys (and my personal favourites) include: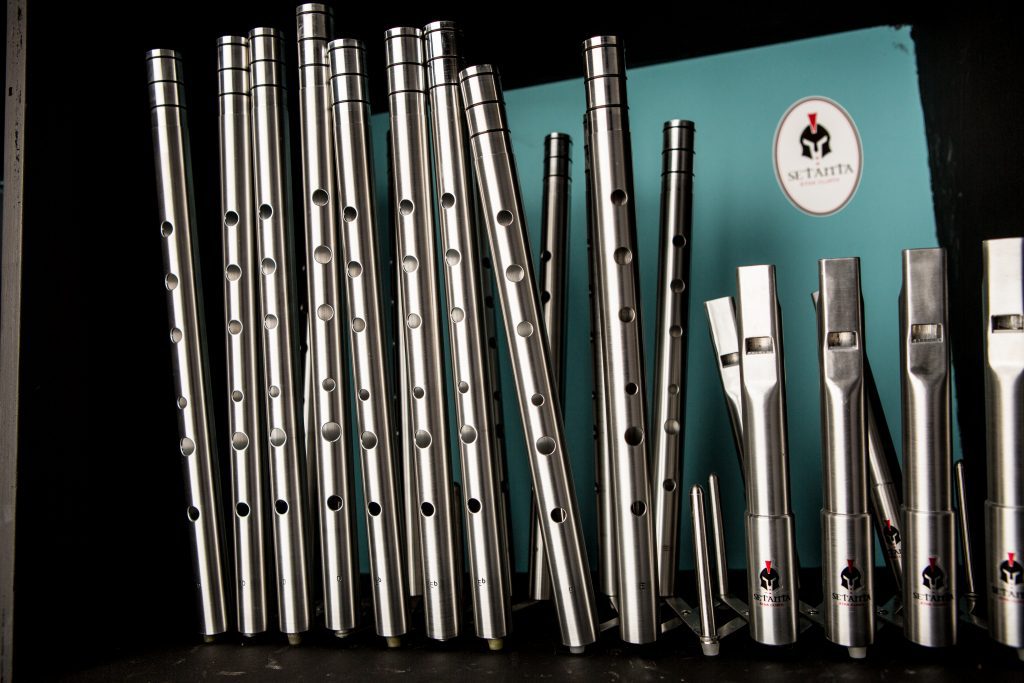 Irish Low Whistles
Some people often mistake the low whistle and its iconic sound with that of the Irish wooden flute. The low whistle is far more closely related to the tin whistle however.
A low D tenor whistle is tuned an octave lower than the soprano D whistle. Therefore, its body is wider and twice as long as that of a standard soprano whistle.
Like its soprano and alto counterparts, the low whistle also comes in a variety of keys. The most popular however is the standard low D as D major is arguably the most commonly used key in traditional Irish music.
To learn more about this popular style of whistle, check out my popular blog post Everything You Need to Know About the Low Whistle.
What is the best low whistle for a beginner?
A higher quality, well-made instrument is going to sound better and be easier to play than a cheap instrument. You'll also be more motivated to practice if you're making a pleasant sound right from the start.
With this in mind, my top recommendation for the best low whistle for any level of player is the Kerry Optima Tuneable Low D or a Setanta Low D Whistle.
If budget is an issue at the beginner level however, the Tony Dixon Tuneable Low D Whistle is a great option for any beginner musician that will happily see you through to the intermediate stages of tin whistle playing.
Polymer or plastic whistles provide a lightweight, budget-friendly option for those just starting out.
When you're ready to really take your playing to the next level, you can always invest in a new instrument then.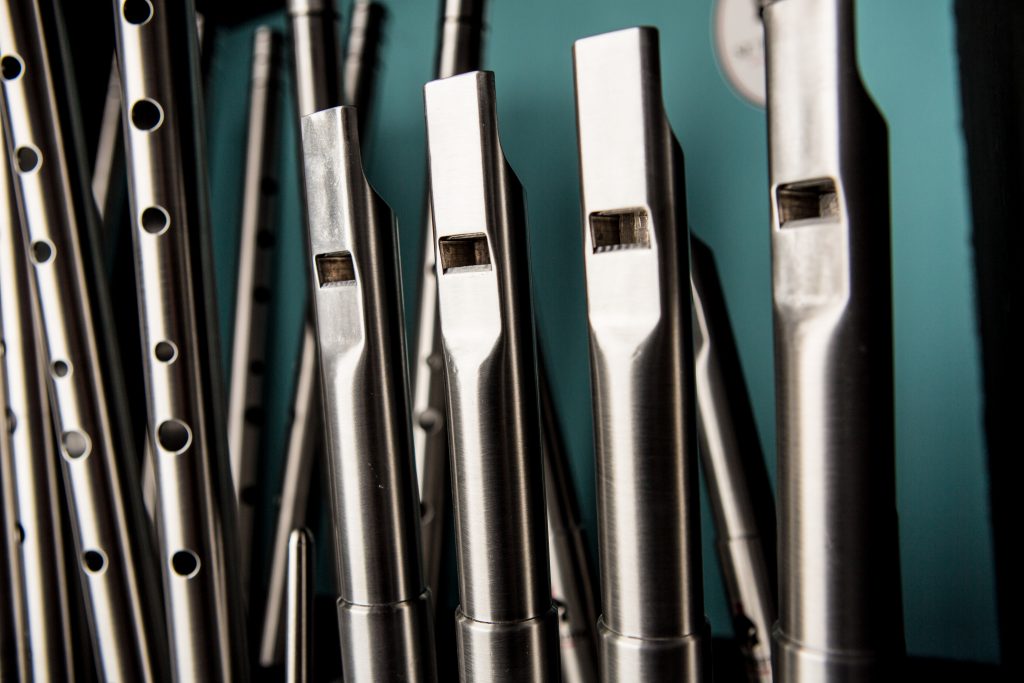 Tunable Whistle vs Non Tunable Whistle
Like all musical instruments, tin whistles are also affected by changes in the weather – specifically the temperature. The higher the temperature, the warmer your whistle and the sharper the sound of the pitch produced.
So if you're playing at a session in a crowded pub (remember those?), chances are, after a while your whistle will be playing at a higher pitch than when you began.
The opposite also applies. If you're playing outdoors or in colder temperatures, chances are your whistle may sound a little flat.
How do you combat this? With a tunable whistle.
Tuneable tin whistles come with a tuning slide that allows you to adjust the pitch of the instrument. Extending the tuning slide flattens or lowers the pitch, while closing it sharpens or raises the pitch.
Why would you need to adjust your tuning?
While none of the issues I've raised above matter too much if you're playing solo, when playing in a group it's important that all the instruments are in tune with each other. Irish music is after all a social music genre. Your end goal is usually not to play in isolation, but to join in at a session.
A tuning slide will allow you to match your fellow musicians' pitch and make some great sounding music together.
Quality vs Budget
Beginner Whistles
If you're not worried about tuning and you just want to play at home for your own enjoyment, then an entry level non-tuneable penny whistle might be just the thing for you. This shouldn't cost you more than €20.
Intermediate Whistles
If you play in sessions or in groups then you're more likely to be conscious of your tuning. Tuneable tin whistles start from around the €25 mark.
Advanced and Professional Whistles
As a general rule, more expensive whistles will have better internal tuning and will also have superior tone. While a basic soprano D tin whistle can cost as little as €10, a professional whistle can cost well over €250.
BEGINNER TIN WHISTLES
There are countless entry level tin whistles available today that are ideal for beginner musicians. When first starting out, you'll most likely want to stick to a standard penny tin whistle in D. Once you've mastered the basics you can move on to other exciting whistles.
There are many inexpensive whistles to choose from at this level. My personal favourites are Generation Whistles or Oak Whistles. These classics have been around for, well, generations. Don't let the price fool you, these tried and tested whistles are sturdy and reliable and have served countless whistle players over the years.
For something a little more advanced that will easily see you through to the intermediate stage, I highly recommend Tony Dixon Whistles. Tony's whistles are tuneable, easy to play, and offer a bright, clear tone.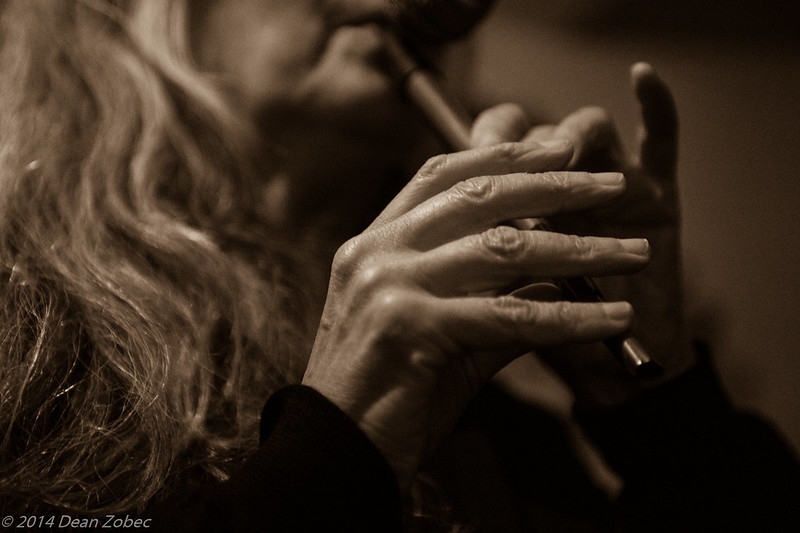 Generation Tin Whistle
Mary Bergin herself – the queen of Irish tin whistle playing – plays an assortment of Generation whistles. There's no better endorsement than that.
These iconic tin whistles make great starter instruments. Costing less than €10 each, Generation Whistles are the obvious choice for those just starting out.
The old reliable Generation D Whistle will serve you well as you learn the basics of tin whistle playing, such as covering the finger holes or controlling your breathing. This Generation nickel whistle has served countless Irish whistle players over the years, so you know you're in good hands.
A word of warning however. These mass produced tin whistles can be somewhat hit or miss. Serious players used to take the time to dig through a batch to find any true gems lying amongst them because when you find a good Generation whistle, it's a keeper.
Why not have a listen to the iconic Mary Bergin in action to hear a Generation whistle being put through its paces:
Tony Dixon Trad Cupro Whistle
Tony Dixon Music is a family run business that was founded in 1997. Dixon wind instruments are designed specially for novice players. Much like McNeela Instruments, Tony prides himself with producing quality musical instruments at an affordable price.
You really can't go wrong with a Tony Dixon whistle. I recommend the Trad Cupro Nickel Whistle – it's the perfect tin whistle for beginners.
The Trad Cupro Whistle is one of Tony's best tin whistles. This lightweight, affordable whistle features a clean, bright, sweet tone and offers great playability. It's ideal for tin whistle players of all ages and abilities and will see you well beyond the beginner stage.
Dixon whistles have served me well over the years. I highly recommend them to any player starting out, or looking to upgrade from their starter instrument. If you'd like to learn a little more about this accessible range of whistles, check out my video guide below:
INTERMEDIATE TIN WHISTLES
Cheap tin whistles are fine for the beginner stages of playing, but to really elevate your playing it's worth investing in a good quality midrange instrument.
Many popular whistles on the market today, including the Killarney Whistle and Wild Irish Whistle are based on the iconic John Sindt design.
These quality whistles are an homage to the great tin whistle maker, and some of the best tuneable tin whistles on the market for intermediate players.
If you're looking for an affordable tin whistle that will offer you all of the qualities of a premium professional whistle then look no further…
Wild Irish Whistle
This exciting tin whistle is the latest addition to the McNeela family. It's ideal for tin whistle players at any stage of playing – beginner, intermediate or advanced.
The Wild Irish Whistle is designed with ease of playing in mind, offering excellent playability and responsiveness. Most importantly, it doesn't require too much airflow to produce a great sound, which makes playing and practising a breeze.
This quality tunable whistle offers excellent tuning between octaves and a bright, sweet tone throughout, even in the higher register. Some whistles can require a real workout to achieve a clear tone in the higher octave, but the Wild Irish Whistle does the hard work for you. For those who prefer a more mellow sound, this is the whistle for you.
This is a mid-priced tin whistle that will encourage you to pick it up and play it as often as you can. From its playability to its beautiful tone and sleek finish, this stylish black tin whistle will make learning to play an enjoyable experience right from your very first note.
Even more exciting, it's available as both a soprano whistle and alto whistle, in a range of keys including Eb, D, C, Bb and A.
See it in action below in the hands of virtuoso whistle player, Robert Harvey:
Killarney Whistles
Killarney Whistles are another hugely popular whistle, and rightly so. Like the Wild Whistle, these quality whistles are ideal for intermediate tin whistle players who want to take their playing to the next level.
Designed and produced by Padraig & Tadhg Buckley, the Killarney Whistle not only looks great, it offers a bright, clear tone and good volume in both octaves. This is a responsive instrument that's comfortable to play and offers excellent tuning.
You can also choose from either a brass or nickel body.
Susato Penny Whistle
Susato offer a range of tuneable plastic whistles made from durable ABS plastic. The Kildare Penny Whistle is one of their most popular penny whistles for Irish session playing.
Susato whistles are known for their loud volume and this whistle is no exception. You should note however that Susatos also require an awful lot more airflow than any other whistle recommended in this guide. For the unfamiliar, the breath pressure required to play this plastic tin whistle can certainly provide a bit of a workout.
The Kildare penny whistle features a curved windway, with separate head and body sections and a slightly tapered bore. While it doesn't have a very breathy sound, it does offer a little more chiff than other tin whistles. Its resonant tone is, in my opinion, better suited to group performance than solo playing but that's a personal preference.
All that being said, there's a reason Susato whistles are still so popular today. If you're a strong player who likes to create plenty of volume, then this could well be the whistle for you. Susato makes the best plastic tin whistle on the market.
ADVANCED PROFESSIONAL TIN WHISTLES
If you know that the tin whistle is the instrument for you and you want to make a long term investment in your playing, I highly recommend investing in any of the quality tin whistles listed below.
These expertly crafted, professional tin whistles are some of the best tin whistles available anywhere in the world today and will see you right through to the advanced stages of tin whistle playing.
So if you're planning on seeing your musical journey through to the end, these whistles would make excellent travelling companions.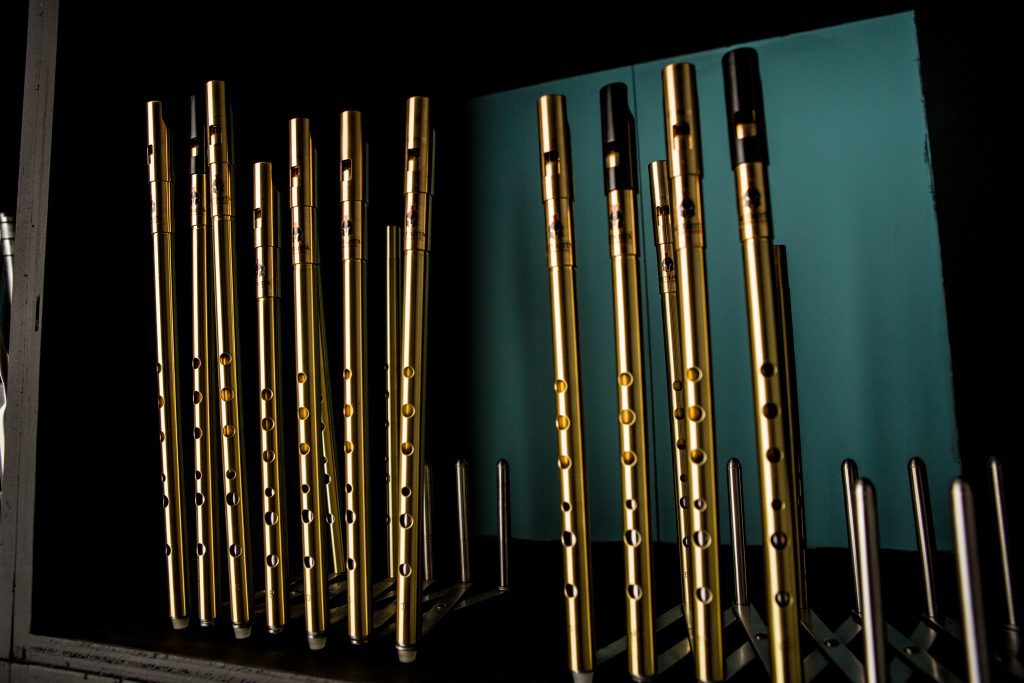 Setanta Whistles
John O'Brien designs these beautiful whistles from our very own McNeela Instruments workshop right here in Dublin. John's whistles are a labour of love which is evident any time you pick one up to play it. But what exactly is it that makes these whistles so special?
John is an experienced pipes and whistle player who has designed these whistles to cater for the needs of professional musicians. As a result, Setanta whistles feature a beautiful warm clear tone in all octaves, excellent responsiveness and exceptionally accurate tuning.
What makes a professional standard whistle?
In addition to their clear and crisp sound, Setanta Whistles feature even tempered tuning which makes them more versatile than midrange whistles.
With this more accurate tuning system, every note you play is in tune. This might seem like a given with all instruments, but surprisingly not all whistles are in tune with themselves or other instruments.
Another standout feature of the Setanta tin whistle is its light yet robust body. The thinner and lighter a whistle it is, the easier it is to play. This ease of movement allows for faster playing, which is a must for modern tin whistle players.
The thicker wall of the Setanta whistle makes it sturdy, without adding too much extra weight. This makes it incredibly easy to play yet still provides a durable instrument that can withstand any accidental knocks and bumps.
Customisable Choice of Whistle Head
You can even personalise your Setanta whistle with your own choice of fipple. Each fipple offers a different sound quality:
Brass Head: This whistle head provides the warmest tone and produces more midrange frequencies. It sounds particularly at home with the Setanta C whistle.
Brass & Delrin Head: This fipple offers a slightly more balanced tone with a healthy smattering of high frequencies, providing more colour and body.
Delrin Head: Featuring the colour and body of the Brass & Delrin head, the Delrin fipple offers more high end frequencies. The result is a brighter tone, better suited to cutting through in a session.
If you're unsure which fipple is for you, John recommends the Brass fipple for the Setanta C whistle, the Delrin fipple for the Setanta D whistle and the Brass fipple with Delrin cork for the Setanta Eb whistle.
Luxury Sound at Affordable Prices
Most importantly Setanta Whistles offer exceptional affordability without compromising on quality. It's rare to find a genuine professional quality instrument at such an affordable price.
Prices start at just €165 for John's Setanta soprano range, or €249 for his low whistle range.
By comparison, Goldie Whistles start at €215 for a soprano whistle, or €275 for the low whistle range.
You can learn more about John's masterful whistle making process in the video below:
Roy McManus
Roy McManus is a gifted whistle maker from Belfast who creates exquisite handcrafted wooden whistles.
McManus whistles feature a wide bore which produces strong clear notes in both octaves, while the wood creates a bright but mellow sound.
Unfortunately Roy isn't currently taking orders, but we occasionally stock his beautiful creations when they come our way. Keep an eye on our online whistle store and you could get lucky!
Michael Burke
Michael Burke is one of the best tin whistle makers in the world and his instruments are a real treat to play.
These highly responsive instruments produce a superb sound and, like Setanta whistles, don't require too much airflow to play them.
Burke whistles aren't the loudest whistles on the market – you might struggle to be heard at a busy session – but as a solo instrument they truly excel. You'll sound every bit the master tin whistle player you are.
Colin Goldie
Another whistle maker making a lasting impression is the talented Colin Goldie.
Colin is a gifted whistle maker who makes beautiful instruments. Goldie whistles are a great option for any player looking to make a long term investment in their playing. Though, they come with the sort of price tag one would expect for a premium, professional tin whistle.
If you're looking to explore whistles in keys other than D, Colin offers a hugely exciting range of options.
Have a listen to one of his whistles in the hands of the brilliant young whistle player, Kevin Meehan:
Mastering the Irish Whistle
By now you're well on your way to being a tin whistle expert, so why not browse the exciting range of Irish whistles in my online whistle store and see if something catches your eye.
With the right tin whistle in hand (any whistle recommended above will see you right) and a little more know how, you'll be flying in no time!
If you'd like a little more guidance however, you can always sign up to the McNeela Ultimate Irish Whistle Course taught by none other than John O'Brien himself.
In this course John will teach you everything you need to know about the tin whistle. He's with you every step of the way as he guides you along your musical journey – taking you right through from the beginner stage all the way to advanced.
McNeela Tin Whistle Lessons Series
Here at McNeela Instruments, we're committed to ensuring that our customers become the best musicians they can be. My team and I care deeply about your musical journey and want to help you every step of the way.
So when I realised the plight of my tin whistle customers – floundering without access to expert tuition and guidance – I decided to team up with professional whistle player and maker, and my longtime friend, John O'Brien. Together we created a series of tin whistle lessons that is accessible to musicians everywhere.
Drawing on his vast experience as both a performer and teacher, John has put together this carefully crafted series of lessons that can take you from beginner to master tin whistle player. These lessons will equip you with all the skills and tools you need to sound good, right from your very first note.
John has developed an extraordinary teaching method which helps you learn in record time, without compromising on technique and style. In fact, you'll be session ready in just ten weeks!
John's tried and tested teaching method guarantees results. The best part is, you can work entirely at your own pace. Work around your busy schedule, press pause, replay a lesson – you're fully in control.
Even better, these lessons include access to our specially designed session player which allows you to play along with other Irish instruments at your desired speed. So you can get the full Irish session experience from the comfort of your own home.