The Irish Trad Session Explained
The Irish Trad Session Explained [updated Sep '20]
At McNeela Instruments we love a good Irish trad session. Paraic, Fiachra, Dave and John are active players on the trad scene and play at all types of sessions. The rest of us go to as many as we can, so we've learnt a thing or two in our time.
The first thing to know is that while there are unwritten rules when it comes to participating or watching a session, a great session will often benefit from moments of anarchy that lend the gathering that mythical element of joy!
There are, of course, ways of joining in a session that will offend the least amount of people and keep the flow going, so read on but keep an open mind.
What Exactly is a Session?
A session is a casual and sometimes impromptu gathering of musicians playing traditional Irish music and usually takes place in a pub but has also been known to take place on street corners or even someone's kitchen, in fact anywhere Irish musicians are gathered.
If you have the luxury of time it's always a good idea to go as often as possible to your chosen session and observe, observe, observe and listen, listen, listen. Irish flute playing legend, Matt Molloy, has often said that the key to a great session is listening.
How to Find a Trad Session
Field (Pub!) Research
In order to find the right session for you, you'll have to do a fair bit of field research (how bad!) but online forums like TheSession.org and TradConnect.com are great points of information for what's going on where, what tunes are popular right now and plenty of inside tips.
Many of the forum members are seasoned musicians themselves.
Online Research
TheSession.org also features plenty of downloadable music in both sheet form and ABC notation; an amazing resource for the novice 'sessioner'. Look out for Irish trad music festivals taking place near you as there will be sessions aplenty popping up everywhere, and with naturally fewer rigid rules you might easily slot in and acquit yourself very well.
Schools of Irish Music
It's also a good idea to ring schools of Irish music in your area and see what might be going on. Plenty of students may be partaking in their own sessions or the school may be organising them, either way, they should be an excellent source of information.
Set up your own traditional Irish Session
You can of course set up your own session which means you choose the rules, the time and the place.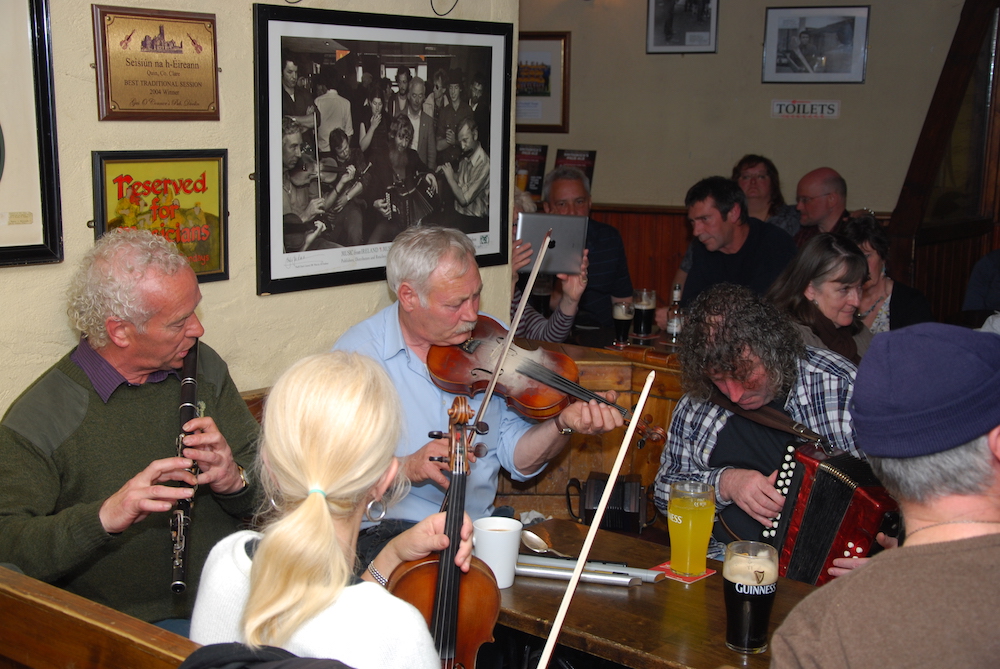 Different Types of Irish Trad Sessions
Every session has its own personality and 'participation ideology'.
Advanced Traditional Irish Music Sessions
Some sessions can be fairly rigid with brilliant musicians playing for each other and their peers just for the sheer joy of it and not ultimately focused on the audience.
It would take nerves of steel to try to join this type of session, especially if you are still at an early stage of learning your instrument, however don't be discouraged if you find yourself at one as it's the perfect opportunity to learn and see how the pros do it.
You may even get very lucky and some kindly musician will invite you to play a tune or two but don't bet on it and certainly don't push your way in.
Major Session Faux Pas
In fact 'pushing in' is definitely one of most frowned upon session faux-pas.
Another session no-no as an observer is to attempt to clap along with the music! Spare your blushes and don't do it. Sit on your hands if you have to.
And whatever you do, for the love of God, don't sit in another musician's seat. Alway check before you settle in.
Beginner Traditional Irish Sessions
Other sessions may consist of younger or less experienced musicians and will provide a safe and welcoming environment for the session 'newbie' – the underlying theme is that everyone is still learning and accepting of mistakes; both their own and others.
The Session Grump
Someone to watch out for and who you may come across, is the session grump. The intolerant, grumpy male or female player. Usually an elder or a well seasoned sessioner and the boogeyman of Irish sessions, especially for newbies.
Their bark is usually a lot worse than their bite but they've been known to order musicians out of a session if they're mucking up in any way. Yikes!
If this happens to you, all you can really do is laugh it off, go away, master the tune and come back and play them under the table.
The Street Session
Take a look at this street session that happened just outside our pop-up shop at the Willie Clancy Festival.
Casual Participants
Note the man on the whistle to the left of the screen, the other man on the harmonica to the right and the woman on the flute who comes in later, all casual partakers and playing away.
It's worth watching it all the way as it's a perfect example of a street session where anyone can join in.
Tune Change at an Irish Trad Session
You may notice the tune change at 02:03 but can you work out who proposes it?
The Session Lead
It could be session lead, esteemed fiddler Antóin Mac Gabhann, (middle fiddle player) or legendary Irish accordion player, James Keane, seated facing the five fiddle players, see the subtle eyebrow raise just before the change. Answers on the comment section below!
McNeela Pop Up Shop Session
And this shop session that took place at Fleadh Cheoil na hÉireann in Drogheda. Yes, sessions really can pop up anywhere.
Don't forget that most sessions will have their own repertoire and the best way to learn is to ask which tune is playing, find the music for it and get practising!
Listen and Learn
As the aim of a session is to play together and explore a common repertoire it's important to choose a session that isn't too far above your abilities so if you attend a session where all the players are consistently top-notch and you're not yet fully confident in your mastery of your instrument it might be best to enjoy these sessions as an observer rather than a participator.
Irish Trad Session Repertoire
Note the Irish session tunes you like and record one or two to be learnt by yourself later on – always check with the musicians before doing this, just in case.
By the way, never refer to a tune as a song – that will mark you out as a newbie straight away!
Joining an advanced Session
Trying to actually join a session like this may be fraught and could kill your confidence completely so to reiterate, you'll be better off in a 'safer' musical environment where mistakes are accepted and newbies are encouraged.
Then again, like we've said, a good session benefits from moments of anarchy so if you're feeling it and know a couple of great session tunes, ask to join in, what's the worst that can happen?
Ómós or Respect at an Irish Trad Session
There's nearly always an unspoken hierarchy at play at sessions which generally takes the form of beginner or inexperienced musicians giving way to the more seasoned session players or musicians.
The Irish sense of ómós (oh-mohs, like the mos sound in most) or respect is a very strong element of trad sessions and is the underlying theme of nearly every session worth being at.
You'll see it very markedly if an older more venerable musician happens to be about. All other players defer to him or her regardless of their expertise and they will try to ensure that their playing be a sort of tribute to that musician.
You will of course pick this all up by attending sessions regularly and observing closely how things are handled, better still if you know the esteemed musician's music and playing style so start brushing up on your Irish folk and trad music knowledge.
Joining a Traditional Irish session
Jumping In
If you've found the session of your dreams, have hung around a few times with your instrument under your oxter (elbow), and are on nodding and smiling terms with the musicians, it's time to take the next step and actually play. A polite request to join in on a tune or two is a good start, just make sure you know it!
Playing under the music
Most musicians will have mastered the art of playing 'under' the music ensuring any mistakes are neither audible nor intrusive so for your first few sessions let the others propose the set and play along without putting anyone off – it's a good way of building up confidence and showing respect for the other musicians.
Find the Flow
Many musicians have often likened the traditional Irish session to a good conversation, with flow being one of the main desirable attributes. So in order to facilitate flow there's give and take, no one should hog the limelight and shyer players should be encouraged.
Sensitivity and awareness
It takes a certain sensitivity to partake in a session and luckily most musicians are naturally blessed with it, the ones who aren't will stick out like a sore thumb.
Conversely, don't be overly shy either about sharing your music. If you're confident in your ability, have a fair few tunes under your belt and play music similar to your session of choice then get into it! Hup!
Bodhrán Players at Sessions
The same etiquette rules apply to bodhrán players but there is an added edge.
There are some musicians who will groan inwardly when they see a bodhrán player approach a session, even before the bodhrán player has a chance to show their skills, as there exists within some circles a snobbery towards bodhrán players (often borne of bitter experience, they will argue).
Even if you feel that this is unfair, a bodhrán player needs to display an extra special sensitivity to their fellow musicians. If you feel you're out of your depth play quietly along with the music and resist all temptation to thump the bodhrán before you know the lay of the land.
This sensitivity will be much appreciated by the other musicians and when you do let loose you will find you have a more receptive audience.
If there happens to be another bodhrán player with you and they display better skills than you, pull back a little, listen and learn.
The Irish phrase, "Ar scáth a chéile a mhairimid" is particularly relevant here.
It literally means, 'we live in each others shadow or shelter' an inevitability of both mutual influence and interaction which implies reciprocal hospitality and generosity among people thrown together* including and particularly applying to musicians at a session.
In other words, we need each other, so be nice!
One last thing, what does 'Hup!' mean?
You may hear this a lot or not at all and it might be used for different scenarios at different sessions.
Firstly the session 'lead' may say it to indicate that an upswing in pace is imminent, or to indicate a change of tune or even a key change.
You may also hear it said by a member of the audience to show pleasure at the music, as encouragement to the musicians or just general delight.
Only use it sparingly and when the mood strikes and if in any doubt use 'g'wan ya good thing!' or WHOOP! instead – always appropriate!
If you want to read more about 'Hup!' head over to The Session for a comprehensive and very funny discussion of this elusive interjection.
The above is by no means an exhaustive guide to the traditional Irish session, in fact there are myriad nuances and insights still to explore, so what are you waiting for?
Get out there!
And as always, McNeela Music is here to help and advise. Get in touch with us if you've any questions about Irish musical instruments, sessions, teachers etc.
Browse our full selection of traditional Irish music instruments
*Thanks to Uachtarán na hEireann, Micheal D. Higgins for this great definition.