How To Choose a Flute For Traditional Irish Music
Buying a traditional Irish flute can be a daunting task, especially if you're new to the world of Irish flute playing. Whether you're looking for your very first wooden flute, or a more advanced model, it can be hard to work out which one is best for you.
We get all types of flute players here at McNeela Music, from experienced players to those just starting out, to classical flute players looking to switch over. They all have the same question however. How do I find the best flute?
I've written this handy guide, to help you navigate this difficult decision and choose the right Irish flute for you, no matter what stage you're at.
I'm very proud of the great variety of Irish and Celtic flutes we offer in our Irish Flute Store and I promise to leave no stone unturned in your quest to find the right fit.
The Basics: The Irish Flute
Irish flutes or Celtic flutes are based on the simple system predecessor to the Boehm style classical flute.
These simple system flutes are typically made from wood, with the most popular tonewoods being African Blackwood, Cocuswood, Mopane, Rosewood or Boxwood. Modern Irish flutes can also be made from wood-like plastic composites, such as Polymer or Delrin.
Irish flutes are typically based on Pratten's perfected model dating back to the early to mid 18th century.
Standard traditional Irish flutes can either be keyless, or feature 4, 6 or 8 keys, to assist with playing chromatic notes and accidentals. The most common key for flutes is the key of D, as the majority of traditional Irish music is played within this key.
The Anatomy of the Irish Flute: A Brief Guide
The Irish flute or Celtic flute consists of three main parts: the head joint, the body and the foot joint. Some Irish flutes however, come in just two sections – the head joint and the body.
The Head Joint
The head joint is located at the top of the flute. It houses the embouchure hole, tuning cork and tuning slide.
This is the most important part of the flute as it contributes to the flutes flexibility, tonal performance and response. It must be handled with care!
The Body
The body of the flute connects the head and foot joint (if there is one). It's the midsection and largest part of the flute. The tone holes and keys reside here.
The Foot Joint
The foot joint gives the flute the option to extend to a low C# and C. Keys are required to extend the range of the flute to these notes. On a keyless Irish flute these tone holes are not used.
Where to Start? The Important Factors
Price
The truth is that you don't have to spend a fortune to get a good quality instrument. That being said, opting for the cheapest brand is not necessarily a good idea either.
Before you start shopping it's a good idea to know your price expectations. Setting a price limit will help you assess which flutes are suitable for your current needs.
Quality
A low quality flute will produce a low quality sound and the quality of the instrument will also highly impact its playability.
This can be extremely frustrating for any beginner, and could result in the player giving up.
To ensure this doesn't happen, we advise beginners to carefully evaluate brands and prices. If a deal sounds too good to be true, it usually is.
To help you avoid the pitfalls of accidentally buying a low quality flute, I've laid out some of my recommendations below for some of the best Irish flutes on the market.
The Questions You Should Ask
It's important to know what your goal is when shopping for a new flute. Are you looking to take your playing to the next level? Is this a long term investment or are you simple looking for a good starter instrument that will let you dive in right away?
These are some questions you should ask yourself before you begin your search:
Is this a hobby or would you like to study music at some stage?

How long do you expect to play the flute for? (An important factor in determining your budget.)

Where will you be playing the flute? Is it a solo instrument for playing at home? Will you be bringing it to a session? Will you be performing and playing gigs? If so, do you need a flute that stands out or one that will blend well in the background? This will affect the tone and volume of the instrument you choose.
Once you've answered these questions, you're ready to dive right in. So keep reading and I'll impart all the insider knowledge you need to make a purchase you'll be 100% happy with.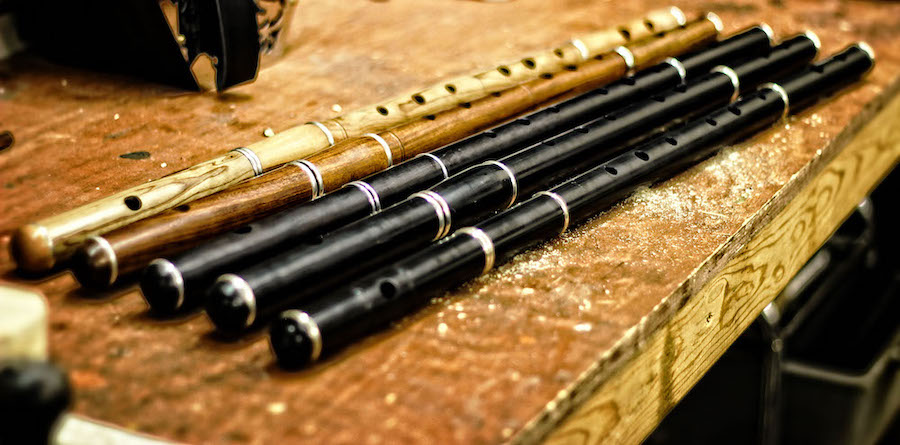 Tips for Buying a Beginner Irish flute or Celtic flute
Not all Irish flutes are suitable for beginner players. Some can be more difficult to play than others, and require more airflow. Irish flutes can also vary in size, with certain models requiring quite a larger stretch of the fingers. The embouchure and keyholes can also vary in size.
When starting out you want a flute that is:
Lightweight and easy to play
Has a smaller embouchure
Doesn't have overly large holes or require too much of a stretch
With all this in mind, I've laid out a few suggestions below…
Budget Beginner Irish Flutes – Under €100
If budget is an issue, or you're worried about making an expensive long term investment, then a polymer practice flute is a suitable alternative to start out on.
These flutes are really only suitable for testing the waters and learning the basics. Once you know that the Irish flute is the right instrument for you, you'll want to move on to a wooden model as a beginner plastic flute will never give you that authentic traditional Irish flute sound.
Tony Dixon offers an excellent range for beginners. This Tuneable Polymer Practice Flute in D is a great budget option to dip your toes into the world of Irish flute playing.
They're quite useful for smaller children learning how to blow and fill the flute with air. They don't produce a great amount of volume, but that's not what you need in these early stages.
They're a great choice for parents who don't want to spend too much, for fear the new instrument may be cast aside in a few months, in favour of another activity!
Beginner Irish Wooden Flutes – Under €350
To achieve that authentic Irish sound, I highly recommend starting out on a wooden flute. The good news is you don't have to break the bank to find a suitable beginner wooden flute. There are many high quality, low cost options available these days.
The Cygnet is currently our most popular flute. It's designed specifically for traditional Irish music, with beginner players in mind. It's suitable for adult beginners as well as children. And has been rated by many music teachers as their preferred Irish flute for students.
Embouchure
The embouchure (the hole you blow into) on the Cygnet flute is slightly smaller than on standard Irish flutes. It's been designed this way so beginners can fill the flute with air more easily.
As a result, the Cygnet is easy to play. It only requires a moderate amount of air to fill the flute, so beginners won't find themselves too dizzy or out of breath from overblowing.
Tone
The Cygnet also produces a very pleasant tone. Remember, if an instrument makes a good sound then the player will be far happier to keep playing it.
Rosewood flutes produce a softer sound than other wooden flutes. This mellow tone will be easy on the ears for all who have to listen to it being played.
Appearance
This beautiful flute really looks the part. As well as sounding good, Rosewood looks good too!
The Cygnet features the standard headjoint with silver tuning slide, body and footjoint – each finished with silver fittings.
You'll notice there are two holes in the footjoint of this flute. These are for low C# and C, but you'd need keys to be able to reach them – not something you need to worry about at beginner level.
I thought it best to draw your attention to them rather than have you wondering if you were supposed to grow two more fingers on your right hand!
They play a role in the tuning of the flute which we can talk about another time.
Value For Money
This wooden flute is relatively inexpensive yet provides the benefits of a real Irish wooden flute. Priced at just €304 including worldwide delivery, it's a real bargain!
Like the rosewood cygnet model, the McNeela Cocuswood Irish Flute is designed with ease of playing in mind. This makes it an ideal beginner flute for those starting out.
It's particularly easy to fill the Cocuswood with air and to achieve both good volume and a good tone from the flute.
Characteristics of Cocuswood
Cocuswood produces a bright, rich tone. It's a more dense tonewood than Rosewood, meaning this flute offers more volume than the Cygnet.
A beautiful pale blonde in colour, the cocuswood also gives a wonderful finish to the flute, making it very pleasing to the eye. Who doesn't want to play an instrument that also looks good?
Value for Money
The McNeela Cocuswood Irish flute is probably one of the best value wooden flutes on the market today. I take great pride in making high quality instruments that are accessible to all budgets and levels of playing. The Cocuswood is priced at just €314, including worldwide delivery.
Tips for Buying an Intermediate or Advanced Irish Flute
As with any purchase, research is key. I suggest listening to your favourite flute players. What flutes do they play? Which tone do you like best? Which flute playing style are you trying to emulate?
Intermediate and advanced flutes can be expensive so it's good to have a set budget in mind, this will ensure you don't get carried away! A professional level flute can cost upwards of €10,000.
At the intermediate stage in particular, it's important to think about the foreseeable future when buying a flute. This will ensure you buy a flute that not only suits your current needs, but will also fulfill your future flute playing requirements.
At this stage of the journey, the search for a flute can be time consuming, but it's a worthy investment. Enjoy the experience. Once you find the right flute you'll be glad you put the work in to find 'the one'.
That being said, I've put together a few suggestions to make your task a little easier. Read on for my suggestions…
The Best Irish Flutes for Intermediate Players
Lon Dubh is the Irish for blackbird. Like its namesake, this flute produces a strong clear tone. Despite being made of polymer, the Lon Dubh produces a beautiful woody tone particularly suited to traditional Irish music. It also offers great volume, making it ideal for a traditional Irish music session!
Benefits of Polymer
The Lon Dubh polymer flute is made with polymer resin. Though, it also looks like African Blackwood flute from a distance! Polymer resin is one of the strongest plastics, making this flute highly durable.
Unlike its wooden flute counterparts this polymer flute is never affected by climate conditions and is virtually indestructible. It's an instrument that can be passed down from generation to generation. Its resistance to changes in the weather, or humidity, make the Lon Dubh the ideal flute for travel or those living in less temperate climates.
Value for Money
This flute is priced at only €434 including worldwide shipping and is definitely a worthy long term investment.
African Blackwood is the tonewood of choice amongst top traditional Irish flute players. Once you hear it, you can understand why.
This blackwood Irish flute has a full bodied resonance and produces a strong tone. A powerful instrument, it's the perfect session flute. It offers great volume, allowing you to be heard above the noisier instruments such as concertinas and accordions.
African Blackwood
African blackwood is a very dense hardwood. This dense hardwood creates a dark, rich, and woody sound, which is exactly what you want from an Irish flute. It's also moisture resistant, which is ideal for the longevity of your instrument.
Value for Money
The McNeela African Blackwood Flute is highly comparable to more expensive blackwood flutes. At its current price of €510 including worldwide shipping it beats all other intermediate wooden flutes hands down. It's also a best-seller in my Irish Flute Store
Des Seery made flutes which are known to produce excellent tone and intonation. His son now proudly carries on that tradition. When playing this flute you will produce a rich tone every time. Exactly what every player strives for!
Benefits of Delrin
Constructed from a highly durable polymer composite, the Seery Delrin Flute is suitable for all weather conditions, thus making it the perfect flute to play anywhere in the world.
Even better, this flute has virtually no maintenance costs. The flute has been made using such great materials that there's no need to worry about oiling the instrument or dealing with cracks in the body. It's easy to see why this is Seery's most popular flute model.
Value For Money
With professionals such as Tom Doorley of Danú and Eamonn de Barra of Slide having recorded on a Seery Delrin Flute, it is easy to see why this flute is always in big demand.
At a cost of just €485, it's very affordably priced indeed.
The Best Irish Flutes for Advanced Players
The name Arie de Keyzer needs little introduction in professional and Irish music circles. Arie has been crafting premium instruments since the 1980's. His advanced flutes are highly sought after.
The Arie de Keyser African Blackwood flute is a professional standard Irish flute. It's extremely durable and handcrafted with top quality African blackwood. You can also upgrade it with keys at a later stage, if you desire.
Arie has been making top quality Pratten and Rudall & Rose style flutes for many years.
His range is extremely popular within the Irish traditional music community and his instruments are always in demand.
This beautiful handcrafted Irish flute is priced at €695.
Sam Murray is celebrated the world over for the quality and craftsmanship of his superior flutes. McNeela Music is incredibly proud to be the sole distributor of Sam's sublime custom made wooden flutes.
Sam makes what we call a session flute. This flute type is known for its deep tones and high volume. It's easy to fill and, as a result, plays as comfortably as a whistle.
The tone is powerful, but also beautifully balanced and sweet with that all important strong low D. Its light weight makes it a delight to handle
Made from African Blackwood, and finished with sterling silver rings and keys, its high end finish perfectly complements its superb sound.
Sam's exquisite keyed flute is currently priced at €1,195. This instrument is an incredibly worthy long term investment in both yourself and your flute playing.
Alternatively, if you really know what you want from a flute, you can order a fully customised, custom built Sam Murray flute for €2,950.
A Worthy Investment
No matter what stage of playing you find yourself at, purchasing an instrument is a long term commitment to both yourself and your music.
When you buy a musical instrument you're investing in your future self, and at McNeela Music, we think that's an investment worth making. Our Celtic Flute Store stocks a wide range of Irish and Celtic flutes – perfect for any level.
The perfect flute is waiting. With the right instrument in your hands, you'll be unstoppable. Go n-éirí libh!
Title Image: "Wood Flute Headjoints" by David Chu, sideblown.com
Updated: 2nd September 2020