So you're looking for an Irish tenor banjo for sale? Don't worry, you're in good hands. Here at McNeela Instruments we have a wide range of instruments specially designed to cater to the needs of beginner musicians. First things first however, that all important question…
How Much Does a Quality Banjo Cost?
A good quality beginner banjo will usually cost upwards of €350/$375 but as with all musical instruments prices will vary.
You can choose to spend more or less, depending on your needs but don't be fooled by a price that seems too good to be true. Remember that overly cheap instruments offer significantly less playability and typically end up costing you more money in the long run as you will need to upgrade to a new instrument once your playing advances.
That's why we recommend starting out on a quality banjo right from the get-go. If you know the Irish tenor banjo is the instrument for you, then investing in a well crafted banjo will help make playing and learning music much easier.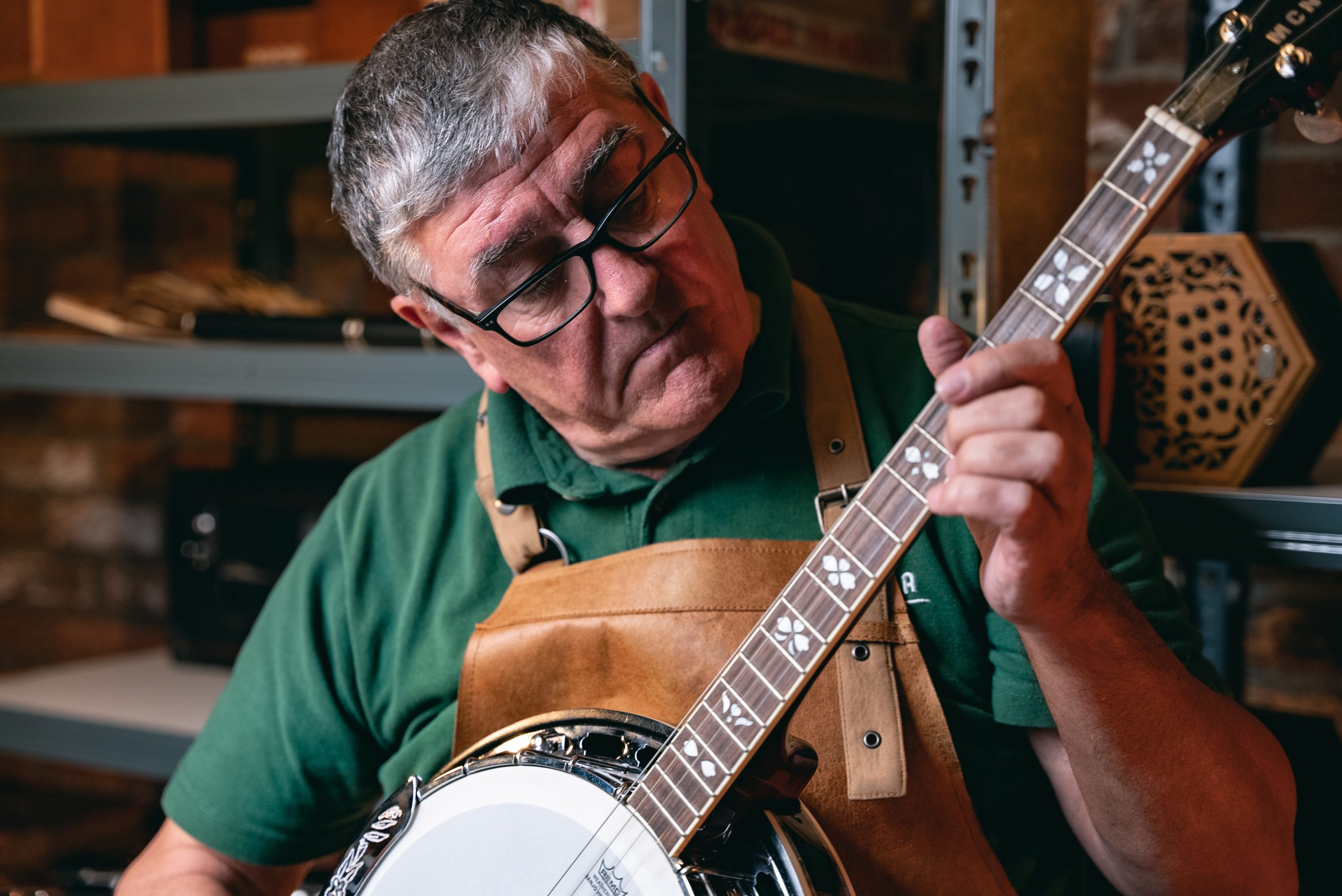 McNeela 19 Fret Celt Banjo: The Best Adult Beginner Irish Tenor Banjo for Sale
The Celt has been carefully designed, manufactured with precision and comes professionally setup so it produces the perfect sound. This 4 string resonator banjo features a Remo Weather King Skin and 30 tension hooks to hold the head tightly, producing a strong, clear resonant tone – perfect for being heard in a crowded Irish trad session.
Crafted from quality materials it features a beautiful mahogany body, neck and back with a rosewood fingerboard and maple bridge. It looks as good as it sounds:
Highly Recommended: Top Model for Beginner Players
Due to its responsive performance and superb playability this is by far one of our most popular banjos. Hear what our customers are saying about this bestselling instrument:
'The 19 fret Celt Banjo is a lovely instrument that will serve to introduce this novice to the world of banjo playing.' – Ted C.

'Love this instrument. Has a wonderful sound and is a beautiful work of art. It came very well packaged, arriving without a scratch. Just what I wanted and hoped it would be.' – Brenda M.
The Celt banjo is also available with 17 frets – perfect for young musicians or those transitioning from the Irish fiddle.
17 Fret Banjos vs 19 Fret Banjos: What's the Difference?
A 19 fret banjo has two more frets than a 17 fret banjo, meaning it has a longer neck and fretboard. More frets means more notes, which is always useful for any musician.
Due to its larger size, the strings on a 19 fret banjo are usually wound to a higher tension which creates a brighter tone with more volume.
Because of their smaller more compact size (a 19 fret banjo has a 23″ scale length while a 17 fret is closer to 20″) 17 fret banjos are great for younger more petite players just starting out.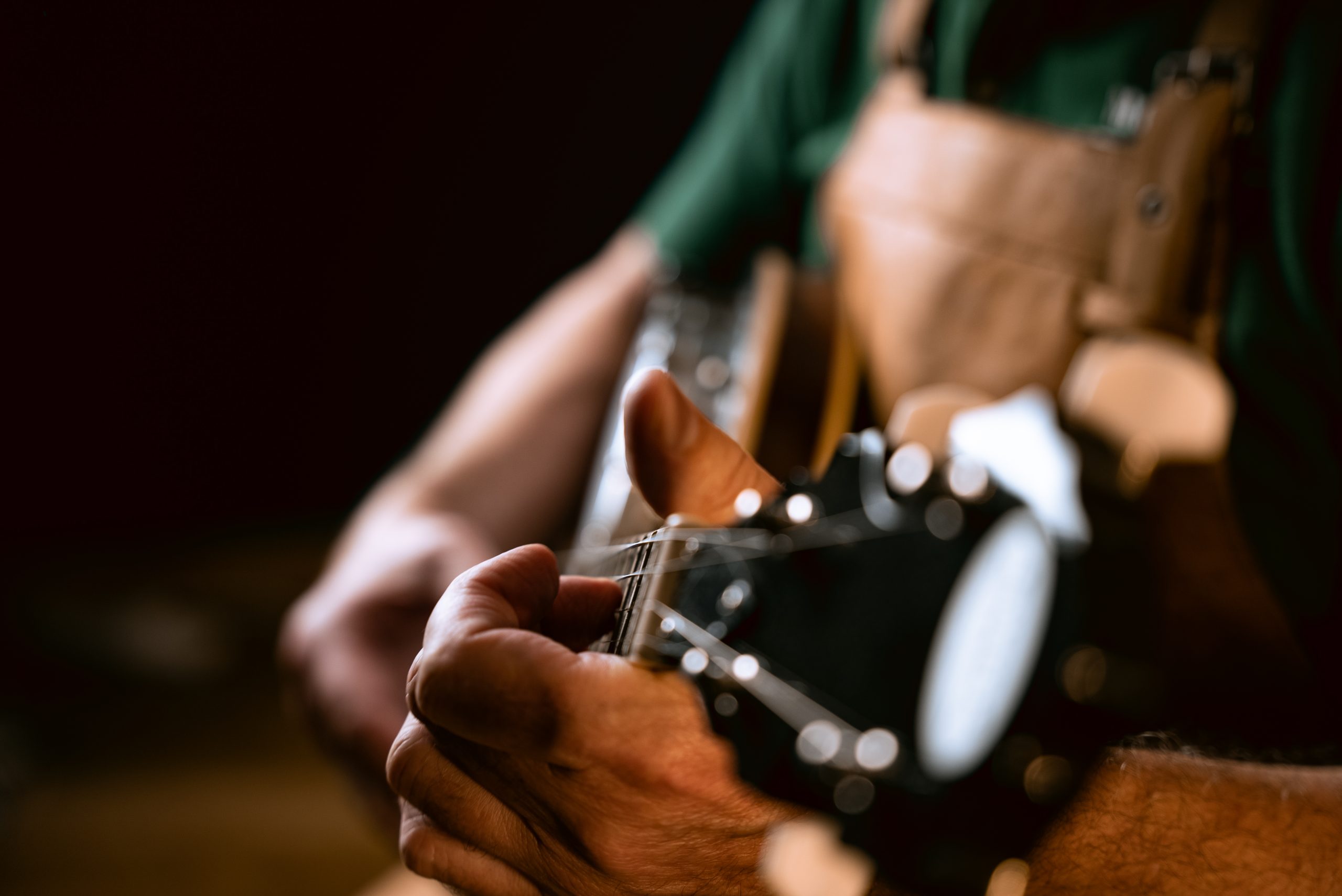 What's the Difference Between a 4 String Banjo and a 5 String Banjo?
Another commonly asked question. The simple answer is that these are two different styles of banjo, used to play different styles of music and played in a completely different style.
The 5 string banjo is bigger, with a longer scale length of 22 frets and is more commonly found in North American folk or old time music such as Bluegrass and Country. Five string banjos come in two distinct styles – open back or resonator.
The 4 string banjo – specifically the Irish tenor banjo – is smaller in size and is more commonly used to play traditional Irish music. There is a style of four string banjo called the plectrum banjo which is similar in size and build to the 5 string banjo – it's commonly found in jazz.
Photo by Chris Fithall via Flickr, CCBY2.0
What is a 6 String Banjo?
A 6 string banjo, also known as a guitar banjo is a banjo with six strings that shares the same tuning as a standard guitar. Tuned to EADGBE, it's a handy instrument for guitar players who don't want to have to learn new fingerings or a new playing technique.
To learn more about the many different styles of banjo, I highly recommend checking out Fret Expert, where musician Tobe A. Richards shares his vast knowledge and expertise on the subject: The Different Types of Banjos – A Complete Guide.
Check out the video below from Deering to see and hear the guitar banjo in action:
McNeela Makes Buying a Banjo Easy
Our own Irish Music Blog is packed full of handy tips and expert advice for beginner musicians to make finding the right banjo a breeze.
Check out McNeela's Ultimate Guide to Buying a Banjo to learn everything you need to know about the buying process.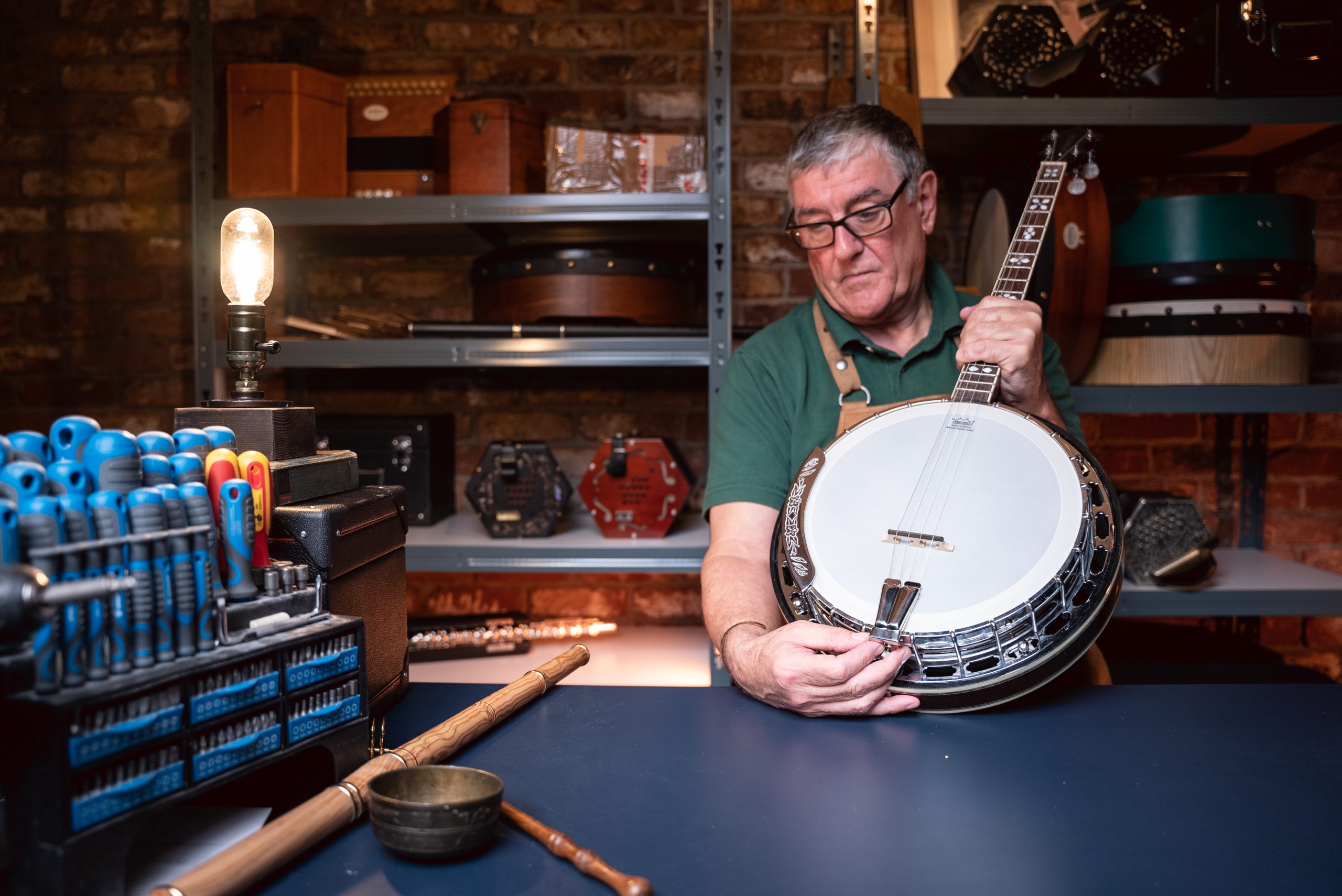 Banjos For Sale
If you're looking for the best banjos for sale make sure to check out the McNeela Online Music Store. We stock a wide range of new banjos, vintage banjos, Irish tenor banjos, resonator banjos, 4 string banjos, 5 string banjos (perfect for playing Bluegrass!), banjo accessories and more.
We sell banjos from top brands including Deering Goodtime, Koda, Clareen and more. Our collection of banjos have been hand selected for their top condition, excellent tone and ease of playability, so why not take a look at the McNeela Banjo shop and see if one of these superb instruments catches your eye.