If you're looking to improve your concertina playing there's one thing that's even more effective than practice, and that's listening to as much music as possible. Luckily there's no shortage of great concertina players to listen to for inspiration but it can be tough to know where to start. To give you a helping hand I've rounded up some of my favourite recordings. So without further ado, allow me to introduce my Top Five Best Concertina Albums for traditional Irish musicians. 
With such a wealth of concertina players to choose from it was a difficult task to whittle down the list down to just five candidates, and even harder still to choose just one album from each. The following are however, in my humble opinion, some of the greatest contributions to Irish concertina playing by some brilliant players who are sure to inspire!
So let's get started. Hours of listening pleasure await…
Chris Droney: Down From Bell Harbour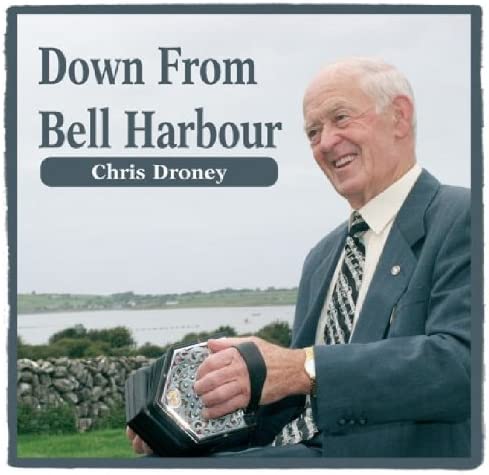 Chris Droney is one of the most influential concertina players Ireland has ever known. For almost a decade, from 1957 to 1966, he reigned as the senior All Ireland Concertina Champion – a feat unrivalled to this day.
The Clare native was born and raised in Bellharbour where he lived a long and happy life, devoted to his family and his music. Chris passed away in 2020 at the age of 95, leaving behind a thriving musical legacy. I highly recommend clicking the link below to learn a little more about the man behind the music in this interview with the legend himself, recorded shortly before his passing: The Life & Times of Chris Droney – TG4 Interview
We are incredibly lucky that Chris Droney, unlike many musicians of his generation, recorded four albums during his lifetime: Irish Dance Music (1962), The Flowing Tide (1975), The Fertile Rock (1995) and Down From Bell Harbour (2005).
Each recording is a gem – you couldn't go wrong listening to any of them. In fact, of my top 5 albums, spots 1 – 4 could easily go to Chris' albums alone. My personal favourite however is Down From Bell Harbour – a celebration of Chris Droney's home in Co. Clare and its rich musical heritage.
Despite recording this album at the age of 80, Chris is in flying form throughout. It will come as no surprise to listeners that Chris Droney himself was a fine dancer – something which strongly influences his own musicality. His playing has a lively rhythmic drive with a characteristic Clare lilt. 
This album has something for everyone. Fast paced dance tunes sit alongside waltzes and haunting airs, each executed with the elegance and finesse that is characteristic of Droney's playing. His ornamentation is subtle and understated, and always serves a musical purpose – never inserted for the sake of proving his dexterity or technical skill.
A Change of Pace
Regular readers will know I'm a sucker for a lively reel set – of which there are plenty on this bountiful album. In a surprising change of pace however, two of my favourite tracks on this album are slower numbers.
The first – The Bell Harbour Hills – is a beautiful pre-famine waltz that Chris learned from his own grandfather, Michael Droney:
'The time of the famine, people were emigrating every week and they used to have what they called an American wake – a farewell party for the people'd be emigrating. But he had two special tunes he used to always play – The Bell Harbour Hills, The Gleann na Mbeanna Waltz – and I forgot them for years. Then all of a sudden, one night, didn't I think of them again, and I recorded them. I said I won't forget them the next time…' – Chris Droney, TG4
Next is one of Chris' own compositions, Peaceful Corcomroe. This is an enchanting slow air inspired by Corcomroe Abbey, the ruins of a 12th century Cistercian monastery in The Burren, Co. Clare – a most beautiful part of the world indeed. This sweet yet haunting melody perfectly captures the stillness and beauty of the area:
Chris penned lyrics to match this beautiful air, which his daughter Ann, also a skilled musician, recorded in 2020 in honour of her father. Click the link below to listen to Ann's moving rendition: Peaceful Corcomroe by Ann Kirrane
There's an ancient place 'neath the Burren mountains,
Where Cistercians came and preached long long ago.
It's a sacred place where lay our forefathers,
In the lonely graves in peaceful Corcomroe.
When our time on earth is o'er, and all our troubles they have ended,
And the time has come when we just have to go,
Let's thank the Lord today as we proceed on our last journey,
To our place of rest in peaceful Corcomroe.
Noel Hill: The Irish Concertina
I'm sure you knew as soon as you read the title that you'd find at least one, if not all, of Noel Hill's recordings featured on this list.
Noel Hill is a true master of the anglo concertina. The Irish concertina owes much of its popularity today to his inspirational and revolutionary playing. Prior to Noel's influence, the concertina was still largely seen as an instrument to provide music for dancers. Dance tunes were played in a rhythmic, punchy style without much scope for musical interpretation. Noel's unique approach however transformed the concertina before our very eyes into an instrument capable of depth, feeling and highly emotive musical performance.
Released in 1988, Noel Hill's debut album, The Irish Concertina, is one of the most iconic concertina recordings ever made. It was awarded Folk Album of the Year and remains to this day a masterful showcase of both Noel's technical brilliance and the concertina's capabilities as a musical instrument.
This iconic album has become increasingly difficult to source in recent years, both physically and digitally. If you do manage to get your hands on a copy, please hold on for dear life!
The Irish Concertina is a masterpiece from a true master of the concertina. Noel Hill is indeed a virtuoso concertina player. His astounding technical skill is clearly on display on each track throughout the album. Just listen to the video below to get a sense of his rhythmic drive, and fluid musical phrasing:
One of my favourite tracks from this iconic album is Noel's haunting rendition of the slow air Táimse im' Chodladh, but alas, I am unable to share it with you. I promise this spine tingling rendition will give you goosebumps though. I still remember the first time I heard it, and I envy you that experience.
Noel is one of the greatest slow air players of our time. His deep connection to the musical tradition is practically palpable – you can hear the tenderness in each note that has been carefully selected and played. While it's not Táimse im' Chodladh, you can hear him play a stunning rendition of another air, A Stór Mo Chroí in the video below:
Mícheál Ó Raghallaigh: Inside Out
Mícheál Ó Raghallaigh is an outstanding Irish concertina player who has been a stalwart of the Irish music scene for many years now. His influence as both a performer and teacher is far reaching.
Mícheál has a number of solo albums under his belt but Inside Out is definitely a firm favourite of mine. I highly recommend getting your hands on a physical copy if you can. It's worth it for the sleeve notes! These detailed notes are written in both Irish and English and provide a fascinating insight into the tunes featured on the album as well as the different instruments Ó Raghallaigh plays.
For this album his instruments of choice are a 38 key Suttner in C/G and a 46 key Jeffries in G#/D# (or Ab/Eb) – a little different to the standard 30 button concertina typically played in traditional Irish music. The differences in tone bring a wonderful feeling of variety to the album, with the Suttner tunes gaining an added vibrancy in contrast with the more mellow Jeffries.
Mícheál is not alone in exploring an exciting range of instruments. Similarly, maestro Noel Hill – in addition to owning three Wheatstone Linota concertinas, a Lachenal and County Clare miniature by concertina maker John Dipper – plays concertinas in a range of keys including C/G, A/D and Ab/Eb.
Mícheál Ó Raghallaigh has a distinctive dynamic playing style, matched by a vast repertoire. He excels not only in the selection of tunes but in pairing them with other well-matched tunes:
'Ó Raghallaigh has made some extremely fine choices from the vast storehouse of tunes that he has at his disposal and it is a pleasure to hear different kinds of energy and new life injected into the mainstream, the recently arrived, the relatively obscure and the superannuated ends of the repertory.' 
– Journal of Music
One of my favourite tracks on this album is his lively rendition of the popular reel Colonel Fraser's. A master of rhythm, his percussive button clicks serve his driving highly rhythmic playing well. Each tune is well paced, never rushed, but filled with life:
Cormac Begley: Cormac Begley
Cormac Begley is a concertina player from west Kerry. Born into an iconic musical family, he is renowned today as a concertina aficionado, playing 13 concertinas (yes you read that correctly), ranging from bass to piccolo register. 
Released in 2017, Cormac's self titled debut solo album received widespread critical acclaim, garnering 5-star reviews across the board. This album is indeed a true solo work. There are no accompanists or guest musicians. It's all about the concertina:
'I wanted to produce a solo concertina album using the full range of concertinas from bass, baritone, treble to piccolo, and to highlight some of the instrument's possibilities spanning across seven octaves. Each track is one take, featuring one concertina and are all free from studio manipulation. I have sourced previously unrecorded music, new compositions and other tunes within the tradition that have been my companions and my internal sound track during my life to date.' – Cormac Begley
The opening track, The Yellow Tinker, played on a bass concertina is a little jarring on first listen due to the unexpected brassy tone of the instrument, but it succeeds in setting the listener's expectations for what's to follow. What does follow is an in-depth exploration of the concertina which allows the instrument to take centre stage like never before.
Each track features a new instrument, with a different voice in a higher range. The pitch continues to rise as the album progresses, culminating in a lively selection of reels (John Dwyer's and McGettrick's) performed on a piccolo concertina.  The tone is exceptionally bright, almost birdlike, leaving the listener feeling as though they themselves have been elevated to new heights simply through listening.
This is not a recording for those with a passing interest in concertinas or Irish music – it's an immersive experience, but one that concertina lovers everywhere will cherish as something truly special.
My personal favourite is Track 4 – An Cat is a Máthair – played on a baritone concertina. The instrument huffs and puffs as Cormac adds a drone that, due to the quality of the reeds, sounds almost closer to a harmonica or didgeridoo. It's the Irish concertina as we've never heard it before:
Jack Talty: In Flow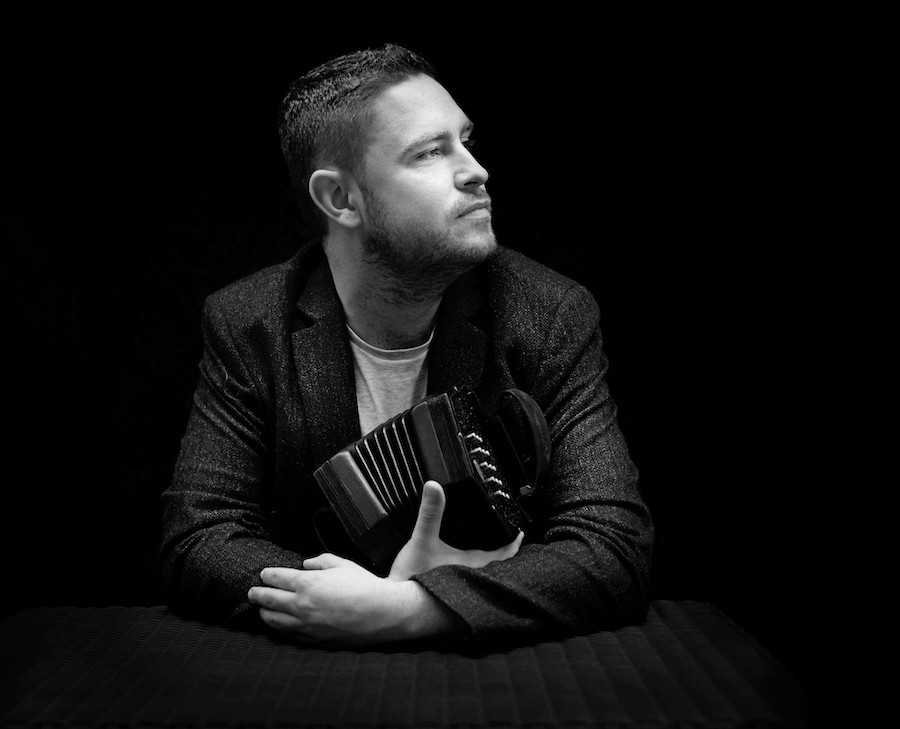 Jack Talty is a master concertina player from Lissycasey in Co. Clare. He began learning the concertina from his uncle, Noel Hill, at the age of ten. Immersed in the tradition from a young age and surrounded by a vibrant traditional Irish music community, Jack continued to thrive musically. Today he is one of the leading concertina players and teachers within the tradition. (Regular readers will of course recognise Jack as the tutor from our very own Concertina Masterclass Series!)
In 2016, Jack also released his debut solo concertina album, In Flow, to rave reviews:
The renaissance of the concertina continues unabated, bolstered by the release of this thoughtful collection from Ensemble Ériu's Jack Talty. A self-described "snapshot in time", In Flow is a plain-speaking postcard from a musician who has continually sought out the rarely illuminated corners where the concertina thrives. – The Irish Times
One of my favourite aspects of this album is the unique tune choices. Jack has sought out lesser known versions of popular tunes, which sit comfortably alongside his own worthy compositions. Have a listen to two of his reels – The Trip to Girona and The Night of The Feast. Not only are they played with skill and technical prowess but unlike many newly composed tunes these sound as though they belong to the tradition:
Jack played a number of concertinas throughout the recording process including a Linota, Lachenal, Suttner and Carroll concertina. An enviable collection of instruments indeed!
Jack's technical skill – including his distinctive left hand accompaniment – shines through on every track, without tunes becoming overly busy or showy. Much like his uncle, Jack's playing is thoughtful, considered and never hurried. Aptly titled, In Flow moves effortlessly from start to finish, taking the listener on a most pleasant journey indeed.
A particularly striking track is of course the slow air Bóthar Chluain Meala where Jack's effortless musicality holds its own. He is a player whose playing carries far more gravitas than his years should allow, and this is reflected in his sombre yet deeply moving air playing:
Highly Recommended Best Concertina Albums:
You might agree with my top choices, you might disagree. Perhaps some of your favourites have made it on to my highly recommended list below? If not, let me know in the comments section:
Kitty Hayes: A Touch of Clare

Tim Collins: Dancing On Silver

Niall Vallely: Beyond Worlds

Pádraig Rynne: Bye a While/Notify

Mary MacNamara: Traditional Music from East Clare

Caitlín Nic Gabhann: Caitlín

Niamh Ní Charra: Ón Dá Thaobh/From Both Sides

Jack Talty & Cormac Begley: Na Fir Bolg

Edel Fox: Chords & Beryls

Sarah Flynn & Doireann Glackin: The Housekeepers

Brenda Castles: Indeedin You Needn't Bother
McNeela Concertinas: Helping You Find The Perfect Musical Instrument
If you're feeling inspired and want to get your hands on a brand new concertina then why not take a look at our exciting range of musical instruments.
We stock only the best concertinas, including English folk concertinas in the key of C, 30 button Anglo concertinas in the key of C/G. Our concertinas are fully chromatic and made only with the best materials, including top quality steel reeds and premium leather bellows.
So whether you're looking for a beginner concertina that's easy to play, or a vintage instrument that will really take your playing to the next level, we have it all. You won't find better quality at the same price. Let us help you find the best concertina today:
(Please note that we only sell concertinas designed for Irish and English folk music and as such we do not stock duet concertinas.)