Welcome to a blog post that promises to be a veritable treasure trove of wisdom for every concertina player. Whether you're a novice just dipping your toes into the concertina world or an experienced player looking to refine your skills, there's something valuable in here for everyone.
Written for us by one of Ireland's leading concertina experts, Jack Talty, this post sheds light on the nuances of mastering this intricate instrument, provides advice on finding an accomplished teacher and covers the nuts and bolts of finding the best concertina for your needs. Of course you'll probably recognise Jack from our online course – The Ultimate Concertina Masterclass Series – where he's been showing (over 1000 and counting!) happy customers the ropes and helping them learn how to get the very best from their concertinas.

Let's delve in together to bring your concertina playing experience to unprecedented heights.
Listening
Understandably, it can be tempting as a concertina learner to play your new instrument at every opportunity, and that is to be applauded. However, the development of musicianship in any genre depends on taking inspiration from the creativity and talent of others.
Naturally, listening is central to this process, and so, I would encourage all concertina students to remember to integrate listening into their learning experience whenever possible.
Improve How You Play
As a young concertina student, this was a natural process for me; I wanted to listen to others as much as I wanted to play, but I appreciate that we are all different and that it may feel a little like work at the beginning. 
Just try to remember why you are interested in the concertina and Irish traditional music in the first place, and try to appreciate that listening as much as possible will have a profound effect on how you play.
Many of the experienced traditional musicians that I know would very likely cite listening as a vital element in their own engagement with Irish traditional music, whether for enjoyment or as an essential ingredient in their own performance. 
The Importance of Group Playing
For example, playing as a duet, trio, or small group, while listening closely to the musicians around you, can be a very satisfying experience.
Everyone is reacting to subtle melodic variations in an unspoken conversation of sorts, in a way that would not be possible without years of active listening.    

De-clutter
I think the concertina always made sense to me because I had a particularly experienced and skilled teacher, but I appreciate that it can be a counter-intuitive and complex instrument to negotiate. 
For this reason, I always try to simplify the learning experience as much as possible. 
Watch Out for Bad Habits
I'm often surprised at how much clutter concertina learners carry around in their heads, possibly influenced by the diverse teaching methodologies and philosophies that are available today. 
For example, I often hear students say that they try to play a note in a particular direction and in a particular location on the concertina because somebody told them that it was better for phrasing and rhythm. 
There may be some coincidental truth in that occasionally, but I prefer to adopt a much more straightforward approach: don't cross-finger (skip from one note to an adjacent one in a different row with the same finger) and you will be fine.
Of course, there is more to teaching the concertina than that! 
First-Finger-First Principle
In my own teaching, I advise students to work on a first-finger-first principle, and then expand on that when necessary and when there is good reason e.g. to:
Avoid cross-fingering/skipping 

Play a certain ornament or chord 

Change the direction of a note when you are running out of air
Keep it Simple
I try to keep it as simple as that while also admitting to students that I alternate equally between 'in' and 'out' options depending on what I want to do, and that there is no 'incorrect' version, once cross-fingering/skipping is being avoided. 
While I respect students' concerns, I feel that there is only so much concertina clutter that we can carry around with us, and I prefer to replace it with advice that will have the most significant impact on a student's development.
Enjoy it
Making steady progress as a concertina student can occasionally be a somewhat frustrating experience so I like to remind people why they decided to learn Irish traditional music on the concertina in the first place; it's a rich and complex art form that is also fun to play and it can open up many social pathways for players of all ages. 
What is somewhat unusual and interesting about Irish traditional music is that it can be so many things to so many people
Sessions & Festivals
While more formal concert programming offers opportunities to hear excellent musicians, a lot of high quality performances and social interactions take place far from the concert stage, in small back rooms during various traditional music festivals. 
I always recommend that concertina students seek out these listening opportunities whenever possible.
Connect with Older Musicians
Looking back on my own experiences as a concertina student, one particularly nice aspect of learning Irish traditional music was the connection that I made with older musicians, who had a lot of knowledge to share with me. 
For me, playing Irish traditional music was an important way to break down the kinds of age barriers that usually exist in society, while learning a lot of great tunes in the process. 
So, my advice to concertina learners is to seek out the wisdom of older musicians in their area who will enjoy passing on their knowledge of Irish traditional music as well as the stories and recollections that go hand in hand with playing Irish traditional music. 
__________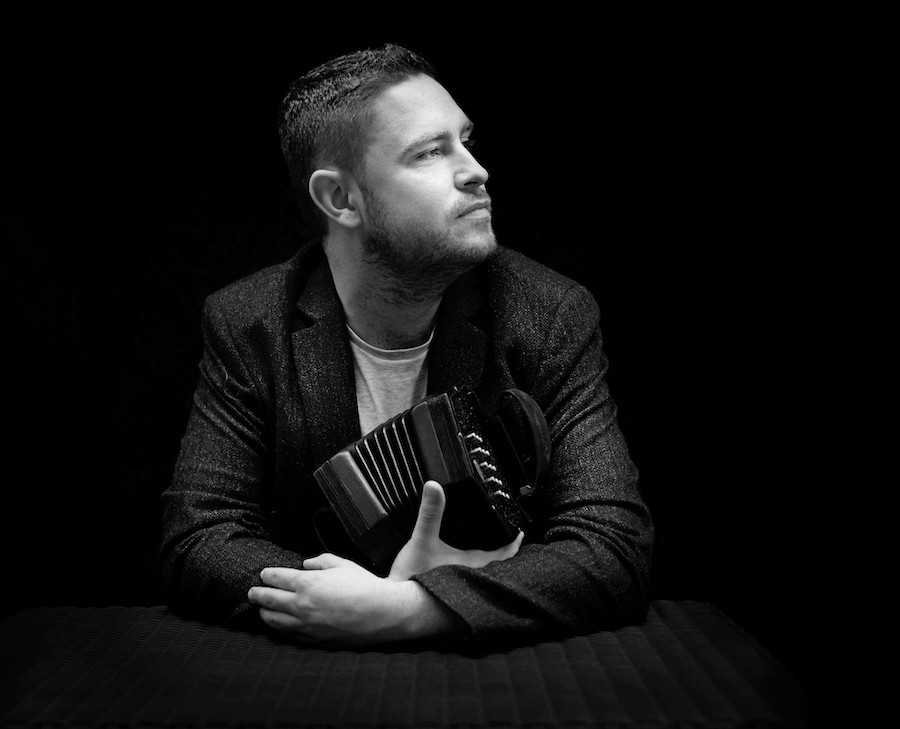 Finding The Right Irish Concertina 
One particularly difficult aspect of learning the concertina back in the day was finding an instrument that was both affordable and easy to play. I was fortunate that I could borrow a good quality Lachenal from an uncle Noel until I sourced my own Jeffries concertina a couple of years later. Lucky McNeela Music Instruments have much more affordable concertinas today!
Why You Need To Own a Jeffries Concertina and How You Can Own One for 1/6th of the Price
Problems with Beginner Concertinas
Too often, beginner concertinas are very difficult to play due to slow keyboard action and weak bellows, and they can present unnecessary barriers to students who may feel that the concertina is a much more physically-demanding instrument than it really is. 
The obvious challenge here is that higher quality concertinas with lighter action and better playability can be prohibitively expensive for those who are only beginning to play the concertina. The old mantra of "buy the best you can afford" is my advice. 
Playability vs Tone
My advice would be to shop around for a concertina that you find relatively easy to play, for now, perhaps at the expense of tone. 
You can always invest later in something that sounds better, after you have had some fun playing a concertina that feels lighter and doesn't distract you from your learning experience. 
McNeela Beginner Concertinas
Through working with McNeela Music on our The Ultimate Concertina Masterclass Series collaboration, I have had many opportunities to play their concertinas and I am genuinely impressed by what they offer. 
The Wren concertina is an affordable and easy-to-play introductory instrument and I feel that their premium beginner concertina, The Swan, is the best value beginner/improver concertina on the market. It addresses a very important gap between beginner and improver concertina models. 
Upgrading from a beginner concertina has always been a challenge for concertina students considering the significant increase in price involved but I think The Swan offers a reliable, quality, and affordable alternative to a more expensive intermediate concertina. 
McNeela Intermediate Concertina
Jack Talty Presents the McNeela Phoenix Concertina:
Finding a Teacher
It is perhaps less of a challenge today to find a suitable concertina teacher in Ireland because there are so many excellent concertina players out there with a lot of teaching experience. Again, do some research and make an effort to approach a concertina player that you really admire. 
I was lucky that my teacher was my uncle, Noel Hill, and I learned as much about the concertina and Irish traditional music from him outside the classroom as I did in our more formalised and regular group lessons. 
Based on my own experience as a concertina learner, I would encourage students to seek out teachers who could provide guidance and support in the usual foundations such as technique, repertoire, and style.
Connect with Irish Culture
It is also highly advisable to work with a teacher who can provide you with a window into the cultural and social aspects of Irish traditional music as well as connect you with the music of previous generations of traditional musicians.
About Our Guest Blogger: Jack Talty
Jack Talty is a master concertina player from Lissycasey, Co. Clare. He began learning the concertina at the age of ten, taught by his uncle, Noel Hill. Today Jack is one of the leading concertina players within the Irish music tradition.
Jack holds a Licentiate from the London College of Music, a BA and BMus from University College Cork, and a PhD from the Irish World Academy of Music and Dance, UL. 
Jack has also been the recipient of numerous awards including the prestigious Seán Ó Riada Memorial Award.
An experienced educator, Jack was recently appointed to the post of Lecturer in Irish Traditional Music in University College Cork.
As a performer Jack has been hailed as "a concertina renaissance man…with an ear for the sublime". 
In 2011 he founded Irish music label, Raelach Records, through which he released the critically acclaimed album, Na Fir Bolg, with fellow concertina player, Cormac Begley. 
That same year he also formed the award-winning septet, Ensemble Ériu, who were awarded the prestigious Gradam Comharcheol TG4 in 2015.
In 2016, Jack released his debut solo concertina album, In Flow, to critical acclaim.  It was hailed as "majestic" and "full of gorgeous melodies and ear-catching atmospherics".
A big thank you to Jack Talty for this great blog post. Check out our exciting McNeela Music collaboration with Jack Talty – a full concertina masterclass series for all levels from complete beginner to advanced level! – Paraic McNeela