The Best Beginner Tunes for Irish Flute and Tin Whistle
Published: November 3, 2020
The first and most important step for any Irish flute or tin whistle player is to master your breathing and tone. After that, everything else will fall into place.
Your next step should be learning the most suitable tunes for your instrument. But where should you start?  No one wants to waste their time struggling to learn the wrong tunes when the right repertoire can be learned far more easily in half the time.
So to lend a helping hand, I decided to put together this handy guide for all the blossoming flute and whistle players out there. These are three of my favourite tunes which also happen to be perfect for learners of the Irish flute and tin whistle. 
With these tunes under your belt, you'll be well on your way to being session ready. So what are you waiting for? Let's get started.
What Makes the Ideal Beginner Flute or Whistle Tune?
I've included a polka, a slip jig and a single jig for some variety. You might be wondering what the difference is between a slip jig and a single jig is – don't worry, it's simple, I promise. A single jig is your 'standard' jig with six short beats in every bar. These lovely tunes have a characteristic rhythm of alternating long and short notes. It's this rhythm that makes them instantly recognisable as single jigs. 
Slip jigs are played in 9/8. In other words, they're greedy jigs that have an additional three beats per bar. Don't panic, they're no more complicated to play than 'regular' jigs. 
Both The Galway Belle and Deirdre's Fancy will help you to practice scale-like passages, as well as simple movement between the lower and higher octaves. 
Off She Goes will help you with alternating stepwise movement, to help you to practice commonly used intervals and fingering that you'll find in tonnes of other tunes. 
To learn more about Irish flute and whistle playing and take your playing to the next level, why not check out my blog post: Master the Irish Flute Using These Simple Exercises. (They'll work for whistle players too!)
The Galway Belle Polka

The Galway Belle Polka, also known as the 69th Street Polka or Captain Moonlight's Army, is a great little tune that I'm always surprised isn't more popular or widely known. 
It's a useful tune for introducing notes in the higher range or second octave, without being too demanding. The simple stepwise movement and scale-like melodic phrases make the fingering nice and straightforward for any beginner flute or whistle players. 
The leap from the B to the high E will provide a nice challenge, without being too complicated, while the A-F-D patterns are ones that will be repeated so often in other tunes that you're better off committing them to muscle memory now. 
Have a listen to this beautiful harp rendition. Though, you should note that she's playing in the key of A minor, not E minor as notated above:
Deirdre's Fancy Slip Jig

Deirdre's Fancy is another great tune for beginner flute and whistle players. Like The Galway Belle it's played in E minor, so most of the fingerwork and movement will already be familiar to you. 
Slip jigs are typically played at a slower tempo than single or double jigs, so you can really relax into a slow, steady pace with this one. 
Off She Goes Jig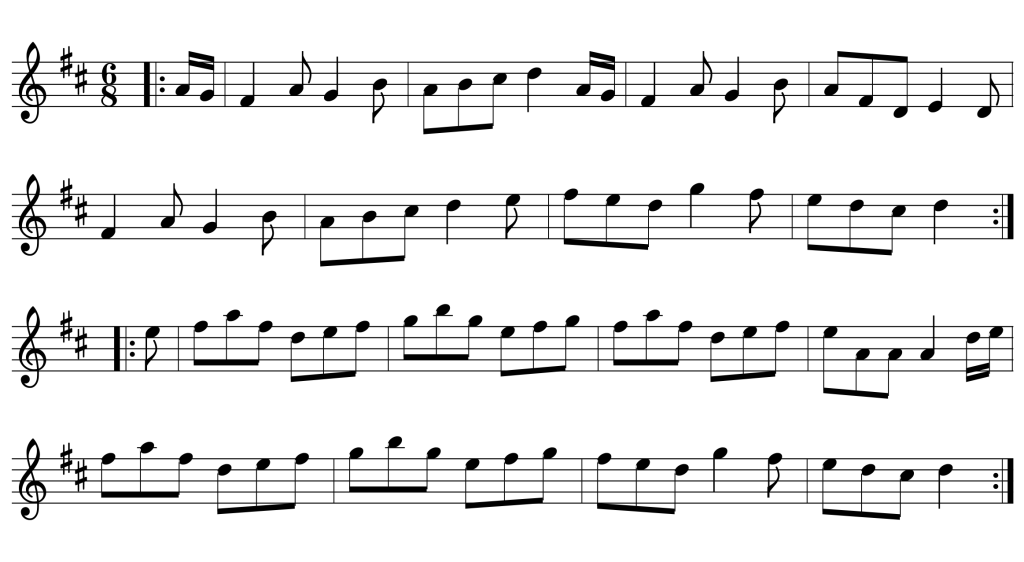 In Ireland, many of us first encounter this tune at Irish dancing classes. Its melody is often sung by dancing teachers across the country to teach us the basic steps we need to get started with our 'one two threes'.
It's also a great tune for learners of traditional Irish music. The second part will be a challenge at first, with its use of notes in the second octave. But it will also provide excellent practice for producing clear high notes on your flute or whistle. 
The 'long short' alternating rhythm is synonymous with single jigs and one well worth learning early on.
What Next?
With these three tunes under your belt, you'll be ready to tackle anything. If you're itching to learn more tunes and expand your knowledge and repertoire, I highly recommend The Complete Guide to Learning the Irish Flute by Fintan Vallely.
If you're looking to sink your teeth into something a little more advanced however, An Fheadóg Mhór by Conal Ó Gráda will give you an in-depth look at Irish flute playing techniques.
Once you've mastered everything these flute experts have to offer, why not check out our own Guide to Irish Flute Playing Styles and see which playing style might be for you.
Alternatively, if you haven't invested in your new beginner instrument yet and you're finally feeling motivated, take a look at our Online Flute and Whistle Store. You can browse our full range of beginner flutes and tin whistles – each designed to cater for the needs of beginner musicians.
For students starting out learning the Irish wooden flute style, I always recommend my best-selling Cygnet Rosewood Flute as an excellent, pocket-friendly choice. Those of you who want a premium flute experience should take a look at the McNeela African Blackwood flute – African blackwood is the traditional Irish flute player's wood of choice.
And if I've inspired you to learn the tin whistle (or to take it back up again) you should check out McNeela Music and John O'Brien's Ultimate Irish Tin Whistle Lessons.
These are the handiest, on the go, Irish whistle lessons anywhere online and will help you get 26 superb session tunes under your belt in jig time!
[Image: Giuseppe Milo, CC BY 2.0]