The Evolution of Modern Irish Tin Whistle Playing
The tin whistle is one of the most versatile instruments in traditional Irish music today. It's easily the best choice for someone seeking an introduction to Irish music. 
This humble instrument however, is also one of the most exciting instruments setting the scene alight today and pushing the boundaries of traditional Irish music. This hasn't always been the case. 
Tin whistle playing has evolved drastically over the last twenty years or so. But, some people still consider its image to be a little outdated. Through no fault of its own, the whistle is not always held in the high regard it should be. Its accessibility has been its downfall. 
This bad reputation is unwarranted though. There's no shortage of brilliant whistle players to look to for inspiration. They're easy to find if you know where to look. The good news is I've done all the work for you.
Humble Beginnings: From Zero to Hero
So, if you want to accelerate your playing (literally) and become an expert on this powerful instrument, you've come to the right place. Keep reading to learn more about these iconic masters of the modern tin whistle and catapult your playing to the next level!
I'll introduce you to the greatest modern players of our time. Players who have shaped not only tin whistle playing, but the entire music scene with their bold, innovative approach. 
You'll learn about their signature styles and their revolutionary (and sometimes unconventional) playing techniques. You'll learn what makes their playing so jaw droppingly inspiring and I'll teach you all the rules to break to sound exactly like these maestros.
But who are these modern day bards and what exactly have they done to revolutionise the world of whistle playing? Well, hop on board and let me take you on a short journey to explore some of the highlights of the great modern tin whistle revolution. Inspiration awaits…
Mary Bergin: The Original Queen of Tin   
Mary Bergin is arguably the greatest thing to have ever happened to the Irish tin whistle. A legendary player and an icon, she revolutionised tin whistle playing and singlehandedly redeemed the tin whistle's dodgy reputation:
Mary's playing is representative of the older, more traditional style. Her solo performances tend to focus on the standard jigs and reels played in a masterful, but conventional style.
Without her trailblazing influence however, the tin whistle would never have gained enough popularity to begin to evolve. And evolve it has!
Irish whistle playing has changed significantly over the last twenty years. But who else is responsible for the tin whistle becoming the amazing virtuoso instrument it is today?
The Trinity of Tin
In my opinion, there are three players who can be credited with completely changing the profile of the tin whistle, transforming it into one of the most 'hip' instruments you can play today. (There's probably nothing less hip than an auld fella like me using that word though.)
In addition to setting the scene alight with their magnetic solo playing, these charismatic front men lead their many bands with flair and panache. They have elevated the status of the whistle from a 'starter' instrument to one worthy of any virtuoso player's time and attention. 
In their hands it's been transformed into an instrument that's funky, cutting edge and, dare I say it, a little bit dangerous!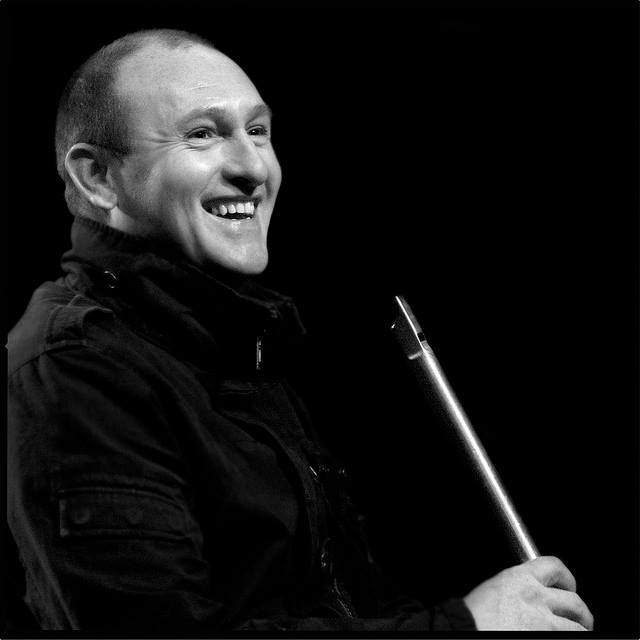 Michael McGoldrick: The Mancunian Maestro
Michael McGoldrick is one of the most high profile tin whistles players in the world today. Born in Manchester to Irish parents, he was inspired by the thriving traditional Irish music scene in the city.
A master also of the flute and pipes, his playing has been hugely celebrated and rightly so. Have a listen for yourself and see what you think of this trailblazer:
By his teens, Michael had already won numerous all-Ireland fleadh titles, but he didn't stop there. He has been highly decorated throughout his career, winning the coveted Instrumentalist of the Year award at the BBC Radio 2 Folk Awards, amongst many others.
While still in school he became a founding member of trad rock band, Toss The Feathers – the most influential Celtic rock band in Manchester. This fusion of traditional Irish and rock music sparked the beginning of Michael's career which would continue to push the boundaries of traditional music for years to come. 
What's The Story? The Oasis Influence
Michael released his exceptional solo album in 1996. Named after his son, Morning Rory is a play on the title of legendary Manchester rock band Oasis' second album, What's The Story Morning Glory?
Looking back, this might have been an early indication of the direction he and his playing were headed. 
Michael's debut was a masterful display of his skill as a player. Unsurprisingly it received widespread rave reviews. While it won critical acclaim, this first offering merely hinted at the exciting things to come.
The tunes were fast, but certainly still traditional in nature. The musical ideas were modern, but merely testing the waters rather than pushing any limits. It wasn't until his iconic album Fused that Michael really began to experiment.
Boundary Busting: Fused
Fused is a masterpiece. Twenty years later it's still considered one of the most groundbreaking folk albums of all time. Michael's experimental approach to the music on this album was a game changer. Fused redirected not only the future of traditional Irish music, but also the future of the tin whistle. 
Before McGoldrick, traditional tin whistle playing was stagnating. The same old jigs and reels were played in the same old style. Then, along came this whippersnapper with his mad notions and turned the whole thing on its ear! Suddenly the whistle had a young, modern icon who was ruffling feathers and breaking all the rules. 
But what exactly is so exciting about this album? One of my favourite things about it is that Michael's suave playing gives the listener the impression he is the coolest cat you will ever meet.
I dare you to listen to even one track and not come away feeling inspired to become the frontman of an experimental folk band:
Another answer is that it successfully mixes traditional Irish tunes with reggae, jungle and hip hop beats; trance, funk and jazz, as well as Breton and Indian influences. Yet while some tracks have a big, funky jazz-influenced sound, others are simpler and more traditional. 
This fusion inspired an entire generation of young musicians. It gave them the permission they didn't know they were waiting for to experiment with new genres and sounds and, most importantly, to have fun testing the scope of their abilities without renouncing their trad roots.
My Favourite Fusions
Personally, I don't think you'll find a groovier trad album than Fused. One of my favourite tracks has to be The Otter's Set. The funky bassline draws you in right from the start.
By the time the whistle starts playing you already feel like this is the grooviest track you will ever hear. The sultry sound of the muted trumpet adds a smoky jazz quality to the music. Has the whistle ever sounded this cool?
In addition to his vibrant, combination of musical styles, Michael featured instruments which don't often appear in the trad scene. Trumpet, saxophone, tablas, bamboo flute, synth, electric guitar and funky bass all appear alongside his army of whistles, flutes and pipes.
'Hey baby, you wanna go out?' The immortal words uttered at the start of another reggae influenced track, Lucy's. The dub beat, funky bass, and electric guitar combine to create a hypnotic, swaying, laid back groove.
If you're ever asked this question by Mike, the answer is definitely a firm yes.
Going Electric: Wired
Needless to say, Michael McGoldrick's follow up album, Wired, harnessed the momentum of his boundary busting debut's ambitious fusion.
Featuring electric guitar, surging Indian percussion, smoky brass, jazz stylings, electronic loops and a funk backbeat, he continued his daring combination of traditional Irish music with trance and electronica.
Founding Forefathers
Michael McGoldrick has played with too many bands to list. Honestly, we'd be here all day. However, it would be foolish of me not to mention his role in the formation of the world famous Lúnasa. 
Lúnasa have been described as 'the hottest Irish acoustic band on the planet' as well as the 'new gods of Irish music'. This is no exaggeration.
Funnily enough, one of those 'new gods' is the next whistle legend on my list… 
John McSherry: King of the Pipers (and the Tin Whistle)
John McSherry is one of the most exciting musicians in Irish music today. One of the foremost composers and performers on low whistle and uilleann pipes for over twenty years now, he is a true master of everything he puts his hand to. He has taken both uilleann pipe and whistle playing to new heights with his unique style:
John McSherry is a seanchaí – a musical storyteller of wit and wonder, a musical playwright with pipes and whistle as pen. Unforgettable.
– Bill Verdier, WXNA
Born in Belfast to a family steeped in traditional music. By age fourteen, John had two All-Ireland Championship titles under his belt. In 1987 he became the youngest ever winner of the prestigious Oireachtas piping competition.
Like Michael McGoldrick, this over achiever was nominated for Musician of the Year at the BBC Radio 2 Folk Awards and was awarded Male Musician of the Year at the Live Ireland Awards.
Are you noticing a trend?
Band of Brothers (and Sisters) 
One of John's earliest projects was the exciting and innovative band Tamalin, formed alongside his siblings. Tamalin brought a unique fusion of Irish, Rock, Celtic and Eastern music to enthusiastic audiences worldwide.
It's no surprise that this was merely the first in a long line of exciting musical collaborations for John.
Alongside Michael McGoldrick, he was a founding member of the groundbreaking ensemble Lúnasa. The pair also recorded a beautiful album together, At First Light. To say it's well worth a listen would be an understatement.
Surprisingly, both musicians would consider this album a "return to their roots". In many ways it would still be considered far too modern for some of the trad purists out there.
John continues to push the boundaries of Irish music with his current bands John McSherry & The Soma Band, At First Light, Ulaid and The Olllam.
Legendary Modern Day Bards
If you've never seen The Olllam perform live then, I hate to be the one to tell you this, but you're missing out. A traditional Irish ensemble they are not, but they are potentially one of the most innovative bands to have ever been fronted by not one, but two tin whistle players:
In 2012, John teamed up with Detroit natives Tyler Duncan and Michael Shimmin to form yet another band, The Olllam. Their debut album was released in September that year. Mixing original compositions in the Irish style with elements of rock, pop and jazz the trio have taken Irish music to new and exciting heights.
The most interesting thing about their music is the trio's unique approach to composition. Rather than playing standard jigs and reels, they write tunes that feature verses, pre-choruses and bridges instead of the traditional Irish tune forms. This leads to quite the listening experience! This marriage of trad, jazz and funk really is one for the ages.
Forging Musical Friendships
John McSherry has played with potentially every great trad player out there. It should therefore come as no surprise that the final member of this trio of legends is a childhood friend of McSherry. The pair have worked together on many exciting projects and continue their innovative exploration of traditional Irish music to this day, bravely going where no whistle player has gone before…
Brian Finnegan: The Ravishing Genius of Armagh
Brian Finnegan is a flute and whistle player from Armagh in Northern Ireland. He is widely regarded as a revolutionary pioneer of Irish music. 
Brian is one of the most technically skilled whistle players that has ever existed. His dexterity is astounding. His playing is bold and full of imagination, yet somehow always delicate. Even the most fast paced of tunes can sound sweet in his care. 
He stands out, in a nation of wonderful flute players, as much more than a technical virtuoso, his playing having the freewheeling lightness of touch and inspired musical understanding that flows into improvisation in real time, at reel speed.
– Norman Chalmers, Scotland on Sunday
With influences ranging from the Kwela pennywhistle music of South Africa, to jazz flute playing, tradition is still at the heart of Brian's playing and can be heard throughout his music. 
The Tin Whistle Album You Need To Own
If you only ever own one tin whistle recording in your lifetime, make it this one. Brian's 2010 album, The Ravishing Genius of Bones is one of my favourite albums of all time. It's definitely my favourite whistle album. 
One criticism of McGoldrick's albums Fused and Wired is that, though revolutionary at the time, they are somewhat overproduced in places. Finnegan has opted for simplicity. This album is less about fusion and experimentation and more about showcasing the whistle as the beautiful virtuoso instrument that it is. Here, the whistle is king:
In the right hands the whistle is capable of rich tonal and dynamic range and it's definitely in the right hands here. In Brian's signature style even the most furiously driving tracks have an element of sweetness to them.
Most of the tracks on the album are Finnegan's own compositions. Like McGoldrick and McSherry he is a gifted composer. He gives great attention to marrying new with old. Each tune is matched with its equal. As a result, each track is a gem from start to finish. 
The many guest musicians on the album complement Finnegan's playing perfectly. It's a veritable who's who of the trad and folk world. Yet, the whistle is almost always the focus. 
Brian's reverence for the instrument shines through, as does the enjoyment he clearly gets from playing it. Only someone with a love of the whistle could have created this recording and that joy radiates from each track. 
Birds of a Feather 'Flook' Together
While Brian's prowess as a solo performer is undeniable, his crowning achievement is undoubtably the time he has spent leading the sensational band, Flook. 
'Iconic, ground-breaking, progressive and all round brilliant.' You'd be hard pressed to find a flute or whistle player who hasn't been inspired by this award winning ensemble. Flook should be compulsory listening for any aspiring wind player.
To say they have elevated whistle and flute playing would be an understatement. This is hardly surprising when two of our masters – Brian Finnegan and Michael McGoldrick – were both founding members.
Flying Flutes
Formed in 1995, Flook burst onto the scene with their debut studio album Flatfish. The duelling flutes and whistles introduced techniques that weren't widely used in traditional wind playing at the time. Their playing is rife with tonguing, flutter tonguing and other percussive techniques that give their music an exciting, rhythmic drive.  
McGoldrick was so in demand as a player that he left the band by '97. Flook continued on however, with a stellar lineup of Sarah Allen on flutes and accordion, Ed Boyd on guitar, John Joe Kelly on bodhrán and Brian Finnegan fronting the band on flute and whistles.
There is no shortage of virtuosity amongst these players. Why not have a listen for yourself?
Adventurous Imagination
Flook have gained iconic status in the world of Irish music for their bold, adventurous musical imagination. 
Much of the band's exciting sound is owed to Brian Finnegan's legendary improvisational skills. When listening to him play you never quite know where he will take you on this musical journey – just that the destination will be worth the trip.
Improvisation comes from just knowing the tune and permitting yourself to be adventurous with it… I just leave the tune, but without wandering too far from it… I improvise without going too far. I'm very conscious of the root of the tune and where it comes from – probably the tradition, you know.
– Brian Finnegan
One of my favourite things about Flook, and something that has definitely endeared them to fans worldwide, is that the sheer enjoyment of playing together shines through not only in their live performance, but also in their recordings.
They capture the hearts of anyone who listens, leaving their audiences spellbound – as you can clearly see from the video below!  
Cheat Codes: How To Play Like These Maestros
One thing Brian Finnegan, Michael McGoldrick and John Mc Sherry all have in common is that they are masters of traditional music in its most pure and simple forms. They laid strong foundations and built upon them. They listened to the greats before them and learned from them, perfecting their technique along the way. In other words, they knew the basics before they began to experiment. 
That being said, if you'd like to skip ahead to the next level and cheat your way there a little faster, here are some tips and tricks on the characteristics and techniques of modern whistle playing.
Follow these 7 simple steps and you'll be experimenting like these greats in no time:
1. Smooth, Flowing Style
One of the main characteristics of modern whistle playing is the use of long phrases creating a smooth feel to the music. Adding breathing exercises to your practice routine will help you increase your lung power. This will help you to achieve this smooth, flowing tin whistle playing style.
As with all wind instruments, master the breath and you'll master your playing!

2. Nimble Fingers
Once you've perfected your breathing you'll need to get those fingers moving. Chilled out and laid back will only get you so far. If we've learned anything from these modern maestros it's that an easygoing groove should lead to a toe-tapping tune played at breakneck speed!
3. Fascinating Rhythm
Modern whistle players make heavy use of altered rhythmic patterns and syncopation, giving the music an offbeat feel. (Syncopation is a complicated word for a simple idea: accentuating the weak beats in a piece of music. On a whistle this usually means blowing harder). They also play tunes that feature changing time signatures or that are written in more unusual time signatures such as 7/8 and 5/4.
The easiest way to familiarise yourself with these types of tunes is to immerse yourself in the music, listening to as much as possible. The videos I've shared here are a great place to start!
4. Slipping and Sliding
To achieve that wailing whistle sound you'll need to practice slides, slides and more slides. While rolls, cuts, crans and other ornamentation feature heavily, slides will help you achieve that otherworldly sound that has become synonymous with the low whistle in particular. Add in some unexpected long notes and slide up to them to achieve that signature sound.
5. Tongue and Groove
Another technique you'll want to get familiar with is flutter tonguing. This is not a technique typically associated with traditional tin whistle playing and is definitely a commodity of the modern style.
Flutter tonguing is borrowed from classical flute playing and other world flute traditions. This wild sound is achieved by rolling the tip of the tongue (like a Spanish 'r') as you blow into the flute or whistle, creating a fluttering effect. Used sparingly with the use of percussive tonguing it can be incredibly effective. 
6. Break Away: Leaving the Tune Behind
Finnegan, McGoldrick and McSherry really are the masters of improvisation. But what's their secret? 
'Get a good guitarist and a good bodhran player, and another good flute player, or melody player who will allow you to do that. That's basically it. If you're playing with musicians who you trust… if you fall over yourself then they're there to pick it up and nothing's disappeared…
When Mike McGoldrick was in the band, he was a brilliant brilliant improviser, and an incredible fast thinker, and when he was playing music he could leave the tune at any point and at any time. He was always egging me on so there was always this energy, this almost telepathic thing going on between us where we were constantly reacting to one another.'
– Brian Finnegan
If you can't convince Michael McGoldrick to join your band however (and believe me, I've been trying) simply try playing along to your favourite recordings. Try to play something different each time, even if it's just something small. Change the duration of a note. Play a different pitch or note in place of another. Use a different form of ornamentation. Then gradually build all of these ideas up together.
Sometimes ideas will work. Sometimes they won't. Trial and error really is the best way to learn!
7. Strength in Numbers
You've probably noticed by now that all the greats surround themselves with other wildly accomplished players. That being said there's nothing wrong with learning together with friends who might just be starting out. This can often be the most fun!
If you're going to get some accompaniment instruments to play along with you, you'll want some groovy percussion and funky bass to emulate the sounds you've heard here. 
When it comes to chords ask your keys or guitar player to stay away from the usual suspects of I, IV, V. Alternative chords and tonalities are your friends. (Tonality refers to whether a piece of music is major or minor. Or more simply, whether it sounds happy and cheerful or sad and moody.)
A simple suggestion: try playing a minor chord where someone else might use a major chord and listen to the difference it makes. 
An Easy Hack
One of the things we whistle players don't like to mention much when defending our oft maligned honour is that in some regards we do indeed have it easier than other instrumentalists.
Playing in keys other than the standard D and G really couldn't be easier on the whistle. There's no need to relearn tunes or fingerings. You simply add another whistle to your collection in a new key! 
This might sound like an expensive task but I promise you there is no shortage of high quality whistles available at affordable prices these days.
Setanta whistles for example, offer a full set of low whistles that can easily save you money by purchasing just one head which you can then use on various bodies. Instant (and affordable) access to any key you could possibly want! 
The Golden Thread
Our three virtuoso players, Finnegan, McGoldrick and McSherry, have something else in common: they each play whistles made by Colin Goldie. 
When Bernard Overton, the original creator of the low whistle, passed away in 2008, his apprentice and successor, Colin Goldie, began to make whistles under his own name.
Colin is a gifted whistle maker who makes beautiful instruments: 
You might be wondering how to get your hands on one of these magical instruments? Well, the good news is that it's quite easy. Goldie Whistles are relatively easy to acquire and also quite affordable for the high standard they provide. 
'There is no one perfect whistle for everyone as we all have our own idea on what is good.'
– Colin Goldie
Goldie whistles are a great option for any player looking to make a long term investment in their playing. Though, if you're looking for a more affordable alternative that will offer the same great sound, read on.
Hidden Treasures
All things being said, it's not always the whistle that makes the player. Mary Bergin herself plays an assortment of Generation whistles, alongside whistles by John Sindt, Pat O'Riordan and Michael Copeland.
Yes, that's right, the queen of tin has so mastered the instrument that she can make even the most basic model sound like it's being played by the gods themselves! 
Generation whistles cost less than a tenner each. These mass produced tin whistles can be hit and miss though. Serious players used to take the time to dig through a batch to find any gems lying amongst them. But, with the widespread availability of high quality whistles at affordable rates, this is no longer necessary. 
I myself played a bog standard brass Feadóg whistle for years that had a beautiful tone, thanks in part to an unintentional dent in the end of the bore. Sadly, I lost it on a trip to Spain and I've never found another Feadóg that made a sound quite like it. 
I did however upgrade to a Tony Dixon – another gem of a whistle with a similar sweet mellow tone.
Dixon whistles have served me well over the years. I'd highly recommend them to any player starting out, or looking to upgrade from their starter instrument.
The Next Step On Your Musical Journey
If you've found yourself looking to make the next step in your playing, a new tin whistle might be for you. You'd be surprised the difference a new instrument can make to your sound. When it comes to whistles you really are spoiled for choice. 
If a Setanta or Goldie whistle aren't for you, then you might consider two other brilliant whistle makers – Roy McManus and Michael Burke. 
Roy is a gifted whistle maker from Belfast who creates exquisite handcrafted wooden whistles. McManus models feature a wide bore which produces strong clear notes in both octaves, while the wood creates a bright but mellow sound. Roy isn't currently taking orders, but we occasionally stock his beautiful creations when they come our way. Keep an eye on our store and you could get lucky!
Burke whistles are a real treat to play. They're responsive instruments that create a sweet sound. They don't take too much air to play them. They're not the loudest whistles. You might struggle to be heard at a session. But as a solo instrument they truly excel!
Speaking of solos…
The Tunes That All Modern Tin Whistle Players Want To Play 
Now that you know what instruments all the greats are playing, you might want to know what tunes they're playing on them. You've probably noticed that much of the repertoire played by these master musicians isn't your standard jigs and reels.
Finnegan, McGoldrick and McSherry have no shortage of funky offerings for musicians looking to take their playing to the next level. Check out some of their most popular tunes below.
Why not try learning one yourself?
1. Slide From Grace
Slide From Grace is a stylish little slip jig written by John McSherry and recorded on his album, Soma. In this video you can hear John playing the tune on a low Eb whistle using the Bminor notation below. This means his band is playing in the key of C minor.
2. Trip To Herve's
This modern reel was written by Michael McGoldrick and recorded on his album, Morning Rory. The timing in the second part of the tune provides a nice challenge for any player.  
In this video you can hear Michael playing Trip To Herve's (it's the second tune in the set) on an F whistle, using the D major notation below. Tim Edey, accompanying him on guitar, is playing along in F major.
3. Superfly
This nifty tune isn't actually written by Brian Finnegan, but he plays it so often that it is strongly associated with his playing and signature flair. Originally composed by Kevin O'Neill, 'superfly' is a pretty accurate description of this reel! 
In this video, Brian Finnegan plays the tune with his quartet, Kan. (It's the last tune in the set.) Brian is playing on A whistle, using the B minor notation below. Kan are playing along in F# minor.
Disclaimer: Be warned. These aren't typically session-friendly tunes. If you start one at a session you might find yourself playing solo, so make sure to practice!