Thomas Perry was an 18th century Irish luthier who is regarded as the Irish Stradivari. One of Ireland's most prolific violin makers, he has been credited with designing and crafting over 4,000 instruments in his lifetime!
If you ever come across a violin for sale with the name Thomas Perry stamped on it, grab it with both hands and hold on for dear life. (Not literally, remember violin bodies do not like to be touched with greasy hands, and 18th century violins are quite delicate). These stunning instruments are a piece of history.
Thomas Perry was undoubtedly one of the most important and influential violin makers in Irish history. So much so that several of his musical instruments are on display in the National Museum of Ireland. Unfortunately, his life has not been particularly well documented. As a result, many misconceptions and unsubstantiated claims exist in relation to his life and work.
Some claim for example that Perry was related to the French violin maker Claude Pierray. However, Kenneth Rice – one of the foremost researchers on Thomas Perry – has dismissed any claims of French Huguenot descent as there is little to no evidence to support the idea.
Here's what we do know about the life and work of the legendary Thomas Perry:
A Brief Biography: The Life of Ireland's Finest Violin Maker
Thomas Perry was born c. 1738 in Co. Laois (or so it is supposed). His father, John Perry, is believed to have been an established violin maker, who worked in the Temple Bar area of Dublin city.
Thomas followed in his father's footsteps, training as a luthier, however it is uncertain from whom Thomas received his training. While it would make sense that Thomas learned much of his craft from his own father, it was common 18th century practice that even an experienced instrument maker would apprentice his child to someone else. It's widely believed that Thomas Perry may have served as an apprentice to renowned violin maker George Ward, but more on this later…
We do know that Thomas first began producing violins in Christ Church Yard – a former medieval precinct adjacent to the cathedral which still stand today. He may have taken over the family business c. 1766, around the same time he married Elizabeth Smyth with whom he would go on to have four daughters. By 1770 he had moved his business to Anglesea Street to a vacant premises believed to have been occupied by George Ward prior to his death. This lends further credence to the argument that Ward was Perry's mentor and tutor.
In addition to producing world class violins Thomas Perry also produced a number of violas, cellos and even a double bass. He also invented an instrument called the cither-viol or sultana, a string instrument similar to the viola d'amore, that typically featured five pairs of strings and was played with a bow.
In 1789 Thomas Perry took on his own apprentice – his son in law William Wilkinson who was married to Perry's eldest daughter. On Perry's death in 1818, the business was left to Wilkinson who renamed the business, operating instead under the name of Perry & Wilkinson.
Sadly it is reported that the quality of Wilkinson's violins did not match that of Perry's remarkable instruments. Though, funnily enough, the same comment has been made regarding a supposed disparity between George Ward's violins and those of Thomas Perry!
Unique Traits: How to Identify a Thomas Perry Violin
Describing Thomas Perry as a prolific instrument maker is perhaps an understatement. His output was extraordinarily high and matched only by the quality of his violins.
Thomas Perry is still highly regarded today for this exceptional quality.
Characteristics
Tonewood
All of Thomas Perry's violins were made from quality maple. Unusually, however, the table or top of the violin was usually made from a close or medium grained pine.

Sound Holes
The soundholes on Perry violins – especially his early work – are quite distinct. The lower turn was typically wider than the top, which featured a distinct, narrow aperture.

Scrollwork
The scrolls on Perry violins are usually rather unremarkable. Though some do feature rather intricate scroll work, it's thought that this might be the work of his apprentice Richard Tobin, who went on to gain a reputation as one of the greatest scroll cutters in London.
Learn about the most important parts of the violin's anatomy
Masterful Design
In terms of design, Thomas Perry's violins fall into two distinct categories – British style and Italian style:
British Model Violins

Based on designs by Jacob Stainer, Thomas Perry produced these violins mainly in the early period of his career. They were incredibly similar in style to those produced by his supposed teacher, George Ward.

These Stainer model violins were characteristically English in appearance with a high shouldered, square shaped upper bout, and high arching which was higher on the front table than the back. These violins were typically finished with a brown varnish.

Italian Model violins

Based on the famous Amati design from Cremona in Italy (the mecca of violin making), these violins were more classically Italian in shape.

They featured rounded curves, with lower arching than Perry's British-style instruments. The colour was also more varied:
Finish
'The varnish is generally an oil varnish but there is a world of difference between the rather dull brown high shouldered British type instruments and the elegant gold or reddish gold instruments of his Amati style. Indeed there appear to be some transitional instruments which combine elements of both styles. A fine violin loaned to the National Museum of Ireland many years ago and recently restored by William Hofmann (No 2505, 1800) is decidedly English in character but has the light golden varnish of his Amatise violins.' – Kenneth Rice
Signature Sound
Thomas Perry violins offer a distinct mellow tone that is sweet and warm, without being overly loud. The sound and volume are well suited for chamber music.
Despite the differing styles, there was a consistency of tone across Perry's violins:
'Perry violins are generally not big-toned instruments. The better models have a clear sweet responsive tone which is especially attractive in the upper registers… Every Ferry violin that I have played upon, however, has a charm and attractiveness quite unique to Perry. The instruments have a responsiveness and tone that does not easily tire. It is a soundscape that seduces both listener and players alike, and it is little wonder that Perry owners are quite passionate about their instruments.' – Kenneth Rice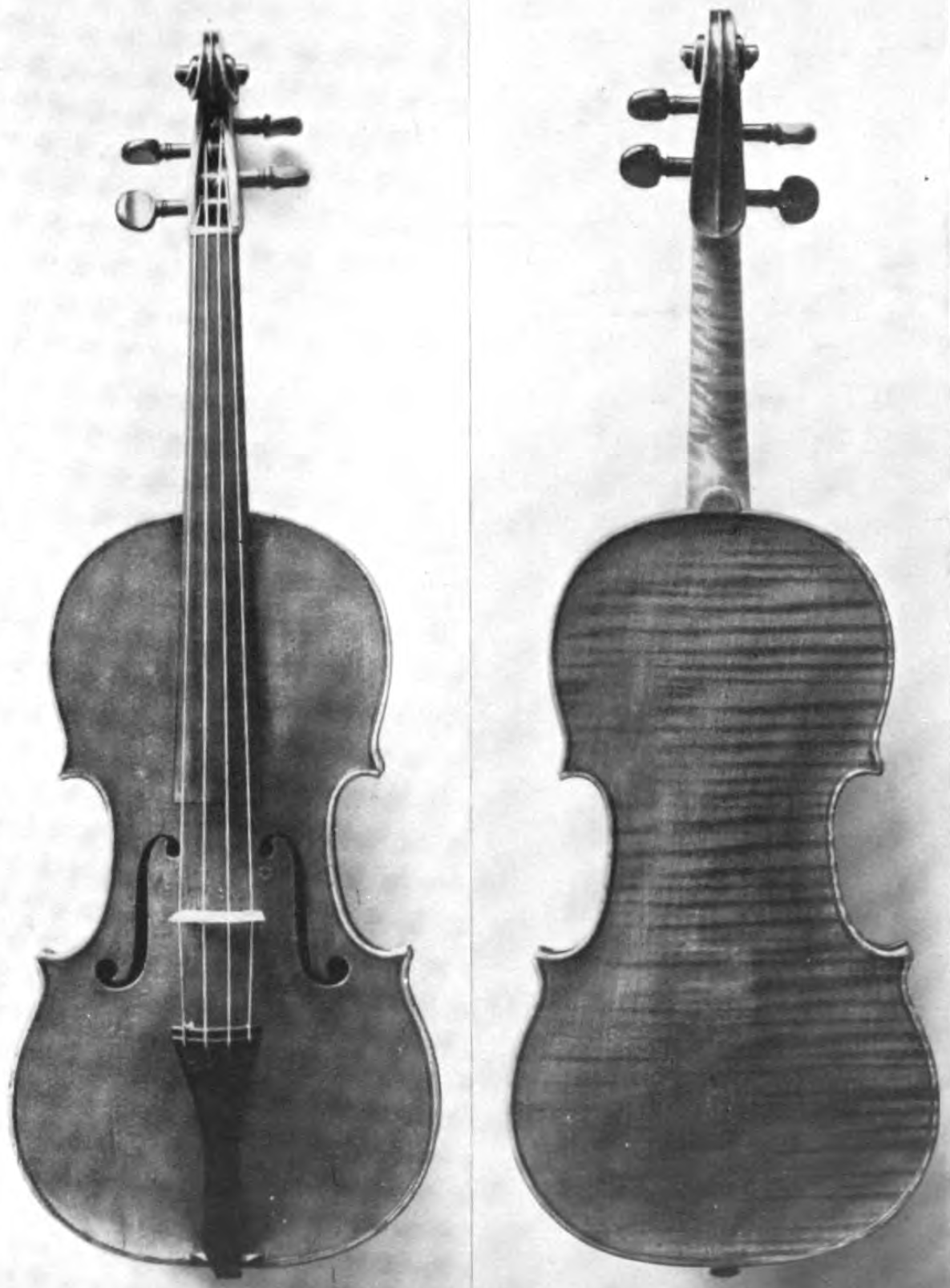 Front and back of a Thomas Perry violin
Thomas Perry's Most Famous Surviving Violins
The Leixlip Perry (No. 35)

Built in 1764, this is the earliest known surviving Thomas Perry violin. Dating from his time working in Christ Church Yard, this is a baroque style violin with a sweet, modest tone, suited to understated playing.

The Longford Perry

Built in 1770 this is an example of one of Perry's English style models. A simple looking instrument, with its sweet and even tone it is regarded as one of the best sounding surviving Perry violins.

The Papini Perry

Built in 1780 this instrument was famously played by Italian violin virtuoso Guido Papini who played as a soloist with the Royal Philharmonic Society in London and became a violin professor in the Royal Irish Academy of Music in Dublin in 1893. Today the Papini Perry is housed in the National Museum of Ireland.

The Abbeydorney Perry

Built around 1810 this violin is one of Perry's Italian style violins, based on the Amati model. Unfortunately, it was seriously damaged in 1926 and was not restored until 1956. While it features a beautifully clear and responsive upper register, its lower register has been reported as disappointing. A result perhaps of the damage caused.

The Dublin Perry (No. 4209)

Built in 1814 this violin is noted for its vibrant tone and sweet, resonant upper register which is characteristic of Thomas Perry violins.

The Boston Perry (No. 4775)

Dated 1827, nine years after Perry's death, this violin is considered to have been made my Thoma Perry himself, but perhaps finished posthumously by his successor William Wilkinson. It's a visual and tonal match for Perry's earlier violins with a rich, mellow tone that excels in the upper register.
In the videos below you can hear two Thomas Perry violins from 1801 and 1840 played in two very different styles:
Influence of Irish Violin Maker George Ward
There are two main arguments in favour of George Ward being Thomas Perry's mentor:
Location. Both worked in close proximity, working from Christ Church Yard with Perry later believed to have set up shop in Ward's vacant premises. Both violin makers also had strong connections to Co. Laois.

The striking similarities between their instruments:
'Examination of the instruments suggests that Ward had a major role to play in Perry's formation. Their violins are remarkably close in character. Ward's violins and Perry's early instruments are similar in model; both use the same brown varnish; the sound-holes are almost identical in shape and size; both makers brand their instruments under the button…' – Kenneth Rice
George Ward had a unique style of violin making. It's uncertain whether he inherited his characteristic traits directly from a teacher, or developed them himself over time. This same style can be seen in Thomas Perry's early instruments.
Much like Thomas Perry, George Ward's violins also bore close similarities to the famous Stradivarius model. As a craftsman, Ward has been described as an 'artist' and 'maker of undoubted ability'. His surviving instruments, made of beautiful wood and finished with an attractive varnish have been described as 'quite superior' to those of Perry, though I'm sure not everyone would agree. Thomas Perry is widely regarded as Ireland's most outstanding violin maker.
Ward branded each of his instruments with his name and location of production – eg. 'Ward, Dublin' – a feature which Thomas Perry adopted. Ward's violins however featured the additions of a crowned harp branded on the button.
Thomas Perry Violins: Owning a Piece of History
If you ever come across one of these fine violins for sale, and you have the cash to spare, it would be worth the cost to own a piece of history. A word of caution however, in a 2012 Sotheby's auction a Thomas Perry violin sold for $11,054 – that's some serious pocket change!
2019 was the last time one of these rare instruments went up for sale and while the price was significantly lower, it's still not the sort of money you'd be spending on an instrument unless you were a virtuoso professional at the top of your game, or an extreme music history enthusiast.
How to recognise an original Thomas Perry? Easy. This master luthier numbered each of his violins on the button and inscribed each instrument with "Perry, Dublin".
Contemporary Irish Luthiers
If you have your heart set on owning a beautiful Irish-made instrument by a skilled craftsman there are a number of renowned luthiers operating in Ireland today, designing the finest string instruments and bows, including:
Irish Violins for Sale
Custom violins come at a significant price. If you're on the lookout for a violin for sale at a more affordable price then look no further. Your search ends here. McNeela Instruments specialises in quality instruments at accessible prices and we have a range of violins for sale, suitable for all needs and abilities.
You can browse our best selling violins for sale by visiting our online store. Discover our exciting range of student violins, beginner violins, intermediate violins and advanced violins. We cater for every level of musician from beginner right through to professional level, offering all the accessories violin players need, including violin bows, violin strings, rosin, cases and more.
Not only do we stock a range of quality violins from top makers and brands, we also produce our own in-house violins including the McNeela Premier Violin, McNeela Maestro Violin and McNeela Virtuoso Violin.
Vintage Violin for Sale
In addition to our brilliant range of brand new violins, we also stock a limited number of vintage violins. These beautiful one of a kind instruments have been hand selected for the super condition, quality and sound. Sourced from some of Ireland's top violin players, these instruments have limited availability. Make sure to check our online store regularly to discover new additions to our stock.
To learn more about the history of the violin in Ireland, and it's role in traditional Irish music, check out my Irish Music Blog.
[Reference: The Life & Work of Thomas Perry by John Kenneth Rice, National University of Ireland]