What's the difference between a 4 string banjo and a 5 string banjo? I get asked this question a lot.
Here at McNeela Instruments we stock a wide range of 4 string banjos and 5 string banjos, so naturally our customers are curious as to what the difference is between these two variants of the same musical instrument.
So number of strings aside, let's discover what these different types of banjos have to offer…
4 String Tenor Banjos
The 4 string tenor banjo is the most commonly played banjo in traditional Irish music today.
The Irish tenor banjo is a short neck 4 string banjo that typically features a 17 fret or 19 fret scale length and is tuned to GDAE – one octave lower than the Irish fiddle and mandolin.
The banjo first became popular in the Irish dance hall scene in the early 20th century where players would strum chords in a similar fashion to the guitar. Irish musicians soon began to adapt its use however to play traditional Irish melodies and dance tunes instead.
It wasn't until the great folk revival of the 1960s and 1970s that the banjo fully started to gain the popularity it knows today. This is largely due to the influence of iconic banjo players such as Ronnie Drew, Tommy Makem and Barney McKenna.
Irish Tenor Banjo Icon Barney McKenna
Barney McKenna of The Dubliners is arguably the most influential 4 string banjo player to have graced the Irish music scene. In fact he's the reason most Irish musicians today tune their instruments to GDAE.
While this tuning produces a less bright tone than CGDA tuning (see plectrum banjo tuning below), Barney discovered that calibrating his instrument this way made it much easier to play traditional Irish tunes in the keys favoured by Irish fiddle players in particular.
Today 4 string tenor banjos or plectrum banjos are an important part of Irish céilí band lineups and are commonly found at any good Irish music session. Modern Irish 4 string banjo playing has been further revolutionised by a number of skilled players including Kieran Hanrahan, Gerry O'Connor, Mike Moloney and Enda Scahill, to name but a few.
If the Irish tenor banjo is the instrument for you, make sure to check out McNeela's exciting range: Browse McNeela Banjos
4 String Plectrum Banjo
The Plectrum banjo is a four string banjo that is more commonly associated with jazz. Larger than tenor banjos, these 4 string banjos typically have the same scale length, head size, and fret count as a five string banjo.
Like the tenor banjo, it is played with a plectrum or pick, rather than fingerstyle. The traditional tuning for a plectrum banjo is CGBD.
5 String Banjos
Five string banjos are much less common in traditional Irish music than their four string counterparts and are more commonly associated with North American folk music such as bluegrass or dixieland jazz. The legendary Luke Kelly of The Dubliners famously played a five string banjo however, using it to accompany his iconic ballads.
Standard tuning for a five string banjo is GDGBD, also known as open G tuning. Five string banjos are typically larger instruments than 4 strings, featuring 22 frets.
Five string banjos can be played with a pick, but are more often played with distinct finger picking styles.
Photo by Robert Linder on Unsplash
5 String Banjo Fingerpicking styles
The two main playing techniques for the five string banjo are the 3 finger style, clawhammer or frailing.
Some players use the terms clawhammer and frailing interchangeably while others draw a distinction between the two. Frailing most commonly refers to picking the drone string, while clawhammer allows the picking of other strings with the thumb (also known as "drop thumbing").
The 3 finger style or Scruggs style is the simpler of the two and therefore easier for beginners to pick up, helping you to get playing faster.
Clawhammer or frailing are generally harder for students to master, but once you get a handle on playing the characteristic "bump-ditty" rhythm, you can move on easily to playing at faster tempos and exploring a diverse repertoire.
To learn more about these iconic playing styles check out the video below where the world renowned Béla Fleck and Abigail Washburn discuss their banjo expertise:
Is a 5 or 4 String Banjo Better?
How many strings should you opt for?
Comparing a four string and five string banjo is a little like comparing a button accordion with a piano accordion. They're technically the same instrument, but they operate slightly differently and require a different playing technique.
As with most musical instruments it really comes down to personal preference and largely depends on which style of music you want to play. If you want to learn to play traditional Irish jigs, reels, hornpipes and other Irish folk tunes a four string tenor banjo is the one for you.
If jazz has captured your heart then you'll probably want a plectrum banjo, but if bluegrass or country are calling your name then you'll need more strings to help you achieve your desired sound, so a five string it is.
Banjo Recommendations
If you're looking to invest in a 4 string or 5 string banjo, here are our top recommendations:
The Best Beginner Irish Tenor Banjos
Available with either 17 or 19 frets, The Celt is a great entry level banjo for beginners of all ages. 
With a mahogany neck, rosewood fingerboard, maple bridge and Remo top, this is a well crafted, high quality yet affordable instrument. This 4 string resonator banjo produces a strong, clear tone with plenty of volume and resonance.
The 17 fret Celt offers certain advantages for beginners, especially young musicians. The shorter neck and fretboard mean less stretching for small or inexperienced hands. Its smaller size also makes it lightweight and comfortable to play. 
The 19 fret Celt features a longer neck and fretboard, offering greater range and more notes to play, allowing you to fully develop your playing.
Either instrument would be a great choice for those looking to take their first steps into the world of Irish banjo playing:
The Best Beginner Five String Banjos
The McNeela 5 String Banjo is ideal for those looking to follow in the footsteps of the legendary Luke Kelly, or those who want to try their hand at some Bluegrass. Like most of our instruments it comes in two styles – one designed for beginners, and the other intended for intermediate musicians to help them reach advanced level:
The McNeela 5 String Banjo is perfect for those looking to take those all important first steps. With 5 strings and 22 frets there's plenty for you to explore.
Alternatively, with its clear, bright, resonant tone and expert craftsmanship, the McNeela Premium 5 String Banjo is guaranteed to help you bring your playing to the next level – just right for those looking to perfect their plucking!
DISCOVER MCNEELA BANJOS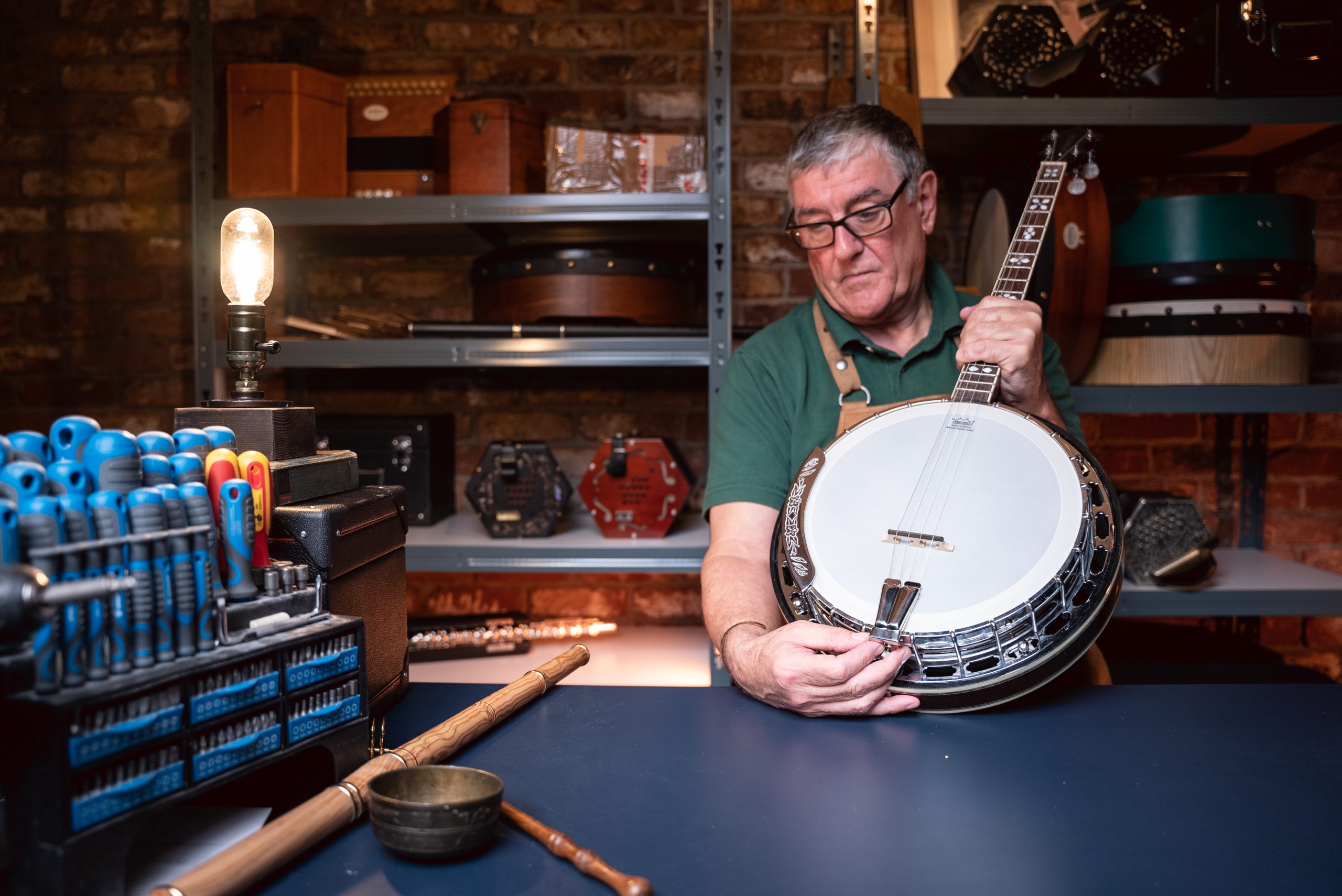 McNeela Banjo Store
Whatever style you may be looking for, if want to get your hands on a quality banjo then make sure to check out McNeela Instruments online banjo store. We offer a wide range 16 fret, 17 fret, 19 fret and 22 fret resonator banjos suitable for every level of musician from beginners right through to professional standard.
We stock only the best new and vintage banjos including top brands such as Deering, Bacon & Day, Clareen, Gretsch, Leedy, Kasuga, FRAMUS and more. Each of these models has been hand selected for its top quality sound and ease of playability.