Are you searching for your very first concertina? If so, you've come to the right place.
Buying a concertina can be an intimidating task, especially if you're new to playing Irish music.
The good news is there's a concertina out there for everyone, to suit every budget, and I'm here to help you find it.
So, whether you're looking for a basic beginner model to get you started on your musical journey or a more advanced concertina that will accompany you through every stage, I'm here to help you in your search. I've put together this handy beginner's concertina buying guide, to help you choose the best concertina for you.
By the time we're done, you'll be a concertina expert, equipped with all the knowledge you need to make a well informed purchase that you won't regret.
Each of the quality concertinas recommended below is ideal for beginner concertina players and guaranteed to help you reach the next level of concertina playing in record time.
So let's begin your Irish music adventure.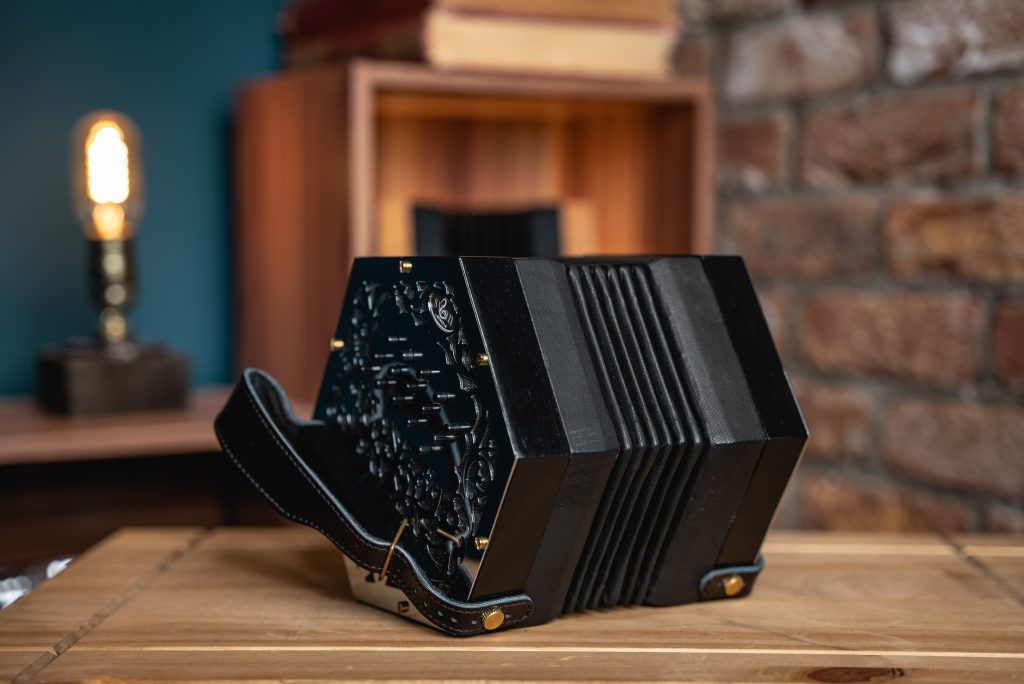 What is the Best Concertina for playing Traditional Irish Music? 
The best concertina for playing Irish folk music is a 30 button Anglo style concertina in the key of C/G.
What's an Anglo concertina?
The Anglo concertina is a bisonoric musical instrument, meaning each button plays a different note depending on whether you push or pull the bellows. This makes it more popular for playing Irish music due to its ability to switch quickly between notes with limited finger movement or button travel.
Why 30 buttons?
While it is possible for an absolute beginner to start out on a 20 button concertina, it doesn't have all the notes you need to play Irish music. Once your playing progresses beyond the beginner stage you'll find yourself in need of upgrading to a more capable instrument. Therefore, 20 button concertinas just aren't cost effective in the long run.
A 30 button Anglo concertina is far better suited to the needs of an aspiring concertina player and will save you money by eliminating the need to upgrade. This is why I always recommend starting out with a 30 button Anglo style concertina.
Why the key of C/G?
The diatonic tuning system for the Anglo Concertina is ideal for playing Irish folk music because it offers a two octave range.
Three row or 30 button concertinas are also fully chromatic, meaning they provide all the notes you need to play your favourite Irish tunes.
Simply put, C/G tuning provides all the notes you need to play Irish music.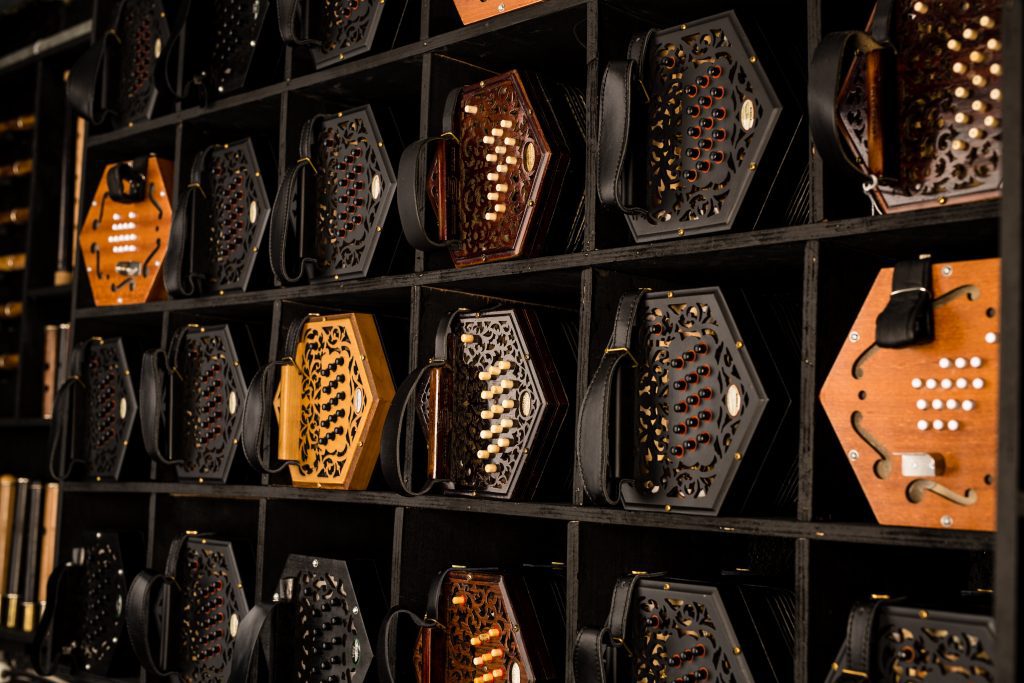 Anglo Concertinas vs English Concertinas 
What's the difference between an English style concertina and an Anglo style concertina?
The English concertina is most commonly used to play English folk music.
While you can play traditional Irish music using the English concertina system, you might struggle to keep up with the speed required for Irish concertina music.
Why?
Like the piano accordion, the English style concertina is a unisonoric instrument. That means each button plays the same note on both the push and pull.
As a result, your fingers need to travel more than they would on an Anglo style instrument, which can reduce playing speed.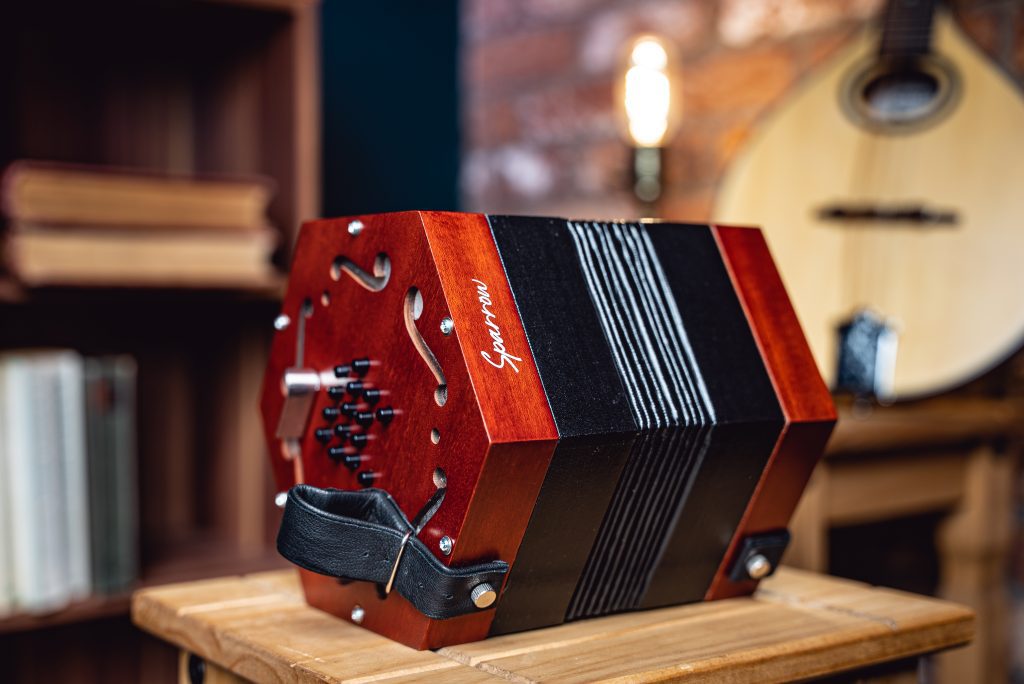 Duet Concertinas
During your search you may have come across another style of concertina called the Duet concertina.
The duet concertina is a fully chromatic unisonoric concertina that plays the same note on the push and pull, similar to the English concertina.
The tune is played with the right hand (which houses all the treble notes) while the accompaniment is played with the left (where the bass notes live). Hence the name duet.
As a result of its unique setup, people sometimes mistake this instrument for a concertina accordion hybrid. It's more commonly used to play classical music.
If you'd like to learn more about the differences between the Anglo concertina, Duet concertina and English Concertina, then check out my handy blog post: Concertina FAQ – The Difference Between the English concertina, Duet concertina and Anglo Concertina.
Anglo Concertina Layout: Wheatstone vs Jeffries
When on the lookout for a concertina you may encounter some Anglo style concertinas built with different button layouts. This is normal. The two most common setups for Anglo concertinas are the Jeffries layout or Wheatstone/Lachenal layout.
Both layouts feature 15 buttons on each side of the 30 key concertina, plus an air release button. However, each layout features a slightly different positioning of the notes on the right hand side of the concertina.
This difference is slight and won't create any longterm difficulties for your concertina playing. Either layout is equally appropriate for a beginner concertina player. 
See our handy diagram below: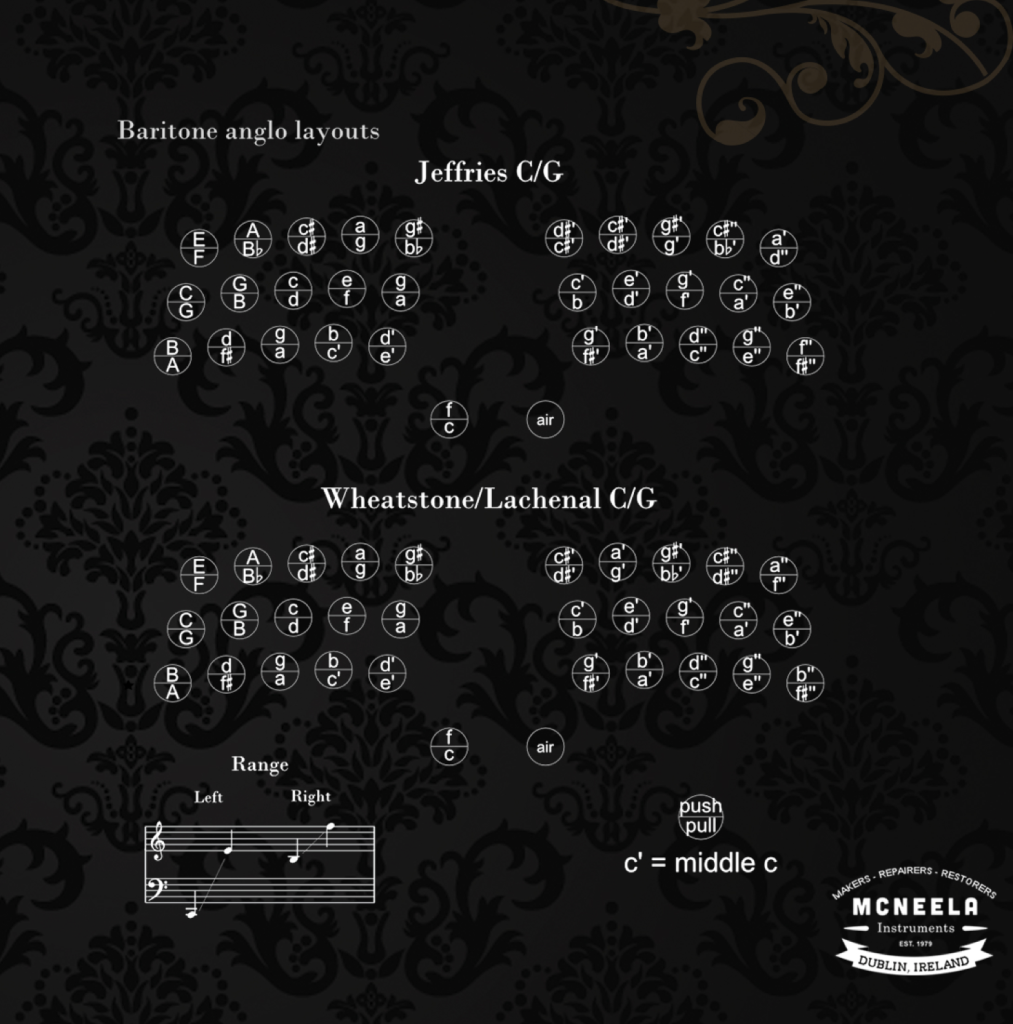 Concertina Reeds:
The quality of the reeds is one of the most significant factors that will affect the sound your concertina produces. 
Concertina reeds come in four different quality levels:
Handmade
Tipo a Mano
Hand finished
Commercial
I recommend looking for Italian or Czech reeds, made of steel, as these will typically offer the best quality.
Some concertinas are fitted with accordion reeds which can create a slightly different tone. These reeds can sometimes be a little stiffer to play, but they should still offer good sound and playability.
Brass Reeds:
While brass reeds can produce a sweeter, warmer, more mellow tone than steel reeds, they typically produce less volume and are also not as durable. Quality brass reeds will still produce a good sound, but make sure you are buying from a trusted buyer as they usually don't withstand wear and tear as well as their steel counterparts
Steel reeds are usually brighter and louder than brass reeds. They also offer a greater dynamic and harmonic range and are more durable in the longterm. This is why they are the McNeela concertina reed of choice.
How Much Does a Concertina Cost?
Concertinas, like all musical instruments, can vary wildly in terms of cost.
Beginner concertinas start at around €200. A good quality starter concertina will likely cost upwards of €400 however.
Don't be fooled by overly cheap concertinas. Often, the price is a reflection of the poor quality of the instrument. Paying more now for a quality concertina will save you money longterm.
Keep reading and I'll share with you some of my personal recommendations for the best beginner concertinas on the market today:
The Best Concertinas For Beginners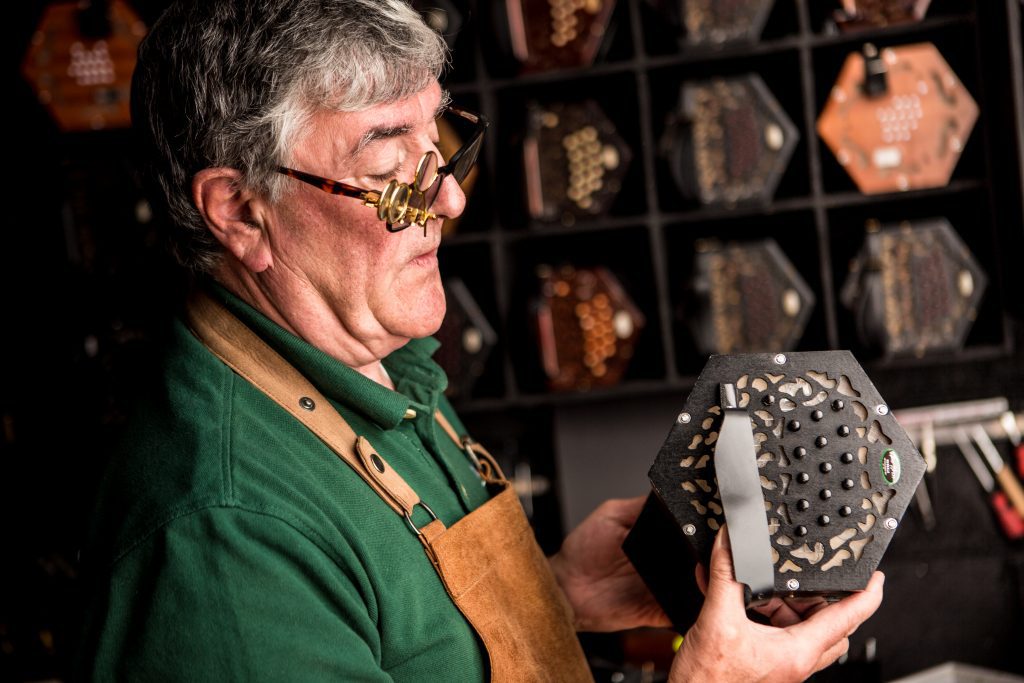 The Wren Concertina
The Wren concertina is the perfect starter instrument for any concertina player. This affordable Anglo concertina is designed to specifically cater to the needs of beginner concertina players. It's guaranteed to help you reach the next stage of your playing as quickly as possible.
What makes The Wren the ideal beginner concertina?
It features large black concertina buttons that are easy to play and make it easier to navigate the concertina, helping you to master concertina fingering in record time. 
The quality steel reeds produce a strong, clear tone. Even at the beginner stage you want a concertina that will produce the best sound possible. The better your concertina sounds, the happier you will be to play it and the more you'll want to practice.
The 8 fold bellows are designed for ease of movement, making your concertina a breeze to play.
It's designed for your comfort. The soft, durable, adjustable hand straps will comfortably keep your concertina secure, even during long bouts of concertina playing. 
Finished to a high standard, this concertina looks as good as it sounds.
It comes with a free foam-lined hard case to safely store your instrument and protect it from unwanted knocks and bumps. 
Watch the video below to hear The Wren in action in the hands of Irish concertina player extraordinaire, Caitlín Nic Gabhann:
A Worthy Investment
In addition to offering superb value for money, I truly believe The Wren one of the best beginner concertinas on the market today.
With so many different instruments available, it's important to know you're investing in a reliable instrument. This is a sturdy, well-built concertina that offers durability and longevity.
We also also offer a generous trade in programme here at McNeela Instruments. Once you're ready to upgrade to a new concertina, we'll happily take back your current instrument and offer you credit towards your next purchase with us.
Click here to learn more about this top-rated student concertina.
Premium Beginner Concertinas
If you're certain that the concertina is the instrument for you, and prefer to make a longterm commitment to your playing, then you might want to invest in a premium, higher quality instrument right from the start.
While this might seem intimidating, you actually save yourself money in the long run by investing in a better quality concertina early on. It saves you the expense of additional upgrades in the future. 
So if you're looking for a concertina that will serve you all the way through to the advanced stages of playing, then look no further:
The Swan Concertina
The Swan Concertina is one of McNeela Instruments' most popular beginner concertinas.
This is an incredibly player-friendly 30 button Anglo style concertina in the key of C G.
Crafted from quality materials, this premium beginner concertina offers exceptional value for money. The steel Czech reeds produce a bright, sweet, clear tone while its rivet action system offers an excellent, quick response. See it in action below in the hands of Caitlín Nic Gabhann:
With reinforced adjustable hand straps and 6 fold black leather bellows, complemented by a high end Jeffries-style finish, it offers superb ease of playability.
Click here to learn more about this quality mid-range concertina suitable for both beginner and intermediate players alike.
The AP James
This charming Anglo concertina is a quality instrument that would make an excellent premium beginner's concertina. In fact, I'm so impressed by it that it's made my list of Top 5 Intermediate Concertinas.
This 30 button concertina is handmade in England by the brilliant concertina maker Anthony James.
Featuring Italian steel Tipo A Mano reeds and riveted action, it offers a clear, bright sound and quick response. The 6 fold leather bellows on this instrument are quite flexible, allowing greater ease of play.
The AP James concertina comes with the option of steel or wooden Sapele end plates. Both versions feature solid Sapele hand bars with adjustable hand straps.
Long Term Investments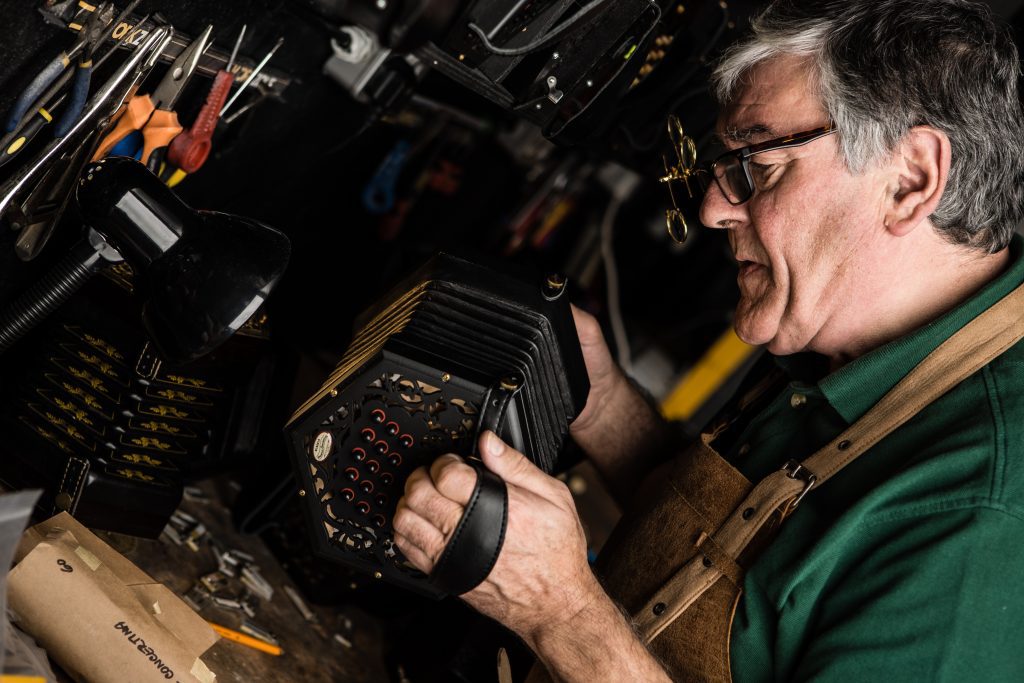 The Phoenix Concertina
For both affordability and playability it's tough to beat the McNeela Phoenix Concertina. 
A remarkable all-rounder, The Phoenix is a great fit for the intermediate to advanced concertina player and ideal for any beginner concertina player hoping to make a long term investment in their playing.
Crafted to the highest standard it's perfect for students who are ready to master their instrument.
The Phoenix Concertina is a fast, highly responsive 30 button Anglo style concertina in C/G tuning with the option of either Wheatstone or Jeffries layout.
Its durable domed buttons are made of black Delrin (an incredibly robust polymer). Delrin's ability to survive daily wear and tear gives the buttons great longevity.  
The Phoenix has been crafted using premium quality materials, including premium Czech steel reeds. These hand-finished reeds, made from high quality Swedish sound steel, produce a bright, sweet, melodious tone and plenty of volume. Like all good reeds, they open out and improve with playing.
Choose from matt black ends or wooden end plates for a sleek stylish finish that will ensure your concertina looks as good as it sounds.
Why not see for yourself?
Morse Céilí
Another concertina that would happily see you through the many stages of concertina playing is the Céilí Anglo Concertina by Morse & Co.  
Like the Phoenix, this is a 30-key anglo concertina, available with either a Jeffries or Wheatstone/Lachenal fingering layout.
Like all Morse concertinas, The Céilí is a lightweight, nimble instrument with a full, bright tone and quite easy to play. With a choice of cherry laminated wooden end plates with a rosewood stain or a satin black finish, it's easy on the eye too.
Like the Phoenix, this concertina features sturdy Delrin buttons which offer smooth and quiet action. It's a highly responsive instrument featuring traditional riveted action paired with stainless steel springs.
Featuring quality Italian made accordion reeds, it offers great dynamic range and a full, bright sound.
You can check out some more of my personal recommendations in my list of the Top 5 Anglo Concertinas for Irish Music.
To learn more about the Irish concertina, check out my Irish music blog.