The tin whistle is one of the most popular traditional Irish musical instruments in the world. This is due in large part to its immense playability. This simple instrument is deceptively versatile and the perfect starter instrument for anyone looking to dip their toe into the waters of traditional Irish music for the first time.
Lightweight and affordable, the tin whistle is one of the most accessible traditional Irish musical instruments out there. If you're looking to pick up a new instrument, but don't want to make too big an investment, the tin whistle is the right choice for you. Beginner whistles can cost less than a tenner, and are incredibly easy to get your hands on.
But once you do get your hands on this exciting instrument, what's next?
Like any musical instrument, it's going to take a little time and effort to master this new skill, but with the right help, you'll be making a splash in no time at all. So if you want to learn how to play the Irish tin whistle, look no further. I've put together this handy guide, packed full of everything you need to know to get you started on your musical journey. 
Step 1 – Choosing the Right Tin Whistle
I always recommend the tin whistle to those looking to learn traditional Irish music for the first time due to its affordability. A good quality beginner whistle won't break the bank. So if further down the line you decide it's not for you, you won't be out of pocket. It's also small enough that, should you choose to pack it all in, you can easily hide it so you won't be confronted each day by your musical shame – out of sight, out of mind. 
There are countless tin whistles available today that are ideal for beginner musicians. When first starting out, you'll want to stick to a standard soprano whistle in D. Once you've mastered the basics you can move on to other exciting keys. 
My personal favourites are Generation whistles or Oak whistles. These classics have been around for, well, generations. Don't let the price fool you, these tried and tested whistles are sturdy and reliable and have served countless whistle players throughout the world. 
For something a bit more up-market that will easily see you through to the intermediate stage, I highly recommend Tony Dixon Whistles. Tony's whistles are tuneable, easy to play, and offer a bright, clear tone.
You can't go wrong with a Dixon whistle. While he offers a large range of whistles, for a beginner player just starting out, I would personally recommend the Trad Cupro Nickel Whistle. It's lightweight and easy to play, but offers a sweet sound that will make learning easier right from the start.
If however you know that the tin whistle is the instrument for you and you want to make a long term investment in your playing then I would highly recommend investing in a Wild Irish Whistle, or a premium Setanta Whistle.
These expertly crafted, professional standard whistles will see you right through to the advanced stages of tin whistle playing. So if you're planning on seeing your exciting new musical journey through to the end, these whistles would make excellent companions for the trip.
If you need a little more guidance, you can always check out my handy Tin Whistle Buyer's Guide. 
Step 2 – How to Play the Tin Whistle
Once you have your new tin whistle in hand, you'll want to get acquainted with it as soon as possible. Where to start?
Well, here's your first brief introductory lesson – on the house!
First, how to hold the tin whistle…
There are many schools of thought on this but if there's even the slightest chance you might go on to play the flute, the saxophone or any other woodwind instrument in the future then it's important to learn to play the tin whistle with your left hand on top and your right hand on the bottom. Trust me, it will save you many headaches (and expensive specially customised left-handed instruments).
So how should you hold the tin whistle?
Place your left thumb at the back of the tin whistle, underneath the first hole at top of the whistle.
Place your right thumb at the back of the tin whistle, underneath the third hole from the bottom.
Allow your other fingers to hover above the holes, without covering them and make sure to keep your little pinky fingers above the body of the tin whistle (not underneath). 
Then, simply raise the whistle to your mouth, positioning the tip of the fipple or mouthpiece between your lips, and blow.
Once you're happy with the sound you're producing, slowly lower one finger at a time, beginning with your left hand, and sound each note as you do. Try to keep your fingers as relaxed as possible, but make sure to cover the hole completely, so no air escapes, as this will cause squeaks and effect the tone.
Remember, you don't use your little finger to play the whistle, so don't use them to cover the finger holes. Take a look at the chart below which will show you where to place your fingers to create each note and help you get started: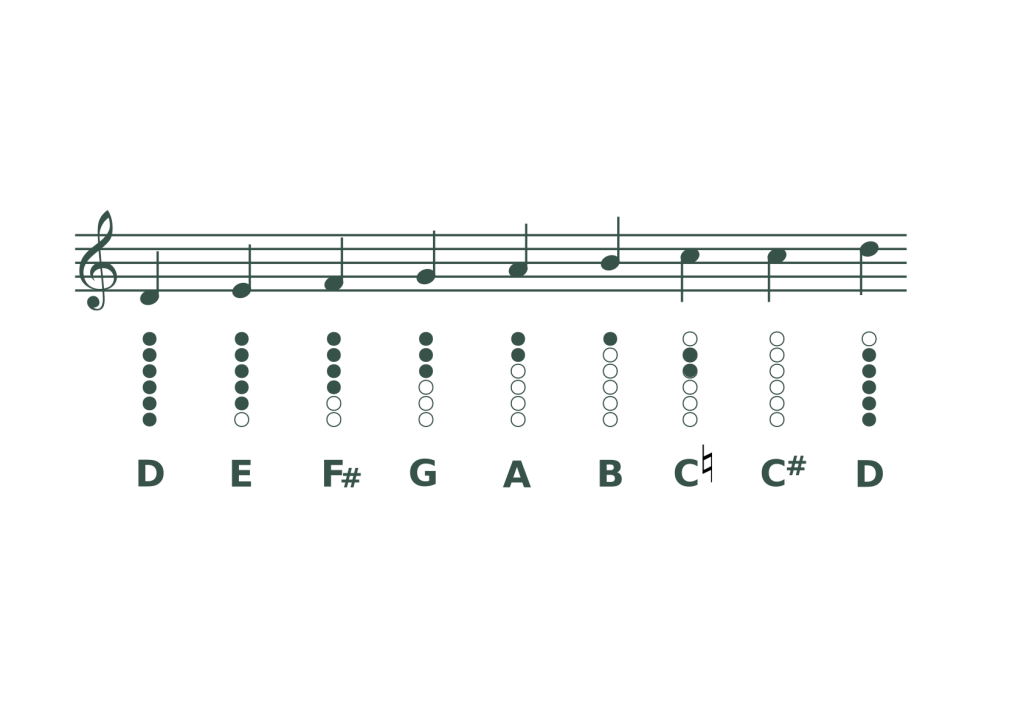 Step 3 – Tin Whistle Lessons
Now that you know how to make a sound, how do you make it sound better? The next step is sourcing an expert tin whistle teacher and some quality tin whistle lessons. You really can't beat one to one instruction when it comes to learning music. This might be easier said than done however.
I usually recommend people check in with their local Comhaltas branch to see if there are any music teachers in your area. Comhaltas Ceoltóirí Éireann is an organisation charged with the preservation and promotion of traditional Irish music, song and dance.
Comhaltas (pronounced kohl-tas) has branches all over the world, offering music lessons for all traditional Irish musical instruments, so you might be in luck and find one located nearby.
If you're struggling to locate a tin whistle teacher near you, never fear. In this digital age, online whistle lessons are prevalent and it's easier than ever to learn new skills through online video courses. In fact, I have just the thing for you…
McNeela Tin Whistle Lessons Series
Here at McNeela Instruments, we're committed to ensuring that our customers become the best musicians they can be. My team and I care deeply about your musical journey and want to help you every step of the way.
So when I realised the plight of my tin whistle customers – floundering without access to expert tuition and guidance – I decided to team up with professional whistle player and maker, and my longtime friend, John O'Brien. Together we created a series of tin whistle lessons that is accessible to musicians everywhere.
Drawing on his vast experience as both a performer and teacher, John has put together this carefully crafted series of lessons that can take you from beginner to master tin whistle player. These lessons will equip you with all the skills and tools you need to sound good, right from your very first note.
John has developed an extraordinary teaching method which helps you learn in record time, without compromising on technique and style. In fact, you'll be session ready in just ten weeks! 
John's tried and tested teaching method guarantees results. The best part is, you can work entirely at your own pace. Work around your busy schedule, press pause, replay a lesson – you're fully in control. 
Even better, these lessons include access to our specially designed session player which allows you to play along with other Irish instruments at your desired speed. So you can get the full Irish session experience from the comfort of your own home. There's no more need to practice in isolation (unless of course you really want to).
Mastering the Irish Tin Whistle
The beginner tin whistle course includes ten structured video lessons that will teach you everything you need to know to be session ready. You'll learn basic technique, ornamentation and your very first Irish dance tunes all in a fun, relaxed environment.
John's expert guidance will show you how to establish a good practice routine and in just ten weeks you'll be a competent, confident player, ready to progress to the next level. 
Once you've mastered the beginner course, further excitement awaits – if you're up for it. Progress through the Intermediate Tin Whistle Lessons and Advanced Tin Whistle Course to experience exciting challenges and fully develop your skill as a whistle player. Don't just take my word for it though. We've received rave reviews from some very happy tin whistle players:
'I was amazed at how quickly I was able to learn the tunes! John's teaching technique, breaking down each tune into phrases and playing them slowly at first, helps to boost confidence…
John's sense of humor brings additional enjoyment as does the selection/variety of traditional tunes. Playing was even more fun once my McNeela "Wild" whistle arrived. I strongly recommend this course to anyone looking to pick up the Irish whistle.' – Daniel Doak
You can learn more about the McNeela tin whistle lessons series here: McNeela's Ultimate Tin Whistle Lessons Course. 
Step 4 – Tin Whistle Tutors
If you'd like to supplement your learning, there are many tin whistle tutor books available today. I highly recommend The Irish Tin Whistle Tutor, written by the 'Queen of Tin' herself – Mary Bergin.
That's right, the legendary Mary Bergin has produced a series of three tin whistle tutors to share her expert advice and assist those who want to follow in her footsteps and emulate her playing. 
Her comprehensive tin whistle tutorial spans three volumes and is the culmination of many years of extensive performing, teaching and honing her craft. Each book caters for a different level of ability from Beginner to Professional level.
Mary's books are a godsend. She pours her expertise into every page, and luckily for us, she is not only a gifted performer, but a wonderful teacher too.
Step 5 – Listen Up
The brilliant Irish concertina player Cáitlín Nic Gabhann was kind enough to offer us some advice on How Best to Learn Traditional Irish Music. Of vital importance, in her expert opinion, is listening to the music. 
'Listen as much as you can to Traditional Irish music – in the car, while you're walking, at home. I can't stress this enough. This is a vital part of learning and understanding traditional Irish music. You need to be able to feel it; the swing, the phrasing, the flow, the style. None of these can be notated properly…
Who did your musical idols learn from? Who did they listen to growing up? Find recordings of these people and listen to them. Go back to the source. Listen to a variety of traditional Irish instruments… The more the music gets into your head, the better the music will be that comes out through your fingers. ' – Caitlín Nic Gabhann
Of course Cáitlín is dead right. The best way to enhance your musical learning is to listen to as much music as possible. Learning to play the tin whistle is no exception!
To truly boost your playing you need to listen to the great masters of the Irish tin whistle tradition.
Who are they? Mary Bergin, Brian Finnegan, Seán Potts, Michael McGoldrick, Joannie Madden, Myles O'Malley, John McSherry, Micho Russel, Donncha O'Brien, Brian Hughes, Alan Doherty, Seán Ryan, Carmel Gunning, Josie McDermott, Cathal McConnell… These are just some of the revolutionary tin whistle players you should treat your ears to. Believe me, you'll be glad you did. 
Just think, years from now your own name could feature on that list of legendary whistle players. So what are you waiting for? Pick up a tin whistle today and you can begin wading in the waters of traditional Irish music.
Go n-éirí libh!
[Featured Image: Dean Zobbec, CC BY-SA 2.0]