Iconic Irish Flute Playing Styles
As a musician starting out on the Irish flute, you've probably encountered the term 'playing style'. But, you might not have paid it much heed. What is playing style and how can it benefit your own playing? 
Style is an important but elusive concept in the world of traditional Irish music. One man's east Galway style was another's Clare style, was another woman's Sligo style.
Niall Keegan, University of Limerick
The most important thing to know is that there are no hard and fast rules. Many traditional Irish flute players play in a mixture of regional styles. Others forge their own unique style or adopt the style of a player that they particularly admire. No easy feat when there are so many to choose from! But which style is right for you? 
Inspiration Awaits
I've compiled a short list of four fantastic flute players, along with a simple analysis of their phenomenal playing. I'll reveal the secrets behind these trailblazer's unique flute playing styles and identify techniques that will improve your own playing. 
Discover why these champions of the Irish flute are so highly regarded. They have been lauded as some of the finest flute players in traditional Irish music, with glowing endorsements. In fact, they're so good they've even had tunes named after them! 
I'll show you how to follow the example of these master flute players and elevate your playing style instantly. You'll understand what it means to be in full control of your instrument. You'll also learn good playing habits right from the beginning, shaving valuable time off your practice targets. 
So, if you want to take your flute playing to the next level, then keep reading. I'll help you discover the playing style that's right for you. By the time you're finished, you'll have all the information you need to start developing your own distinctive style, or to imitate the ones you like best!
Not The Usual Suspects
You might notice, I've stayed away from the obvious choices, like Matt Molloy. Any Google search for Irish flute players will return a myriad of results for this mighty musician. His cosmopolitan style is probably the most imitated in traditional Irish flute playing today. 
But I thought it might be nice to share some of my favourite, sometimes lesser known, players with you. So, keep reading and soon you can impress everyone at the next session with your insider knowledge!
There's so much you can learn from these master flute players and their playing styles!
Introducing…
This renowned Irish flute player is widely regarded as the pioneer of Irish female flute players. Before her, female flute players were largely unheard of. She was the first woman associated with the flute in what was once a male-dominated field.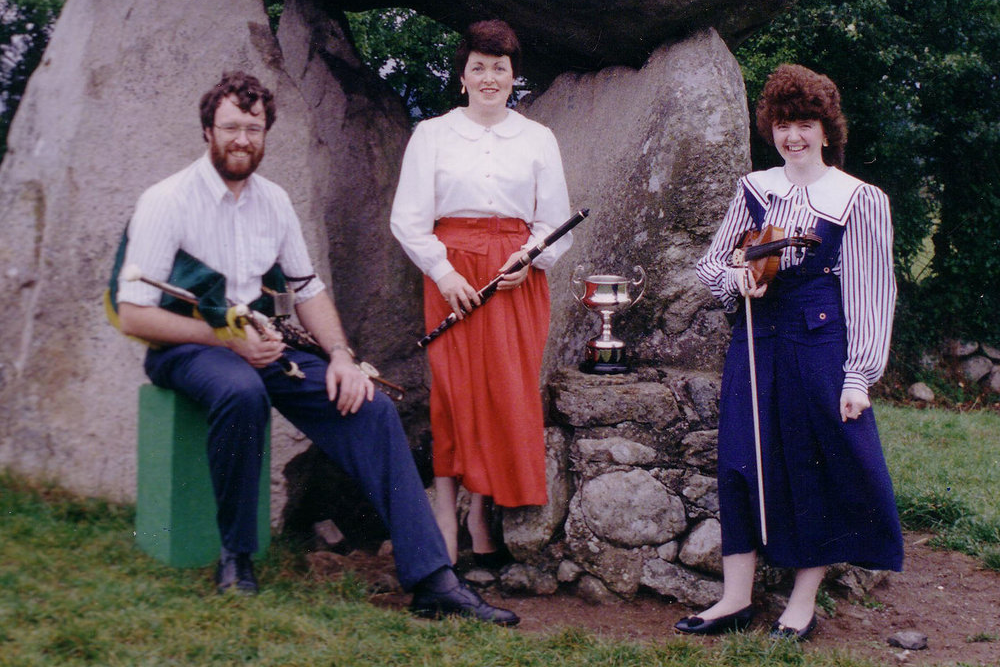 Peig Needham: The Pioneer
Her phenomenal, distinctive style of playing… was listed among the "greats".
Peig Needham (formerly McGrath) was an ambassador of the Roscommon style of flute playing. A native of Co. Roscommon, Peig's flute playing was rooted in the North Connacht tradition. This style typically includes long, smooth phrasing and plenty of fast-flowing ornamentation. You can hear this in Peig's playing. 
The county of Roscommon can be credited with giving birth to some of the greatest flute players Ireland has ever seen – Peig included. There must be something in the water!
Peig began learning music at the age of seven and went on to become one of the finest flute players in Irish traditional music. Her prowess as a flute player is well-acknowledged. She won the All Ireland Senior Flute Competition in 1976 and toured the US on many occasions with Comhaltas Ceoltóirí Éireann. Only the finest musicians were (and still are) selected for these tours. In other words, it was a glowing endorsement of Peig's skill!
In a field that had been dominated by men, Peig shone as a role model for flute players everywhere. She inspired many young women to greatness, including renowned flute player Catherine McEvoy.
Peig McGrath was acknowledged as one of the great flute players of this era… Her influence on the Irish traditional music movement would rank with that of the masters many years her senior… Peig's contribution was illustrious and inspiring… this favourite daughter of Roscommon left her mark with sincerity and panache.
Labhrás Ó Murchú, Ardstiúrthóir CCÉ
An Often Overlooked Skill
Peig was a flute player with great command over her instrument. She was in full control at all times. Her breathing was calm and measured – she was never gasping for air – and her ornamentation flowed with ease. She mixed short phrases with slightly longer ones – alternating her breathing pattern – but always in a conscious manner. In this way, she used the breath as a feature of her highly rhythmic playing. 
Many new flute players make the mistake of overlooking the importance of breathing. I get it. You want to jump ahead to the fancy flourishes. But, your cuts, rolls and other ornaments will improve drastically if you spend a bit more time building up your lung power. Even experienced flute players can benefit from practicing breathing exercises, to give their huffing and puffing a boost. Make breathing exercises a part of your daily practice and soon you'll have lung power to rival Peig's!
How to Play the Irish Flute Like Peig
Peig's playing was controlled yet rhythmic, steady, yet lively. She could hold her own against any of her contemporaries. There was a lovely lift to her playing that would really get your feet tapping! But don't take my word for it – have a listen for yourself:
In this recording Peig plays two popular reels – The Boys of The Lough and Darby's Farewell to London – two excellent session tunes! 
Here, Peig produces a strong, woody tone with a slight bark on a few of the notes. Take a look at the shape of her mouth (or embouchure) while she plays. She plays with a tight embouchure, the bottom lip resting against the headjoint while the muscles at the side of the mouth are tensed and drawn back. 
Every flute player will play with a slightly different embouchure shape. This, along with their choice of instrument, will affect the sound they make. We can hear that Peig has opted for a strong but breathy tone, overblowing slightly in places which helps to accentuate her rhythmic playing.
Darby's Farewell To London, the second tune played, was composed by Peig's good friend and teacher, famous Roscommon flute player and composer, Josie McDermott. The pair played music together in their younger days. In fact, Josie named the first tune he wrote after her – Peig McGrath's Reel (well worth learning):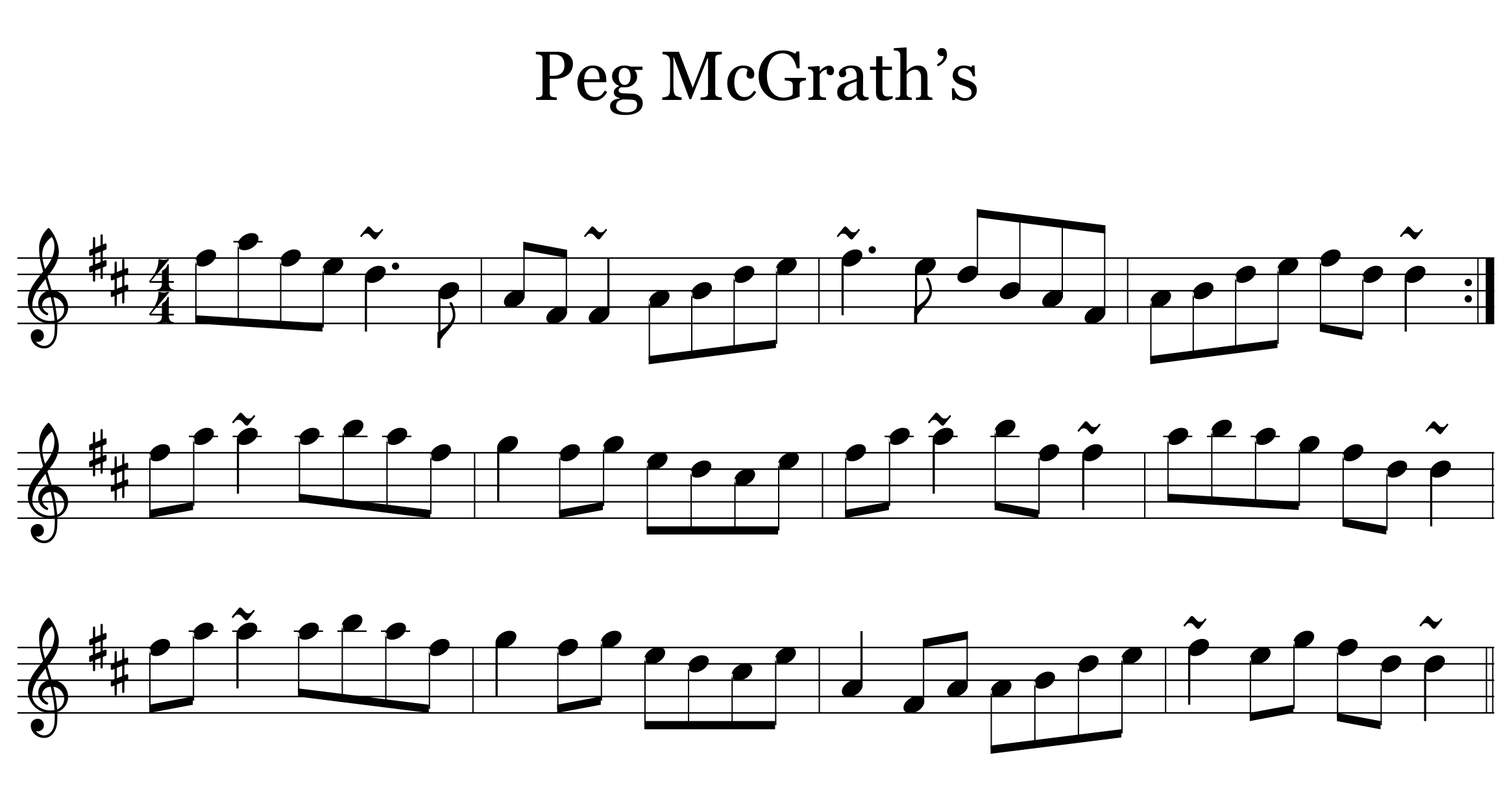 One Album You Need to Own (If You Can Find It)
In 1981, alongside the great musicians Kathleen Smyth (Irish fiddle) and Mary Mulholland (piano), Peig recorded an album, aptly titled Cherish The Ladies. You can listen to a beautiful selection of jigs from the recording here.
The whole album is well worth a listen but it can be quite tough to get your hands on a copy! It's a treasure hunt worth embarking on though. This gem of an album is a wonderful example of traditional Irish music at its finest. No frills. Just great tunes and even better playing!
The Instrument Behind Peig's Woody Tone
Peig's instrument of choice was a beautiful blackwood Rudall and Rose flute. As I've already mentioned, it produced a lovely strong, woody tone, with plenty of volume. 
I'm aware it might sound a bit daft to hear that a wooden flute produces a 'woody' sound. You're probably sitting there thinking "of course it does Paraic, sure isn't it made of wood?".  But each flute is different and has its own unique voice – some will produce a more resonant sound that is reflective of the beautiful piece of timber it's been crafted from. 
African blackwood is a hugely popular choice for Irish flute makers, and rightly so. The wood is stable and water resistant. It's strong and dense – perfect for flute making. And it doesn't look half bad either!
If you'd like to replicate Peig's sound and you're interested in trying out an African blackwood flute for yourself, we have a few that would do the job nicely. The McNeela African blackwood flute is a powerful, responsive instrument, great for anyone starting out. We also have an alternative model by well known flute maker Ari de Keyser. Either flute would steer any beginner in the right direction.
Introducing…
This next flute player is well-known and much-loved throughout the traditional Irish music community for her work as a radio broadcaster. Through her work, she provides an invaluable platform for fellow musicians. She is especially supportive of the younger generation.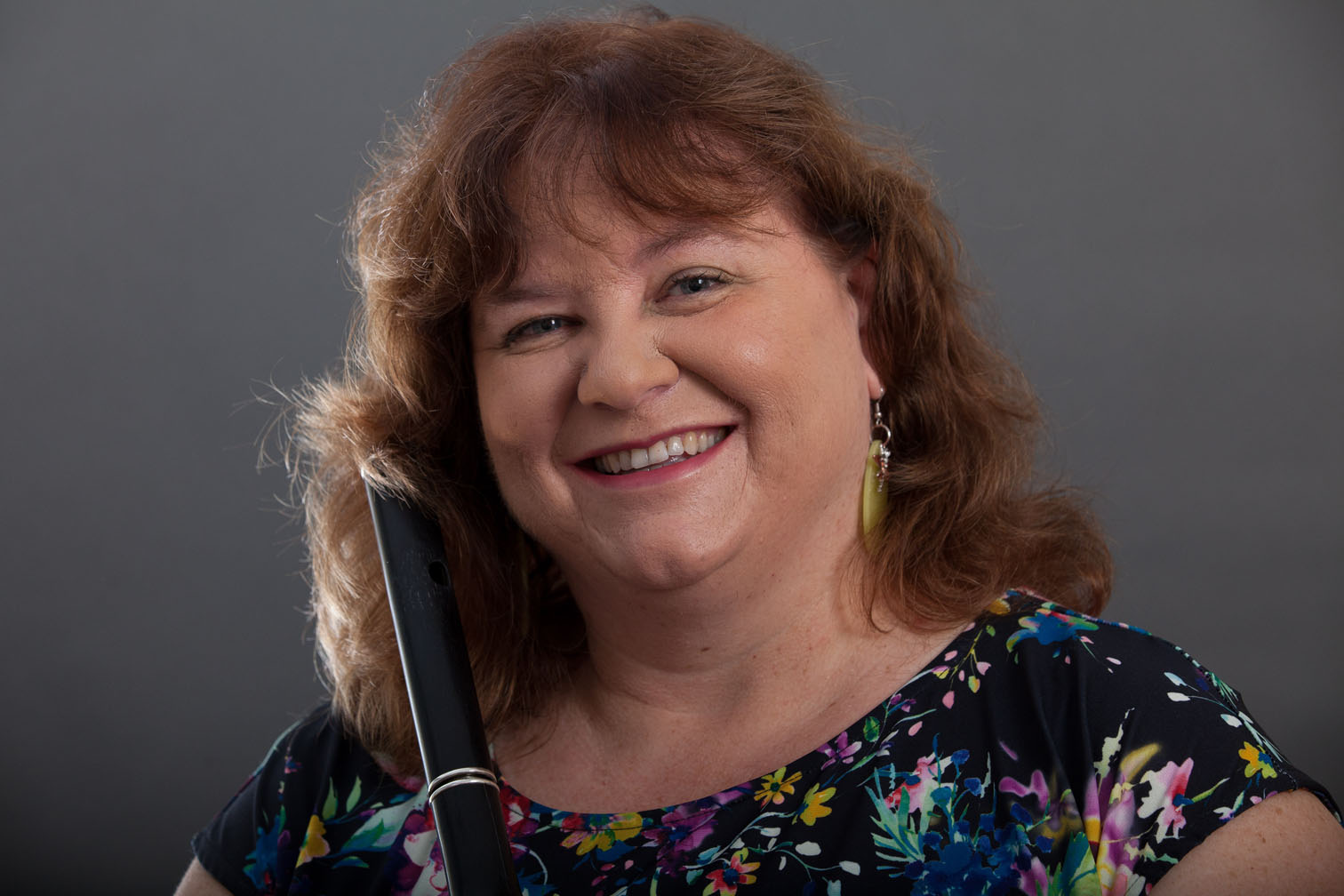 Neansaí Ní Choisdealbha: The Advocate
I realised that this music wasn't only for the old lads.
Neansaí Ní Choisdealbha is the Head of Music with Ireland's Irish-language radio station, RTÉ Raidió na Gaeltachta. She presents many shows throughout the week. A favourite of mine is Ceol Binn ó na Beanna ('sweet music from the cliffs'). It's a wonderful resource for any musician, aspiring or otherwise. Well worth a listen!
A Connemara Touch
Neansaí grew up in Indreabhán, Co. Galway – a spot well renowned for music. She began learning traditional Irish music at a young age with the encouragement of her parents who were both musicians.
Despite being from the cultural gaeltacht region of Connemara, in the west of the county, you can hear influences from the East Galway tradition in Nancy's playing. This laid-back style of flute playing is usually characterised by a flowing, relaxed tempo. Personally, I can see and hear the influence of the great East Galway flute player Mike Rafferty in Neansaí's playing – even down to the way they hold the flute and shape their embouchure. 
It would be unfair to the rich musical heritage of the Connemara region however, to lump Neansaí in with the East Galway crowd entirely. I think it's fair to say she adds her own Connemara touch to her music. 
Neansaí playing provides a wealth of inspiration for budding flute players everywhere.
How to Play the Irish Flute Like Neansaí
Neansaí's playing style is rhythmic, but never feels rushed. She makes great use of articulation and ornamentation, and has great breath control. Similarly to Peig, she alternates between short and long phrases to shape the tune. Occasionally she adds in a particularly long phrase to add an element of tension. 
You can listen to a sample of Neansaí's playing in the video below. She is joined by Irish harp player Oisín Morrison for a lively selection of reels – The Green Mountain and Ríl Neansaí (Nancy's Reel): 
As you can see, Neansaí uses a more relaxed embouchure than Peig. Her lips look almost flat against the head of the flute. There is only a slight tensing of the muscles at the side of her mouth. To try this yourself, relax your lips and say 'muh' out loud (like the sound at the start mushroom). Try to keep your bottom jaw as still as possible as you do. This is the shape you need! Next, place your bottom lip against the flute so it feels like you're pushing your bottom lip forward slightly. Tense the sides of your mouth (like a grimace) and you're ready to go! Adjust as you need to until you are happy with the sound. 
The Magic of The Flute
The second tune Neansaí plays in this recording was composed specially for Neansaí's album, Draíocht na Feadóige or 'magic of the flute', by Clare flute player, Michael Hynes. Neansaí's album is a fine example of her inspiration playing and features a wonderful collection of tunes that every flute player should learn. But don't just take my word for it:
This is a flute album. The tunes are taken in hand comfortably, there's no rush, and yet the tunes never plod or stumble… We can hear every note, every articulation; Neansaí's breath control is faultless. Her accompanists sit behind the tune allowing the flute to carry the day.
Seán Laffey, Irish Music Magazine
The Instrument Behind Neansaí's Sweet, Mellow Sound
You might recognise the beautiful flute Neansaí is playing as none other than a Sam Murray. This blackwood flute produces a sweet, mellow tone, but plenty of volume. There's no denying it makes a mighty sound in the hands of a player like Neansaí!
Sam is a renowned but elusive flute maker from Belfast. He has been honing his craft for almost fifty years and is celebrated the world over for the quality and craftsmanship of his superior flutes. He took a break from flute making for a few years but was in such demand that he made a return to the craft.
A Sam Murray flute is a worthy investment. As Neansaí has shown us, his instruments can carry you through any stage of your flute playing career! We are delighted to have a range of Sam's flutes available through our shop. Why not have a look and see if one of these beauties catches your eye? Soon, you too could be playing like Neansaí. 
Introducing…
The next flute player is one whose uncluttered playing allows the techniques she uses to shine through. Her playing is deceptive. What could be misinterpreted as simplicity is actually a masterclass in subtlety. 
Tara Diamond: The North Wind
They were obviously very surprised… This small girl playing a flute – it wouldn't have been common.
Tara Diamond (formerly Tara Bingham) from Co. Down in Northern Ireland, first emerged on the traditional Irish music scene in Belfast in the late 1970s alongside a number of accomplished Irish flute players including Harry Bradley, and flute makers Hammy Hamilton and Sam Murray.
While Tara's playing shares characteristics of the Northern flute tradition, it also reflects the variety of musical influences she has encountered throughout her life. She plays with a smooth, flowing style, making careful use of ornamentation. Her playing is less 'bouncy' than that of some of her Belfast contemporaries, but never lacking in rhythm or energy.
Tara learned her flute playing from her father, respected flute player Leslie Bingham, at an early age. Growing up in a family of musicians, there were frequent musical visitors to the house, including Fermanagh flute player Cathal McConnell – founding member of The Boys of The Lough – who would record tunes for Tara to learn. 
Tara met many performers through her father who helped to develop her style and repertoire. She spent a large amount of time playing music with family in Leitrim and Roscommon, where, as a young woman playing the wooden flute, she was something of a rarity. 
Belfast Flute Players
The greater Belfast area (which leans heavily towards a Leitrim style of playing, but that's a discussion for another day) has produced some truly brilliant Irish flute players. If you need proof, why not take a look for yourself?
In this video you can see Tara perform a selection of lively polkas at the TG4 Gradam Ceoil awards, alongside Belfast flute players and her contemporaries Harry Bradley, Michael Clarkson, Davy Maguire, and Brendan O'Hare.
The Belfast or Northern flute tradition, despite its many prevalent styles, tends to conjure up images of men furiously huffing and puffing into their flutes. Fingers flying a mile a minute. Overblowing until you think the flute might explode or take off on its own. Tara's individual playing style is more understated. 
Tara is a musician who understands the value of space in a tune. Sometimes less is more. She plays each note to its full value and articulates each one clearly. Tara will often play a long note where others would embellish with a roll. She never crowds the melody with unnecessary flourishes.
How to Play the Irish Flute Like Tara
One of the most important things to know about ornamentation is when not to use it. Listening to Tara's playing is a particularly useful exercise for those of us who may be guilty of trying to overcrowd a tune with too many embellishments. Have a listen to this solo performance of the Four Provinces Fling – a wonderful example of a Scottish tune type that worked its way into the Northern repertoire: 
Tara manages to achieve a great sense of momentum in her playing, without rushing. Rhythm is key. She uses her breathing to highlight the rhythmic elements of the tune and allows the melody to sing sweetly. Where other players might articulate the descending triplet patterns with tonguing (a technique widespread in classical playing), Tara chooses instead to allow them to flow freely, creating a more mellow sound. 
She seems to have a natural feel for melodic shape and builds her phrasing around allowing this to shine. Melody is a language that seems to be a natural one for her to express herself in. 
Conal Ó Gráda, Irish Flute Player
Tara's tone is sweet. She never forces the sound, but still succeeds in achieving a strong, powerful tone. She creates this sound by playing her flute using a rounded embouchure. To try this yourself, simply pucker your lips like a fish. If you don't feel a bit foolish at first, you're not doing it right. Then, extend your upper lip slightly over the hole on your flute. It can take some getting used to at first, depending on how you usually position your mouth when playing. It's a useful technique to learn for creating different tones on your flute. 
Tara's Magical Instrument
The discerning amongst you may have noticed that Tara plays a beautiful flute made by the great American flute maker Patrick Olwell. Olwell flutes are highly sought after. The legendary Matt Molloy plays one, as does the virtuoso player Tom Doorley from Danú. 
The waiting list is long, but not hopeless. If you have your heart set on owning an Olwell flute some day I'd recommend sticking your name down on the list now. By the time you've fully mastered the flute, you'll have a magical instrument to show off your skills on. 
For now, an intermediate player could get great mileage out of this gorgeous keyed African blackwood flute made by Arie De Keyser. 
I recommend listening to more of Tara's playing for some further inspiration. Her most recent album, Seanchairde, contains a beautiful collection of tunes which she has recorded with her husband, renowned fiddle player, Dermy Diamond, and guitar player Daithí Sproule.
Introducing… 
This next flute player hails from across the water. Born in the USA, she has become one of the biggest names in traditional Irish music today. Her flute playing is best known for breaking the rules by using the Boehm system silver flute.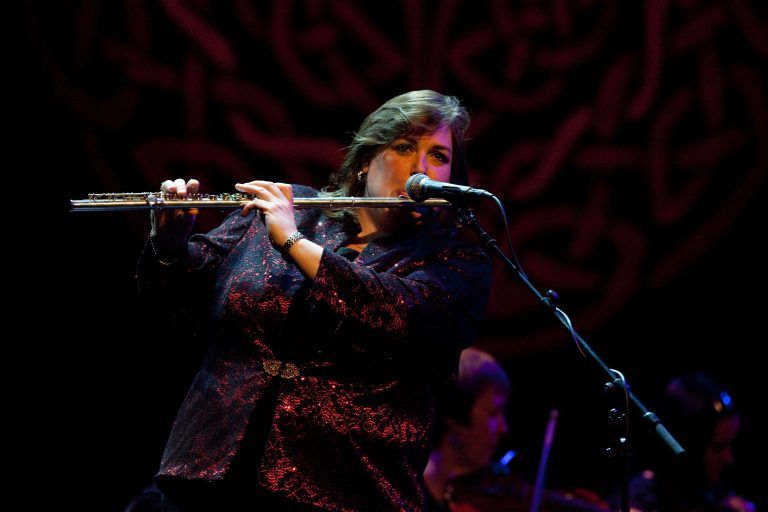 Joanie Madden: The Rebel
Dreams are meant to be followed.
Joanie Madden is one of the most revered musicians in Irish music today. A multi award winning musician, she was a founding member of the iconic ensemble, Cherish the Ladies. She has been a driving force behind the group for thirty five years. She has featured on over 200 recordings as both a soloist and an ensemble performer. 
Joanie is perhaps best known for playing the Boehm-system flute. The Boehm-system (or classical flute) does not feature in traditional Irish music as often as the traditional wooden flute. Joanie brought it to new heights however when she won the All Ireland Flute Competition in 1983. In another pioneering feat, she also became the first American to win the All-Ireland Senior Tin Whistle Competition in 1984.
Transcending Genres
Joanie has been praised for her ability to adapt the silver flute's use to the playing of Irish music. She incorporates stylistic elements of traditional Irish music into her playing with ease. This can be heard particularly in her use of ornamentation. Why not have a listen to the video below to hear for yourself?
In this video she joins Cork flute player Conal Ó Gráda for a lively selection of reels, followed by some jigs. Conal  Ó Gráda is well known for his zealous playing and the loud, barking tone he achieves on his instrument through overblowing. Note how Joanie matches his speed, tone and volume – an impressive feat using the Boehm system!
Joanie has great breath control, filling the flute with plenty of air and using the breath as a rhythmic feature. Influenced strongly by Matt Molloy, her playing is full of drive, energy and rhythm.
I think if anyone wants to get into Irish music, it would start by listening to some of the greats so you can understand what you're trying to sound like.  One of my heroes would be Matt Molloy – a remarkable flute player.
Joanie Madden
Myths Busted
Many trad purists will tell you that you can't play Irish music on a 'classical' flute. This is nonsense. Yes, some of the fingerings will be different to that of the simple system flute. This can lead to slight complications with some forms of ornamentation (mostly rolls). But, as Joanie has shown us, this is most definitely a challenge that can be overcome. 
Others may claim that the keys will slow you down. Again, I would say, it's not a problem for Joanie. Her playing flows with ease, and her rapid fingerwork is a sight to behold. 
This claim might be inspired by the late great Paddy Carty from East Galway. Paddy played a Radcliff System flute (a type of wooden Boehm style flute). He had an unhurried playing style. In other words, he was never in a rush to get to the end of the tune. This relaxed style would have been typical of the East Galway region however. He wasn't getting lost trying to find his way around the keys, and neither will you!
One of the key, identifying factors of the unique sound of the Irish flute is its woody tone. While this can't be fully replicated on a metal flute, players such as Joanie can still achieve a full, warm tone. And there's no denying that she produces plenty of volume too!
Joanie's Luxury Instrument
Joanie's instrument of choice is a silver Miyazawa flute:
When I tried the Miyazawa – that was it, there was no turning back!  The tone, the action and the feel of the flute was the best and although I have tried all different kinds of flutes, I have been playing and loving my Miya's ever since!
Joanie Madden
These luxury instruments are a handmade collaboration between Japanese flute maker Masashi Miyazawa and American flutemaker P.L. West. Similar to Olwell flutes, they are a long-term invest in your flute playing. 
If, like most, you're looking for something a little more cost-friendly to start out on, you should consider our brand new McNeela Boehm-style flute. This silver plated nickel flute is perfect for beginner flute players. And, as you've now learned, it's suitable for any genre of music. 
Defying The Odds
Surprisingly (or unsurprisingly to any parents reading), Joanie's parents weren't keen for her to become a professional musician. They encouraged her instead to attend college and play music "on the side". Through determination and hard work however, Joanie forged a hugely successful career for herself. She is now a household name in the world of traditional Irish music, and beyond. Joanie continues to inspire generations of Irish and American musicians with her playing and radiant personality.
My advice would be to do something you love and work very, very, very hard and you will succeed! Dreams are meant to be followed.
Joanie Madden
A Common Link 
You might have noticed that all of the flute players I've mentioned here have something in common. There is no shortage of talented female musicians in the world of traditional Irish music. That number grows each time a young musician (or not so young – it's never too late to start!) picks up a new instrument for the first time. Many will go on to join the ranks of the greats.
These young players are lucky to follow in the footsteps of the phenomenal women mentioned above. Players who paved the way for newcomers through their work as performers, composers and teachers, and who raised the profile of women in traditional Irish music.
The Next Step to Mastering the Irish Flute
Hopefully, these iconic players have inspired you as they have many before you. You might be feeling motivated to pick up a flute and give it a go yourself. Why not have a look at our Irish Flute Store and see if one catches your eye?
If you're looking for the powerful Irish flute sound you've heard from Peig McGrath, take a look at the 5-star rated McNeela African Blackwood flute. We'd recommend this wooden flute for intermediate and advanced flute players.
If you're serious about playing the Irish flute and want to make a longterm investment then follow Neansaí Ní Choisdealbha's example and order your Sam Murray Flute with us. We are proud to be the sole distributor of Sam's sublime custom-made wooden flutes.
Alternatively, if you're an experienced player looking to transition from Classical music, our brand new McNeela Boehm-style flute could be the one for you.
We have a handy Irish flute buyer's guide available to offer some advice for your first flute purchase and we're happy to answer any questions you might have.
With a high-quality, reliable instrument in your hands and some inspiration from the greats, you'll be playing tunes like these trailblazers in no time!
Attribution: Photo by Liam McNulty for Scoil Samhraidh Willie Clancy.
Images: Peig McGrath, Neansaí Ní Choisdealbha, Tara Bingham, Joanie Madden