The Irish wooden flute is a thing of beauty and a musical instrument that takes great skill to craft. Luckily for wooden flute enthusiasts everywhere, there's no shortage of modern Irish flute makers in the world today, using their masterful skills to create some of the finest instruments available.
Regular readers of the McNeela Irish Music Blog will know that many of my blog posts focus on individual instruments, but in this brand new series I will instead be focusing on the skilled professionals responsible for crafting your favourite musical instruments.
To kick things off, allow me to introduce you to just one of these expert craftspeople: Irish wooden flute maker, Martin Doyle.
An Introduction to Martin Doyle Flutes
'It never ceases to fascinate me. I'm amazed at this simple instrument – I'm amazed by what it can do!' – Martin Doyle
Martin Doyle is one of Ireland's finest wooden flute makers. His simple system Irish flutes are renowned for their ease of playability and strong, warm tone. 
Martin produces a range of wooden flutes including traditional Irish flutes, keyless wooden flutes both with and without tuning slides, keyed Irish flutes (available with varying numbers of keys), baroque flutes and wooden head joints for silver concert flutes.
Martin's flutes are perfect for any level of player from beginner to professional players alike.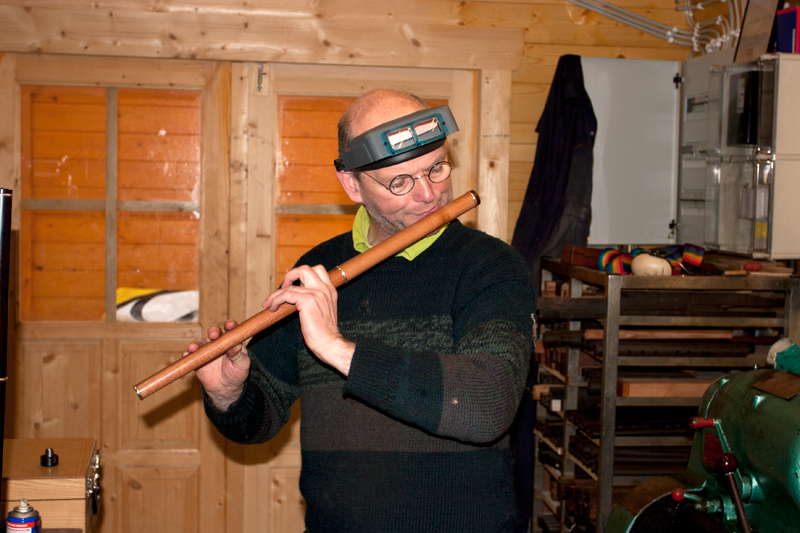 About the Maker
Growing up in a musical family, Martin was immersed in music from a young age:
'My first introduction to instrument making was as a young child. My father would make whistles from the bark of the sycamore tree. My grandmother, who was a melodeon player, used to visit us on Fridays and we would play and swap tunes.' – Martin Doyle
Both of his parents were musicians and he played alongside his brothers in a band called The Doyles. At the age of 17 he began an apprenticeship as an engineer, and went on to spend a brief stint as a marine engineer. Music was his first love however and finding too many demands placed on his time, he returned to instrument making.
Martin has been making and fixing flutes since the 1970s – though it wasn't until 1983 that he officially struck out on his own. Originally based in Bray, Co. Wicklow, in 2005 Martin moved his shop to Liscannor, Co. Clare where he has continued to produce his award-winning Irish wooden flutes.
Martin refined his craft over the years under the expert instruction of German flute maker Johann Joachim Quantz and retired English flute maker Albert Cooper.
To learn more about Martin's flute making progress, check out this video below:
Award Winning Wooden Flutes
Martin Doyle wooden flutes have been the recipient of a number of awards including the 1985 Design and Crafts Council of Ireland Medal 1985; the 1993 Royal Dublin Society California Gold Medal (overall winner); and first prize in the musical instrument category of the RDS National Crafts Competition 2011.
'My philosophy is to produce a simple style flute of the highest standard, producing a sound which is enjoyed by amateur and professional musicians alike. These flutes are elemental in their simplicity, yet are sought after by some of the world's finest musicians.' – Martin Doyle.
Characteristics of Martin Doyle Flutes
Whichever style of Martin Doyle flute you choose, they all have a few important things in common:
Comfortable to hold:
Martin Doyle flutes are remarkably lightweight with comfortable finger hole spacing that doesn't require too much stretching of the fingers making them exceptionally comfortable flutes to play.
Easy to play:
Martin's lightweight flutes are easy to fill, requiring minimal airflow making it easy to create a strong, rich tone.
Superb tone:
These responsive flutes offer a beautiful rich tone with plenty of volume that will adapt to your individual playing style.
Accurate tuning:
Martin's flutes are renowned for their quality tuning and intonation. He offers a range of keyless flutes with or without tuning slides, but regardless of which you choose, playing in tune is never an issue. 
Expert Craftsmanship:
Whether choosing a keyless or fully keyed flute, you're guaranteed that it's been crafted to the highest standard with care and expertise.
Tonewood Conservation
One of Martin Doyle's most admirable qualities as a flute maker is his keen advocacy for conservation. His love of nature led to a keen interest in the conscious use of tonewoood – particularly in the case of African blackwood, arguably the most popular wood used to make the traditional Irish flute.
As a result, Martin has been involved in a number of African Blackwood conservation projects, even visiting Tanzania where he produced a flute with the assistance of local wood carvers from Dar es Salaam.
'With instruments that are made from things that grew naturally, there's a sense of the countryside, a sense of something natural. The music that comes from them has a spirit or has a life, which came from the earth.' – Martin Doyle
In addition to crafting his flutes from renewable FSC certified African Blackwood, Martin's workshops and even his home are powered by electricity generated through Irish windfarms. Commendable indeed!
You can learn more about Martin's involvement in these fascinating conservation projects on his website: www.martindoyleflutes.com
Where to Shop for a Martin Doyle Flute?
Martin's flutes are typically made to order. While he usually has a few prepared and ready to go in his workshop, it's best to contact him directly so that he can identify your individual needs as flute player and build a flute specially for you.
You can view his full range of flutes on his official website: www.martindoyle.com
Price will vary depending on what sort of flute you order – a keyless wooden flute without a tuning slide will cost significantly less than an 8 key flute featuring a silver tuning slide and keys for example – but you can rest assured that a Martin Doyle flute is a worthy investment.
Martin is one of the few flute makers who lists his prices on his website however, so you'll know what to expect from this trusworthy seller.
Occasionally a second hand Martin Doyle flute (such as this stunning keyless wooden flute in B flat) may find its way to us here at McNeela Instruments so do keep an eye on our Online Wooden Flute Store for a rare surprise.
BROWSE MCNEELA IRISH WOODEN FLUTE STORE
[Images via www.martindoyle.com]