Do you ever find yourself lying awake at night pondering, 'Which accordion album should I add to my collection?' Believe me, you're not alone!
Fear not – we've got you covered.
We're about to lift the veil on some of the most riveting Irish button accordion players and have handpicked their iconic albums that will undoubtedly expand your musical horizons. Truly, when it comes to the button accordion, we're spoiled for choice.
With each album we'll discuss, you'll embark on a musical journey, weaving through the rich tapestry of Irish music history and culture, irrespective of your personal instrument preference.
From Benny McCarthy's 'Press and Draw' to Tony MacMahon's 'Farewell to Music', a treasure trove of melodic masterpieces awaits your discovery.
Our list ranges from revered artists such as Jackie Daly and Tony MacMahon to the bright, new gems of the Irish music scene. So, dive into the mesmerising world of Irish button accordion music and get ready to discover your next favourite album today.
McNeela's Favourite Irish Button Accordion Albums:
Tony MacMahon

: Farewell To Music

Brendan Begley: Oíche go Maidin

Bobby Gardiner: Melodeon Mad

Séamus Begley & Steve Cooney: Meitheal

Sharon Shannon: The Winkles Tapes 1989

Joe Burke

: The Morning Mist

Mairtín O'Connor

: Chatterbox

Jackie Daly

: Music From Sliabh Luachra
Benny McCarthy: Press and Draw

Paul Brock: Mo Chairdín

Dan Brouder: The Lark's Air

Dermot Byrne & Florian Blanke

Finbarr Dwyer

: Traditional Irish Accordion Music

Damien Connolly: Inspired

Johnny Connolly: An Mileoidean Scaoilte

Dan Herlihy & Friends: Music from SLiabh lUachra

Donal Murphy: Happy Hour

Danny O'Mahony: In Retrospect

Derek Hickey: Derek Hickey
Joe Derrane: Return to Inis Mór
Must-Listen Albums Featuring the Irish Button Accordion:
Beoga: A Lovely Madness

Beginish: Beginish

John Regan & Paddy Glackin: Let Down The Blade

Buttons & Bows: The Return of Spring

Noel Hill

 & 

Tony MacMahon

: I gCnoc na Graí

Séamus Begley & Oisin MacDiarmada: Le Chéile

John Cronin & Daithí Kearney: Midleton rare

The Mulcahy Family: Notes From The Heart

Verena Commins & Julie Langan: Fonnchaoi

Martin Quinn & Angelina Carberry

Joe Burke

, Andy McGann & Felix Dolan: Traditional Music of Ireland

Joe Burke

, Michael Cooney & Terry Corcoran: Happy to Meet, Sorry to Part
Luke Deaton & Jayne Pomplas: My Mind Will Never Be Easy
Click the video below to listen to a might selection of reels from box player Luke Deaton, alongside fiddle player Jayne Pomplas, from their album My Mind Will Never Be Easy:
Top Picks: The Best of The Irish Button Accordion
These are three of my personal favourite Irish button accordion albums, each highlighting a different aspect of this rich tradition…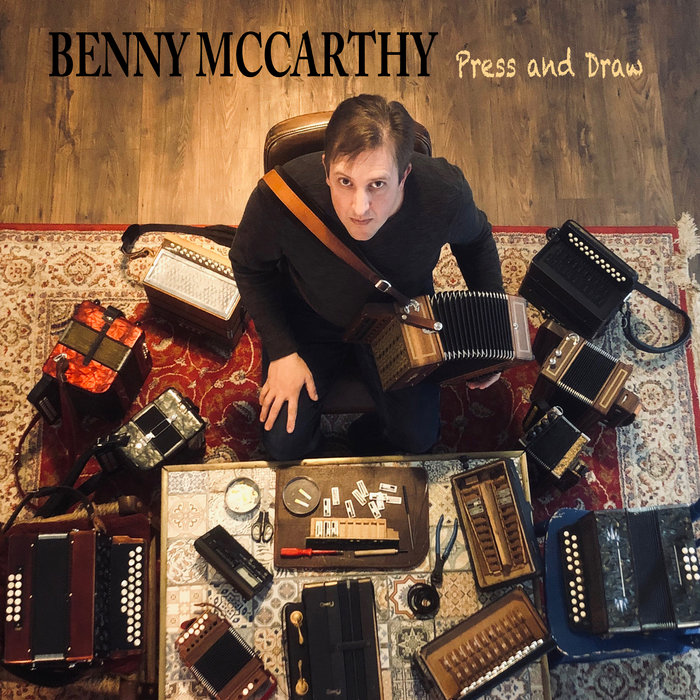 Benny McCarthy – Press and Draw
'The epitome of the consummate box connoisseur… this unpretentious solo box CD proves something of a revelation, and not just for accordion aficionados.' – Living Tradition
Press and Draw by Irish button accordion legend Benny McCarthy is a must listen for all accordion enthusiasts. Featuring 15 tracks recorded on 15 different accordions, it's an exciting exploration of all the Irish accordion tradition has to offer. This innovative album is unaccompanied throughout, allowing the accordion – or accordions in this case – to fully shine from start to finish, and shine it does:
'A totally unaccompanied accordion and melodeon release and no better man to bare his musical soul and carry it with natural ease.'
– Custys Music
Benny is a master of the button accordion whose versatility and skills are evident on each track. From hop jigs to flings and traditional set dances, Benny offers an exciting and varied selection of tunes, far more than just your standard jigs and reels. Best of all, for my fellow accordion lovers, this masterful album is accompanied by detailed sleeve notes that tell us which accordion was played for which tune.
Jackie Daly – Music From Sliabh Luachra
Cork native Jackie Daly is one of Ireland's leading proponents of the Sliabh Luachra musical tradition – an iconic, highly rhythmic playing style that features polkas and slides (often played at breakneck speeds.) The Sliabh Luachra style gets its name from the mountainous region in the southwest of Ireland where it originates, between West Cork and South Kerry – the true wilds of Ireland! 
As you've probably guess from the title, Music From Sliabh Luachra is packed full of tunes from the Sliabh Luachra region, played in Jackie's signature style – the C#/D press and draw style. Each track showcases Jackie's distinctive bright tone and lively, punchy rhythms. This landmark recording helped to re-establish the Irish button accordion as an important instrument in the world of traditional Irish music, making it a part of Irish button accordion history and incredibly important listening for any aspiring accordion player:
Tony MacMahon – Farewell to Music
Farewell to Music is a beautiful collection of slow airs – perhaps an unexpected offering from a button accordion player, but Tony MacMahon was highly regarded for his slow air playing. This is hardly surprising however, when you consider his reverence for the music, and the regard in which he holds the tradition.
Only a true master could tackle these airs in such a meaningful and touching manner. Each track offers its own unique moments of beauty, serving as perfect examples of Tony's simplistic, unaffected playing style. There are no unnecessary bells and whistles here. 
Farewell to Music should be compulsory listening for anyone who wants to master the art of Irish slow air playing, whatever instrument they may play. Tony gives voice to these airs, breathing life into them in the same way a sean nós singer would. The result is thirteen poignant and beautifully delicate renditions that will be remembered as some of the greatest artistry to have ever graced the world of traditional Irish music. 
Never was there a more fitting farewell from a true master to his beloved art form:
McNeela's Ultimate Button Accordion Playlist
To make things even easier for you and to spare you hours of searching, I've compiled as many of my recommendations as possible into a handy YouTube Playlist for you.
Simply click play on the video below or follow this link for hours of listening pleasure: McNeela's Recommended Listening: The Best of The Irish Box
Unmissable Irish Button Accordion Players
Of course not all of the great box players within the tradition have recorded solo albums but it's just as important to hear their iconic playing in action. So while it might take a little more work to dig up a recording, I highly recommend seeking out the Irish button accordion stylings of the following musicians, in addition to those already listed above:
Sonny Brogan
John Regan
Paddy O'Brien
Daithí Gormley
Luke Deaton
Damian McKee
Seán Óg Graham