Many thanks for the updates, folks (scroll down to the comments section) – keep 'em coming! – Paraic
Live music has finally returned which can mean only one thing… St. Patrick's Day 2022 is shaping up to be the most exciting celebration of all things Irish that we've seen in years!
Such is the popularity of our national holiday that the celebrations now spill over into the days before and after the 17th March, making it a full scale festival.
This year, for the first time ever in Ireland, Friday 18th March has been marked as a bank holiday – so the entire country will truly be celebrating in style, with not one, but two days off.
As always, we're spoiled for choice this St. Patrick's Day, so I've put together a list of some of my own favourite picks featuring the very best in Irish music, song and dance.
Global St Patrick's Day Parades
While sadly last year we couldn't take to the streets, 2022 sees the return of the biggest and brightest St. Patrick's Day Parades that the world has to offer. 
Our favourite Irish parades are returning in style, including the iconic national parade which takes place in Dublin City Centre.
In a true return to its former glory we will welcome floats and marching bands from all over Ireland and a little further afield, with musicians traveling from New York, Florida, Texas, Iowa, Ohio, Illinois, Scotland and Germany.
There will also be large-scale parades taking place in Ireland's other major cities including Belfast, Cork, Galway, Limerick and Kilkenny. 
As always, if you can't attend the parade in person, RTÉ (Ireland's national broadcaster) has you covered. The Dublin parade will be broadcast on RTÉ1 and can also be viewed online using the RTÉ Player.
Of course, the major global parades have also made a comeback this year, though some of the dates may vary. But you can get your fill of St. Patrick's day splendour in the following cities:
UK
London, UK – Sunday 13th March
Europe
Munich, Germany – Saturday 12th/Sunday 13th March
North America
Chicago, USA – Saturday 12th March
San Francisco, USA – Saturday 12th March
Houston, Texas, USA – Saturday 12th March
Philadelphia, USA – Saturday 12th March
Dublin, Ohio, USA – Saturday 12th March
New York, USA – Thursday 17th March
Savannah, Georgia, USA – Thursday 17th March
Boston, USA – Sunday 20th March
Montréal, Canada – Sunday 20th March
Toronto, Canada – Sunday 20th March
South America
Buenos Aires, Argentina – Thursday 17th March
Australia
Perth, Australia – Friday 18th March
Sydney, Australia – Sunday 20th March
Asia
Dubai, UAE – Thursday 17th March
St. Patrick's Day Festival Ireland
Dublin
As always there's plenty of events to choose from at the Dublin St. Patrick's Festival!
A few events in particular have caught my eye and you'll find them listed below, but you can find the full event listings on their official website: www.stpatricksfestival.ie
Dance The Night Away – Main Stage @ Festival Quarter
If like me, these past two years have left you feeling a little more sluggish than usual, why not blow off the cobwebs with An Céilí Mór?
Kicking off at 2pm on Thursday 17th March at National Museum, Collins Barracks, this outdoor super céilí will be led from the main stage by Dearbhla Lennon of Riverdance, with music from the mighty Shandrum Céilí Band.
Whether you've two left feet, or you could rival Michael Flatley himself, grab your dancing shoes and dance those blues away:
If you haven't quite gotten your fix, you can catch the Shandrum Céilí Band again later that same evening at 7pm on the main stage at Collins Barracks. 
In fact, there's a whole evening of toe-tapping performances lined up including The Bonny Men at 8pm, and Jiggy at 9pm. 
The Bonny Men
The Bonny Men are a young up and coming group with 'a reputation for electric live performances with an energy reminiscent of the legendary Bothy Band.' (Hot Press Magazine). 
Singing a mixture of original and contemporary folk songs, and playing lively tunes with clever and intriguing arrangements, every Bonny Men gig is a musical experience from start to finish.
Jiggy
More of a collective than a band in the traditional sense, Jiggy fuse traditional Irish music with world rhythms, drawing on elements from other musical cultures to create a sound that is both global and distinctly Irish. 
Their electrifying music encourages listeners everywhere to move to the beat, and the band themselves are firm believers that everyone can (and should) dance – even if you have two left feet.
Their video Silent Place which reinforces this belief took the world by storm in 2018, showcasing dancing traditions from around the world. Take a look:
A Breton in Connemara
In addition to all of the wonderful live music events taking place, a slightly more unusual event caught my eye – a film screening of a new documentary, A Breton In Connemara.
Directed by Bob Gallagher and produced by Irish musician Macdara Yeates, the film explores the life and work of Yann Fouéré – a Breton nationalist who exiled to Ireland and became an Irish citizen in the 1950s – and the rich cultural traditions in which he was immersed.
Through conversations and interviews with Yann's daughter Olwen Fouéré, and acclaimed sean nós singer Sarah Ghriallais, Yates explores the theme of exile in the Connemara song tradition. This is juxtaposed with discussions with Breton singer Clarisse Lavanant, with whom Yates explores the influence of Fouéré on the culture and language of Brittany.
The Irish and Breton folk traditions share many similarities which are guaranteed to make for interesting viewing.
The screening takes place at 2pm on Sunday 20th March in the Palatine Room at Collins Barracks and will feature a discussion and performance with Sarah Ghriallais and Olwen Fouéré.
Best of all, for those who cannot attend in person – the film can be viewed on SPFTV for free, until March 26th. 
Séamus Ennis Centre – Irish Music Session
The Séamus Ennis Centre in Naul, North County Dublin will host a special St. Patrick's Day session on Thursday 17th March. Join local musicians from 2 – 4pm for an afternoon of tunes and craic! All musicians and listeners are welcome.
This gem of a cultural centre is dedicated to the memory of one of Ireland's most influential uilleann pipers, Séamus Ennis. It frequently hosts a range of brilliant Irish music events, so it's a spot worth knowing about and I highly recommend dropping in for a few tunes if you find yourself in the locality.
Entry is free, but do make sure to book a ticket in advance and try to get there early to grab a good seat.
Kilkenny
More and more cities across the country are expanding their St. Patrick's Day festivals. What began as a small local parade all those years ago has now evolved into weeklong celebrations.
As a city renowned for its cultural history, it's no surprise that Kilkenny's St. Patrick's festival is shaping up to be a brilliant programme of events.
Try The Pipes – Uilleann Pipes Workshop
Na Píobairí Uilleann, in association with Music Generation Kilkenny is offering an exciting uilleann pipes taster session for young people age 10 to 18.
Uilleann pipes are an expensive investment and you won't often find a piper willing to hand over their set for an inexperienced musician to try out. That's why this free workshop is a brilliant opportunity for children to try out an instrument they can't easily get their hands on. 
The event will take place on Friday 18th March 2022 from 11am – 1pm at the Parade Tower, Kilkenny Castle.
In addition to being able to try out the instrument for themselves (with the assistance of an experienced player) participants will also be treated to a performance by some incredibly accomplished uilleann pipers.
Belfast
In addition to the St. Patrick's Day parade taking place on Thursday 17th March, Belfast has planned an exciting 'St. Patrick's Eve' concert.
With a lineup including Brian Finnegan (of Flook fame), contemporary folk duo Mick Flannery and Susan O'Neill, rising star Tolu Makay, and a diverse lineup of musicians under the umbrella of the Duncairn Creative Collective, this free concert is guaranteed to delight listeners. 
And something that truly delights me about this event is that alcohol will be put to the side for the evening. There's often an assumption that Irish music and pints go hand in hand – but they don't have to.
The focus will instead be on indulging in cultural and artistic creativity. There will be street food available to keep you full, and plenty of additional entertainment in the form of street performers. What better way to get in the St. Patrick's Day spirit?
Belfast also has an exciting series of Irish music sessions taking place throughout the city during the week. You can check out the listings for the
Trad Trail here
. 
Irish Music Events in Ireland
While not taking place on St. Patrick's Day itself, there's a wealth of Irish folk and traditional Irish music concerts taking place throughout the country in the days and weeks surrounding our national holiday:
St. Patrick's Day Festival UK
London St. Patrick's Day Festival
St. Patrick's Day celebrations in London usually rival our own back home in Ireland and this year is no exception.
Like most celebrations, last year's festival was an entirely virtual event, so this year's theme of Fáilte Ar Ais (welcome back) is really quite fitting now that live, in-person events are taking place once again.
The St. Patrick's Festival will return to Trafalgar Square on Sunday 13th March, with an amazing lineup of Irish performers taking to the main stage from 12pm to 6pm including Damien Dempsey, Altan, Séamus & Caoimhe Uí Fhlatharta, Fiddler of London competition winner Méabh Smyth, and many more.
This year will also see the return of the iconic parade, beginning at 12pm at Green Park and making its way to the festivities at Trafalgar Square. Filled with Irish marching bands, dancers and more, the parade will honour 11 key workers as Grand Marshals in a tribute to the Irish Londoners who have worked tirelessly throughout the pandemic.
Kíla St. Patrick's Day Celebrations
If you're looking for a way to celebrate on St. Patrick's Day itself – Thursday 17th March – the legendary Kíla will be taking to the stage that night at the London Irish Centre. 
Kíla's electrifying music is guaranteed to lift your spirits. Their infectious energy (the good kind!) will have you moving and shaking in no time at all. Their shows are truly one of a kind:
Free Family Fun Day
If large excitable crowds aren't the right fit for you and your little ones, there's a whole family-friendly festival planned for Sunday 20th March in Navigator Square. 
This free community event invites people of all ages to experience Irish culture in a fun, safe, and creative setting.
This all-ages celebration will also feature a vibrant performance from Kíla alongside creative activities, music and dance taster workshops, GAA sports workshops, face painting, street entertainers and more. 
The festivities will finish with a live performance from Donegal folk rock band, Goats Don't Shave. It promises to be a great day out for all the family!


Gobal St. Patrick's Day Events
Lúnasa US Tour
Lúnasa have been described as 'the hottest Irish acoustic band on the planet' as well as the 'new gods of Irish music' and it's no exaggeration. Don't believe me? Why not find out for yourself. 
The legendary Irish supergroup embarks on their US tour in March, with performance dates happening in venues all over the country. They'll be joined for some of these dates by special guest, Irish bouzouki player and singer Daoirí Farrell. 
St. Patrick's Festival week sees these brilliant musicians perform in the following cities:
12th March – Minneapolis, MN
13th March – Chicago, IL
14th March – Bellefontaine, OH
15th March – Cleveland, OH
16th March – New York, NY
17th March – Burlington, VT
18th March – Cornell University, NY
19th March – Sláinte Festival, Bethlehem, PA
20th March – Reston, VA
To see if Lúnasa are playing in a city near you, you can find the full list of tour dates here.
Danú US Tour
Our US friends really are spoiled for choice this St. Patrick's Day. Another superb Irish band heading across the Atlantic for this year's celebrations is Danú. 
Though the lineup has changed somewhat over the years, this powerhouse collective of musicians guarantees to delight their audience. 
You can find them on Thursday 17th March in Popejoy Hall, Albuquerque, but they also have a full touring schedule which will see them visit a number of cities throughout the month of March.
US Celtic Rock
For those looking for something a little less traditional, but who still want to celebrate their Irish pride, two of America's favourite Celtic punk bands, Dropkick Murphys and Flogging Molly, are both offering online performances for St. Patrick's Day.

Flogging Molly will be playing live at the Hollywood Palladium on Thursday 17th March as part of a full day festival, while Dropkick Murphys can be found at House of Blues, Boston.
The Boston event will be livestreamed for those who can't attend in person – an option I'm hoping stays around for a long time!
Sydney St. Patrick's Festival
I know things are a little more uncertain for our friends and family in Australia at this time, but there are still some festive celebrations planned. 
The Sydney St. Patrick's Festival is set to go ahead as scheduled with a full day of activities and events for all the family: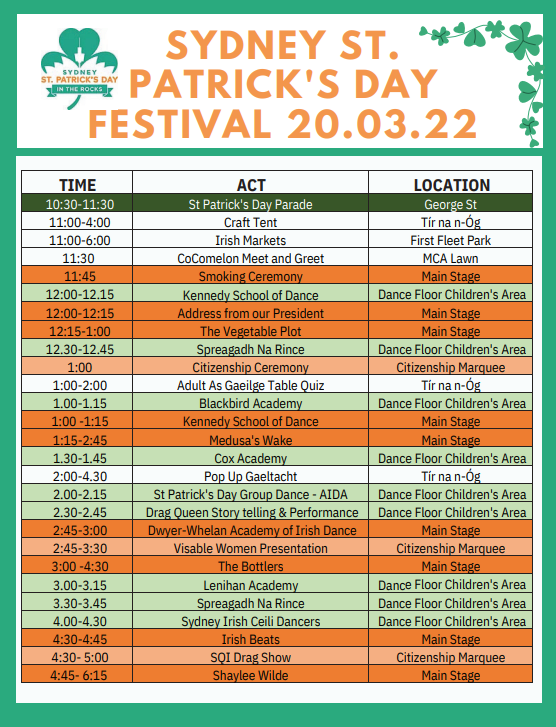 Keep up to Date
We'll keep updating with events throughout the week as the Saint Patrick's Day Festival progresses, so make sure to check back in with us to see what other events make our list!
To get session-ready for the big day browse our traditional Irish musical instruments for sale and order now.
[Images: Featured Image via St. Patrick's Festival by Photographer Julien Behal]