Looking for the best beginner concertina for sale? Check out our handy guide below… 
What is the Best Concertina for Playing Traditional Irish music?
The short and simple answer is a 30 button Anglo concertina in the key of C/G.
Anglo concertinas are bisonoric instruments meaning each button plays a different note depending on whether you expand or contract (push or pull) the bellows. As a result, playing a tune on an Anglo concertina requires less finger travel than other concertinas, allowing for faster playing which is important to help you get up to speed on jigs, reels and other Irish dance tunes.
30 buttons will also ensure that your instrument is fully chromatic, meaning you'll have all the notes required to play in a number of keys.
What Are The Best Concertinas in 2022?
There are so many concertinas available on the market today. Check out my handy blog post on The Top 5 Concertinas Under $2,500 to get an idea of some of the best Anglo concertinas out there, at accessible and affordable prices:
What is the Best Beginner Concertina for Irish Music?
As I've already mentioned, the best type of concertina for those learning to play traditional Irish music is a 30 button concertina in the key of C/G.
You will find beginner concertinas advertised with fewer buttons – such as 20 button beginner concertinas (especially English folk concertinas) – but you're better off starting with 30 buttons so that you can get used to correct finger placement right from the start. More notes means you're not limiting the repertoire you can play either.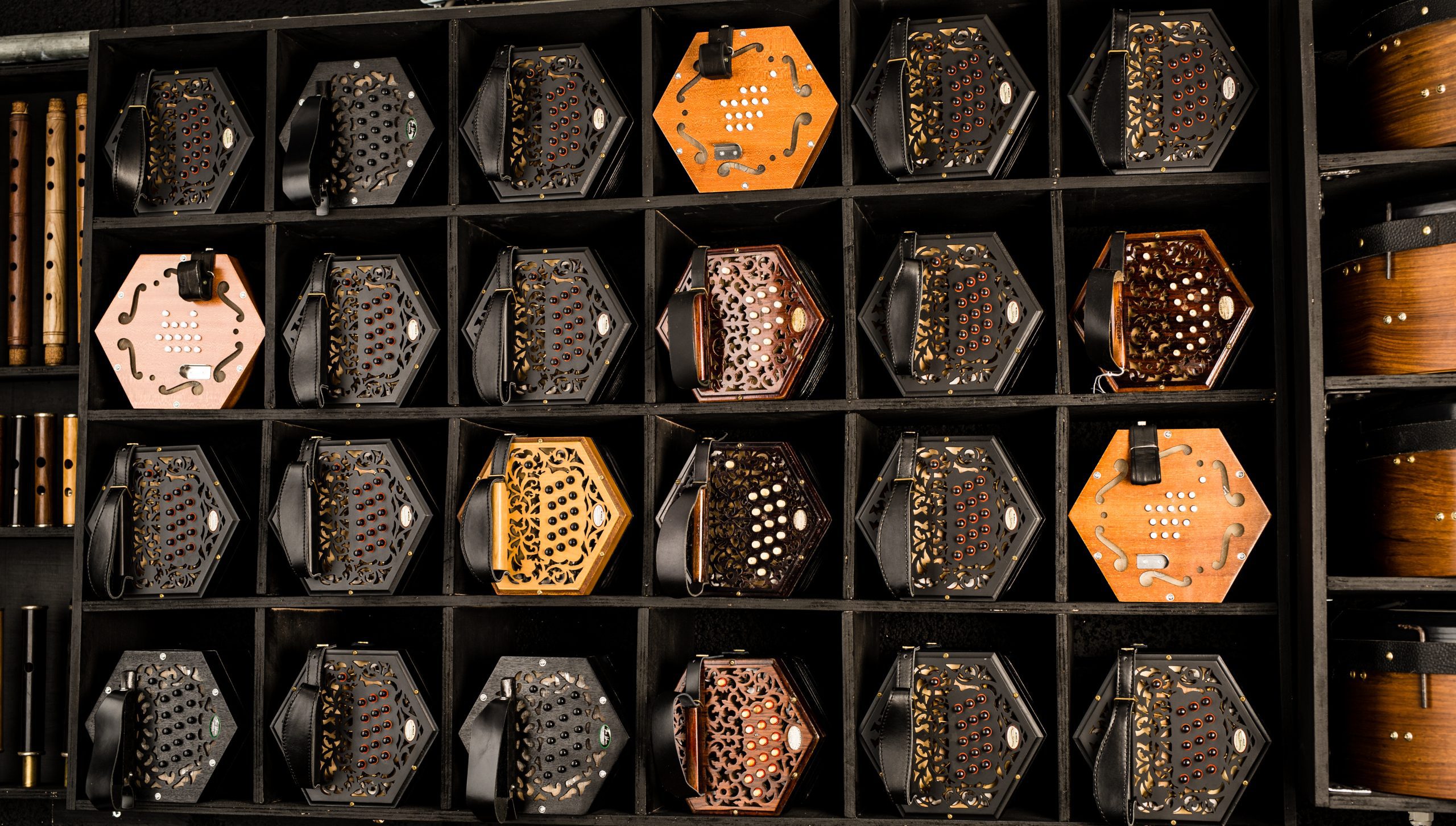 McNeela's Wren Concertina: The Best Concertinas For Beginners
Here at McNeela Instruments we design a range of musical instruments to suit the needs and budgets of beginner musicians. We understand that while you might want to start out on a top of the range instrument, it's not always feasible or practical. Our budget-friendly instruments help you to get started on your musical journey without huge expense. That way, if you discover that an instrument really isn't for you, you're not massively out of pocket at the end.
Of course, quality is still of the utmost importance. You don't want to be fighting a poorly made instrument every step of the way, and that's why I have the perfect concertina for you:
The Wren concertina is the perfect starter instrument for concertina players of any age. This affordable concertina is designed to specifically cater to the needs of beginner concertina players. It's guaranteed to help you reach the next stage of your playing as quickly as possible.
Here's what some of our happy customers have to say:
It's beautiful. I love it and my dog loves to sing along as I play. What a duo! – Paul B

Lovely light concertina. Great sound. I'm very happy with my wren. – Niamh B

This is my first concertina, and I've been enjoying learning and playing it. It has a great range of notes and has a beautiful sound. The buttons feel very responsive and the overall construction is sturdy. Looking forward to progressing with it further. – Dylan F

Fantastic beginners concertina at a great price. Very well made and sounds great. I don't believe I'll outgrow this instrument for some time. – Robert C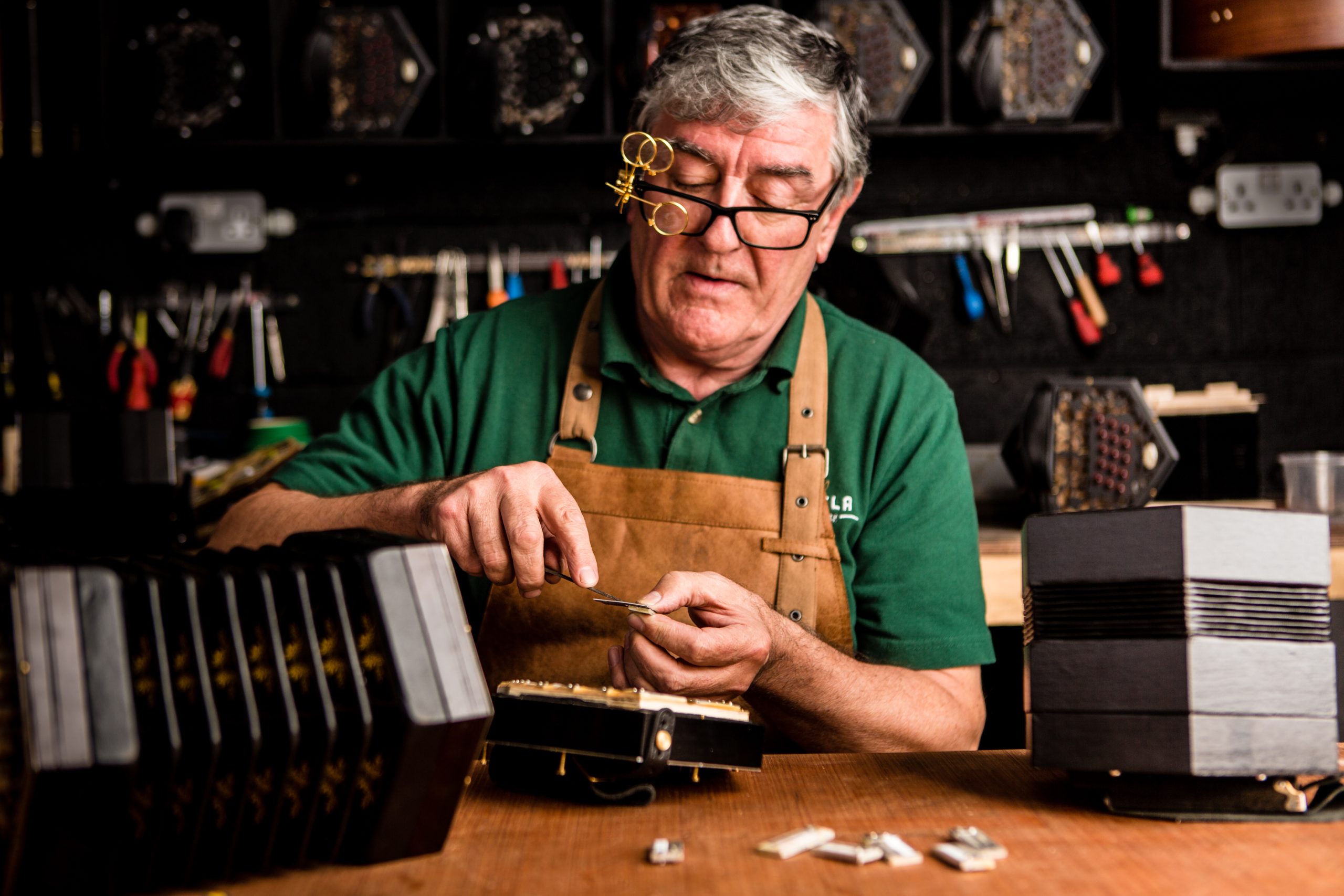 What Makes The Wren The Best Beginner Concertina For Sale?
It features large buttons that are easy to play, making it easier to navigate the concertina.

The quality steel reeds produce a strong, clear tone. Remember, the better your instrument sounds, the happier you will be to play it and the more you'll want to practice.

It's designed with comfort in mind. The soft, durable, adjustable hand straps will comfortably keep your concertina secure, so you can play away for hours to your heart's content.

It comes with a free foam-lined hard case to safely store your instrument and protect it from unwanted knocks and bumps. 

Best of all, this brilliant little concertina comes with three months free access to the beginner level of the McNeela Ultimate Concertina Masterclass Series with expert guidance from world class concertina player, Jack Talty.
Free Anglo Concertina Lessons
Every purchase of McNeela's Wren concertina comes with three months free access to expert guidance from one of Ireland's leading musicians.
These beginner lessons will equip you with all the skills and tools you need to sound good right from your very first note. You'll learn everything from basic technique and ornamentation to the very best tunes. This course is the perfect introduction to Irish folk music.
90 days is more than enough time to learn everything there is to know about the basics of Irish concertina playing and become a confident and capable musician. By the time you finish the beginner course, you'll be well on your way to becoming a great concertina player and ready to progress to the intermediate course!
BROWSE THE MCNEELA CONCERTINA STORE