If you're searching for the best intermediate flute for sale, then look no further. The McNeela African Blackwood Flute is one of the most popular student flutes on the market today. Best of all, priced at just under $550/€512 it's an absolute steal!
Modelled on the Pratten flute style, it features a stunning woody tone with plenty of volume, depth and colour and is perfect for Irish session playing and a variety of other scenarios where a big sound is required.
McNeela's African Blackwood Flute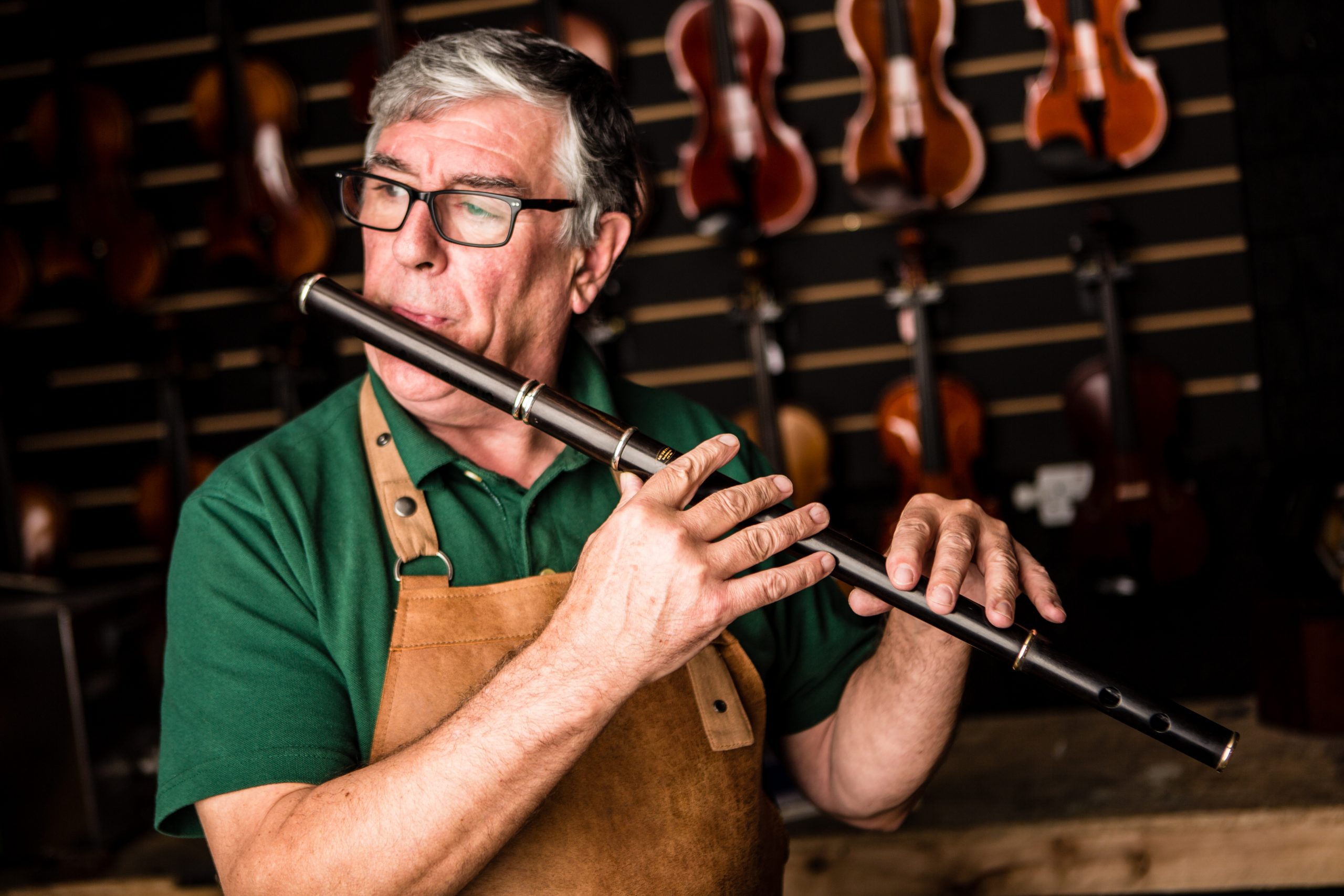 This flute is one of my best selling flutes and it's easy to see why. First, it's been crafted from the very best materials: 
Iconic Tonewood
African blackwood is the tonewood of choice amongst traditional Irish flute players and flute makers alike. The headjoint and the body of the McNeela African Blackwood are crafted from this beautiful wood. Not only does this sleek, dark wood look good – it produces a beautiful rich tone to match. It's this tonewood that gives the flute its distinctive Irish voice.
Learn more about the qualities of different tonewoods from Irish flutemaker Martin Doyle. 
A Magical Sound
This flute is full of character, and guaranteed to breathe a new lease of life into your playing. It's highly resonant, and produces a strong tone, all the way down to the low D – giving that iconic Irish flute sound. Most importantly, it's easy to play, and easy to fill, without compromising on volume. So you get a big sound, without having to work too hard.
The McNeela African Blackwood Flute breezes effortlessly through both octaves – offering a rich, dark tone in its lower range and a bright, clear tone in the upper range. With its robust tone and powerful volume, this is a flute that won't struggle to be heard at any session. It offers a truly powerful performance, making it perfect for group or solo music making, at any level from beginner to advanced.
But don't just take my word for it:
Exceptional Value
McNeela instruments are built to last, and this African Blackwood Flute is no exception. It can carry you effortlessly through the next stage of flute playing or serve as a musical companion for life. 
Like all wooden flutes, this instrument improves with age. As your flute matures, its unique, distinct voice will continue to develop, along with your own playing style. In other words, the more you play it, the better it will sound.
At its current price of €510 / $538 it's an absolute steal.
Step Up From Your Student Flute
If you've been learning on a beginner flute like the McNeela Cygnet, the McNeela African Blackwood in the key of D offers the top choice in the next step on your flute learning journey.

Irish Flute Price Guide
It's much easier and far more enjoyable to learn to play music on a good quality instrument.
While a good flute might cost a little more, if looked after properly and kept in good condition, it will hold its value and can be resold in the future if necessary.
The good news however is that you don't necessarily have to spend a fortune to get your hands on a quality Irish wooden flute – student, intermediate, advanced level or otherwise.
How Much Does a Good Flute Cost?
Beginner flutes or student flutes: $300 – $400 / €280 – €370
Intermediate flutes: $400 – $950 / €370 – €885
Advanced flutes: $1000+ / €930+
Professional flutes: $4000+ / €3750+
Where to Find a Quality Flute for Sale?
Visit my online music store to browse our full range of flutes. We stock our own quality products as well as a number of flutes by other brands and makers
If you still need a little help to choose from the many available options, make sure to check out my Irish Flute Blog for advice.
Alternatively, feel free to contact us directly at McNeela Instruments. We're always happy to be of service and to provide any help we can to any customer.