If you're looking for the best Irish flute for sale but you're on a budget, never fear, we've got you covered!
Here at McNeela Instruments we offer top quality instruments at affordable prices. So if you're looking to get your hands on a new Irish flute in order to dive into the world of Irish music, I have plenty of recommendations for you below…
The Best Beginner Flutes
Not all Irish flutes are ideal for beginners. Some flutes can be more difficult to play than others, and need more air to fill them. Irish flutes can also vary in size, with instruments requiring more stretch from your fingers to comfortably cover the tone holes.
The size and shape of the embouchure (the hole on the headjoint that you blow into) and tone holes can also vary. When first starting to play, you'll want a flute with the following features:
Lightweight and comfortable to hold

Doesn't require too much of a stretch

Has suitably sized tone holes that you can fully cover with your fingers

Has a smaller embouchure

Is easy to fill with air

Is responsive and easy to play
Tips for Buying a Beginner Irish Flute
One of the most important factors to consider when buying a student flute is quality vs price. A low quality flute will produce a poor sound, and its playability will be severely impacted, making it difficult to play. Trying and failing to produce a good sound on a bad instrument can lead to frustration, especially for those just starting out on their musical journey.
You don't want to stumble at the first hurdle. That's why it's important to start out on a quality instrument, right from the beginning. If the price seems too low, chances are it's a warning sign that the quality may be questionable and you won't be making the wonderful music you had anticipated.
Which is the Best Flute for Sale for Beginners?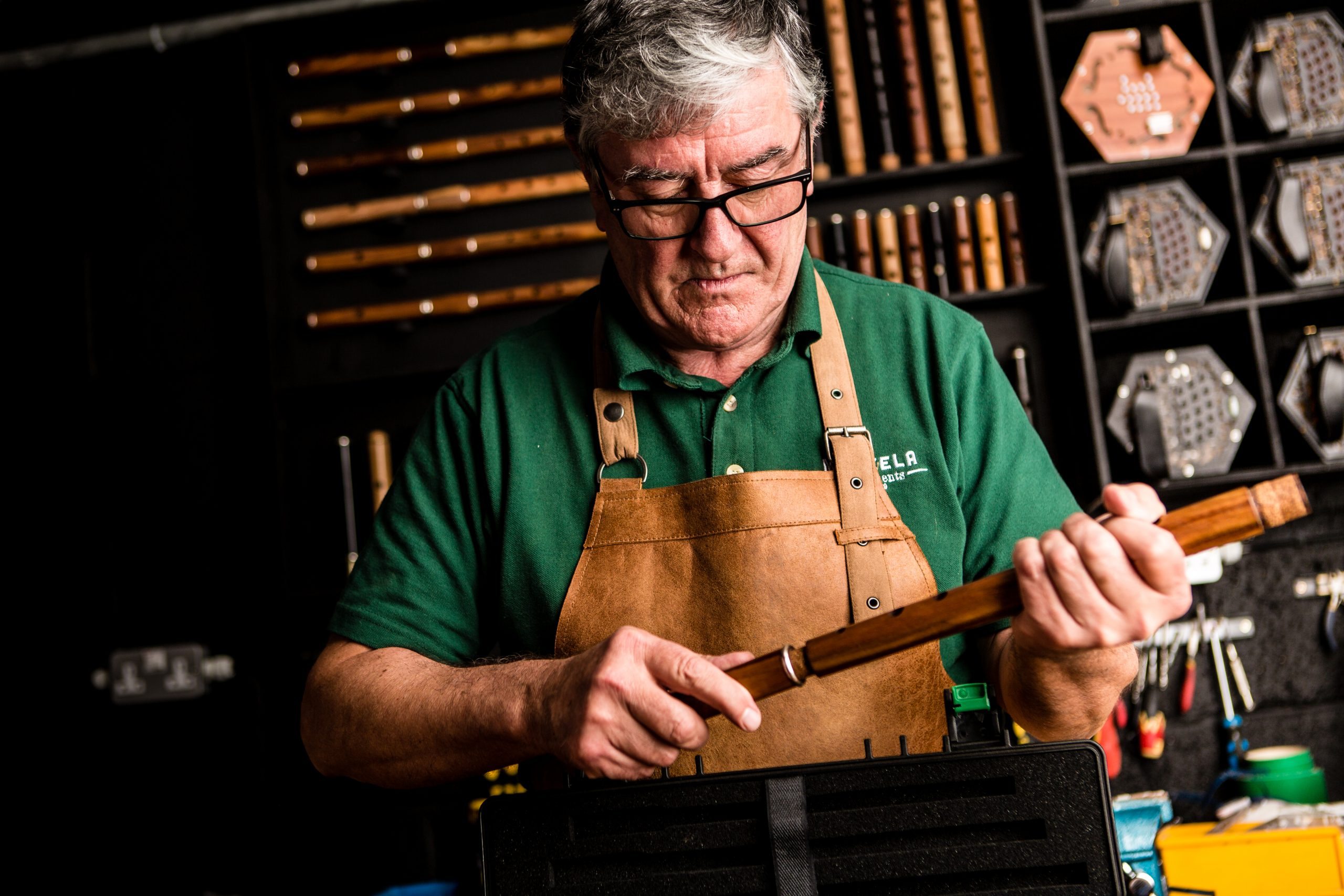 The Cygnet Flute
Suitable for students of any age, this beautiful beginner-friendly flute is my best selling flute and will serve you well. It can carry you confidently through the basics of Irish flute playing, until you're ready to spread your wings as a fully fledged flute player. 
The Cygnet has been designed with beginner musicians in mind, and built to cater specially to your needs.
Beautiful Tone Wood
The first thing that set this flute apart from others in its class is the choice of tonewood. The Cygnet is built from sustainable Indian Rosewood which gives it a beautiful warm finish.
Rosewood is ideal for beginner flute players – it gives you the response you need, while providing that distinctive warm, woody, Irish sound. It produces a soft, sweet tone that's guaranteed to make you fall in love with the Irish flute.
Most Irish flutes are typically made from African Blackwood but Rosewood offers a softer response, and is just that little bit easier to play – making it the perfect choice for my Cygnet flute.
Hear it in action in the hands of the brilliant Irish flute player, Robert Harvey:
Sweet Tone
At McNeela Instruments your progress is our purpose. We believe that a quality beginner instrument should always achieve two things:
It should sound good

It should be easy to play
The Cygnet offers all this and more.
With its sweet, warm, mellow tone this flute is guaranteed to sound good right from your very first note. So while you're busy mastering the basics of Irish flute playing, you won't have to worry about your instrument letting you down.
Easy to Play
The Cygnet's innovative design also prioritises ease of play. The smaller aperture makes it easy to fill the flute with air. There's no huffing and puffing required.
That's why the Cygnet is the beginner flute of choice amongst traditional Irish musicians. And is recommended by teachers and students alike. It has everything a beginner Irish flute should offer, including value for money. Priced at just €304 / $321 it's a true bargain.
The Lon Dubh Flute
If you'd asked me years ago to nominate the best Irish flute for under $450, I would have been loathe to include a synthetic flute. Polymer flutes have come a long way in recent years however which has forced my to change my mind.
Strong Material
While it has the distinctive look of a traditional wooden flute, the Lon Dubh fluteis actually made from Delrin. Delrin is a solid, robust, yet lightweight polymer material that offers all the benefits of a wooden flute, with none of the maintenance.
Delrin flutes offer an excellent alternative to Irish wooden flutes. They play just like a wooden flute but don't respond to changes in humidity or temperature in the same way, so you won't have to worry about cracks or other damage – even if you live in a country with an extreme climate!
Listen to it sing:
A Powerful Flute
The Lon Dubh offers big reward for minimal effort. It's easy to play, easy to fill and produces a powerful, well balanced tone. It also offers that iconic low D that's all important for flute players seeking an authentic Irish sound. 
It's a little heavier than the Cygnet, offering a more robust tone and much greater volume making it a great session flute. Not only will you not struggle to be heard, you're guaranteed to sound good. For added peace of mind I've included a silver tuning slide, to make sure you're always in tune and sounding your best.
Like its namesake (Lon Dubh is the Irish word for blackbird), the Lon Dubh flute offers a clear, bright, sweet tone that will delight both player and listeners alike.
Priced at only €389 / $410, this flute is definitely a worthy long-term investment. 
Looking for Sheet Music for Irish flute?
Take a look at our popular flute blog post: The Best Beginner Tunes for Flutes
Prices are subject to change