I'm often asked for listening recommendations for traditional Irish music. One question that comes up time and time again is a real challenge to answer however. "What's the greatest traditional Irish album of all time?" 
It's a question I've given a lot of thought to over the years however, but one that I'm sure you'll agree is almost impossible to answer. Every Irish music enthusiast will have a different opinion! So I've cheated a little and picked my top five. 
Narrowing my list down to just these five offerings was no easy feat let me tell you. These albums have not only guided and inspired my own playing, but generations of musicians. 
These are probably the most important recordings by the most influential bands to have ever graced the world of Irish traditional music. They feature a veritable who's who of the greatest traditional Irish musicians that have ever existed. Their music won't fail to inspire you. That much I can promise.
In fact, I believe they should be compulsory listening for any aspiring musician. 
These iconic supergroups are responsible for elevating the status of traditional Irish music and bringing it to global audiences worldwide. But who are these groups and what exactly have they done to revolutionise the world of Irish music? More importantly, which of their albums have made the final cut and which one stands a little bit ahead of them all?
If you're ready for some jaw-droppingly inspiring music, allow me to introduce you to these revolutionary bards and my Top Five Irish Trad Albums of all time.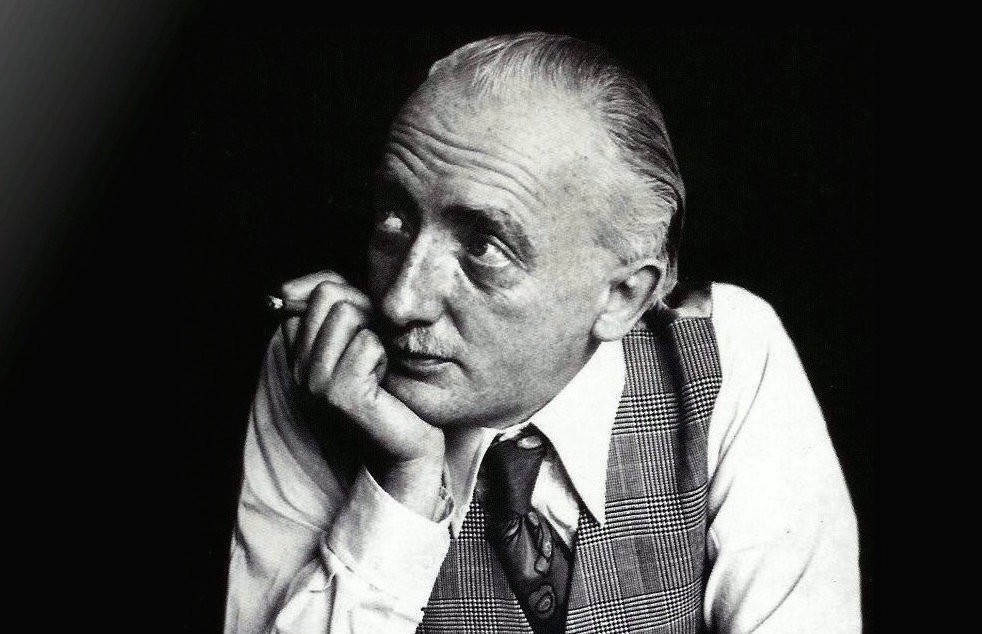 The Renaissance of Irish Music
Traditional Irish Music underwent a sort of renaissance from the 1960s onwards. This revolution was due in part to the innovation of one man.
Seán Ó Riada is one of the best known names in traditional Irish music. He is perhaps most commonly known for his masterful score of the film Mise Éire which fused traditional Irish airs with classical arrangements. His legacy is so much more than that however.
There's no denying that Ó Riada elevated the status of traditional Irish music. No longer was trad something to be found only at sessions in kitchens or pubs. Ó Riada formalised it, making it a genre worth of concert halls and theatres. The musicians he brought together took to the stage dressed in formal wear – suits and bowties. While it may sound daft, this 'gentrification' of traditional music brought it to new audiences who would otherwise have sneered at it.
Ó Riada fused elements of classical and Irish music together, exploring harmony and new exciting arrangements. He looked at traditional Irish music through a new lens and was unafraid to explore new sounds and ideas.
To help him in his musical explorations, Ó Riada brought together a supergroup made up of some of Ireland's finest musicians. Known as Ceoltóirí Chualann, they took audiences by storm, wowing them with both their live performances and recordings.
5th Place: Ó Riada sa Gaiety (1969)
Ó Riada sa Gaiety is not the first recording from Ceoltóirí Chualann, but it is, in my opinion, their most iconic one. 
Though Ceoltóirí Chualann originally came together in 1960, this album was recorded in 1969, just a year before Seán Ó Riada's untimely death. (Ó Riada passed away at the age of 40, cutting short his marvellous contribution to Irish music) 
This album has recently been remastered and reissued however, allowing listeners to enjoy Ó Riada's arrangements in all their glory. The remastering has worked wonders, drastically improving the sound quality of the original recordings. It also features three bonus tracks which weren't previously released on the original.
Recorded at their now legendary concert in Dublin's Gaiety Theatre, the album features Ó Riada together with his supergroup Ceoltóirí Chualann. The allstar lineup includes:
Seán Ó Sé – Vocals

Mairtín Fay, Seán Ó Ceallaigh, Sean Ó Cathain – Fiddles

Paddy Moloney – Uilleann Pipes

Seán Potts – Whistle

Micheal Tubridy – Flute

Eamon de Buitléar – Accordion

Peadar Mercier – Bodhran

Seán Ó Riada – Harpsichord
Ó Riada sa Gaiety has been regarded as a classic since its release. It inspired an outburst of music and greatly influenced the traditional music scene from the 1970s onwards.
This historic album features O'Carolan tunes, marches, slow airs or laments, jigs, reels and sean nós songs featuring the legendary vocals of renowned singer Seán Ó Sé. There's something for everyone!
What Caused So Much Controversy?
First time listeners might be surprised to hear the harpsichord – an instrument associated with baroque music – in the mix. Ó Riada was attempting to emulate the sound of the old wire-strung Irish harp which was unavailable at the time. In his considered opinion, the harpsichord offered the closest sound.
It's one of the most controversial elements of the album with many trad purists at the time arguing that the harpsichord was not a 'traditional' instrument. Love it or hate it, there's no denying that Ó Riada's use of the instrument added new depth to the musical arrangements. 
His harpsichord playing can be heard on most tracks on the album but shines through on his solo track, An Chéad Mháirt Den Fhómhar/Na Gamhna Geala. Why not have a listen for yourself and see what you think?
A Musical Adventure
Ó Riada's musical creativity is evident throughout. It's one of the many reasons this album has had such an immense influence on subsequent generations. It serves today as a wonderful memorial to an exceptional talent and a historic snapshot of traditional Irish music's first foray into the mainstream. 
My Album Highlights
One of my favourite tracks is Cnocáin Aitinn Liatroma (The Whinny Hills of Leitrim). It opens with the legendary Seán Potts on tin whistle with his signature clear bright tone. He's then joined by the full ensemble of fiddles, accordion and bodhrán before he and Michael Tubridy embark on a wonderful harmonised flute and whistle duet. The entire ensemble rejoins in a wonderfully chaotic arrangement of jigs played against each other in counterpoint. Definitely not something audiences of traditional Irish music would have been used to hearing:
Another highlight is the beautiful recording of one of Ó Riada's best known compositions, Mná Na hÉireann. This famous rebel song is a setting of a text by Irish poet Peadar Ó Doirnín. It's sung here by renowned sean nós singer, Seán Ó Sé, accompanied by Ó Riada himself on harpsichord:
4th Place: The Chieftains (1964)
The keen-eared among you may have noticed some striking similarities between the sound of Ceoltóirí Chualann and another iconic Irish music group, The Chieftains. There's good reason for this.
Ceoltóirí Chualann was the breeding ground for The Chieftains. The original lineup for each was one and the same.
Chieftains founding member Paddy Moloney had a vision. He wanted to create a sound that had never been heard before. He was keen to experiment and his collaborative work with Seán Ó Riada allowed him to do just that. Paddy realised there was now an eager audience for this fusion of styles and instruments. To fully realise the sound that had so long eluded him, he formed The Chieftains in 1962.
Grammy Awards and Star Collaborations
Since then The Chieftains have gone on to become the most iconic traditional Irish music group in the world. They've won six grammys and collaborated with artists including Madonna, Mick Jagger, Sting, Van Morrison and Pavarotti, to name just a few.
It's their eponymous debut album The Chieftains that holds a special place in my heart however. (Or The Chieftains 1 as it's now called as a result of their subsequent naming system).
The legendary lineup includes:
Paddy Moloney  – Uilleann pipes, tin whistle

Martin Fay  – Fiddle

Seán Potts  – Tin whistle

Michael Tubridy  – Flute, concertina, tin whistle

David Fallon  – Bodhrán
The Humble Beginnings of Greatness
While this album features less complex and perhaps less exciting arrangements than The Chieftains later offerings, it gives a brilliant insight into their roots. All of the greats who have gone on to revolutionise the world of traditional Irish music come from traditional roots. They understand the genre and they respect the tradition. That's evident here. 
The Chieftains 1 is merely a hint of the greatness that was to come. That doesn't mean it's not a brilliant album in its own right however. It features great tunes and brilliant solo performances. With the legendary Seán Potts and Michael Tubridy taking pride of place on many tracks it's a flute and whistle players dream!
It will come as no surprise to you that my favourite track is the mighty whistle duet The Musical Priest. The accompaniment you hear in the background is Martin Fay plucking away pizzicato style on his fiddle:
3rd Place: Planxty (1973)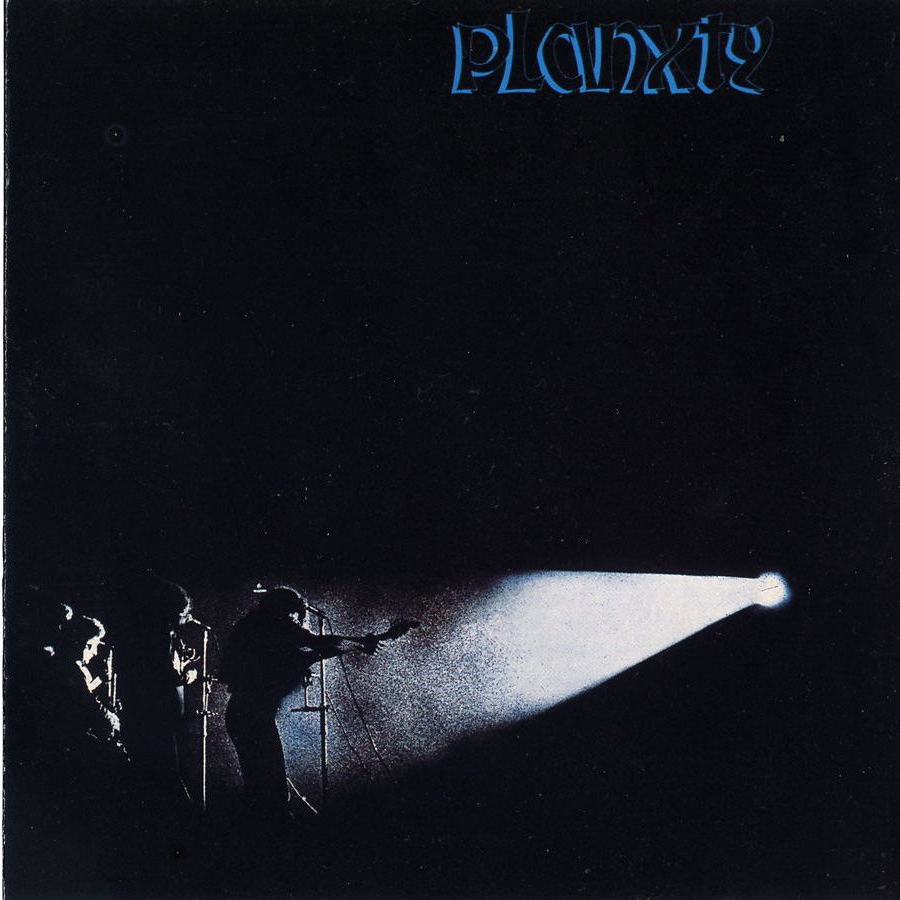 Often referred to as 'The Black Album' because of its cover, Planxty's self-titled influential debut album was released in 1973.
Like Ceoltóiri Chualann and The Chieftains, Planxty's original lineup featured musicians who would go on to become some of the biggest names in the world of traditional Irish music:
Christy Moore – Vocals, guitar, bodhran

Andy Irvine – Vocals, mandolin, bouzouki, harmonica

Dónal Lunny – Synthesizer, bouzouki, vocals

Liam O'Flynn – Uilleann pipes, tin whistle
What Was Different About this Album?
With slightly more focus on songs (particularly ballads) Planxty offered something different to audiences. Planxty the album features a brilliant selection of ballads, and Christy Moore's vocals delight as much today as they did when I first listened in 1973.
With two impeccable songwriters in the group (Christy Moore and Andy Irvine) it's hardly surprising that the musicality and care they brought to their ballad arrangements succeeded in re-popularising the folk ballad genre.
One of my favourite tracks on the album is one of Irvine's original compositions, The West Coast of Clare. Early evidence of his talent as a ballad writer:
Planxty found great popularity on the British folk scene and, similar to Ceoltóirí Chualann, succeeded in bringing their music to concert halls and theatres. Venues where Irish folk ballads would not previously have been heard and celebrated!
Balkan Bouzouki
Planxty is a remarkable first record from one of Irish folk music's most influential acts. Not all ballad based however, their instrumental playing indicated they were indeed masters of their craft. Liam Ó Flynn was one of Ireland's most celebrated pipers. Andy Irvine's iconic bouzouki playing would go on to inspire generations of Irish bouzouki players. 
Irvine succeeded in bringing elements of other genres and cultures to the recording. This can be heard most evidently in the final track on the album, The Blacksmith:
The traditional song The Blacksmith is followed by the tune Blacksmithereens. Irvine wrote this tune to reflect the influence of Balkan folk music on his playing following his travels in Eastern Europe. It's a lively, exciting number full of punchy rhythm and drive! A great ending to a great album. They definitely save the best for last. 
2nd Place: De Danann (1975)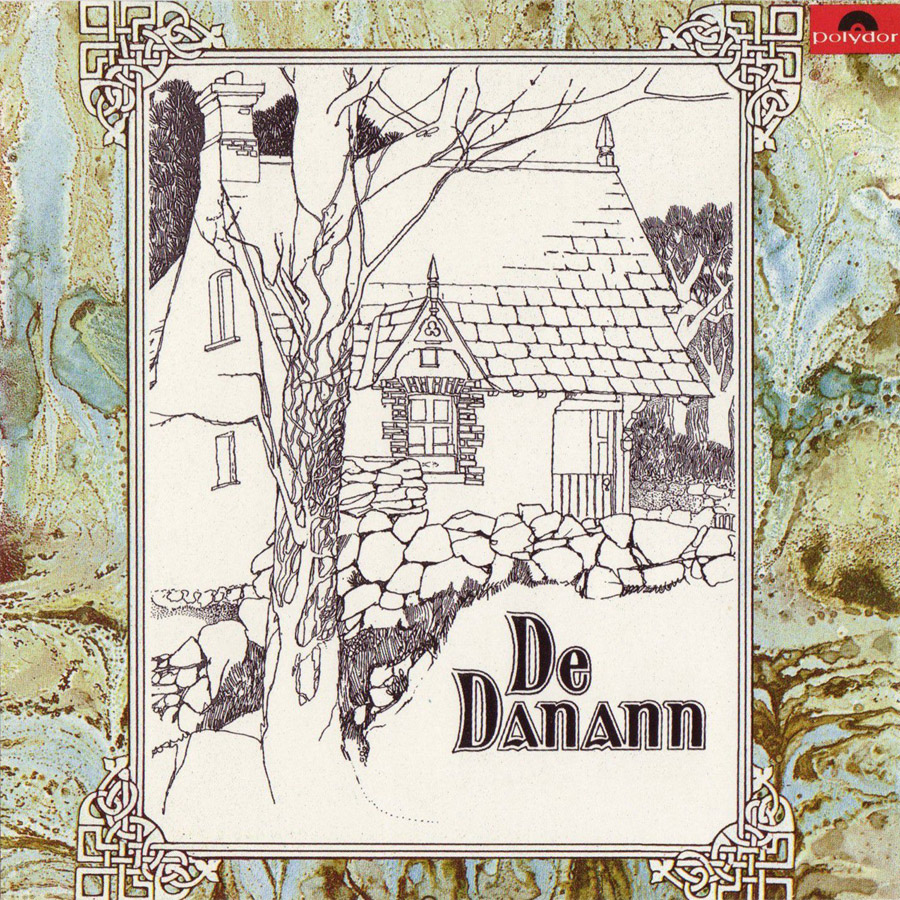 Once described as the 'Rolling Stones of Irish Traditional Music', the legendary group De Danann released their debut album, De Danann, in 1975. 
Driven by the fiddling talents of a young Frankie Gavin and his right hand man Alec Finn on bouzouki, De Dannan were a powerhouse act who succeeded in bringing Irish music to the world stage. 
Three of Ireland's Greatest Folk Singers
In addition to being the musical outlet of fiddle god, Frankie Gavin, De Danann are perhaps best known for launching three of Ireland's greatest female folk singers – Dolores Keane, Eleanor Shanley and Mary Black. 
Their debut album included a stellar lineup of musicians:
Dolores Keane – Vocals

Charlie Piggott – Banjo and Melodeon

Johnny 'Ringo' McDonagh – Bodhran

Alec Finn – Bouzouki

Frankie Gavin – Fiddle
The Galway Sound
Much of De Danann's early sound was owed to Frankie Gavin and his musical inspirations. Both he and Alec Finn were proud Galway musicians, leading the group's music to be labelled the 'Galway Sound'. 
Alec Finn on bouzouki was revered for his unique style. Along with Donal Lunny and Andy Irvine he was one of the pioneers of bouzouki playing in traditional Irish music. The opening track Trip to Athlone/Tripping Up The Stairs highlights his brilliant playing:
This arrangement excels in its simplicity and subtle harmonies. A beautiful duet between Charlie Piggott on banjo and Alec Finn on bouzouki. It showed the promise of what was yet to come. 
Some would argue that De Danann's later albums are where the excitement lies. While I agree to an extent, I feel you can't ignore their first offering. It's as worthy of a listen as their later albums. De Danann was born of a combination of musical talents. There's great pleasure to be had in starting at their roots and listening to them grow as you follow their musical adventure. 
The No.1 Most Influential Trad Album of All Time
Did you guess it? It's The Bothy Band (1975)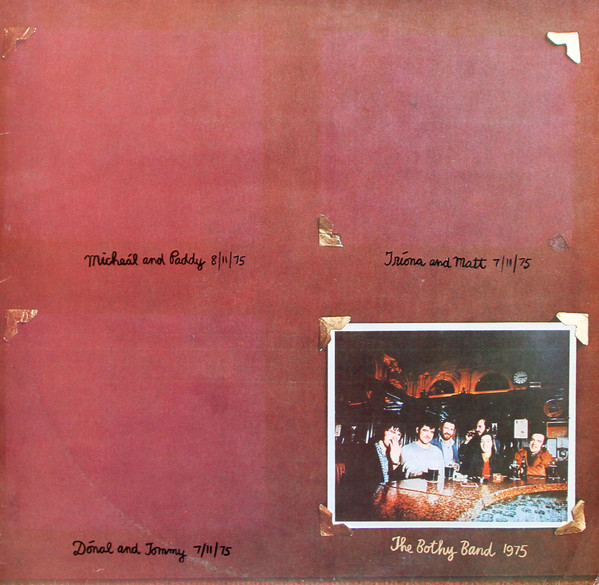 Now, I'm about to say something very controversial. Though it's probably only considered controversial by those who disagree with me.
The Bothy Band are the greatest Irish music group to have ever existed and no one else can compare. 
Yes, their predecessors played a vital role in revolutionising traditional Irish music, but The Bothy Band took the blueprint and made it their own. They opened the door to groups like Lúnasa, Altan, Dervish and more. But in my opinion, none have ever been, nor will be as innovative as The Bothy Band.
So why didn't I just write about The Bothy Band I hear you ask? Biased as I may be, I still understand the importance of acknowledging those who came before and listening to as much music as you possibly can. There's no denying The Bothy Band wouldn't have existed as they did, without the influence of their peers and predecessors.
But in my opinion, I've saved the best for last.
While others formalised and elevated trad, bringing it to new audiences, The Bothy Band's debut album is one of the first recordings that made trad sound 'cool'. Released in 1975, The Bothy Band features the all star lineup of:
Dónal Lunny – Bouzouki, vocals

Paddy Keenan – Pipes, whistle

Matt Molloy – Flute, whistle

Tommy Peoples – Fiddle

Tríona Ní Dhomhnaill – Clavinet, bodhrán, vocals

Mícheál Ó Domhnaill – Guitar, vocals
Iconic Tunes
'An incendiary mix of driving folk-rock rhythms fused with complex contrapuntal layers of harmonic curiosity and robust melodic skill.'
That's really just a complicated way to say it was a lively recording featuring energetic selections of tunes and new, exciting arrangements from talented musicians who knew their way around a tune. 
The Bothy Band's recording of The Kesh Jig is still considered the most iconic setting of the tune to this day. Have a listen:
With just 10 seconds of bouzouki intro, they let you know something exciting was on the way. What a skill to build such a sense of anticipation in such a short space of time. I still remember holding my breath when I first listened to this opening track. I couldn't wait to hear what would come next!
Imagine my delight to be then greeted by the masterful flute playing of Matt Molloy and the brilliant uilleann pipes playing of Paddy Keenan. I knew this album was going to be something special, and I was right. 
Another special nod must go to The Butterfly. Tríona Ní Dhomhnaill's clavinet playing is a very obvious nod to the harpsichord playing of Seán Ó Riada and gives a wonderful Baroque flavour to this Irish slip jig:
The Bothy Band's moody interpretation of this simple Irish tune has become one of its most iconic settings.
Depth of Sound
With 14 tracks on the album, and only three of them songs, The Bothy Band were offering something different to Planxty. This album is an exciting fusion of trad, folk and rock that draws you in from start to finish.
It's a masterclass in arrangement and accompaniment. The dynamic trio of Matt Molloy on flute, Paddy Keenan on pipes and Tommy Peoples on fiddle was accompanied by a host of other master musicians. With Tríona Ní Dhomhnaill on keyboard skills, Mícheál Ó Domhnaill on guitar and the legendary Donal Lunny on bouzouki, The Bothy Band created a rich, full sound that added the depth and bass that Ceoltóirí Chualann and The Chieftains lacked at the time. 
Masterful Group Performance
One of my favourite tracks on the album is Hector the Hero: The Laird of Drumblaire. It could easily be mistaken for a solo fiddle track, beginning as it does with People's soulful playing of this Scottish air. He is briefly joined by Molloy before embarking on a lively strathspey (a Scottish dance) written by the same composer, James Scott Skinner:
Peoples uses this tune with its distinctive, punchy rhythm, as a prime opportunity to show off his technical skills on the rapid descending phrases. This is a showstopper of a tune, ideal for solo performance, but difficult to master as an ensemble. So needless to say the group then launches into a faster version of the same tune, giving a lively finish to what the listener originally thinks is going to be a melancholy track.
The entire album is full of gems from start to finish. One of its greatest achievements was the sound quality of the recording itself. It's remarkable how well the recording quality stands up today. While the album was re-released in 1993, I promise you, it was just just as impressive when I first listened back in 1975.
Looking for More?
If you're looking for more inspirational music to listen to, both Claddagh Records and Gael Linn offer a great selection of some of the best traditional Irish albums out there. 
We also sell a range of Irish music CDs and books on our online store.
If you want to read about other groundbreaking musicians of the Irish tradition, take a look at my selection of some of the best musicians to come out of this country in the past 100 years.
[Feature Image: Compass Records]