The Ultimate Guide to Buying a Fiddle or Violin
The violin, or fiddle as it's often called, is one of the most popular instruments in traditional Irish music today. It's also one of the most universally played instruments in the world, and rightly so! No other instrument sounds quite like it. 
Buying a violin can be a daunting task for any beginner, especially when shopping online. Even the most experienced players can struggle with choosing a new instrument. That's why I've written this article to tell you everything you need to know about buying a violin online.
I promise by the time you've finished, you'll know all the right questions to ask before making your big purchase.
Whether you're a beginner just starting out on your violin journey or you're buying a violin for someone else, I guarantee you'll be a violin-buying expert in no time. Most importantly, you'll know the common mistakes to avoid when buying online.
I'll guide you through different price points and what to expect from each. You'll learn the key quality traits that are the mark of a great violin, whatever your level. I'll also tell you which warning signs to heed before you invest your hard earned cash.
Read on for violin buying expertise.
What to Watch Out For When Buying a Fiddle or Violin
Before we get started, there are several warning signs that any potential buyer should watch out for when shopping for a violin or fiddle.
But what are these red flags? Don't worry. I've compiled a useful list that you can peruse at your leisure. You can use this breakdown of warning signs and misconceptions as a reference when planning your purchase. It will help you avoid making a purchase that you are unhappy with.
You can take a look here: Purchasing A ​Violin? Myths & Warning Signs 

Budget 
The truth is that you don't have to spend a fortune to get a good quality instrument. That being said, opting for the cheapest brand is not necessarily a good idea either. 
I've laid out a suggested price range below, which should give you a clearer idea of how much you should expect to spend at each level. 
Beginner Violins: Under €500
Finding the best beginner fiddle can often be the biggest challenge. You want a high quality, reliable instrument that will produce a good sound, but you may not want to break the bank just yet with a long term investment. 
The good news is that it's possible to buy a good beginner violin for less than €500. Violins in this price range are ideal for anyone who would like to learn how to play the violin but isn't entirely sure they will want to keep it up long term.
McNeela Student Violin
One of my most popular sellers is the McNeela Student Violin Set. I can highly recommend it as an ideal starter fiddle for students of any age, as can the many happy customers.
Here it is in the hands of a Colorado native currently taking the music world by storm, Joanna Hyde:
The McNeela student violin caters perfectly for both new and intermediate players. Made from fine grain spruce, this model comes fitted with Helicore violin strings for top quality sound and volume. 
McNeela fiddles are sturdy, well crafted instruments and this model is no different. It offers the reliability any beginner needs to help them get started. 
The student violin is also built with beginners in mind, meaning it's easy to play. No one wants to battle against a poorly made instrument as they struggle to make a sound. That would be enough to put even the best of us off! 
This set offers great value with black carbon fibre bow, compact fiddle case, and fiddle rosin all included. It also comes with my 14 day money back guarantee. Which means you are free to try it out and, using the tips in this blog post, see if this is the right violin for you. 
If you're not 100% happy with your purchase for any reason, simply return it and I will issue a full refund, no questions asked.
Intermediate Violins: €500 to €2,000
If you know that the fiddle or violin is the instrument for you and you're not afraid to make a long term commitment, you might consider investing in an intermediate level instrument right from the start. 
Alternatively, you might have achieved all you can on your starter instrument and are now looking to trade up. 
Intermediate violins can vary greatly in price. The upper limit is really only defined by your own budget. Remember, just because a violin is expensive doesn't mean it's 'better' than a cheaper model. It's all about individual preference.
It's important to note also that sometimes the bow is not included with more expensive violins and may have to be purchased separately. Don't worry, I'll offer plenty of advice on this later on. Instruments in this category may be older models so again it's important to heed any warning signs. Revisit my handy checklist to know what to look out for! 
McNeela Maestro Violin
My best selling McNeela Maestro Violin is ideal for any intermediate player and would also serve an advanced player long into the future. 
Here it is in the hands of the maestro himself, Irish fiddle legend, Liam O'Connor. You can see him demonstrate the difference between the McNeela Student Violin and the McNeela Maestro Violin. Have a listen:
The Maestro Violin has a high quality maple body with a spruce top, making it a sturdy, reliable instrument. It offers a rich, resonant sound and superb response for ease of playing.  It also looks great. This handcrafted instrument is oil varnished for a beautiful finish.
The fingerboard, chin rest, top nut and pegs are all made from ebony. Ebony is the king of all woods when it comes to violin making. This dense wood makes durable fittings that will withstand the test of time.
The set also includes a carbon fibre bow and a top quality violin hard case to protect your new instrument from any unwanted knocks or bumps. 
For any intermediate players looking for something a little extra special to propel them to the advanced stage, we also offer this beautiful Celeste Farroti Vintage Copy. It's the perfect instrument for any serious player who wants to take their playing to the next level:
Advanced Violins: €2,000 to €10,000+ 
Violins in this price range are better suited to advanced players such as aspiring or professional musicians. That being said, there's nothing wrong with making a long term investment in a more expensive instrument at an earlier stage of your playing.
Occasionally we have some vintage fiddles in the shop, such as this exquisite HT Barry 18th Century Violin. You can find them listed in our online store, so keep an eye out. But, be warned, these beauties are always snapped up in record time.

Size
Violins come in a range of different sizes: 4/4, ¾, ½, ¼, ⅛
Most adults and children over the age of twelve play with a full size (4/4) violin. Smaller sizes are generally used by children who can't yet stretch down the fingerboard. 
It's important to note that it's far better for a child to stay on a smaller instrument for a longer period of time than to buy a bigger violin and wait for them to grow into it. Playing too large an instrument can lead to discomfort and potential injuries. Buying the correct size violin will help you to avoid this situation.  
If you need help to determine which size violin is right for you, then check out my handy guide. It will show you the important measurements you need to know to choose the right size violin or fiddle for you.  
Feel
How does the instrument feel?
Violins are built to a specific size and each individual part of a violin is sized precisely. A huge amount of careful precision is involved in crafting a violin. However, small differences between instruments can and do exist. 
The violin neck for example can vary in terms of thickness or depth. You should check that it's neither too thick or too thin for your hand to comfortably hold the violin. 
The chin rest can also be shaped differently. It may be longer, positioned higher or a different shape to chin rests on other similar violins. Size, body type, posture and personal preference will affect which shape works best for you.
It's important to remember however that many parts of a violin can be tweaked (by a professional). Shoulder rests and chin rests can be customised. The soundpost can be adjusted. The bridge can be sanded down and lowered, or raised if preferred. Strings can be changed. 
These tweaks can mould the instrument to your liking, according to your needs and preferences. Finding the perfect violin is like piecing a puzzle together.
Get to know all the different parts of the violin
Tone
The tone of the instrument is one of the most important things to consider when buying a fiddle or violin. 
How does it sound? Remember, everyone in the house is going to hear this violin being played. You want an instrument that sounds good and that you'll be happy to practice on. No one will thank you for bringing home a bad instrument.
Many instrument makers and music shops provide online audio and video samples of their instruments being played. These are exceptionally helpful in guiding potential buyers to the sound they like best.
As the wood used to make violins varies, every violin will sound slightly different.
Some violins may have a bright tone, while others have a darker sound. Some are naturally louder than others. This is where personal preference will really come into play.
It is important to know that you will want an instrument that creates a clear tone. A fuzzy tone means any player will have to work harder to try to get a good sound out of the violin. 
What else should you consider when assessing the sound of the violin?
Responsiveness 
How easy is it to get the sound out of the violin? If it takes too much effort it will make other aspects of playing the violin more difficult. You don't want to have to work too hard to get the tone out. 
Generally speaking, if a violin has a dark tone the responsiveness will be relatively easy. If it has a brighter tone, the responsiveness will usually be hard. As with most things in life, a happy balance between the two is best.
Responsiveness can be affected by the violin strings. Consider changing them to see the difference it can make.
Resonance 
How long does the tone last after the bow changes direction? Without sufficient resonance the tone will die immediately after playing. This would make anyone's playing sound clipped and choppy.
A resonant tone is ideal for a violin. While too much resonance is also something to be avoided, it's better to have too much than too little.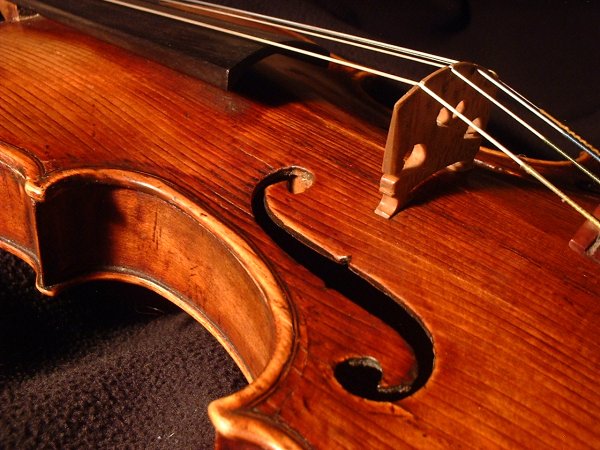 Violin Strings
There are three main types of fiddle strings – gut, steel and synthetic. Each variety comes in different gauges and tensions. 
As a new player, you won't need to worry about this straight away. Any reputable trader will provide high quality strings with their instrument. If not, don't worry, they're easy to replace!
Traditional Irish musicians play using steel or synthetic strings (or a combination of both). These strings are more resistant to changes in climate and retain their tuning well. They also create a bright, warm sound, ideal for playing traditional Irish music. 
I always advise beginner fiddle players to start with medium gauge, synthetic strings. Medium gauge are the most popular because the tension has been engineered by the manufacturer to result in an even, balanced tone that will give good responsiveness on most instruments. In other words, they are easy to play. Synthetic strings are also slightly easier on the fingers.
Get your step-by-step guide to violin strings here.
Violin Bows
Most beginner to intermediate violins come with a bow included. Keep in mind however that bows are easily acquired. If you really like a particular violin but the accompanying bow isn't up to scratch, you can find a substitute with very little hassle.
For beginner players I usually recommend either our McNeela Hexagonal Bow or the McNeela Black Carbon Fibre Bow – both of which are available in a variety of sizes. 
Intermediate players will enjoy our Premium Carbon Fibre Bow which features a beautiful snakewood frog and mother of pearl inlay. It produces a beautiful tone to match!
Learn more about how to choose the right violin bow. 

From Student to Maestro 
Now that you're equipped with all the insider knowledge you need, you hold the key to choosing the perfect fiddle. You can browse our full range of violins and fiddles in our online store. Why not see if something catches your eye?
No matter what stage of playing you're at, the right instrument will elevate you from student to maestro in no time at all. Whether it's our McNeela Student Violin or the McNeela Maestro Violin, each of our instruments is handcrafted with passion and skill to give our customers the very best tools to further their playing. 
If you have any further questions, please don't hesitate to contact us. My dedicated team of experts is always happy to help. No question too big or too small!
[Images: Jason Hollinger, Shunichi Kouroki, Robin Zebrowski, CC BY 2.0]