We may be biased – in fact, we definitely are – but here at McNeela Instruments we consider the Irish bodhrán to be one of the greatest instruments in the world!
Whether you're a first time buyer or an accomplished bodhrán player, choosing the right instrument is an important task. I want you to be 100% informed and happy with your choice of bodhrán. So, I've put together this expert guide, that will take you far beyond the introductory beginner stage.
A bodhrán player is only as good as their instrument. The right bodhrán can transform any novice into an expert player. By investing in a great bodhrán, you're making a commitment to your future self. That's why I'm going to tell you how to pick the perfect one!
This handy instrument guide will give you all the information you need to make a well informed purchase. You'll be an expert in no time! But, most importantly, you'll soon have a great bodhrán that will take your playing to the next level in no time at all.
To give you the best insider knowledge, I've enlisted the help of my good friend, world class bodhrán player, Rónán Ó Snodaigh.
Rónán is one of the greatest bodhrán players of our time. Under his guidance, you'll enter into an exclusive circle of players who can play the bodhrán the way it was intended. You'll be able to confidently walk into any session and show off your skills and expertise.
So, what are you waiting for? Your future self awaits.
Why Buying a Bodhrán is a Decision You Won't Regret
Though it's a drum with ancient origins, the Irish bodhrán became popular in traditional Irish music in the 1960s and has continued to evolve in style and popularity since. This simple frame drum has captured the hearts of many and has itself become the heartbeat of Irish music. 
Some instruments are more difficult for beginners to learn, such as the flute or the fiddle, for example. But, the bodhrán is much easier to get going on from the very start. More importantly, you can move beyond the beginner stage quite quickly, making it the perfect starter instrument for beginners!
It's an even better transition instrument for those slightly more experienced musicians who may be looking to delve into the world of traditional Irish music for the first time. 
Whether you're a beginner or you've been playing for fifty years, McNeela Instruments has a bodhrán to meet your needs. Tuneable, non-tuneable, deep-rim and regular bodhráns – we offer an extensive range. But, where to start if you're in the market to buy a bodhrán? 
The Quick Answer
If you don't have time to spare and you really want to get your hands on a brand new bodhrán straight away, then keep the following in mind. Here's a speedy FAQ. 
What kind of skin?

You'll want a bodhrán with good quality goatskin. 

What size diameter?

Choose diameter depending on hand size. Bigger hands = bigger drum. There's nothing wrong with playing a smaller drum if you'd prefer. 

Shallow or deep rim?

Deep rimmed bodhráns will give you a modern, bassy sound. Choose rim depth depending on arm length. Shorter arms might prefer a shallower drum for comfort. 

Taped?

Yes please. It will sound better!

Tuneable or non-tuneable?

9 times out of 10, the answer is tuneable. Budget restrictions may affect this decision, but a tuneable bodhrán won't set you back too much money and will really accelerate your playing.
Everything You Need To Know, From Basics to Advanced Features
The bodhrán (pronounced BOW as in 'wow', and RAWN as in 'dawn': BOWRAWN) is a round wooden frame drum. It has a goatskin head tacked to one side. The other side is open ended. You play it using a small stick called a tipper or beater.
Whether buying a bodhrán online or in store, you will need to be familiar with the following features of the instrument:
Skin
Size
Crossbars
Tape
Tuning system
Skin: The Essence Of The Drum 
The bodhrán skin is the most important part of the bodhrán. It dictates the quality of sound your drum will produce. Bodhrán skins are traditionally made with goat skin. But, these days you can find instruments skinned with kangaroo, deer and various other animals. 
Here at McNeela Instruments however, we are firm believers that if it ain't broke, don't fix it. Our goatskin is hand cured and hand stretched, properly conditioned and treated (without the use of chemicals). 
Most importantly, we source our skins sustainably from healthy animals. They are carefully selected and thoroughly examined for quality. 
As our goatskin is a natural product, no two pieces are alike. This means your bodhrán is unique!
Size: Which Bodhrán is Right for You?
Our bodhráns come in a variety of shapes and sizes. There are two main factors to consider when it comes to the size of your instrument – diameter and rim depth. Let me explain.
Diameter: Is It Important?
Just like pizzas, our bodhráns come in 18", 16" and 14" options. (Unfortunately they don't taste quite as good.) But which is the right size for you?
It's a common misconception that physical stature should dictate the size of the instrument you play. That being said, those with larger hands may find it more comfortable to play an 18 inch bodhrán as there is more space to move your hand around on the back of the drum. You'll need to be able to do this comfortably to get a wide range of sounds out of your instrument. 
It is difficult however, to get as wide a range of tones from an 18" bodhrán as you can from a 16" bodhrán. The smaller the drum, the more flexible the head. This means the 16″ model will be more responsive to your hand pressure. For this reason, if you currently have an 18″ model and are looking to upgrade, I would recommend making the change to a 16" drum. It will give you a greater variety of sounds to work with.  
If you're looking for a 16" model, I highly recommend our Classic 16" Deep Rim Performance Bodhrán Set. Along with your McNeela bodhrán, this set includes a selection of bodhrán beaters, a free gig bag and even beginner bodhrán lessons to get you started! That's huge bang for your buck!
Our smallest bodhrán, at 14 inches, is a great all-rounder size. It caters for both traveling musicians and younger bodhrán players. Don't let the size fool you. Our 14" bodhráns offer a great range of tones. They are highly versatile drums!
Rim Depth: New VS Traditional
We sell a variety of 6", 5 ½", 4.5" and 4" depth bodhráns. Why? We like to cater to all tastes. 
Over the years, a new style of bodhrán has emerged from the traditional design. As well as being smaller in diameter, these instruments also feature a much deeper rim. 
The deeper bodhrán has more resonance, producing a deep, bassy sound. In other words, the deeper the rim, the bassier the sound.
Some players have issues with very deep rimmed bodhráns however. Depending on the length of the player's arm, holding the drum and manoeuvring the hand inside can be awkward with a deep frame. This is why many of our bodhráns feature a cutaway in the frame. This leaves space for the player's arm, leading to more comfortable playing.
For young or petite players, or those with shorter arms, we recommend our shallower bodhráns. They still produce a great depth of tone, but you'll be more comfortable while you play. Comfort is key!
Crossbar: An Optional Support Feature
Traditional bodhráns featured a crossbar at the back of the drum. However, most players today use their hand, pressed against the skin, as a way to dampen and vary the sound. As a result, greater mobility is required and the crossbar has become less popular.
Several of our bodhráns feature a removable T-bar. This gives the player the option of support while also facilitating freer movement. It can then be removed entirely if the player prefers. 
Taped Bodhráns: Why Do We Tape Them?
Our bodhráns are taped with black electrical tape around the edge of the drum head. This dampens the sound. It reduces unwanted overtones and improves the harmonics. In other words, it makes your instrument sound better! 
Some players prefer to play bodhráns that are not taped. That's fine. It's a personal preference. But, at McNeela Instruments we insist on taping all our bodhráns to produce the best tone possible. It makes a huge difference to the sound of the drum. 
Tuneable Bodhráns: Why You Really Need to Own One
Another option you are faced with when buying a bodhrán is whether to buy a tuneable or non-tuneable instrument.
Being able to tune a bodhrán is a basic need for any serious player. Accurate tuning of the bodhrán is just as important as having proper playing technique. Have a look at my video below which offers some guidance on this question. 
Why Should You Choose a Tuneable Bodhrán?
For customers who may be based abroad in less temperate climates, we always recommend buying a tuneable model. Why? Humidity. 
Bodhráns are highly sensitive to the weather. Overly dry conditions will cause the skin to tighten, raising the tone. Damp weather conditions will cause the skin to soften and loosen, lowering the sound. 
Ideally, bodhráns require a moderate climate. But, failing that, a tuneable bodhrán will spare you much heartache. So, you can play in any conditions and achieve the best sound possible. 
Owning a tuneable bodhrán means that you'll be able to adjust the sound of your instrument whenever you need to. Don't worry about mastering the tuning system or finding the perfect tone when you're just starting out. That will come with practice and experience. As you get used to your bodhrán, you'll learn how you like it to sound.
Our performance range offers an easy to use, 8 point hand-tuning system. Some of our intermediate bodhráns make use of a 6 point tuning system that requires an Allen key to turn the tuning pegs. Don't worry! We include this with your purchase. When using the tuning pegs, the most important thing to remember is that you want the skin to have even tension all over. In other words, make sure one side isn't tighter or looser than the other.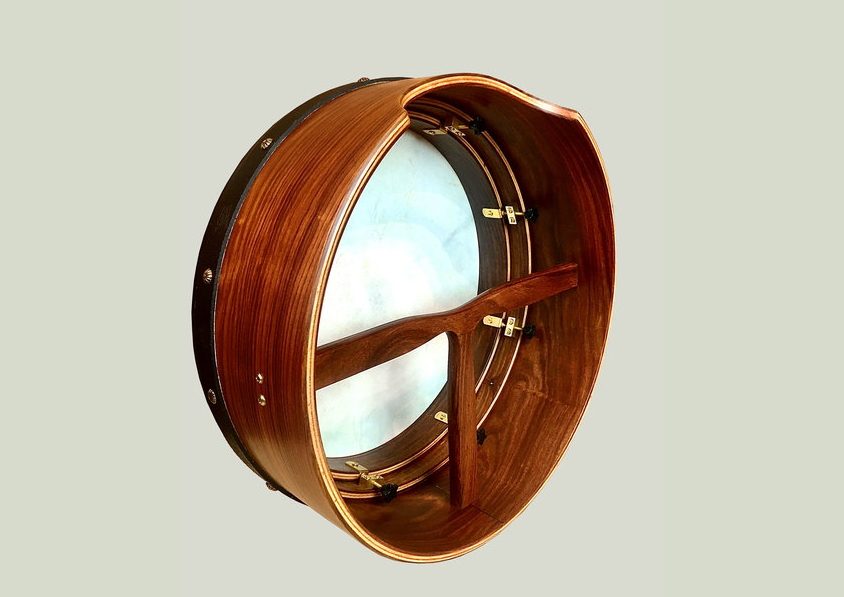 Beaters, Cipíní and Tippers (Oh My!)
You won't get far on your new bodhrán without a beater (also called a tipper or cipín) to produce the sound. Like bodhráns, beaters come in all shapes and sizes. Different beaters will produce different sounds. 
We recommend buying a selection of beaters or tippers to try out for yourself. That way, you can decide which is best for you! 
Our Bodhrán Beater Set includes 6 of our favourite sticks as well as some Drum Diddly Bodhrán Conditioning Cream (to help with bodhrán skin maintenance). Our 2020 edition set includes:
Bodhrán Price Range
The bodhrán is one of the few instruments where the price difference between a beginner model and a more advanced instrument is small enough to justify investing in a more expensive bodhrán when starting out.
That being said, we cater for all budgets and requirements. Our prices range from €89 ($98) for a non-tuneable model, to €335 ($367)  for a fully tuneable bodhrán. 
Why not browse our full range of bodhráns and see if one catches your eye? We craft each of our instruments with care, passion and expertise.
A particular favourite of mine (and our loyal customers) is the beautiful Rosewood 16" Tuneable Bodhrán which is available to buy either on its own or as part of a set.  This beauty is ideal for bodhrán players at any stage of their journey. It won't steer you wrong! 
Rosewood is a remarkably beautiful hardwood. It's also quite dense. The more dense the wood the better the resonance of the instrument. This model is made from Indian Rosewood, a highly sustainable and renewable form of timber.
In addition to looking good, this drum offers great tonal range. The more notes to work with the better. The quality skin is highly responsive to both hand and beater pressure. It also offers a warm, deep, rich bass sound without compromising on higher tones, which remain clear and articulate.
This is a world class instrument, suitable for any serious player who wants to take their playing to the next level.
Free Bodhrán Lessons
Once you have your new bodhrán in hand, you may need a little assistance getting started. It's always best to develop good habits right from the beginning. But where to start with learning the correct playing technique? We're here to help!
World Class Teacher
For a limited time only, with every purchase of any McNeela tuneable bodhrán you will receive eight free lessons with Rónán Ó Snodaigh. Rónán is one of the greatest bodhrán players in the world. But don't just take my word for it. Have a listen to the impromptu performance Rónán treated us to when he dropped by the shop to have his own instrument reskinned:
Beginner and Beyond
These online lessons will cover everything from basics, to traditional Irish music session performance and alternative beats. Rónán will show you how to get the most out of your bodhrán skin, how to tune your bodhrán and everything else you need to get started on your bodhrán learning journey.
These free online bodhrán lessons are exclusive to McNeela Instruments and will have you accompanying your first traditional Irish music session in no time. With one of our beautiful, authentic Irish bodhráns in hand, you'll be the belle of the ball (or session in this case!).

An Exclusive Offer to Accelerate Your Playing
I always like to reward my customers for their support. It's because of them that I get to devote my life to a craft I am so passionate about!  
That's why, for a limited time, with every purchase of our Rosewood 16" Tuneable Bodhrán Set, you also get the complete Beginner to Master Bodhrán Course by Rónán Ó Snodaigh.
This exclusive bodhrán master course includes 20 brilliant lessons plus 2 bonus session classes. So, in addition to owning a great instrument, you'll have guidance from the master himself.
This course is available to purchase separately at a cost of €300/$350 for the complete set of beginner, intermediate and advanced classes, or you can simply pick it up for free with one of my sets.
Each comprehensive bodhrán set includes:
Our prized 16″ rosewood bodhrán
A premium gig bag, to keep it safe
A selection of beaters
Drum Diddly conditioning cream to keep the skin in the best condition possible
'Bodhrán Basics' book and CD
Access to the full bodhrán master course with Ronán Ó Snodaigh
This set is a truly worthwhile investment, and the perfect commitment to your future self.

If you'd like to know more about any of our bodhráns, our team of experts is always happy to answer any questions you may have! Contact us to find out more. 
[Images: Theilr, Harplessmonkey, via Flickr Creative Commons License, Attribution 2.0 Generic (CC BY 2.0)]