Traditional Irish music has existed in Ireland for centuries. There's no shortage of fantastic Irish instruments to choose from in this thriving musical scene.
I'm frequently asked what the best instrument is for learning traditional Irish music. There's no right or wrong answer here. It really comes down to personal preference.
So rather than tell you which Irish instruments are 'the best', I've put together a list of some of my favourites. These are five of the most popular instruments in traditional Irish music today, but ones that beginners may occasionally overlook.
Many of these Celtic instruments date back to the time of the Celts in the north of Europe including Ireland, Scotland, Brittany and Northern Spain. Others are newcomers to the scene that have been embraced with open arms.
So keep reading to learn more about my favourite Irish instruments. You might find yourself inspired to take up a new instrument before the day is done!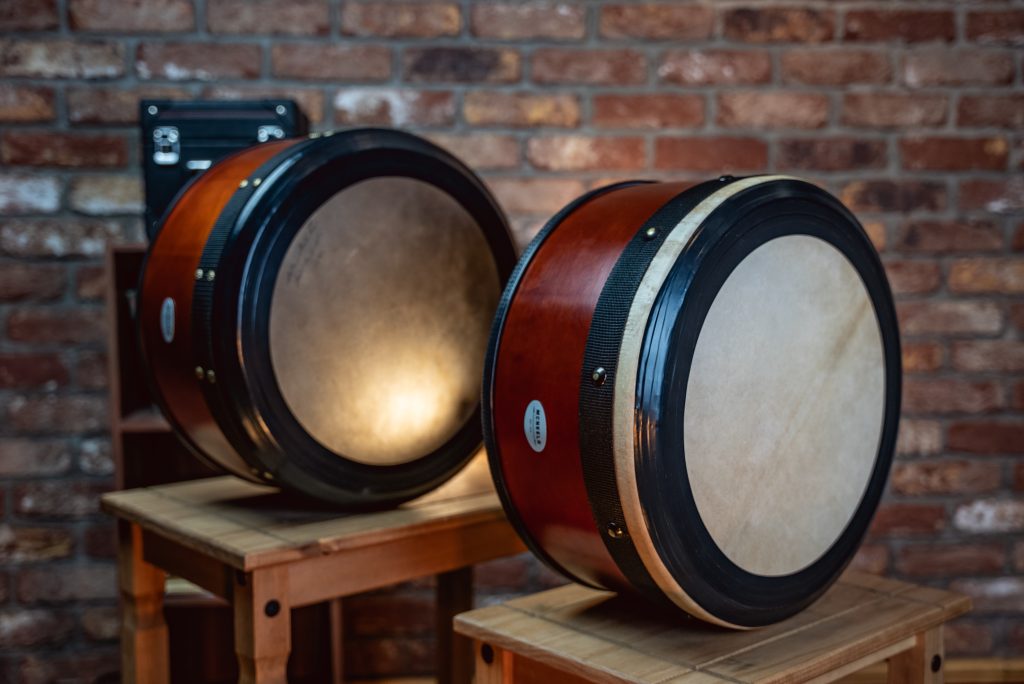 The Bodhrán
The Bodhrán is known as the core and heartbeat of traditional Irish music. It's a large drum which is covered in stretched animal skin, it provides a pulsating beat and produces a lovely sound.
Some people think that years ago the drum had a multipurpose function and was also used as a husk sifter and grain tray.
Today it is one of the most popular of all traditional Irish musical instruments and can boast fans from all over the world. Popular players of the bodhrán include Rónán Ó Snodaigh, Johnny 'Ringo' McDonagh, Christy Moore, Caroline Corr, Gino Lupari and many many more.
Below is a video of virtuoso player John Joe Kelly playing the bodhrán at an Irish Trad session:
And here's Rónán Ó Snodaigh playing bodhrán in the McNeela Irish Music Store in Dublin:
The Uilleann Pipes
The Uilleann pipes are ancient pipes that have been around since the 5th Century. In fact, a version of the pipes we see today was a popular Celtic instrument. In 2017, the Irish uileann pipes were recognised by UNESCO as an important and unique cultural heritage symbol.
The uilleann pipes are still a very popular instrument today. However they can take years to master. An old Irish adage claims that 'the uilleann pipes take seven years of learning, seven years of practising, seven years of playing' to truly become a master.
The meaning of Uilleann Pipes is "pipes of the elbow". William and Charles Taylor, two brothers from Louth developed the most modern versions of the pipes after they emigrated with the instrument from post-famine Ireland to the USA.
Masters of the uilleann pipes include the late great Seamus Ennis, Willie Clancy and more recently deceased Liam Og O'Flynn, also Mike O'Brien, Davey Spillane and Louise Mulcahy to name but a few.
It's not an easy Irish musical instrument to learn. The piper, Willie Clancy famously said that it takes seven years to learn how to play the uilleann pipes, another seven years of playing, and a further seven years to become a master piper.
Watch Seamus Ennis demonstrating his genius ability to play the most difficult uilleann pipes.
Liam O'Flynn on the pipes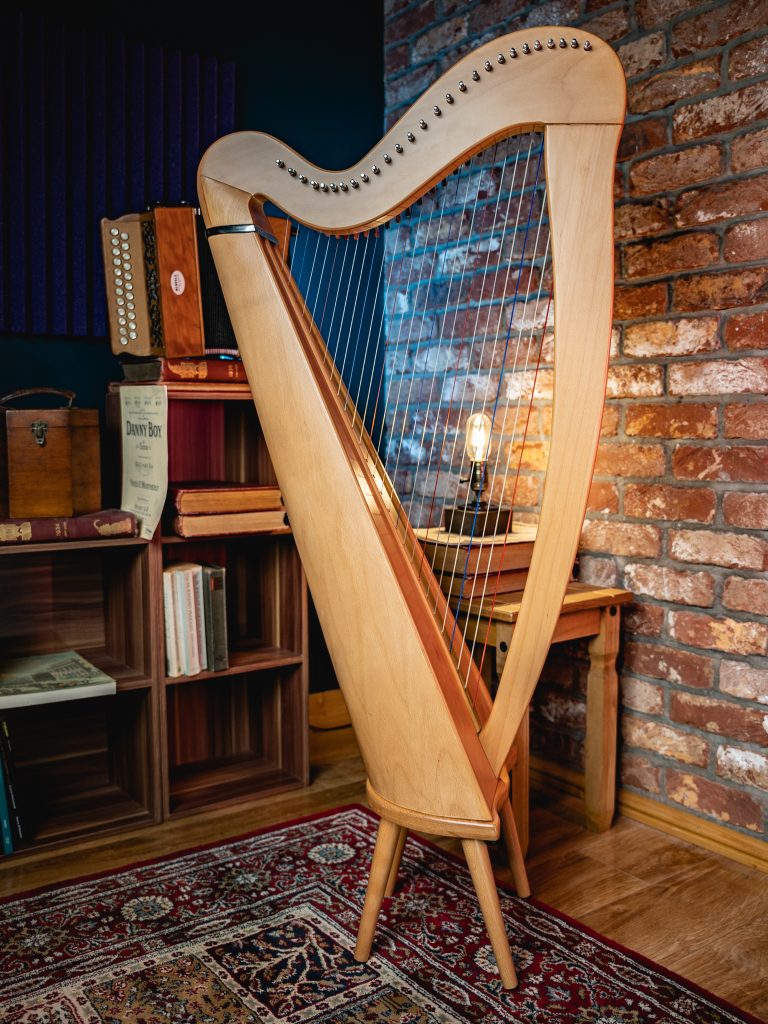 The Celtic Harp
The harp has an iconic status in Ireland. As the Irish national emblem it's present on our national flag and currency.
The Celtic Harp has had many variations over the past few centuries and has existed since the 10th Century. Up to the 15th century any nobleman or woman worth their salt kept a harpist at hand ready to play music, accompany poetry readings and even ride out with their patrons. It was said that Brian Ború, High King of Ireland from 1002 until 1014 was said to be a competent harpist.
In fact, one of the oldest surviving harps in the world is the Brian Ború harp. You can find it on display in The Long Room at Trinity College, Dublin. Seemingly, it dates back to sometime between the 14th or 15th century. It was originally (and possibly erroneously) thought to be Brian Ború's harp. Hence the name.
Prominent harpists of Ireland both past and present include Turlough O'Carolan, Cormac de Barra, Moya Brennan and Patrick Byrne
Watch Carolan's Dream – played on a Celtic harp.
Listen to trailblazing harp player Laoise Kelly:
The Fiddle
The Irish fiddle is identical to the violin, however they are differentiated by their playing style and sound. The fiddle is high-pitched and when playing in trad sessions is often heard above other instruments.
Prominent fiddle players of traditional Irish music living and deceased include Michael Coleman, Martin Hayes, Mairéad Ní Mhaoinaigh , Liam O'Connor, Tommy Peoples, Eileen Ivers, Paddy Glackin and the lately departed Ben Lennon.
Watch the Fiddle & Flute being played during a traditional Irish music session.
See Martin Hayes play the Irish fiddle with his long time collaborator, Dennis Cahill.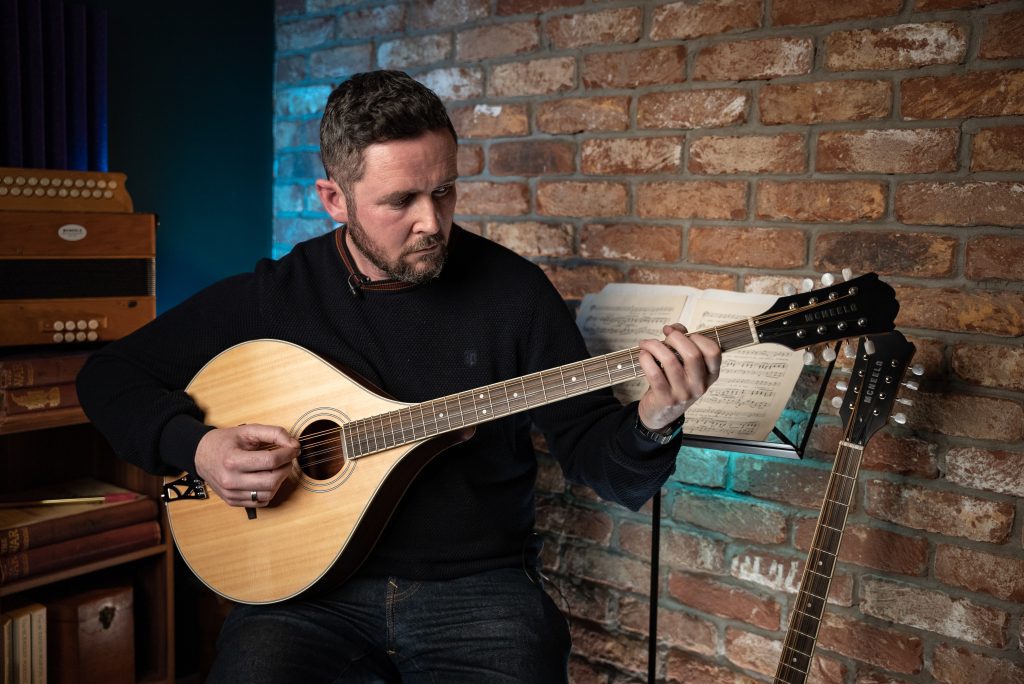 The Bouzouki
The Bouzouki was brought to Ireland from Greece in the 1960's. The Irish Bouzouki was adapted from a Greek instrument and is the most recent addition to Ireland's impressive collection of musical instruments.
The Bouzouki is similar in looks to the mandolin and produces a beautiful rich, bright sound. It's no surprise that the Irish borrowed the idea and made it their own. This instrument has become quite popular in traditional Irish music, though you still might not find one at every trad music session.
Great bouzouki players of traditional Irish music include Andy Irvine, Dónal Lunny, Beth Patterson and Daoirí Farrell.
Watch the powerful combination of Andy Irvine and Donal Lunny playing the Irish Bouzouki.
Listen to Daoirí Farrell on the Irish bouzouki.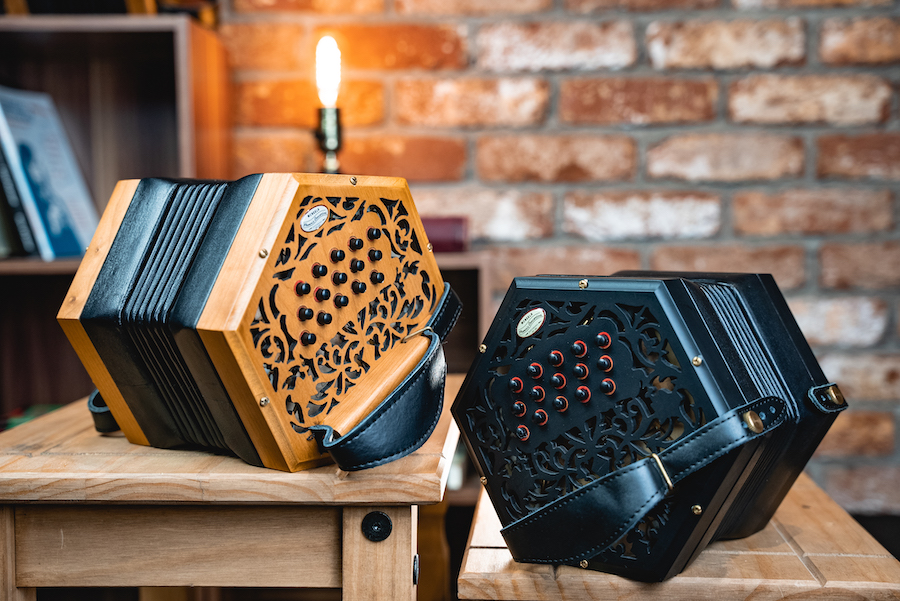 The Irish Concertina
There are three main types of concertina: Anglo concertina, English concertina and the duet concertina. So where does the Irish concertina fit into all of this? Which model produces that iconic Irish concertina sound?
The most commonly played concertina in Traditional Irish Music is by far the Anglo Concertina. Though, like many of the other instruments on this list, it's not technically a traditional Irish musical instrument, it's been adopted into the culture with open arms. 
The most popular concertina you'll find played today is the 30 button Anglo concertina in the key of C/G. While there are many other options out there, if you want to learn to play Irish music, this is the concertina for you.
The concertina has seen huge surge in popularity since it was first introduced to Ireland, for a number of reasons. It's a compact, lightweight instrument that's easily stored and transported, yet it also creates a strong, bright, pleasant tone and produces plenty of volume. It packs a mighty punch for such a small instrument!
Another reason for the concertina's popularity is that it's a relatively simple instrument to learn to play. Unlike the flute, or the fiddle, where you need to battle with the instrument at first to produce a tone that's bother audible and  remotely in tune, the concertina operates with a simple push of a button. I would argue that you can easily learn to play a simple tune in less than half an hour!
That's not to say there's not plenty to learn. Like any instrument, the concertina will provide a fun and exciting challenge to anyone hoping to master it. It's definitely a far more user friendly instrument however for a beginner musician hoping to make a start with traditional Irish music!
In the hands of a master, it's a truly beautiful instrument. Its playing has been revolutionised over the years by the likes of Noel Hill, who is, in my opinion, the greatest Irish concertina player in existence. Have a listen to this maestro in action:
More Traditional Irish Instruments
You've probably noticed a few brilliant instruments didn't make my list. In fairness, it was bound to happen when I limited myself to just five. I may be biased, but I truly believe each instrument has its own individual charm and unique selling point.
So as to not leave any noses out of joint, I must give an honourable mention to three more iconic Irish instruments.
These traditional Irish instruments continue to grow in popularity each year. You'll find them at any good traditional Irish musical session: