There's no better way to improve your playing than spending as much time as humanly possible listening to the playing of other musicians. Practice is obviously important too but nothing offers as much inspiration as popping on a recording by one of your favourite musicians and basking in their brilliance. It's a wonderful way to while away the hours and get the best playing on your ear.
When it comes to the bodhrán it can sometimes be difficult to know where to start, especially as bodhrán players often aren't as celebrated as they should be. I'm frequently asked for listening recommendations from my wonderful customers, so I thought I'd compile a list to help you out.
Now obviously when it comes to the bodhrán it's a bit trickier to recommend specific albums. It can be heard tipping away in the background of many recordings, but doesn't frequently feature as the main attraction so to speak.
To help you navigate this issue I've provided recommendations for individual players and named the ensemble or musicians they most frequently play(ed) with, as well as providing reference recordings for each.
So without further ado, get ready to give your ears a real treat with these mighty bodhrán players.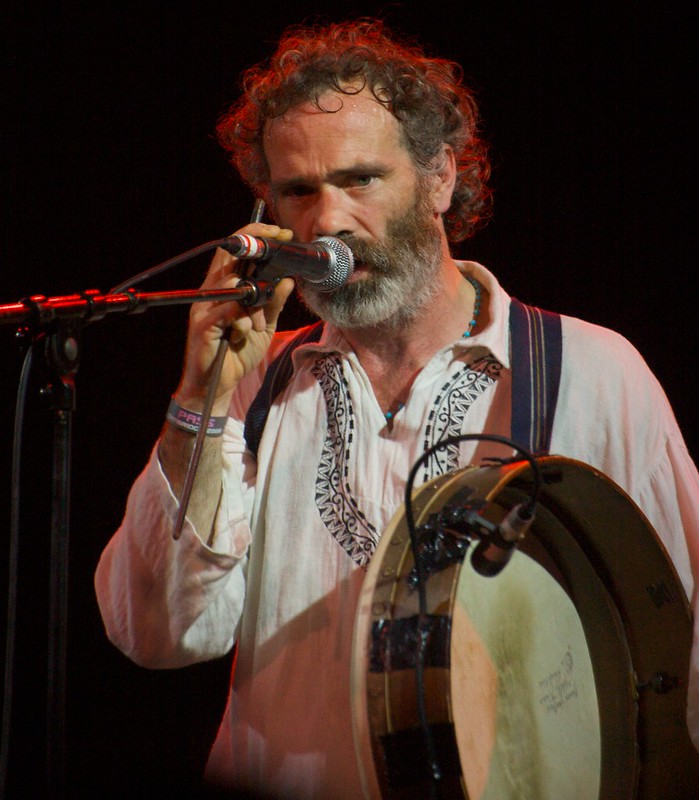 Bodhrán Players You Should Be Listening To:
Listed below are some of the greatest players to have ever picked up the bodhrán. Do yourself a favour and familiarise yourself with their playing.
In no particular order…
Junior Davey
Jim Higgins – Altan (not all recordings)
Johnny Ringo McDonagh – De Dannann (pre '88)
John Joe Kelly – Flook
Robbie Walsh – Four Winds
Robbie Harris – Jiggy
Cathy Jordan – Dervish
Colm Murphy – Altan (not all recordings)
Donnchadh Gough – Danú
Colm Phelan – Goitse
Adam Brown – Ímar
Rónán Ó Snodaigh – Kíla
The Best Irish Bodhrán Albums
As you can imagine, with the bodhrán predominantly serving as an accompaniment instrument it can be difficult to find albums dedicated solely to our favourite drum. However, a few artists have risen to the challenge to rave reviews:
Tommy Hayes: An Rás
Colm Murphy: An Bodhrán – The Irish Drum
Guido Pluschke & Rolf Wagels: Bodhrán Insight
Ivan Smyth: Champions of Ireland – Bodhrán
Paddy League: The Green House & Dark of The Moon
Unmissable Albums featuring the Bodhrán:
While there may not be many bodhrán albums to choose from, there are hundreds of recordings by some of the greatest Irish folk groups in the world, showcasing bodhrán playing at its finest.
Here are some of my favourites:
Matt Molloy: Stony Steps (featuring Donal Lunny)
Trio Gan Ainm: Natural Progression (featuring Vincent Jockin)
Beoga: A Lovely Madness (featuring Eamonn Murray)
Dervish: Midsummer's Night (featuring Cathy Jordan)
Flook: Haven (featuring John Joe Kelly)
Ímar: Avalanche (featuring Adam Brown)
Goitse: Tall Tales & Misadventures (featuring Colm Phelan)
Altan: Local Ground (featuring Jim Higgins)
Mícheál Ó Súilleabháin: Between Worlds (featuring Mel Mercier)
Danu: When All Is Said and Done (featuring Donnchadh Gough)
Kíla: Tóg É Go Bog É (featuring Rónán Ó Snodaigh)
De Dannan: Hibernian Rhapsody (featuring Colm Murphy)
De Dannan: The Mist Covered Mountain (featuring Johnny Ringo McDonagh)
The Friel Sisters (featuring Seamus O'Kane)
Luke Daniels: The Mighty Box (featuring Junior Davey)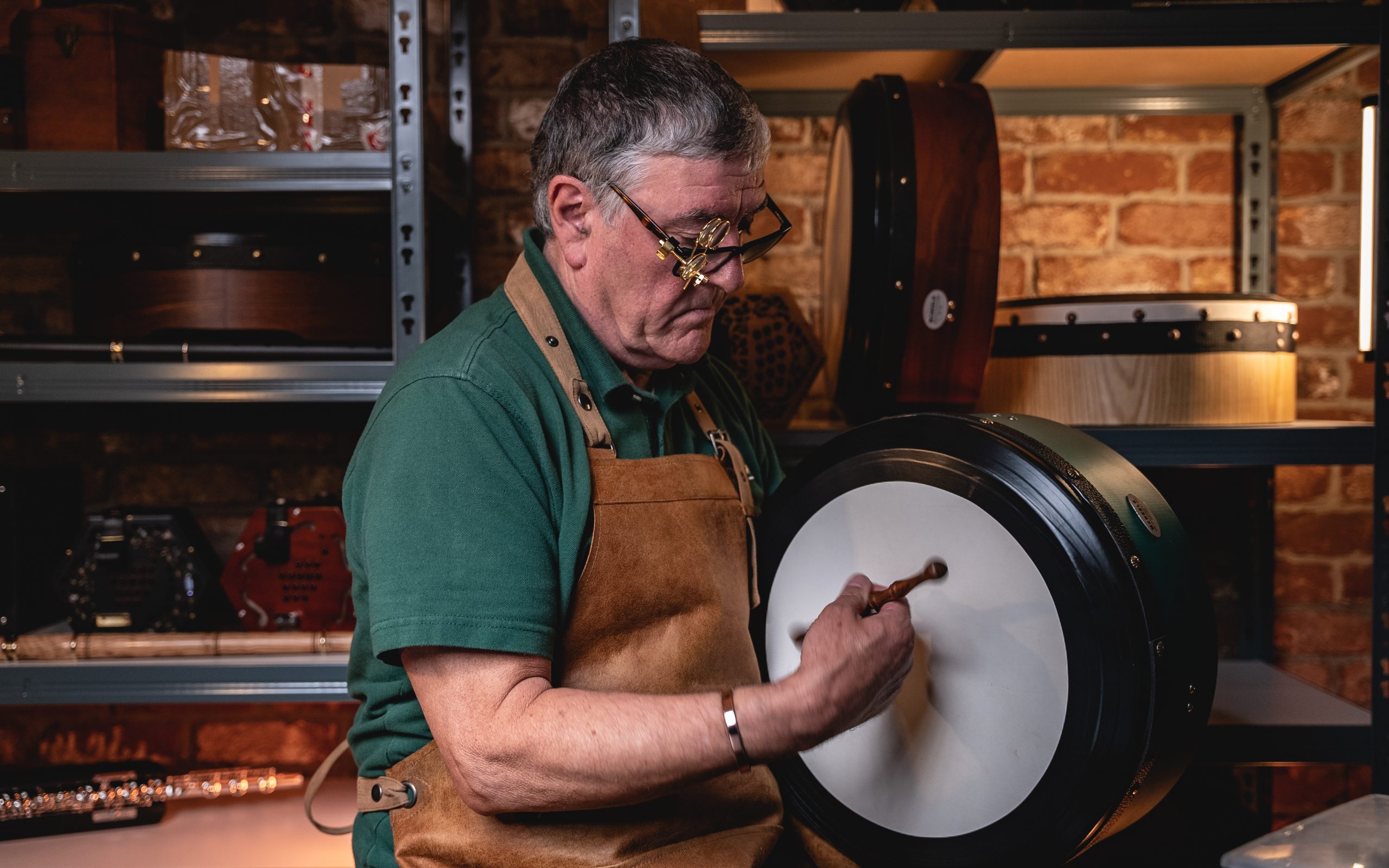 McNeela's Ultimate Bodhrán Album Playlist
To make things even easier for you and to spare you hours of searching, I've compiled as many of my recommendations as possible into a handy Youtube Playlist for you.
Simply click play on the video below or follow this link for hours of listening pleasure: McNeela's Recommended Listening: Now That's What I Call Bodhrán '22 
(I fear only my Irish readers may get that reference…)
Irish Bodhrán Legend: Tommy Hayes
If you listen to only one bodhrán player from my list today, make it the inimitable Tommy Hayes. His recordings should be mandatory listening not just for bodhrán players but for all percussionists!
Tommy has rightfully earned a reputation as one of the greatest bodhrán players in the world. He's been a leading figure in traditional Irish music for over thirty years now. He was the original percussionist with Riverdance (so you've definitely heard his playing before – even if you didn't realise it) and his playing has inspired countless generations of bodhrán players!
It was Tommy's exploration of percussion styles and instruments from other cultures granted Irish bodhrán players the freedom to explore their own potential by branching out from the old 'traditional' style. Tommy can just as likely be found playing the djembe, shakers, bongos or spoons as his beloved Irish frame drum.
See him in action playing the spoons alongside the mighty Tara Breen on fiddle:
More Bodhrán Legends to Follow
To learn more about some of the other astounding percussionists on my list make sure to check out the following blog posts:
If you're feeling suitably inspired make sure to check my Irish Bodhrán Store where you can discover my exciting range of bodhráns!
Bodhrán Lessons with Rónán Ó Snodaigh
Once you have your new bodhrán in hand, if you'd like a little help getting started then make sure to check out my Comprehensive Beginner's Guide To Playing The Bodhrán – a series of eight online lessons delivered by none other than my good friend Rónán Ó Snodaigh himself.
For a limited time, with every purchase of a tuneable McNeela bodhrán or one of my performance bodhrán sets, you'll receive access to these exciting lessons.
Rónán is one of the greatest bodhrán players on the scene today. In this beginner friendly series he shares his vast experience and extensive musicality, helping you to explore the bodhrán and discover a whole new world of sound. You'll cover everything from the basics to alternative rhythms, to how to tune your bodhrán – plus everything else you need to get started on your percussion journey.
These free lessons are exclusive to McNeela Instruments and will have you playing the bodhrán like a pro in no time at all.