Drowsy Maggie – Reel
Not to be confused with another tune called 'Sleepy Maggie'. Don't let the title of this tune fool you, Maggie is anything but drowsy! In fact it can be a tricky piece to play. So you're allowed to play fewer notes and lengthen them when Drowsy Maggie gets into her full-on gallop.
Usually played in the E Dorian Mode (generally agreed to be the most common 'minor-ish' mode used in sessions, it's just like the E minor key but with a C# instead of a natural), this is one of those classic session tunes that everyone knows and nearly everyone loves although expect a bit of eye-rolling from the odd cynic here and there.
It's always very welcome if you introduce it to a session, particularly on the international scene. It has, in the past, suffered from over-exposure but that's because it's so enjoyable to play. You may also recognise it as one of the below-deck céilí tunes played on James Cameron's 1997 movie, Titanic, catapulting the performing group, Gaelic Storm, onto the international scene.
It features as tune no. 1425 in Capt. Francis O'Neill's genre defining, O'Neill's Music of Ireland 'The 1850' first published in 1903, dating Drowsy Maggie probably to the mid-nineteenth century. There are no definitive sources on this date and Drowsy Maggie's origins remain somewhat of a mystery.
Have a Listen
We were very lucky to have fiddler extraordinaire, Liam O'Connor, pop by and record this with Paraic. Play along!
As with most tunes, be prepared as usual to hear variations – particularly the Donegal version with its G#. Check out versions by Altan and this rip-roaring version by fiddle maestro, John Doherty. His accompanist can barely keep up!  
In fact, variations on session tunes are probably the one thing you can absolutely rely on in traditional Irish music. A musician may even vary the notes within the tune on the repeat. We recommend the usual flexibility and playing "under" the music if you're unsure.
See below for ABC notation and sheet music for both the standard version and the Donegal version.
Pair it up with The Floggin', Scotch Mary (also known as Abbey Reel), Toss the Feathers or Cooley's Reel for a mighty selection
Drowsy Maggie Sheet Music Notation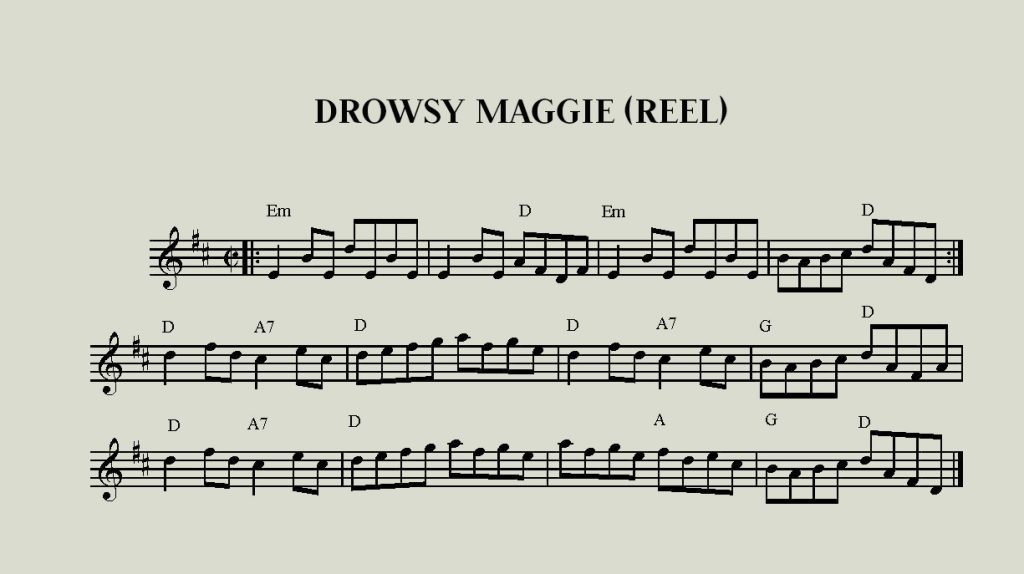 (courtesy of http://www.marinirishmusic.com/)
Drowsy Maggies ABC Notation
R: reel
M: 4/4
K: Edor
E2 GE BEGE|(3EEE GE BEGE|D2 FD ADFD|(3DDD FD ADFD|
E2 GE BEGE|(3EEE GE BEGE|G2 EF GABc|1dBAF E2 A,C:|2dBAF E2 Bc||
d2 fd c2 ec|d2 fd c2 Bc|d2 fd c2 ec|BABc dAFA|
d2 fd c2 ec|d2 fd c2 Bc|d2 fd c2 ec|Bdce dAFA:|
Drowsy Maggie – Donegal Version – Sheet Music Notation
Drowsy Maggie – Donegal Version – ABC Notation
R: reel
M: 4/4
K: Edor
~E3d cABE|~E2BE FADF|~E3d cABc|1 dfec dAFD:|2 dfec dAFA||
defe dcBd|(3cBA eA ceAc|defe dcBc|def^g aecA|
defe dcBd|(3cBA eA ceAe|faec dcBa|^gbeg aecA||
Browse our full selection of traditional Irish music instruments
Where not stated sheet music and ABC notation is sourced from TheSession.org