I love nothing better than learning a new tune. Exploring how the melody is shaped. How it feels under your fingers. Taking the time to practice and perfect before adding your own personal touches.
Judging by the number of requests I receive for tune recommendations, my customers agree. 
Luckily, within the Irish music tradition, there's no shortage of tunes to learn. Our rich musical heritage is blessed with a wealth of repertoire that has been handed down from generation to generation. This repertoire continues to grow each day, thanks to the work of the many great composers within the tradition.
The idea of a composer of traditional Irish music is somewhat of a contradiction I know, but without composers, none of this great music would exist in the first place. It has to come from somewhere. 
It's a tough line to tread, creating something new that still sits comfortably within an old tradition. There's no shortage of composers within the world of traditional Irish music today, though I would argue some tread this line better than others.
The great Liz Carroll is someone who succeeds in crafting melodies that push the boundaries of the tradition without breaking them. Many of her tunes have seeped seamlessly into the Irish music catalogue. So many in fact that I'd be surprised if you didn't already know at least one.
So whether you're looking for some new tunes to challenge yourself with, or just some brilliant Irish music to listen to, join me on this quick exploration of some of my favourite tunes by one of Irish music's greatest composers.
A Celebrated Composer
Chicago born, Irish-American fiddle player Liz Carroll is one of the most exciting musicians in the world of traditional Irish music today, and a virtuoso of the Irish fiddle.
Liz is highly regarded not only for her fiddle playing, but also for the vast repertoire of tunes she has composed. She is one of the most celebrated composers within the Irish music tradition, and rightly so.
In 1994, the US National Endowment for the Arts awarded her a National Heritage Fellowship for her work as both a performer and a composer. In 2010, she was nominated for a Grammy Award for her album Double Play, an exciting Irish fiddle and guitar duet album recorded with the legendary John Doyle.
That  same year she was invited to perform for President Obama at the White House; and in 2011 she was awarded Gradam an Chumadóra (The Composer's Award) at the TG4 Gradam Ceoil.
Liz Carroll's music has become widespread, regularly played at sessions and recorded by a multitude of artists. She has written hundreds of tunes which have seeped seamlessly into the Irish music tradition. 
Most of these tunes are also recorded on Liz's albums (and many others!) or published in her aptly-titled tune books, Collected and Collected II.
What makes Liz Carroll's compositions so popular?
Liz Carroll's tunes are full of life. Each melody takes you on a musical adventure, full of surprising twists and turns. Yet, at the same time, they contain a comforting familiarity.
Her uplifting Irish dance tunes are brimming with joy and excitement, yet also packed with immense musicality. 
Liz's tunes are bursting with personality. The melodies are unique and full of character. Every tune is a joy to play and listen to because each is so supremely crafted. – Winifred Horan
It's this musical touch that means Liz's tunes are, above all else, immensely playable. Her melodies, while unique, are also memorable. This is an important characteristic for any tune within a music tradition where the vast majority of both learning and transmission of repertoire is aural.
Fiddle Frenzy
As a highly skilled fiddle player herself, it's no surprise that Liz Carroll's tunes lend themselves so well to the Irish fiddle. Other musicians could be forgiven for dismissing her music as being written exclusively for fiddle, but this would be a mistake. 
While there are definitely one or two of Liz's reels that I wouldn't dare to attempt to play on a tin whistle or keyless wooden flute for example (mostly due to her fondness for the low G string), there are hundreds of other tunes however that are easily accessible on any instrument. I've included just some of my favourites below.
You'll notice that some of the obvious, more iconic rip-roaring Irish fiddle reels are missing from the list and to that I say, well, I'm not a fiddle player.
But these picks are every bit as good, I promise you that, and most importantly, they lend themselves well to being played on any traditional Irish musical instrument.
So whether your instrument of choice is the concertina, the Irish button accordion, the tin whistle or even the Irish tenor banjo, there's something for you.
Let's get started…
My Favourite Liz Carroll Tunes
1 – A Session Set
Okay so I'm cheating a bit with this one. It's a two for the price of one deal. But these jigs have been cemented as a pair and it would be rare you'd hear Out on the Road played at a session without it being followed by Princess Nancy.
You'll no doubt have heard these beautiful jigs played at your local Irish music session. You may even have them under your belt already. If not, they are definitely worth knowing.
These are two of Liz's more 'traditional' tunes. They're so commonly played that I fear they may run the risk of being dismissed as simplistic, but to do so would do a great disservice to these charming melodies:
That being said, they are a great starting point for anyone looking to dive into Liz's immense catalogue of music. Taken at the right pace these jigs are easy to learn and perfect even for beginner musicians. 
I'd highly recommend learning both!
2 – The Air Tune
The Air Tune is a beautiful slow reel, penned by Liz. It's probably one of her best known tunes. 
Liz has a knack for taking lively dance tunes, such as reels, and slowing them right down, allowing the melody to really sing out. Here she has followed that same idea, writing a reel that would entirely lose its musicality if played at too fast a pace.
One of my favourite recordings of this piece is actually by Irish banjo player Enda Scahill. The words air and banjo aren't ones that are seen together often (just try playing a slow air on a banjo!), but trust me, it's a thing of beauty.
Enda pushes the tempo ever so slightly but understands that this tune is best played at a relaxed pace. Just listen to those harmonies (they come in @2:49):
3 – Barbra Streisand's Trip To Saginaw
Speaking of reels, Liz is renowned for her groovy dance tunes. They echo the tradition yet also pack a little extra punch. Barbra Streisand's Trip to Saginaw (yes you read that right) is no exception:
This is an exciting little number that will challenge any musician but lends itself well to being played on any instrument, not just the fiddle. It makes for a particularly fun flute tune if you're up for the challenge.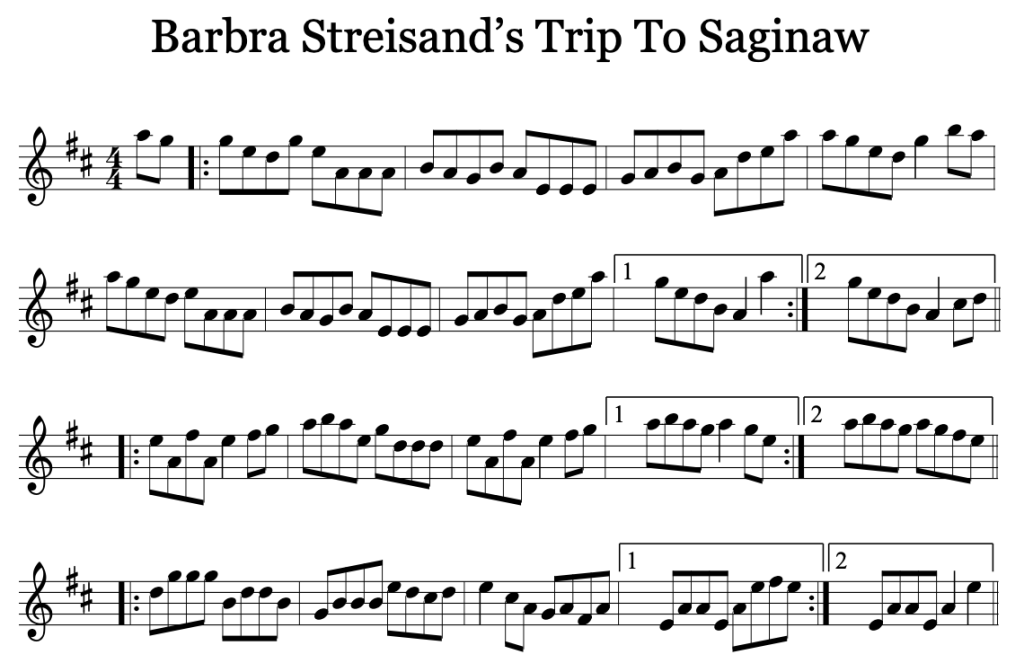 4 – The Fruit And The Snoot
If the last tune wasn't enough of a challenge for you and you're looking for something a little more exciting to sink your teeth into, then this is the tune for you. The Fruit and the Snoot is a hybrid tune in 7/8, with a slightly Balkan flavour. Imagine a jig and a reel had a baby, and it grew up listening to Eastern European folk music:
A lot of musicians are intimidated by the concept of playing in 7/8 but there's really nothing to it. One more beat per bar than a jig, or one less beat per bar than a reel. Just think of it as alternating patterns of three and four. 
In the case of this particular tune, Liz keeps us on our toes by alternating these groupings. So we end up with a changing rhythmic pattern, like so:
1 2 3  –  1 2 3 4   |   1 2 3 4  –  1 2 3
It may seem a little daunting at first but it's great fun to play and a real test of your timing!
The real challenge in this tune lies in the accidentals (sharps and flats), or chromatic notes. Mastering these chromatic passages will do wonders for your playing and really help you explore your instrument to its full potential. 
5 – Never Far Away
Liz Carroll excels at writing sweet, expressive melodies and Never Far Away is one of my favourite examples.
Listen to this charming rendition by Liz herself, accompanied by the mighty Trevor Hutchinson on guitar:
This air is often labelled as a slow reel. I'm loath to do so for fear someone may misinterpret the intention behind this beautiful Liz Carroll number, and launch into it at a hundred miles an hour.
The melody may appear deceptively simple but in the hands of the right player it can make for a truly moving performance. 
This air could be a complete performance in its own right, but if you want to surprise your listener (or don't want to seem overly sentimental) you can always follow it up with the next moody number, which offers endless potential to liven up, or slow down any set accordingly.
6 – See It There
See It There is a slow reel that works at any tempo. You can play it at the tempo above or launch into it at breakneck speed with fingers flying and toes tapping. The possibilities are endless:
That's the point of Liz Carroll's music really. She brings you on a musical journey, but encourages you to explore and find your own path. Even when she notates her tunes, she leaves much open to interpretation. 
As a true master of the tradition she understands that this is the nature of Irish music. Every musician will bring something new to their performance of Liz Carroll's music, breathing new life into them, just as she has to the world of Irish music.
Inspired to Start Playing?
For all your Irish instrument needs, visit McNeela Music.
We specialise in instruments for the traditional Irish music market and cater to every player level, from complete beginner to advanced and performance.
[Images via thesession.org]