There's no better way to put a smile on someone's face than to give them the gift of music. That's why, to help you find the perfect gift for that special someone, I've put together this list of my favourite musical Christmas gifts.
So if someone in your life has been nice this year (or even if they've been naughty – I'm not here to judge) why not reward them with one of my suggestions below. There are gift ideas to suit all ages and abilities, as well as all budgets.
Let's celebrate Christmas 2021 with the gift of music!
Stocking Fillers Under €40/$50
You don't need to spend a fortune on Christmas gifts to show someone you care. These stocking filler gift ideas are perfect for the musician in your life, and won't break the bank!
Check out this great selection of CDs, books, musical accessories and even some musical instruments for under €50/$50.
Some of the finest musical offerings from Ireland's leading traditional musicians…
Tunes from The Goodman Manuscripts
Tunes from the Goodman Manuscripts is the award-winning debut album from the virtuoso trio of Mick O'Brien, Emer Mayock, and Aoife Ní Bhriain. As its name implies, this album is an exploration of tunes from the 19th century collection of James Goodman. This recording carries the listener back in time on a journey of old Ireland and its soundscape.
The trio also released a follow up recording, More Tunes from the Goodman Manuscripts. Both albums would make perfect stocking fillers, either on their own or as a pair!
Feochán

Feochán is the debut solo album by Irish flute player and 7-time All Ireland Champion, Robert Harvey. It's is a must have for Irish flute players (or enthusiasts)! Feochán, the Irish term for a gentle breeze, is an apt name for this light and breezy album. Each track effortlessly showcases Harvey's technical brilliance on the Irish wooden flute while presenting these carefully selected and curated tunes in his token light hearted and playful manner. 
Lámh ar Lámh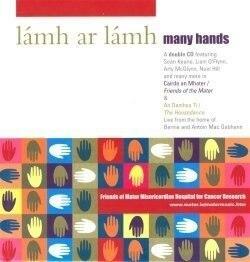 There's something for everyone on this magical double album. Filled to the brim with exciting musical offerings, Lámh ar Lámh is is perfect for musicians of all tastes and guarantees hours of listening pleasure! 
Consisting of two CDs (Cairde an Mhater and An Damhsa Tí) this compilation album features a mix of studio tracks from some of Ireland's finest musicians including Patsy Hanley, Seán Keane, Liam O'Flynn, Arty McGlynn, and Noel Hill (to name but a few), and live session recordings from the home of brilliant Irish fiddle player Antóin Mac Gabhann.
Irish music tutorials, tune collections, biographies and more…
The Tailor's Twist
This stunning publication is the perfect coffee table book for any music lover. The Tailor's Twist is many things – a documentary, a biography and ethnography, a tune collection and a superb photographic archive. The legendary Irish fiddle player Ben Lennon's life has been superbly documented here by renowned musicologist and Irish music historian Fintan Vallely. This book is sure to delight anyone with an interest in Irish music or history.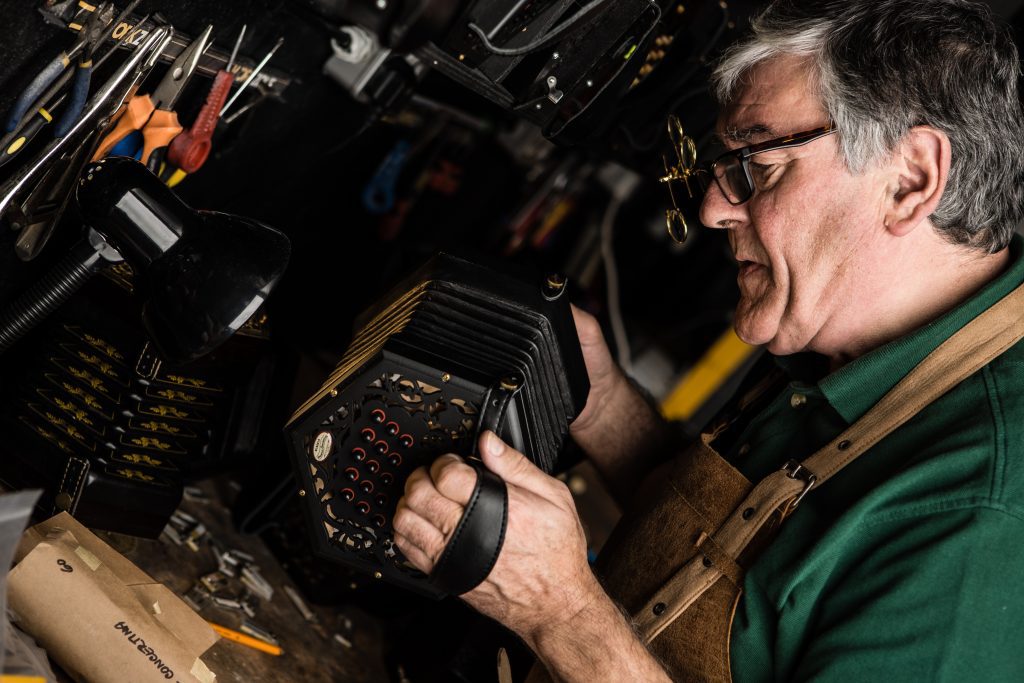 75 Irish Session Tunes for Anglo Concertina
75 Irish Session Tunes for Anglo Concertina does exactly what it says on the tin. This book is ideal for concertina players who are looking expand their repertoire. Filled with 75 of the most popular Irish session tunes, it's guaranteed to have you session ready upon finishing. Featuring both standard notation & C/G Anglo Concertina tablature, this easy to follow tutorial is perfect for beginner and intermediate concertina players alike. 

Foinn Seisiún
It's a truth universally acknowledged that you can never know enough tunes. That's where the brilliant Foinn Seisiún series comes in. Foinn Seisiún books are a must for musicians who enjoy session playing and want to build a repertoire of universally known tunes.
Each book is packed full of the very best Irish popular session tunes and iconic melodies. With four books in the series there are hundreds of tunes waiting to be learned. Even better, you can also purchase accompanying Foinn Seisiún CDs for each book, to hear the tunes played at a session pace.
An assortment of percussion instruments and accessories to liven up your Christmas…
Wooden Cheating Spoons
Cheating spoons were developed to make spoon playing easier. Joined at the base, easy to hold and easy to play, cheating spoons are suitable for beginner to advanced percussion players alike. This beautifully crafted pair of wooden spoons would make a great addition to any percussion players collections. Choose from Rosewood Cheating Spoons or Mulberry Cheating Spoons for a sleek finish that offers quality looks and sound.
Wooden Rhythm Bones
The bones, also known as rhythm bones or percussion bones, are a percussive folk instrument used to much the same effect as the spoons. Historically, they consisted of a pair of animal bones but today they are far more frequently made of wood. These bones are crafted from quality wood and polished to give a smooth finish and produce a strong, clear, resonant tone. Choose between Ebony Bones or Tigerwood Bones for either a dark marble finish or distinctive burnt-orange stripes. McNeela bones also come with an adjustable O ring for ease of playing.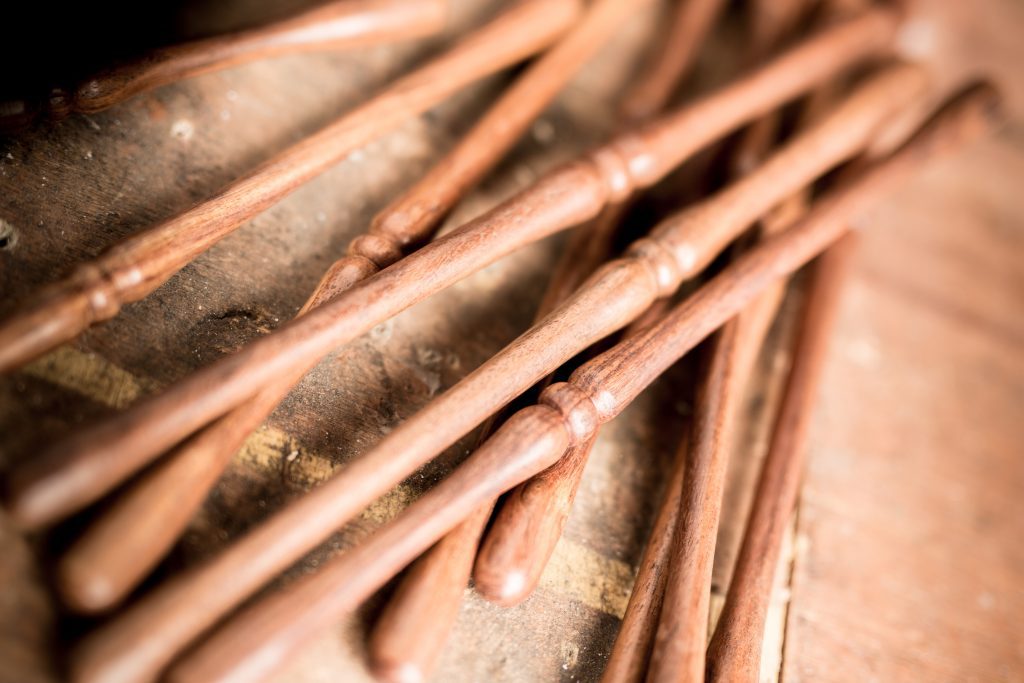 Bodhrán Beaters
You can never own too many bodhrán beaters, so rest assured that a selection of quality beaters is always an appropriate Christmas gift for the bodhrán player in your life. 
A firm favourite amongst my happy customers is the Trigrip Tipper which offers exceptional comfort and balanced grip for light fast playing. It's ideal for experimenting with different sounds and playing techniques. It's perfect on its own or as part of a bundle with any of the other bodhrán beaters in my collection.
If you're looking for something extra special however then I have just the thing for you – The McNeela Deluxe Bodhrán Tipper. Ideal for low end playing, this premium bodhrán beater produces a strong, clear, resonant tone. So if you know a bodhrán player who loves to turn up the bass, this is the right accessory for them!
Choose between Tigerwood and Ebony for a luxurious finish.
You can never own too many whistles. Even the most experienced players are always happy to expand their collection. 
These affordable tin whistles are the perfect stocking fillers for experienced or beginner whistle players…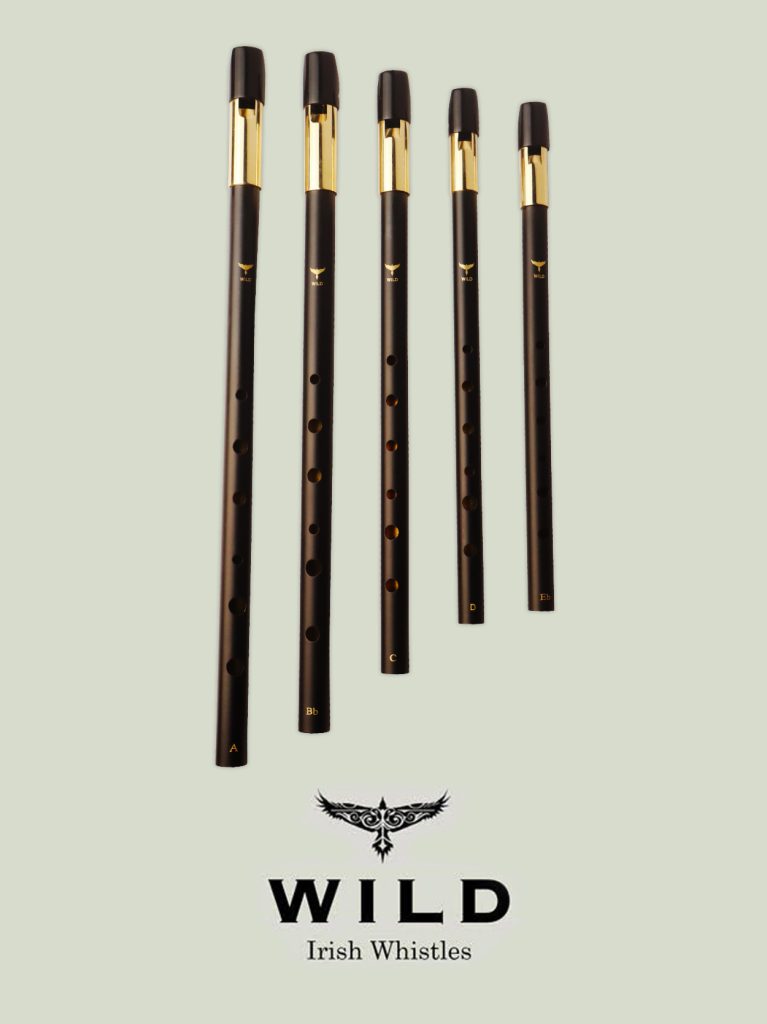 Clarke Sweetone
The Clarke Sweetone Whistle in D is the perfect starter instrument for any beginner tin whistle player. Made of steel sheet, with a conical bore and plastic mouthpiece, this lightweight tin whistle is incredibly easy to fill and play and produces a clear, bright tone.
Dixon Trad Cupro
You really can't go wrong with a Tony Dixon whistle and the Trad Cupro Whistle is one of Tony's best tin whistles. This lightweight, affordable whistle features a clean, bright, sweet tone and offers great playability. It's ideal for tin whistle players of all ages and abilities and will see you well beyond the beginner stage. Dixon whistles have served me well over the years and I highly recommend them to any player starting out, or looking to upgrade from their starter instrument.
Generation Bb Whistle
These iconic tin whistles make great stocking fillers. Costing less than €10 each, they're perfect for branching out and trying new keys without having to break the bank on a new whistle. Of course the old reliable Generation D Whistle will serve you well too , but why not encourage the whistle player in your life to do a little musical exploration and try something new? This Bb Generation Whistle offers a warm mellow tone and is perfect for grooving along to some modern whistle tunes. 
Oak C Whistle
I've played many C whistles in my time and keep coming back to this good old reliable. If you're looking for a whistle with a more rich tone than your standard D tuning, then this Oak C Whistle is for you. It's perfect for breathing a new lease of life into tunes.
Show them you care by showing their instrument some love…
Whistle Pouch
The McNeela Tin Whistle Pouch can comfortably fit two soprano tin whistles, up to C whistle size. With its tough protective canvas exterior and light padding, it's ideal for keeping your whistles looking and sounding like new!
Leather Bodhrán Strap
This premium Black Leather Bodhrán Strap allows for greater freedom of movement when playing your bodhrán. It supports the weight on the shoulder instead of the hand, allowing for a more comfortable playing experience. Made from quality materials, this soft padded leather shoulder strap is durable, easy to adjust and incredibly comfortable to wear. It's perfect for long bouts of session playing and live performance. A non-padded version is also available in brown leather.
Robot Instrument Stand
This fully collapsible instrument stand folds up neatly making it compact and easily portable. The Robot Instrument Stand can hold bodhrán, guitar (acoustic & electric), bass, bouzouki, mandolin, or ukulele. Its triangular structure with flexible arms offers sturdy support while adding a nice pop of colour to your instrument display!
Pub Prop
"Don't drop it, pub prop it!" Perfect for any session-goer, the Pub Prop is a portable instrument holder that screws securely to table surfaces and can be adapted for banjo, fiddle and guitar. Keep your precious instrument safe and make room for other musicians at busy pub sessions with this ingenious invention!
Just For Fun – Unique Christmas Gifts Under €80/$90
You might struggle to fit them in a stocking but these budget friendly musical instruments and instrument building kits make perfect Christmas gifts for both serious and inexperienced musicians alike and guarantee hours of entertainment…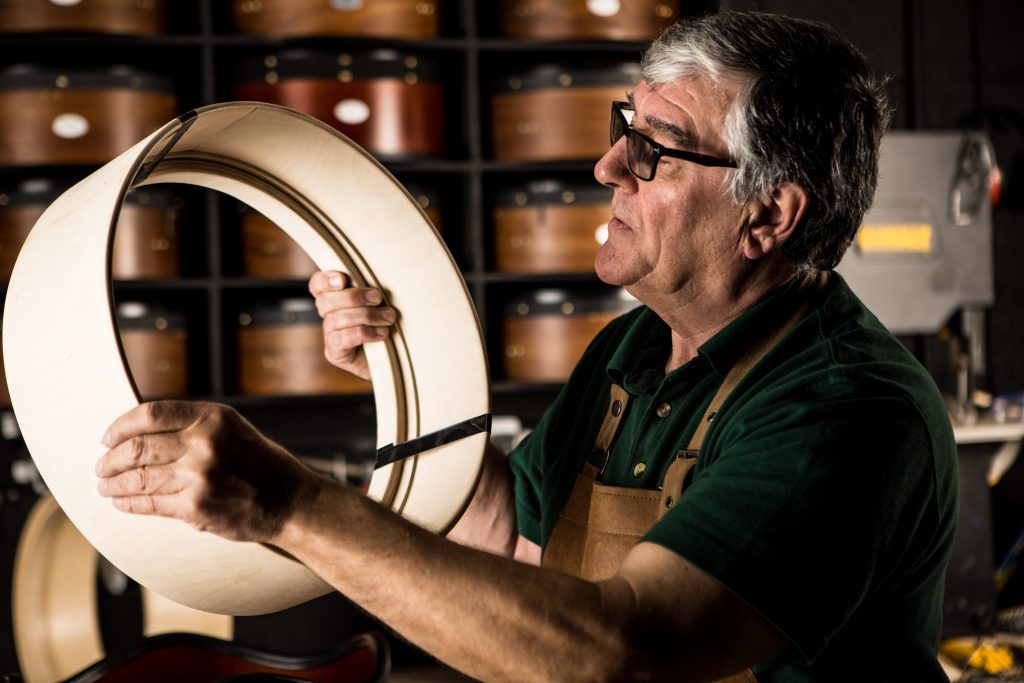 DIY Build Your Own Bodhrán Kit
This is the perfect Christmas gift for the musical DIY enthusiast in your life. For those musicians and non musicians alike that have always wondered about the bodhrán making process, I've put together this very special Build Your Own Bodhrán Kit with everything you need to make your very own bodhrán at home. Each DIY Kit is complete with everything you need to make a quality, fully playable drum, including detailed step by step instructions to take you through the process. 
DIY Build Your Own Ukulele Kit
If you're intrigued by the idea of building your own bodhrán, why stop there? Become a master craftsperson and build your very own ukulele with my Build Your Own Ukulele Kit. Each DIY Kit includes everything you need to make your very own soprano ukulele. Don't worry though, I've taken the liberty of completing some of the more difficult steps on your behalf, to make the process a little easier.
The McNeela Melodica
Melodicas make great musical toys for young musicians. They can also be played by great musicians to produce quality musical performances, making it the perfect instrument for all ages and abilities! The McNeela Melodica is an accessible instrument that will guarantee hours of fun on Christmas morning. It's lightweight and compact, and ideal for musicians on the go. It's also easily transported for those seasonal visits to friends and family!
Sunbeam Ukulele
Let a little sunshine into your life this Christmas. If your gift recipient might be a little daunted at the prospect of building their own ukulele, perhaps this cheerful readymade Sunbeam Ukulele might be a better choice. It's perfect for musicians of any age or ability, though it makes a great introductory instrument for young musicians. 
Christmas Gifts for Beginners – From €35 to €500/$40 to $527
These budget-friendly starter instruments are perfect for the beginner musician in your life…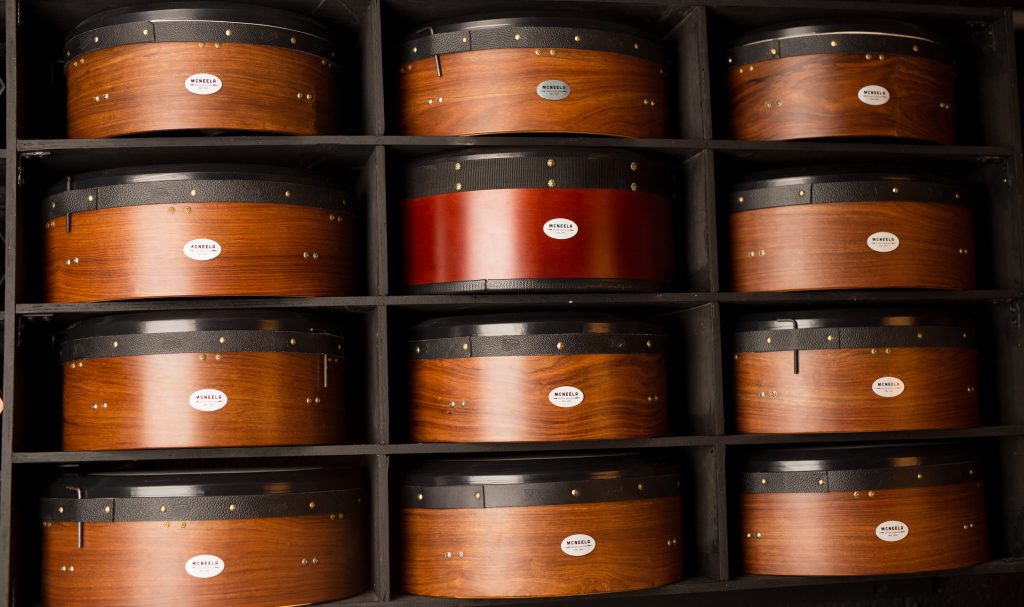 McNeela 14″  Non-Tuneable Bodhrán
This professionally crafted 14″ bodhrán with natural goatskin is one of my bestselling beginner bodhráns. Its small diameter and shallow rim make it perfect for small hands. Compact, lightweight and easy to play, the McNeela 14″  Non-Tuneable Bodhrán is built with beginners in mind.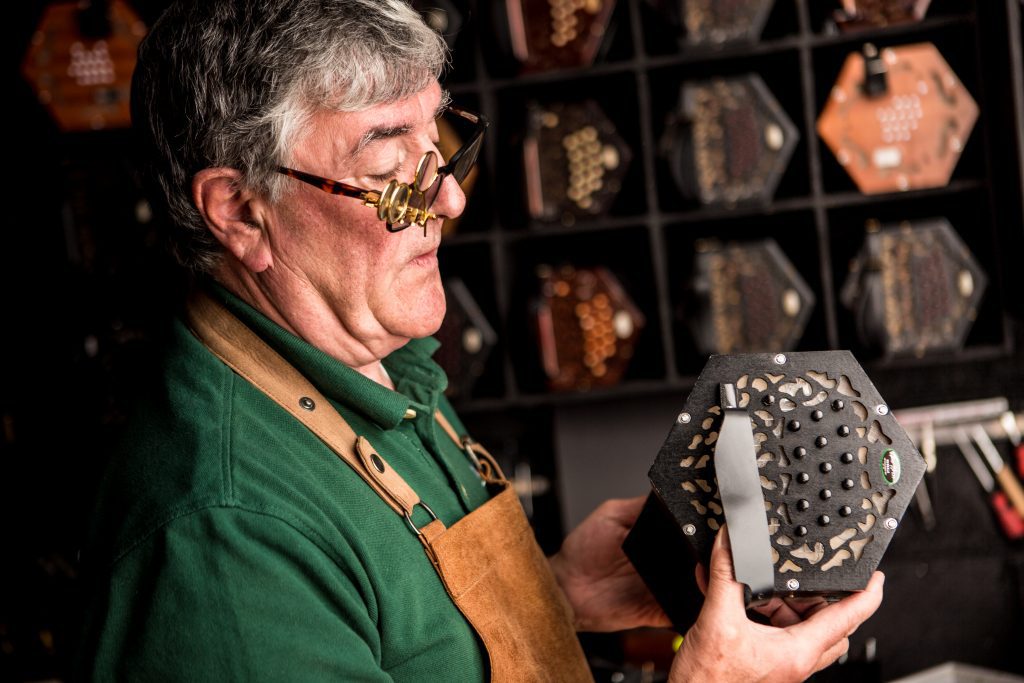 The Wren Concertina
The Wren is my most popular beginner concertina and is specially designed to cater to the needs of beginner concertina players. It offers superb value for money and is one of the best beginner concertinas on the market today! This affordable 30 button Anglo Concertina in the key of C/G offers everything you need to learn to play the Irish concertina.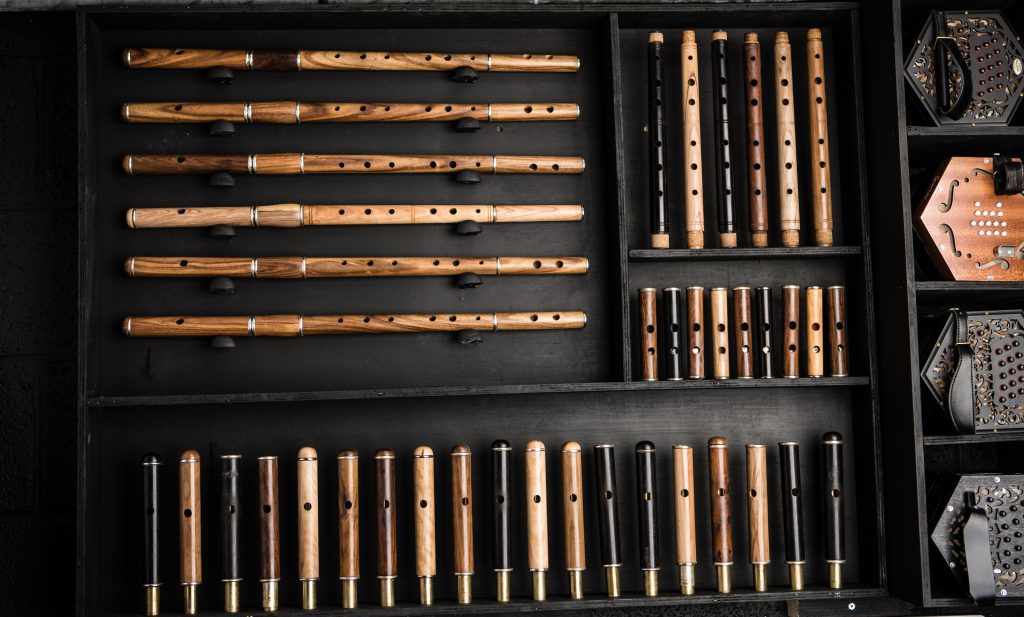 The Cygnet Flute
The Cygnet is a keyless Irish wooden flute designed to cater to the needs of beginner flute player.  It's easy to fill with air and, as a result, easy to play. It produces a strong tone with that signature Irish wood timbre. Made from beautiful Rosewood, this is a flute that looks more expensive than it is, giving you a luxury musical experience without the price tag. 
Dixon Trad Cupro
So good I've listed it twice! This is my top recommendation for beginner tin whistle players of any age.  The Trad Cupro Whistle is one of Tony's best tin whistles and will have you sounding good right from your very first note. 
This lightweight, affordable whistle features a clean, bright, sweet tone and offers great playability. It's ideal for tin whistle players of all ages and abilities and will see you well beyond the beginner stage. You really can't go wrong with a Tony Dixon whistle – they've served me well over the years and I highly recommend them to any player starting out on the Irish whistle:
Ultimate Tin Whistle Lessons
What better to accompany your brand new tin whistle on Christmas morning than expert tuition to help you learn how to play it? These Ultimate Irish Tin Whistle Lessons will take you from beginner to pro, under the watchful eye of legendary Irish whistle player John O'Brien. Just think, you could master your first tune by the time Christmas dinner is on the table!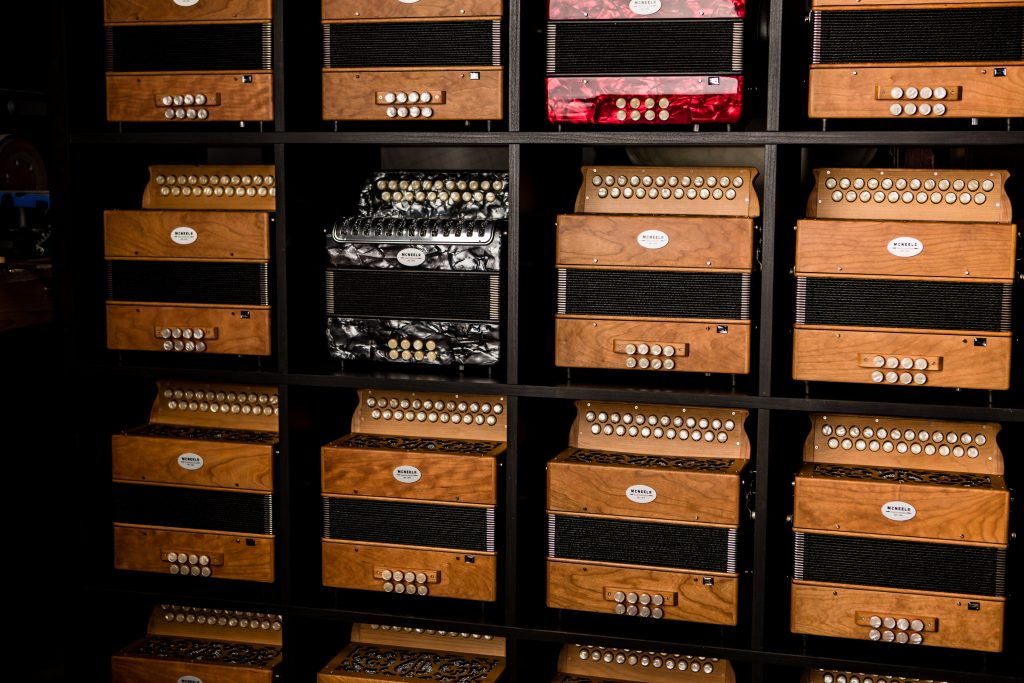 McNeela Grey Button Accordion
The McNeela Grey Button Accordion is an attractive and affordable instrument that's ideal for any beginner accordion player. This lightweight beginner accordion is a 21 key, two row, diatonic button accordion in the key of B/C – perfect for anyone taking up the Irish accordion for the first time. Its sleek pearlescent celluloid grey finish is reminiscent of the great Italian makers Paolo Soprani, giving you that luxury feel for a fraction of the price.
The Celt Banjo
If you're looking for a quality student banjo at an affordable price, I highly recommend my McNeela 17 Fret Celt Banjo. A 17 fret banjo offers many advantages for beginners – the shorter neck and fretboard mean less stretching for small or inexperienced hands. It's also lightweight and comfortable to play. With a mahogany neck and head, rosewood fingerboard, maple bridge and Remo top, this is a well crafted instrument that will make even the most inexperienced players sound good.

Hidersine Inizio Violin
This high quality, low cost violin caters perfectly for the needs of beginner musicians, offering the best possible start for Irish fiddle. Hidersine's 'Ready to Play' promise means you can buy this instrument with the confidence that you have everything you need to start practicing straight away. The Hidersine Inizio Violin comes with an octagonal bow and shockproof case with detachable straps and is available as either a full size (4/4) or half size (1/2) violin.
Check out my Violin Sizing Guide for help choosing the right size.
Deluxe Christmas Gifts – From €89 to €1500/$100 to $1637
If you want to indulge and truly spoil your loved ones then look no further.
Here's a selection of some of our premium instruments offering luxury at an affordable price…
The McNeela Signature Bodhrán
The McNeela Signature Bodhrán offers everything an aspiring bodhrán player needs to get started on their musical journey. It's perfect for any level of player, from beginner to advanced. It's highly responsive and offers great action and control, and with its lush tonal range, it offers strong resonance and depth of tone with a rich, booming bass – everything you need to take your playing to the next level. It even comes with a choice of top quality Lambeg or Vellum goatskin, for a more personalised musical experience.
 This premium bodhrán is truly worthy of the McNeela seal of approval and is guaranteed to delight any bodhrán player who unwraps it on Christmas morning. 
Wild Whistles
This sleek tin whistle is the latest addition to the McNeela whistle range. It's ideal for tin whistle players at any stage of playing – beginner, intermediate or advanced. The Wild Irish Whistle is designed with ease of playing in mind, offering excellent playability and responsiveness. Most importantly, it doesn't require too much airflow to produce a great sound, which makes playing and practising a breeze.From its playability to its beautiful tone and sleek finish, this stylish black tin whistle makes learning to play an enjoyable experience right from your very first note.
It's available as both a soprano whistle and alto whistle, in a range of keys including Eb, D, C, Bb and A.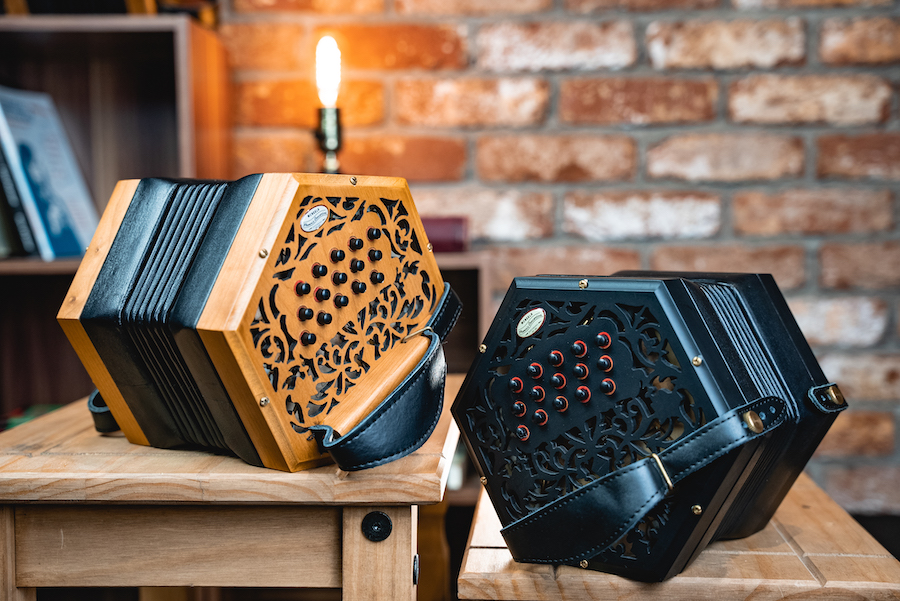 The Phoenix Concertina
For both affordability and playability it really is tough to beat The Phoenix Concertina. A remarkable all-rounder, it's a great fit for any concertina player and can carry you through every stage of playing. Crafted to the highest standard it's perfect for players who are ready to master their instrument.
For a limited time only, with every purchase of my best-selling Phoenix Concertina, I'm including one year's free access to my brand new Concertina Masterclass Series under the expert guidance of leading Irish concertina player, Jack Talty. This innovative online course is accessible from anywhere in the world and will take you from beginner, right through intermediate, and all the way to advanced level if you wish. Free concertina lessons for one whole year… Just think of what you could achieve!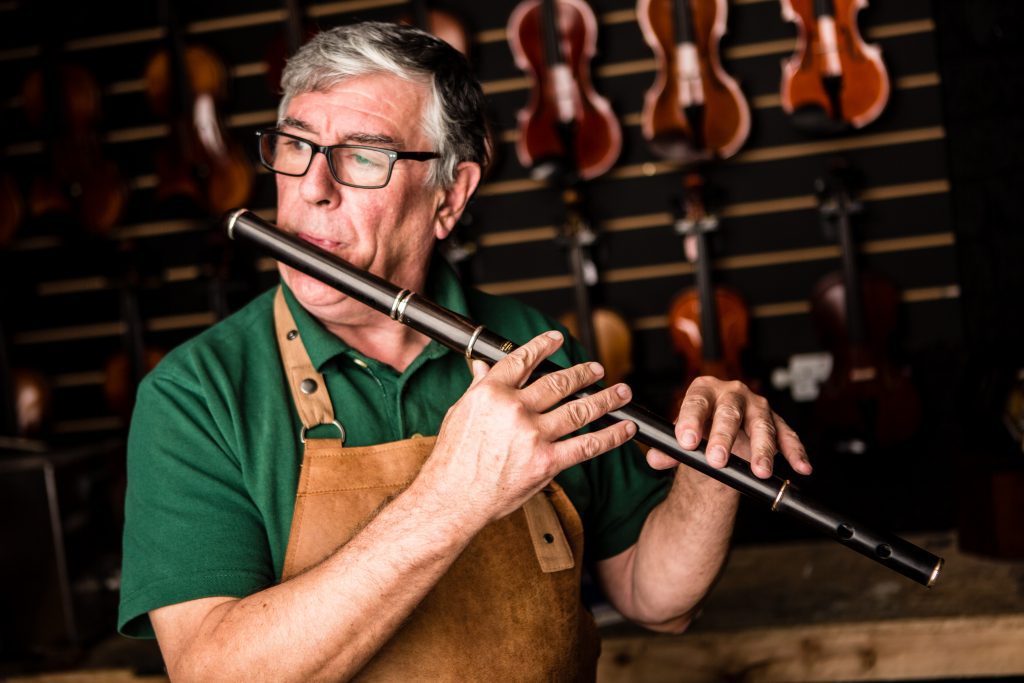 McNeela African Blackwood Flute
Made from African Blackwood – the tonewood of choice amongst traditional Irish flute players – this flute is one of my bestsellers, and it's easy to see why. The McNeela African Blackwood Flute offers a full bodied resonance, producing a strong tone and great volume. This is a surprisingly powerful instrument that's easy to fill, and absolutely perfect for session and ensemble playing. You'll easily achieve that signature Irish woody sound with this beautiful keyless flute.

The Maestro Violin
My best selling Maestro Violin is ideal for any intermediate player and would also serve an advanced player long into the future. It's also the perfect way to start out your fiddle playing journey in style. With a maple body and spruce top, oil varnished for a beautiful finish, this handcrafted instrument looks as good as it sounds (and vice versa). It offers a rich, resonant tone and superb response, for optimum ease of playing. The set also includes a carbon fibre bow and a top quality violin hard case to protect your new instrument from any unwanted knocks or bumps.
A Very Merry McNeela Christmas
There you have it – my own personal recommendations for some brilliant musical Christmas gifts this December.
Personally I'd be thrilled to find any of these items under my tree on Christmas morning, so I hope they put a smile on someone's face and bring a little joy to your holiday celebrations. Remember though, it's not about how much you spend. It really is the thought that counts.
So wherever you are in the world I wish you a very happy Christmas – hopefully one filled with plenty of love and laughter. 
Nollaig faoi shéan is faoi mhaise daoibh go léir!
Here's to a very merry Christmas and happy new year.
Slán go fóill,
Paraic