You asked so we've answered. Check out this quick and easy guide with all the answers to your most commonly asked questions about banjos.
1. What is a 4 String Banjo Called?
There are two main types of 4 string banjos – the Irish tenor banjo and the plectrum banjo. Keep reading to learn more about the differences between these two instruments.
2. What are 4 String Banjos Used For?
The 4 string tenor banjo is used to play traditional Irish music. It's the most commonly played banjo in traditional Irish music today which is why it's often referred to as the Irish tenor banjo.
The 4 string plectrum banjo is most commonly used to play jazz.
3. Is the Banjo Irish?
The short answer is no. The banjo has become an incredibly popular instrument within Irish folk music but it made its way here from the USA in the late 19th and early 20th century.
The banjo technically originated in Africa where it evolved from West African string instruments to the instrument that we know and love today.
4. What is an Irish Tenor Banjo?
The Irish tenor banjo is the name given to the most popular style of banjo played in traditional Irish music today. Historically it is not an indigenous Irish instrument however.
The Irish tenor banjo is a short neck 4 string banjo that typically features a 17 fret or 19 fret scale length and is tuned to GDAE – one octave lower than the Irish fiddle and mandolin.
5. What is a Plectrum Banjo?
The plectrum banjo is a four string banjo that is more commonly associated with jazz. Larger than tenor banjos, these 4 string banjos typically have the same scale length, head size, and fret count as five string banjos.
Like the tenor banjo, it is played with a plectrum or pick, rather than fingerstyle (like a 5 string banjo). The traditional tuning for a plectrum banjo is CGBD.
Photo by Robert Linder on Unsplash
6. What's the Difference between a 4 string and a 5 string banjo?
Another frequently asked question. The simple answer is that these are two different styles of banjo, used to play different styles of music and played in a completely different style.
The 5 string banjo is a bigger instrument, with a longer scale length of 22 frets and is more commonly found in North American folk music or old time music such as Bluegrass and Country. Five string banjos come in two distinct styles – open back or resonator.
The 4 string banjo – specifically the Irish tenor banjo – is smaller in size and is more commonly used to play traditional Irish music.
Somewhat confusingly, plectrum banjos are similar in size and build to 5 string banjos – but it's easy to tell them apart due to the number of strings.
7. Is a 4 or 5 String Banjo Better?
Comparing a banjo with 4 strings and a banjo with 5 strings is like comparing a concertina and an accordion. They may seem like the same instrument to some, but in reality they operate differently and require a different playing technique.
Neither instrument is better. It really depends on which which style of music you want to play:
If you want to play traditional Irish music such as jigs, reels, hornpipes and other tunes, a four string tenor banjo is the best instrument for you. Shop a 4 string tenor banjo here.
If you're interested in playing jazz then you'll need a plectrum banjo.
If you want to play bluegrass or country music, a five string banjo will help you achieve your desired sound. Shop a 5 string banjo here.
8. What's the Deal with 6 String Banjos?
Six string banjos, also known as guitar banjos are, as the name implies, banjos that feature 6 strings. They are played using the same tuning as a standard guitar.
Tuned to EADGBE, it's a handy instrument for guitar players who don't want to have to learn new fingerings or a new playing technique.
Some banjo players disapprove of these instruments and frown on their use, claiming that you might as well just play a guitar instead, but six string banjos have their own unique sound and are a separate, distinct instrument.
Check out the video below from Jens Kruger to learn more about these fascinating instruments:
9. Are 4 String Banjos Good for Beginners?
Four string banjos are ideal for beginners. They are the most accessible instrument within the banjo family, especially the Irish tenor banjo.
A 17 fret, 4 string banjo will offer the most compact size for a beginner.
10. Is The Banjo Easy to Learn?
Yes, the banjo is a relatively easy instrument to learn to play, especially if you have good motor skills or hand coordination. Once you get the hang of the fingering (where to place your fingers on the fretboard) and the strumming motion, you'll be well on your way to becoming a confident player.
It can take a while to master plucking the strings with a pick or plectrum while your other hand is pressed down on the frets but it's no harder that learning to play the guitar. In fact, many would argue it's easier.
11. Is the Banjo Harder to Play Than a Guitar?
Definitely not. Playing the banjo requires the same coordination and motor skills as playing a guitar.
While both instruments involve a similar skill level, the banjo requires less finger movement which can make it more accessible for those just starting out. In Irish music the banjo is played as a melody instrument rather than used to strum chords, which means you can focus on playing one string at a time which does simplify the process.
12. How Much Does a Quality Banjo Cost?
Entry level and beginner banjos have quite an accessible and affordable price range.
A good quality beginner banjo will cost upwards of €400/$400. How much you want to spend after that is up to you.
For intermediate to advanced and professional banjos the prices will continue to rise from there.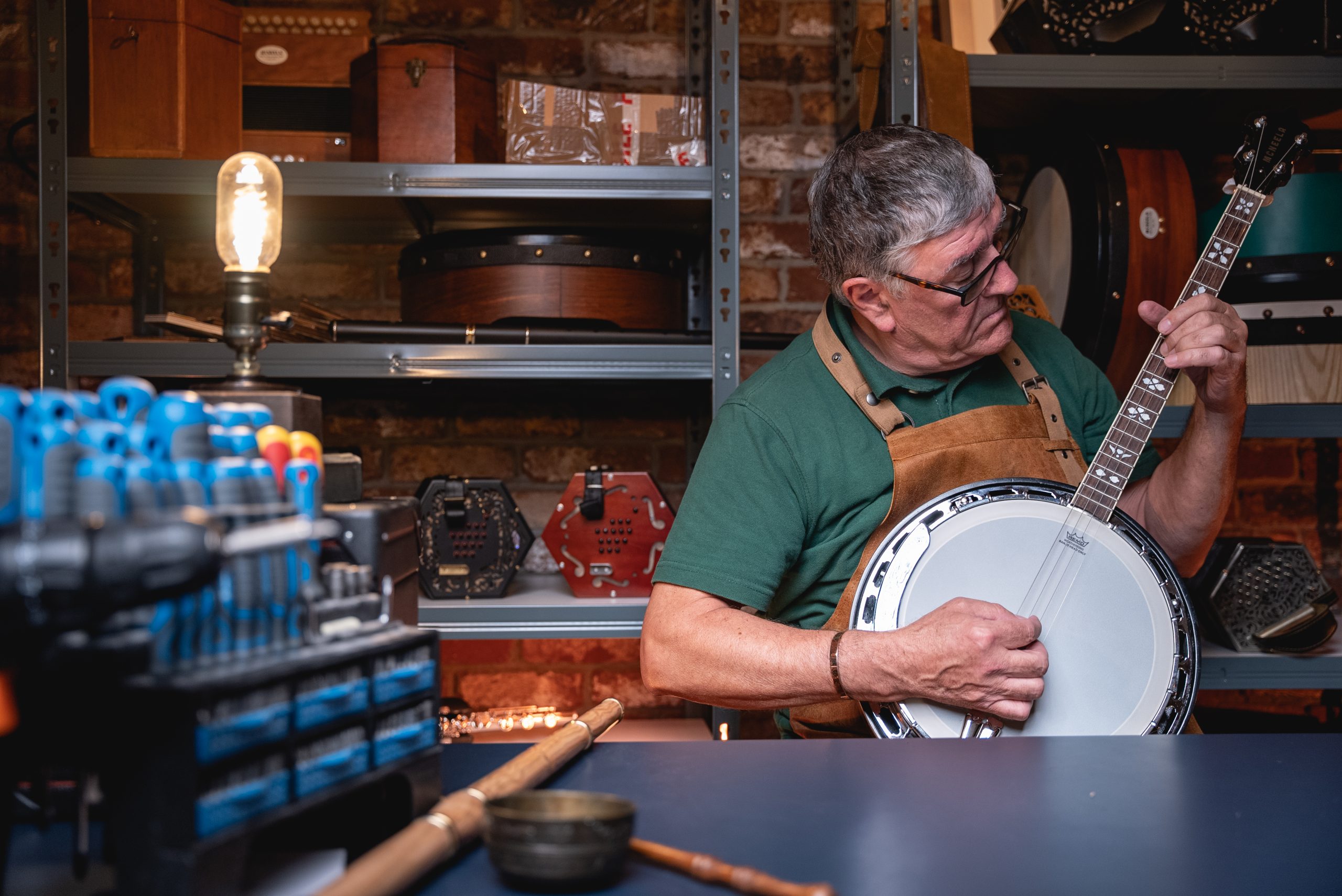 McNeela Banjos
If you're looking to buy a banjo then look no further. Here at McNeela Instruments we stock only the best banjos. We have instruments from Clareen, Deering and Koda as well as our own brand in-store range. We also stock a selection of vintage banjos from brands including Bacon & Day, FRAMUS, Gretsch and many more. So whether you're looking for a 4 string banjo or 5 string banjo we have something for everyone. We also sell an exciting range of bouzoukis, mandolins and guitars.