McNeela Irish Flutes – Which One is for You?
Whether you're a first time buyer or an accomplished flute player, choosing the right Irish flute to buy for you is obviously very important.
In order to help you with this decision I've done a run down of the main characteristics of the range we have on offer here. I play the flute myself and the details are what matter. Think of this comparison rundown as a companion blog to my original Irish Flute blog.
I want you to be 100% informed and happy with your choice of Irish flute and hopefully this will help you get it right. But don't forget most of the flutes on sale at McNeela Instruments include a money back trial period so you can buy risk free.
You're also welcome to pop in and try out a few and see what you think.
The McNeela Range of Irish Flutes
Our best selling student and beginner flute; the aperture or embouchure on this one is small. I designed the Cygnet Rosewood flute for students so they could fill the flute easily, if it had a bigger aperture you'd probably get more volume out of it but it would be harder to fill. As it stands you'll get a lovely gentle tone out of it, nice easy playability and it should get you addicted to playing and propel you to the next stage.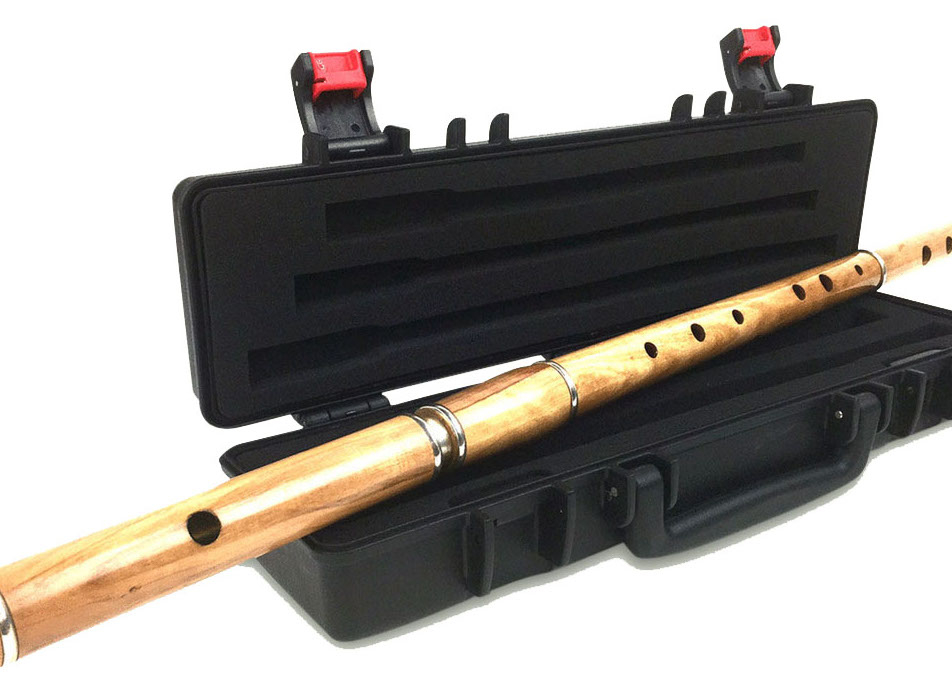 The New McNeela Cocuswood flute has a similar size aperture to the Cygnet but because this wonderful tonewood is more dense it will achieve a bigger volume of sound. It's easy to fill and it's easy to play, you can get a great bounce from the notes. You'll get a brighter sound compared to the softer sounding Cygnet with more complex overtones, and with our new and improved cocuswood model the tonal quality is even more gorgeous and that all-important low D is stronger than ever.
This one is made from a polymer composite, Delrin, which is becoming increasingly popular in flute-making with good reason; It plays just like a wooden flute but there's practically zero maintenance. Again, I've used a small aperture to aid students but it's a heavier flute so while you'll get a bigger volume from it you'll notice it is heavier than the Cygnet. It's got a strong low 'D' (the holy grail of Irish flutes) and thanks to the Delrin there's no upkeep on this really, just play it!
This is the most expensive flute from the McNeela range of flutes as we're using African Blackwood, probably the finest tonewood around. We're now getting into the realm of extremely dense and hard wood which helps achieve a strong bright timbre due to the way the air resonates through the flute and how it interacts with the wood.
African blackwood is also quite resistant to moisture and this is crucial for the frequent flute player as moisture can play havoc with wood.
The sound is quintessentially Irish, associated with that unique wooden flute sound. You've a bit of chiff, big volume and a strong low D plus the superior finish makes for an eye-catching instrument. I've kept the aperture small as well so even the beginner student can get a fantastic sound off this straight away.
A lot of people wouldn't notice much difference between the Lon Dubh and Des Seery flutes, but I'd know it and someone who knows flutes would too. It's a great flute and what stands out about it is that it is finished beautifully and has a superb tonal quality; you'll see this reflected in the price. I like Dessie's flutes as they're very easy to play, more polished and produce a strong clear tone.
Irish Flutes stocked by the Best Irish Flute Makers
Arie has been making Irish style flutes for some time now and he is a greatly respected maker among flute players and pros. Thanks to the bigger aperture he uses as well as his sublime construction methods we can achieve a bigger volume, better quality timbre and stronger low 'D'. It's louder, clearer and produces rich complex overtones.
Hammy is another excellent flute maker but he has started his countdown to retirement so unless you're on the list he will not be making custom flutes again. His practice flutes are still available however and we often get them in so get in touch with us if you're on the lookout for one. They're super easy to get a sound from, easy to tune and a surprisingly strong low D considering the low cost.
Sam makes the most beautiful flutes and is one of Ireland's most recognised Irish flute makers along with Hammy and Arie – all brilliant in their field. The reason I like Sam's flutes is because they're fantastic session flutes and I love a good session!
When you go to a session you want to be heard and if you want to be heard get a Sam Murray flute. They come keyed and non-keyed or to your specifications. They have a large aperture so maybe a little tough to fill for a beginner but an experienced player will get a great volume of sound out of them plus a honking low D.
I love how light his flutes are and you can play them for hours without tiring. Gorgeous tone, quality low D, beautiful looking flute, easy to play, easy to fill and crucially, easy to keep filled.
Get in touch with us at McNeela Instruments if you're interested in acquiring a Sam Murray Keyless flute or a Sam Murray Keyed Flute.
Why Play a Keyed Flute?
If you're a fairly accomplished player and want to be able to play in the keys of C, A, B flat, etc. then go for a keyed flute. Although it's possible to fit keys on a flute retrospectively it's better to buy it keyed from the get go.
Why are Players put off by Keys?
Keyed flutes tend to be difficult to fill and quite difficult to achieve a good low D – it's easier to get a low D with the smaller aperture non-keyed flutes. They're also more expensive.
If you're concerned about cost, start off with a non-keyed flute from the lower price ranges and if you feel that you will continue and want to branch out and have more flexibility then upgrade to a keyed flute and invest properly in it.
If you really want to test the keyed-flute waters we have a great priced, recently released Delrin keyed flute, it won't break the bank, has a lovely sound to it and if you decide to upgrade later it's a great practice and travel flute thanks to Delrin's low maintenance characteristics.
What are the Benefits of a Tuning Slide?
Most of the flutes I sell have a tuning slide and no, they can't change the key of the flute however, they can adjust the pitch. All of our flutes are tuned to standard concert pitch and the tuning slide allows you to fine-tune the pitch to suit your playing environment, be it humid, dry or to match your fellow musician's pitch.
When the slide is fully in, the tuning will be sharp so you will have to pull the slide out to flatten out the pitch and bring the flute into perfect concert pitch. If you're playing with a musician who's playing sharp, you can adjust the tuning to match theirs. The flute will also go out of tune the longer you play it as the build up of moisture and warmth tend to cause the flute to go sharp.
Always warm up your flute before you play especially in cold weather conditions, then adjust the tuning and keep your ear on it as you play and use the tuning slide when necessary. The way you blow into the flute also affects the pitch but that's another blog for another day!
As always, we're here to assist you on your musical journey so ask as many questions as you like, look at the videos, research online and pop in to us if you can to try out our range.
Go gcuire an ceol meidhir ionat!