Andy Irvine is one of the most iconic musicians to ever grace the world of traditional Irish music. A multi instrumentalist (Irish bouzouki, guitar and mandolin to name but a few), singer and skilled songwriter, he has been hailed as 'a tradition in himself' who is 'often copied, never equalled'.
Andy Irvine first made his mark on the music world with the influential group Sweeney's Men in 1966. In fact, it was on the group's debut album that he first recorded with an Irish bouzouki.
'Sweeney's Men were somewhat different; we pandered to our own tastes rather than the fashions of the day and though we were up there with the best of them, I think we bemused audiences more than a little.' – Andy Irvine
In 1968 Andy left to travel in Eastern Europe where he toured Bulgaria, Romania and Yugoslavia, earning his living as a street musician and absorbing the rich Balkan musical traditions.
He returned to Ireland in 1970, where alongside Christy Moore, Dónal Lunny and Liam O'Flynn he formed Planxty – one of the most influential groups of their generation. Following his career with this iconic Irish supergroup he went on to play and record with Paul Brady, De Dannan, Mozaik and Usher's Island, to name but a few.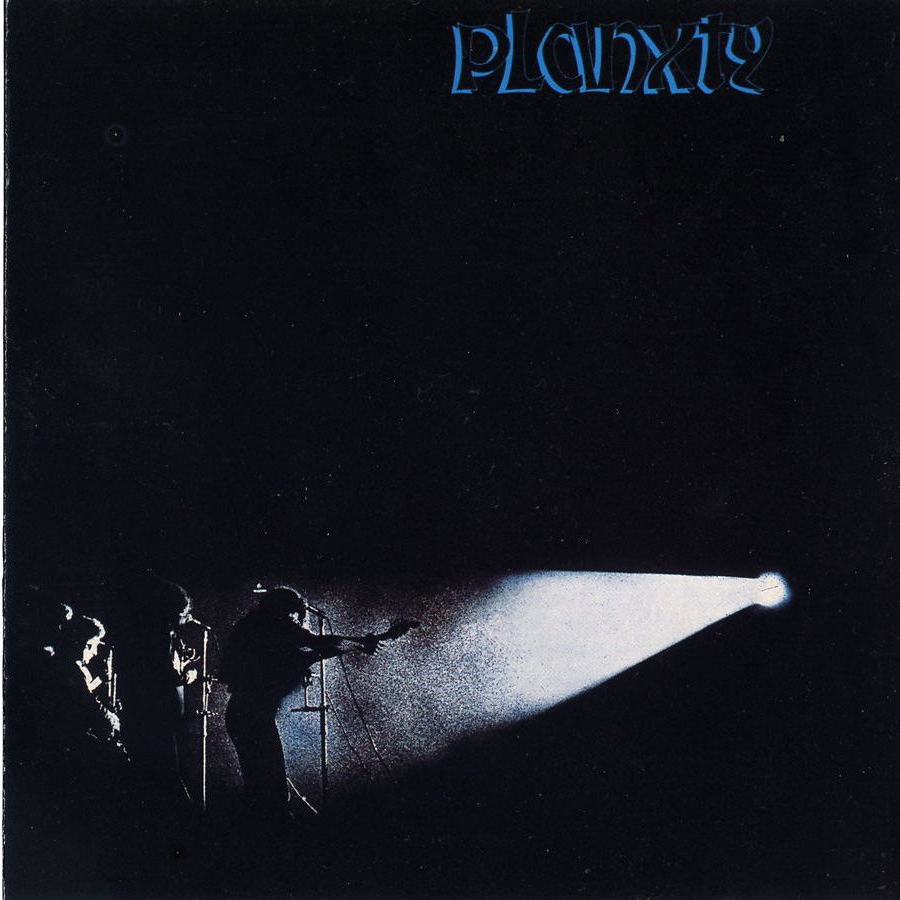 Planxty
Planxty is one of the most influential Irish music groups in existence. To this day their popularity and reach is rivalled by few. They are hugely responsible for popularising traditional Irish music around the world, extending its global reach.
There's no denying that Andy Irvine was definitely in good company amongst Planxty's iconic lineup. Each of the band's founding members would go on to become some of the biggest names in the world of traditional Irish music.
With a particular focus on folk songs and ballads, Planxty offered something fresh to their audiences. They gained significant popularity on the British folk music scene, bringing their performances to concert halls and theatres – venues where Irish folk ballads would not typically have previously been heard or celebrated.
The band released their self-titled debut album in 1973 to widespread critical acclaim. Often referred to as 'The Black Album' because of its cover, this influential album is still one of the most iconic Irish music recordings available to this day.
With two impeccable songwriters in the group – Christy Moore and Andy Irvine himself – their careful yet innovative ballad arrangements succeeded in re-popularising the folk ballad genre.
The Balkan Influence
Andy Irvine's iconic bouzouki playing would go on to inspire generations of Irish bouzouki players, and for good reason. He succeeded in fusing elements of other musical cultures while also carving out a distinctly Irish sound. Unsurprisingly, a strong Balkan influence is evident throughout his music, particularly in his early recordings with Planxty.
This can be heard most obviously in the final track on their debut album, The Blacksmith, in which the traditional Irish song The Blacksmith is followed by Andy's own composition, Blacksmithereens.
Irvine wrote this tune to reflect his travels in Eastern Europe and the influence that Balkan folk music had on him during this time:
Andy Irvine & Paul Brady
Such is the reach of Andy Irvine & Paul Brady that even those who are unfamiliar with the world of traditional Irish music have usually heard of this iconic pair.
In 1975 following the (first!) breakup of Planxty, Andy Irvine embarked on a new musical career with his friend and colleague Paul Brady, who had replaced Christy Moore in Planxty's lineup.
Today Paul is regarded as one of the greatest balladeers and Irish guitar players in the world. The pair's collaboration is considered one of the most significant musical partnerships in Irish folk music. Their eponymous recording "Andy Irvine & Paul Brady" was released in 1976 and has been considered a classic ever since:
The album's enduring popularity led to a reunion in 2017, with the duo embarking on a run of sold out performances throughout Ireland and the UK to celebrate the 40th anniversary of their wildly successful recording.
From Greece to Ireland – The Greek Bouzouki Turns Irish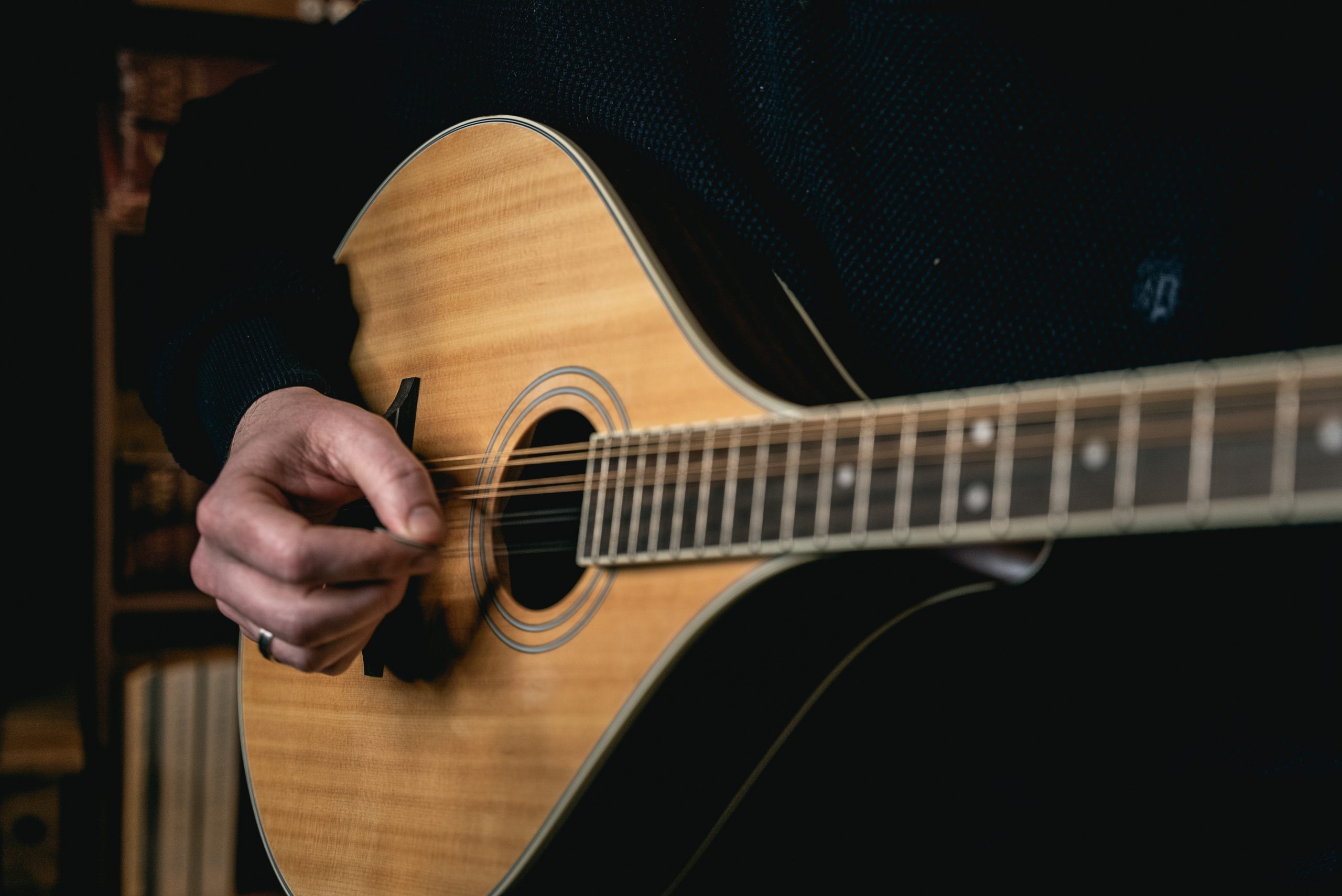 Andy first encountered a bouzouki in 1966, when musician Johnny Moynihan (fellow bandmate in Sweeney's Men) arrived to a session in Galway with an instrument that had been gifted to him by a friend – a souvenir brought back from a trip to Greece.
It wasn't the best quality instrument, but was enough to pique Andy's interest, and open his eyes (and ears) to the musical potential of the bouzouki. And thus the landscape of Irish music would be forever changed.
The First Irish Bouzouki
The next bouzouki Andy would encounter also came from Johnny Moynihan. Johnny discovered it in the shop of instrument maker John Bailey on an opportune visit to London. Unlike the original Greek bouzouki, this instrument featured a flat back which would go on to become a common feature of Irish bouzoukis.
Johnny was intrigued and, as luck would have it, apparently the person who had ordered the innovative instrument had never returned for it. So Johnny purchased it instead, returning to Ireland with this strange new instrument, and thus the Irish flat back bouzouki was born.
It was this instrument that Andy and Johnny used to record their debut album with their band Sweeney's Men in 1968. At the time it was considered an unusual and exotic instrument. The Irish bouzouki has certainly come a long way since those early days, gaining significant popularity in Irish music – especially for accompanying Irish ballads and folk songs.
How Many Strings on an Irish Bouzouki?
This first 'Irish' bouzouki by John Bailey was a six string instrument, converted to eight strings. While some Greek bouzoukis had only six paired strings, the more popular eight string variety was the inspiration for Bailey's instrument, and would go on to become the norm for the Irish bouzouki. Today Irish bouzoukis most commonly feature 8 strings, tuned in four pairs or courses.
This early instrument had its drawbacks however:
'It was almost impossible for anybody else to play… Eight strings on a six string neck were kind of tight. But it did become one of the first bouzoukis used in Irish music.' – Andy Irvine
Andy Irvine's Bouzouki Influence on Irish Music
In 1969, while traveling, Andy finally acquired his own bouzouki in Greece. He literally sold his own blood to earn the cash (though perhaps that's a story for another day). Talk about dedication…
It was on this instrument in 1971 that Andy introduced his fellow bandmate Dónal Lunny to the bouzouki:
'Dónal had never played a bouzouki before, but he got the hang of it so quickly, and I said, 'Take it, take it!' And Dónal had a lot to do with popularising the so-called Irish bouzouki.' – Andy Irvine
Chance really is a fine thing. Without that first encounter in a Galway pub, Andy Irvine might never have begun his lifelong love affair with the Irish bouzouki, and in turn, without Andy's influence, yet another leading Irish bouzouki player – the iconic Dónal Lunny – might never have picked up the instrument in the first place!
Accompanying Irish Folk Songs
A car crash forced Andy to take some time off from touring. While he recovered he used this time to develop his skills on the bouzouki. Up to this point, his main instrument had been the guitar but he began to explore the bouzouki's potential for song accompaniment in particular.
'Dónal Lunny and others would use it very much as a percussive accompanying instrument, a rhythm instrument, whereas I used it to accompany songs – and I'm delighted that I did, because it's meant a lot to me ever since then. Dónal in bands would play mainly chords, sometimes with connecting runs in the chords, whereas my style of playing it was more complicated, I think, than his.
I played a lot of harmony and counter-melody, and I had this ability to play one thing and sing another, where you have to not concentrate on either and do a kind of trigonometry in your head, you know? That would take a deal of practice, but then I could do things that made people go "Wow, how do you do that?" And I would beam with joy at my success.' – Andy Irvine
Irish Bouzouki Tuning
While Irish tenor banjos, mandolins and fiddles were all tuned to GDAE, Andy tuned his instrument instead to GDAD. This tuning, with the top string tuned to D instead of E, opened up exciting chord options:
'It's amazing how many chords can be enhanced by having a D at the top. All the way from A-minor to C, they're all plus 9s and plus 4s, which are always acceptable to me. So not having to necessarily think about the top string, which you'd have to do if it was tuned to an E and you were playing in G or D, almost gave you the feeling of the fifth string of a five-string banjo.' – Andy Irvine
This tuning is today considered to be the standard for Irish bouzoukis, with the strings tuned in pairs to GDAD.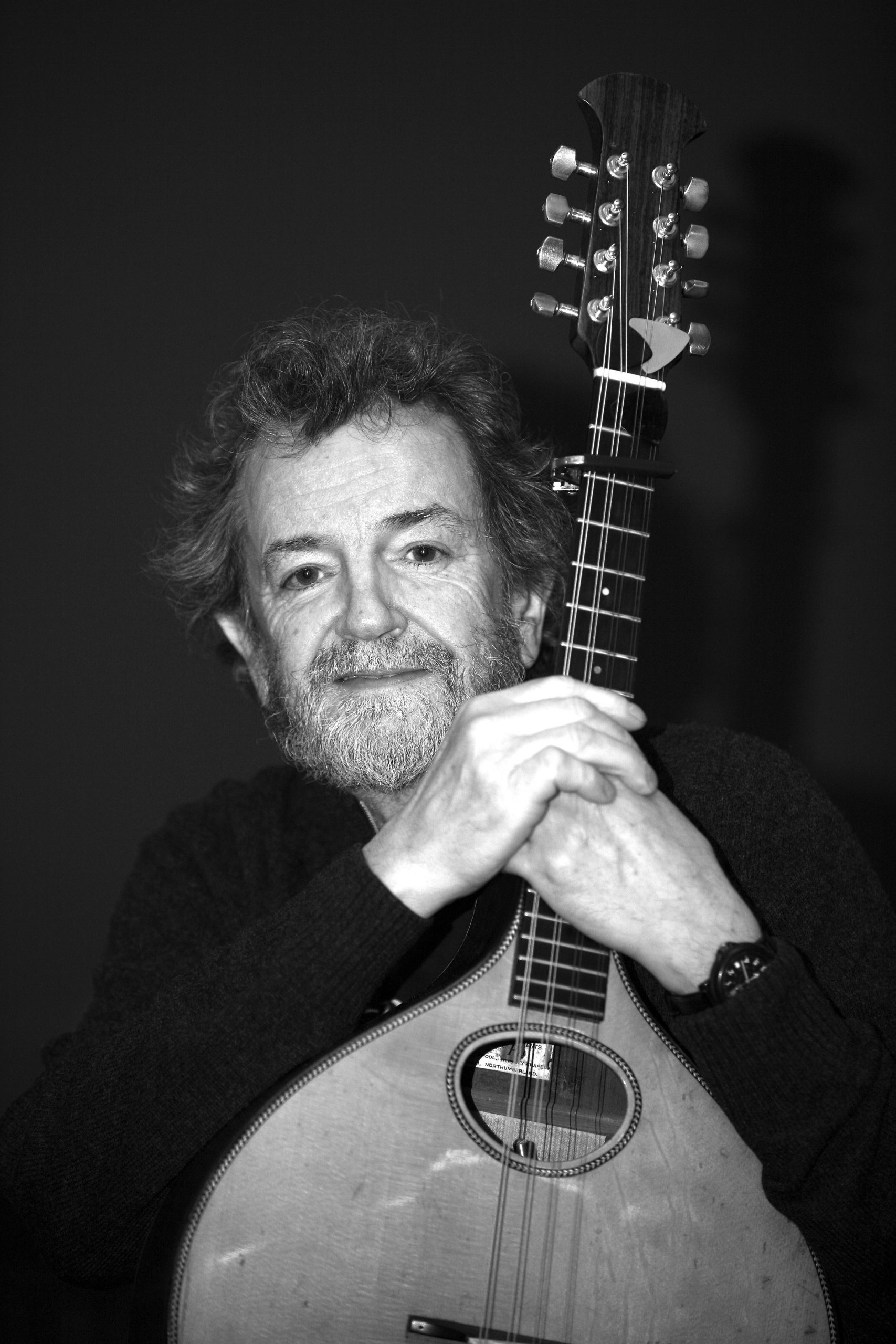 What Bouzouki Does Andy Irvine Play?
Since the 1970s, Andy has favoured bouzoukis and mandolas made by English maker Stefan Sobell. His preferred and most often played instrument however is often mistaken for a guitar due to its guitar shaped body:
'After playing bouzoukis, mandolas and mandolins made by him [Stefan Sobell], in the late 80s I decided I wanted a rounder, warmer sound for my bouzouki and we came to the conclusion that a bigger body was the answer. Rather than have a very large tear drop shaped body, I opted for the guitar shape which is easier to hold. A lot of people who do not know me think it's a guitar, unfortunately!
Very little remains of the original Greek bouzouki but it has four courses of double strings – like the modern Greek bouzouki and was originally based on the Greek bouzouki, so we still call them bouzoukis (except when Greeks are present…!). I tune it GDAD.' – Andy Irvine
Andy also plays a beautifully crafted bouzouki from Japanese guitar makers K. Yairi, and a bass bouzouki or 'bassouki' by New Zealand maker Davy Stuart, tuned down to CGDG for a deep, rich, resonant tone. In addition to this fine collection he also play an octave mandola made by Fylde, tuned to GDAD, the same as the bouzouki.
Celebrating 80 Years of Andy Irvine
This year Andy Irvine celebrated his milestone 80th birthday with a sold out performance in Dublin's Vicar Street. He was joined on stage by lifelong friends and fellow musicians including including Paul Brady, Dónal Lunny, Paddy Glackin, John Doyle, Mike McGoldrick, and many many more.
An incredible lineup to celebrate to contributions and achievements of an incredible musician! Long may his legacy continue: 
McNeela Irish Bouzoukis
If you're feeling inspired, why not take a look at our Online Bouzouki Store and see if one of our fine instruments catches your eye? Begin your own musical adventure as you follow in the footsteps of this traditional Irish music legend.