Johnny 'Ringo' McDonagh is one of the most innovative and exciting bodhrán players in the world of traditional Irish music. This legendary bodhrán player has become an icon, shaping the world of modern bodhrán playing and inspiring countless generations of musicians and instrument makers.
Born in Galway in 1951, Johnny began playing the bodhrán in 1967 and has since gone on to build a reputation as one of the most in demand accompanists in traditional Irish music. 
Where did the nickname Ringo come from? Well, if you were a long haired drummer in the 1960s, what else would you expect to be called?
Ringo Starr was taking the world by storm as a member of one of the most iconic bands the world has ever seen. It turned out to be a well deserved comparison. Just like his namesake in The Beatles, Johnny McDonagh has also become a legendary drummer.
Rock and Roll Bodhran
Ringo has played and recorded with anyone who's anyone in the Irish music community including the likes of Altan, Arcady, Mary Bergin, Eileen Ivers, Sharon Shannon and even the iconic Irish rockstar Phil Lynnot!
Beat of the Drum was the B-side (remember those?) to Phil Lynnot's hugely successful 1982 solo single, Old Town. Featuring a fusion of blues and Afrobeats, it's an exciting glimpse into all that Ringo has to offer outside the confines of traditional Irish music:

Despite his many successes and achievements however, Ringo is probably best known to this day as the original percussion player with the iconic supergroup De Danann.
De Danann
Ringo was one of the founding member of this legendary Irish music group.
Once described as the 'Rolling Stones of Irish Traditional Music', the band released their acclaimed debut album, De Danann, in 1975. 
Driven by the combined talents of a young Frankie Gavin on fiddle, Alec Finn on bouzouki, Charlie Piggott on banjo, Dolores Keane on vocals, and Ringo himself on bodhrán, De Dannan were a powerhouse act who succeeded in bringing Irish music to the world stage. 
With 19 albums under their belt to date, this group of master musicians has played everything from traditional jigs and reels to instrumental covers of The Beatles, Queen and popular classical pieces. Ringo remained with the group until 1988, featuring on ten of their albums.  
One of my favourite tracks to this day is from their brilliant album, Anthem. Ríl an Spidéal, translates as 'The Spiddal Reel'. This track is a nod to the band's early days playing at Irish music sessions in Hughes Pub in Spiddal, Co. Galway, where they first got started.
Ríl an Spidéal features a beautiful tune composed by fiddle player Charlie Lennon and perfectly showcases Johnny's subtle, tasteful playing style. Have a listen:
Irish Bodhran Revolution
Johnny Ringo McDonagh has been praised by legendary bodhrán player Tommy Hayes himself as the bodhrán's 'finest traditional player'.
While high praise indeed, it doesn't paint a wholly accurate picture of Ringo's contribution to the world of bodhrán playing.
From the 1970s onwards, Ringo was one of several contemporaries who began to push the boundaries of Irish percussion playing. His pioneering and groundbreaking exploration of the Irish bodhrán has forever changed the landscape of modern bodhrán playing.
Prior to the 70s, bodhrán playing was a rather static affair with little rhythmic variation. The tonal variations and melodic interpretations that exist today rarely featured in 'traditional' bodhrán accompaniment. The bodhrán was viewed as an instrument to be used merely for keeping time.
Throughout the 70s and 80s however, several new exciting bodhrán players began to explore the full capabilities of the instrument. They began to incorporate exciting new rhythms, including syncopation, moving away from the traditional straight-time. 
This track from his 1991 album with the band Arcady is a perfect example of the direction in which Ringo would direct Irish bodhrán playing. Not too far removed from traditional, old style bodhrán playing so as to be branded something entirely new, but definitely containing more subtleties and complexities than older styles:
Pioneering a Modern Bodhran Playing Style
Ringo in particular began to develop innovative techniques that are widely used today. 
He is responsible for introducing the rimshot (striking the wooden rim of the bodhrán) to popular bodhrán playing, as well as the use of brush beaters.
He also began to explore not only the rhythmic elements of percussion playing, but the tone of the bodhrán.
For example, using his left hand, he would place pressure on the skin of the bodhrán, changing the tone as he played. By placing his hand in this manner, he was able alter the sound of the bodhrán, raising or lowering the pitch. 
This technique also allowed him to mute the bodhrán, lowering the volume of the drum. The bodhrán held a reputation as being an overly loud drum, merely used to keep time. In Ringo's own words it was 'a terrible thing to be playing when you have a hangover.'  
By adjusting the volume at which it was played however, Ringo allowed this poor, maligned drum to blend better with other instruments, making it ideal for group music making. As a result, it began to be accepted more openly into the Irish music tradition. 
Without this groundbreaking development, the bodhrán may not have gone on to become the beloved instrument it is today. Ringo's development of tonal variation has influenced not only countless bodhrán players since, but also the instrument makers themselves.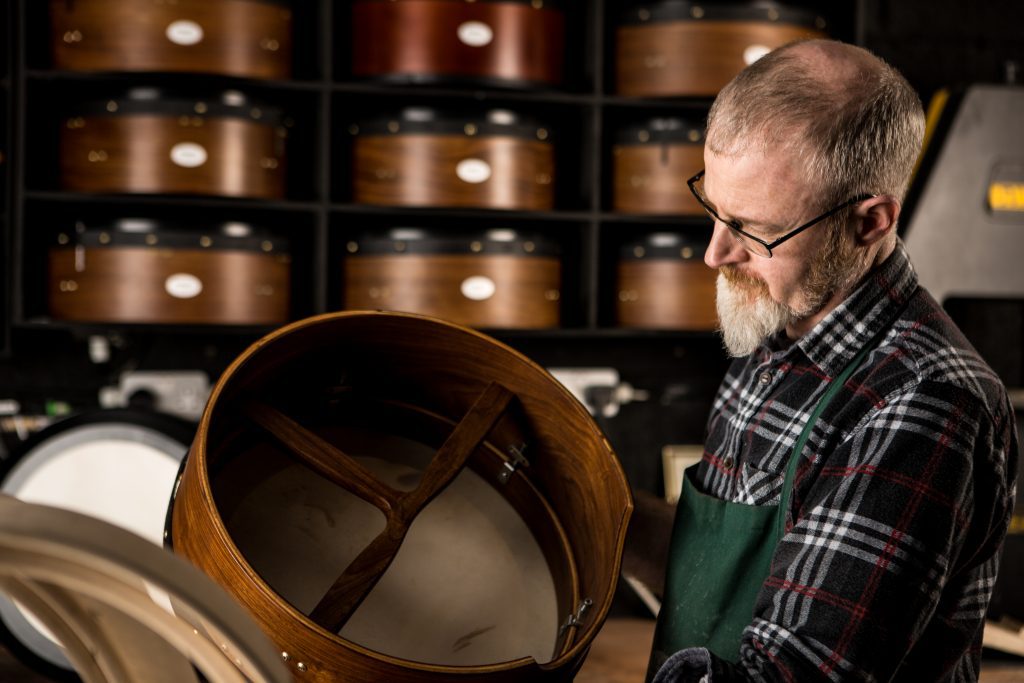 Farewell to Crossbars
Traditional bodhrans featured a crossbar at the back of the drum which players would use to hold the drum. As more and more bodhrán players, inspired by Ringo, began to place their hands against the skin instead, greater mobility was required. 
The full crossbar continued to wane in popularity, forcing bodhrán making and craftsmanship to evolve. 
 The crossbar became a T-bar, which allowed for greater freedom of movement for the player's supporting hand. Most T-bars today are removable, allowing the player the option of as much movement or support as they would like. 
Some bodhrán makers eventually began building bodhrans without crossbars entirely. There's no right or wrong – it all comes down to the preference of each individual player.
My own Wave Bodhrán was inspired by this particular trend in modern bodhrán playing. I designed it with an undulating or 'wavy' rim. These cutouts maximise ease of reach and freedom of movement, making it perfect for exploring the full tonal range of the bodhrán.
Improved Tone
Taping bodhrans is a technique that is largely accepted today as best practice. While some still prefer the range of sounds available from non-taped drums, most bodhrán players and makers today will opt to tape the skin around the rim of the drum with black electrical tape.
Taping dampens the sound of the bodhrán, reducing unwanted overtones and improving the harmonics. Overall, most will agree that it makes the instrument sound much better and creates a richer tone.
One of the first bodhrán makers to start taping his bodhrans was Seamus O'Kane. And who did Seamus learn this innovative technique from you may ask? None other than Johnny Ringo McDonagh himself. 
Seamus began taping the skin around the rim of his drums from the 1970s onwards, adopting this new innovative technique into his bodhrán design. The new wave of modern bodhrán playing became so popular that this new taped drumhead became the norm for both bodhrán makers and players alike!
You can watch a brief explanation of the bodhrán itself and Ringo's approach to the instrument below:
Traditional Instrument
Despite being a pioneer of modern bodhrán playing, in some ways Johnny's playing remains true to the older era of bodhrán playing. His choice of instrument for example may be surprising to some.
Modern bodhrans are typically smaller and deeper than their predecessors. These smaller drums produce a bassier tone and typically provide a wider tonal range.
A living contradiction however, Ringo remains true to the old school, wide, shallow bodhrans. The instruments he plays are typically large drums, 18 to 20 inches in diameter, that feature narrow frames with thick goatskin. 
These wide drums allow for a wide variety of tones to be achieved without the use of a hand on the skin. So, in combination with his signature Kerry style (Ringo plays with the signature bent wrist) they provide the perfect canvas for musical and tonal exploration.
See him in action below playing on TrHED bodhrán by German maker Christian Hedwitschak, alongside the brilliant Brian McGrath on banjo. You can hear him begin with his iconic rimshot!
It's interesting to note that even Hedwirschak himself has stated that the TrHED is a powerful, beast of an instrument that could be dangerous in the wrong hands:
It must be said very clearly that this drum is not for inexperienced players. In the wrong hands, it is a weapon and a session killer. In the right hands it is a fantastic instrument with a bourdon-like bass, crisp and dry attack, and an earthy, almost hypnotic overall sound! – Christian Hedwitschak
You can clearly hear however that Ringo, a true master of his instrument, is in full control at all times. Each beat and tone is carefully considered. You can see that he rarely takes his eyes off the banjo – he's perfectly following every note and is ready to catch the slightest variation or hiccup.
Follow in His Footsteps
If you're feeling inspired by this modern day legend, and want to try your hand at the Irish bodhrán, why not take a look at our Online Bodhran Store?
If you want a sound to rival Ringo's, check out the McNeela 18″ Tuneable Bodhran. This wide frame drum with shallow rim will help you replicate this legendary bodhran player's style in no time at all. Alternatively our 16″ Pinewood Performance Bodhran, with a smaller diameter and deeper rim is a highly responsive instrument with a wide tonal range, lush bass sound and traditional aesthetic.
Ringo usually plays with a bodhran beater of approximately 9.5 inches in length. These top quality beaters are a close match in both weight and length and would serve you well on your musical journey: Weighted Knot Beater, Ribbed Bulbous Beater, and Double Knot Beater.
[Image: Youtube]