If you plan on breaking into the Irish session scene and you don't know how to play The Kesh Jig, you might as well turn around and walk away. It's seen as a beginner's tune but it can be layered up or stripped back as much as you like.
The Bothy Band's memorable 1975 recording of this tune shows you just how much you can do with it. It can be sweetly played or played with rousing passion. It was a wildly popular session tune in the 1980s and then fell somewhat out of favour due to over-playing but there is no doubting that this tune is for many the spark that kindled their love affair with Irish music.
As it's learned relatively easily and sounds great on all instruments you've no excuse not to master this iconic jig. Lots of session players would also agree that it's a great tune with which to end a set, primarily because a set should end on a high-energy piece. Because every musician knows this ditty, high energy is practically guaranteed.
Have a Listen
Liam O'Connor and Paraic had a great time playing this in our studio in Baldoyle, take a look and see if you can play along.
The Kesh was first noted by George Petrie (1789-1866), and subsequently appeared titled as "Tear the Callies", in Vickers Stanford's publication in 1902, Petrie's Complete Irish Music 1,582 Traditional Melodies which appears to be the beginning, in print anyway, of the Kesh 'family'. "Tear the Callies" is almost identical to "The Spring Well" which first featured in O'Neill's Music of Ireland: 1850 Melodies, published in 1903, page 203, and in turn is very similar to the Kesh. No one can say which one came first though. What we do know is that the village of Kesh is in Co. Fermanagh and the Kesh is a Double Jig in the key of G Major.
What's a Double Jig?
A Double Jig is the most common type of jig played at Irish music sessions and is more often referred to as just a Jig. So if you're listening to a jig at a session, chances are it's a double jig. The Double Jig has three notes per beat, and every other beat is a downbeat. Repeating 'rashers and sausages' will give you a good idea of the rhythm. However don't get caught up too much in annotation, rather listen to how the tune is played and go from there.
Sheet Music for The Kesh Jig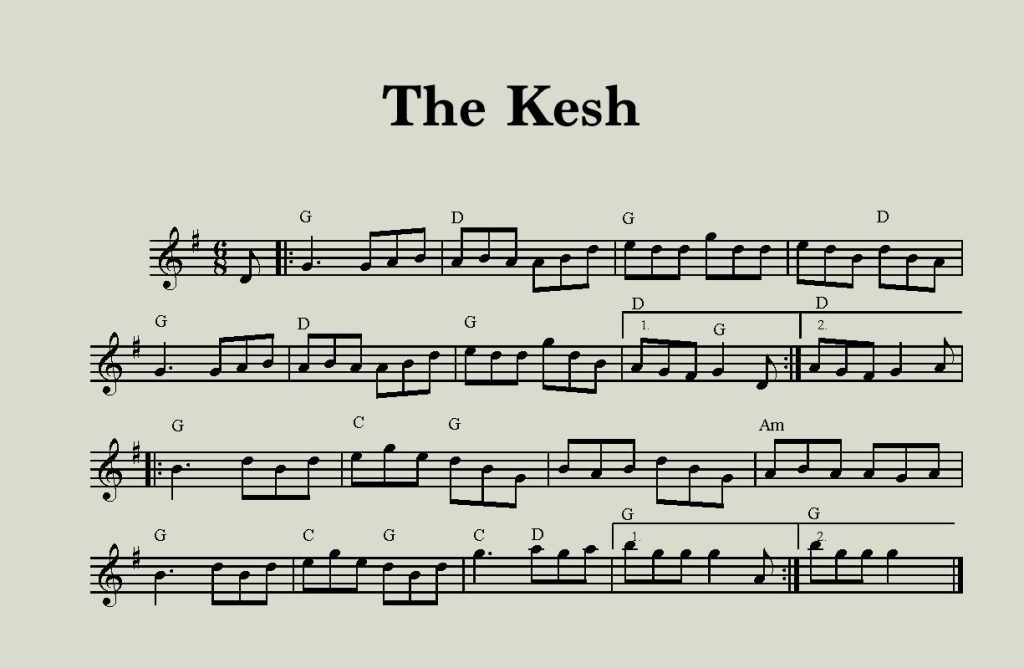 ABC NOTATION
T: The Kesh
R: Double Jig
M: 6/8
K: Gmaj
|: D | G3 GAB | ABA ABd | edd gdd | edB dBA |
G3 GAB | ABA ABd | edd gd B | AGF G2 D : |
|: A | B3 dBd | ege dBG | BAB dBG | ABA AGA |
B3 dBd | ege dBd | g3 fgf | agg g2 a | agg g2 : |
Browse our full selection of traditional Irish music instruments