In the third instalment of my Top Tips for Trad Musicians series, I want to address an issue I mentioned briefly in my previous article that affects a surprising number of musicians. Nerves. Or, more importantly, how to overcome them.
I've encountered many people over the years whose nerves have simply gotten the better of them whenever it came time to perform in public – skilled musicians whose technical abilities were up to scratch, but whose stage fright prevented them from achieving the performance standard they were capable of. Now obviously performance isn't for everyone, but it is a shame to see such potential hidden away, especially when it's due to an issue that can be overcome.
Luckily for those who do struggle with the dreaded stage fright, traditional Irish music is extremely community oriented. People come together to play in groups at Irish music sessions, with the main focus being on playing and sharing music for the sheer enjoyment and camaraderie of it all. That does not mean however that the opportunity for solo performance does not present itself.
The Fleadh Cheoil for example – Ireland's largest celebration of traditional Irish music – is after all a competition that takes place at county, provincial and national level, not just in Ireland but throughout the world. For those growing up through the ranks of the thousands of Comhaltas branches throughout Ireland, the UK and North America, competing at the Fleadh each year is an annual tradition that's part and parcel of learning to play traditional Irish music.
Competition aside, there are also countless other performance opportunities that present themselves to Irish musicians – from concert tours to pub gigs, paid session work and even in its most basic form, just starting off a tune at a local session.
So if the thought of playing solo in public (or even as part of a duet, trio or small ensemble) makes your skin crawl, then keep reading to discover what you can do to tackle those nerves head on, and show them who's boss.
 
The Symptoms of Stage Fright
If you're one of the lucky few who's never experience performance anxiety then let me fill you in on how these symptoms can manifest…
Essentially your body misinterprets your sense of fear as perception of a threat, triggering a sort of 'fight or flight' mode. This sudden surge of adrenaline can cause a host of physical symptoms including but not limited to:
Sweating (good luck holding on to your instrument with sweaty hands)
Palpitations (nigh on impossible to focus on playing music when it feels like you might have a heart attack at any moment)
Nausea
Shaking or trembling
Blurred vision
Rapid, shallow, laboured breathing
Dry mouth
Under these circumstances, naturally, your concentration levels plummet and it becomes almost impossible to focus on the task at hand. These physical symptoms can also place a huge toll on your mental health, completely dashing your confidence.
Obviously not everyone experiences all of these symptoms, but even one or more is enough to discourage a nervous musician. The good news is there are steps you can take to combat this affliction. Keep reading to find out more.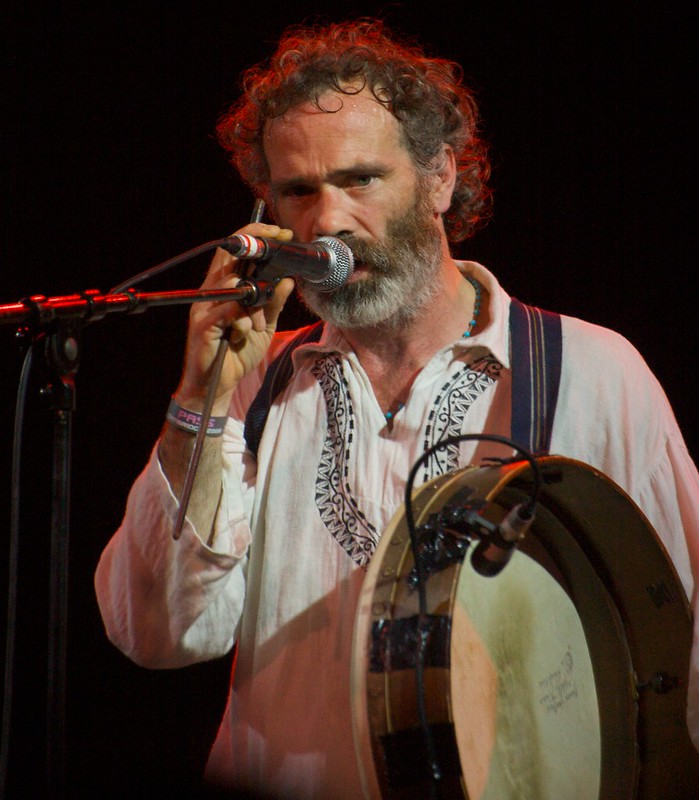 Steps to Combat Stage Fright
Here are some simple steps you can take to help combat the physical manifestations of stage fright:
1 – Breathing

It may seem obvious but the quickest and easiest way to calm your body and your mind is to take long, slow, deep breaths. Make sure to relax your body as you do. Close your eyes, inhale for 5 seconds through your nose, hold that breath for 5 seconds, and then exhale for 5 seconds through your mouth. This effective method will slow your heart rate, and soothe those nerves.
2 – Gentle Stretching
To help rid yourself of nerves you want to release any tension in your body and a simple way to do this is with some gentle stretching.
Shake out your hands, arms and legs. Roll your shoulders back. Roll your neck slowly and gently. Massage your neck and shoulders. Any slow, gentle movement that will help you feel good and warm up those muscles and joints will help release that built up tension. 
3 – Liquid Courage
If you struggle with nerves then make sure to avoid caffeine – that includes coffee and energy drinks. Some musicians swear by them, as they give them the boost they feel they need to get through a performance, but if you already experience performance anxiety then it's best to give them a miss. You don't want to be even more jittery than you already are. Try some calming camomile tea instead, not too hot. 
Now, this next point may be a little contentious and I will say that it depends entirely on your own relationship with (and reaction to) alcohol. I have found in the past however that a small glass of whiskey – and I do mean small – can help to calm those nerves. A hot whiskey in particular does wonders.
It's important to note however that there is a huge difference between having a few small calming sips of your drink of choice and knocking back a few pints before you start to play. The second option will do nothing for your nerves or your music making, I promise you that.
4 – Finding Your Motivation
Remind yourself why you play in the first place. Why do you want to perform for people? Does playing music make you feel a certain way? Do you want to share that experience with others?
Traditional Irish music is all about a shared love of our rich cultural heritage, so remember that any audience you find yourself playing for likely already shares your infatuation with this enchanting musical form and try to enjoy yourself.
5 – Focus on the Music
It may sound a little harsh, but it's not all about you at the end of the day. When we play we are vessels for the music that flow through us. It's a magical experience and you shouldn't let fear hold you back.
It's also important to remember that the audience too is focusing on the music, and not on you.
It may surprise you to learn how little any folk in the audience, even in a paid concert setting, are actually paying attention. They're most likely thinking about their day, perhaps even planning the grocery shopping for the week. There's a number of thoughts floating around in their heads that mean you are not their sole focus. 
You'll notice when you watch great musicians perform that they are frequently lost in the music themselves, with not a care in the world:
6 – Make Your Audience Laugh
The audience is 100% on your side. Remember, people are overwhelmingly good, and a musical audience will absolutely want you to succeed.
If you're in a setting where it's appropriate, a joke to break the ice will help an audience warm to you even more. If you can make them laugh, they will be rooting for you from start to finish. 
7 – Positive Thinking
Our brains are funny things – they're easily fooled. Tell yourself it will be fine, and it will.
Try not to overthink or hyper focus either. If you focus your thoughts on a section of a tune with tricky ornamentation, or a phrase that sometimes trips you up for example, you are setting yourself up for failure. Think instead of how happy you will feel once the performance is over. 
8 – Reward Yourself
Reward yourself with a small treat before and after you perform. This will trick your brain into releasing endorphins, helping you to relax. You'll also begin to associate the idea of performing with these positive emotions rather than the negative associations of stage fright. 
9 – Practice Does Not Make Perfect
Now some may disagree with me but I don't think there's such a thing as a perfect performance. Don't set yourself unattainable goals by striving for perfection when you perform. Remember, it should be about creating beautiful music that you love to play, and that an audience loves to hear. Nothing has to be perfect.
Once you come to terms with the fact that mistakes are only human, I think you'll be an awful lot happier with your own music making. Also, it's worth noting that even the greatest musicians in the world still make mistakes when performing live. 
In his recent memoir Bono recalls the opening night of the U2 PopMart tour in 1997: 'everyone turns up for our big opening night, and we can't quite play our new songs'. The band lost their timing on the song "Staring at the Sun", stopped playing partway through, and then had to start over. It can happen to the best of us!
Where To Go From Here?
While I wish I had a magical cure for nerves and stage fright, unfortunately overcoming these issues takes time and perseverance. I do highly recommend powering through however. Over the years I've witnessed shy, uncomfortable musicians transform into confident, happy performers who are at home in front of an audience. Change is possible!
And remember, one of the most appealing elements of traditional Irish music however is playing together with other musicians. You don't want to miss out on the best part of this wonderful musical tradition, so if you are someone who finds the idea of playing in public nerve-wracking, I promise you, working to overcome your fears will be time well spent. 
Feeling inspired? Why not browse our selection of traditional Irish musical instruments?
[Images by Clem Onojeghuo on Unsplash and Calum MacAulay on Unsplash]