The Best Beginner Tunes for All Irish Instruments
Published: November 5, 2020
Many of our customers are beginners picking up an instrument for the first time. It's wonderful to see! Naturally, those starting out on an instrument for the first time have many questions. I'm frequently asked for tips and pointers for new musicians, and I'm always happy to give them. 
One question I encounter time and again is, 'what are the best beginner tunes for traditional Irish musicians?' If you're attending lessons, naturally your teacher will be able to guide you and select the most appropriate tunes for your level of playing. If you're learning online however, or teaching yourself, you may need a little extra help. So where do you start?
You want something that's easy to play, but that will still offer a sense of achievement and satisfaction once you've mastered it. That's why I've put together this helpful list of recommendations of some of my favourite tunes. I've included some fantastic universal tunes that are easily played on any instrument. 
The more tunes you know, the sooner you can get yourself to an Irish music session where you can start to fully immerse yourself in the music and truly absorb this wonderful tradition! So what are you waiting for? Let's get started.
First Choice: A Universal Tune For All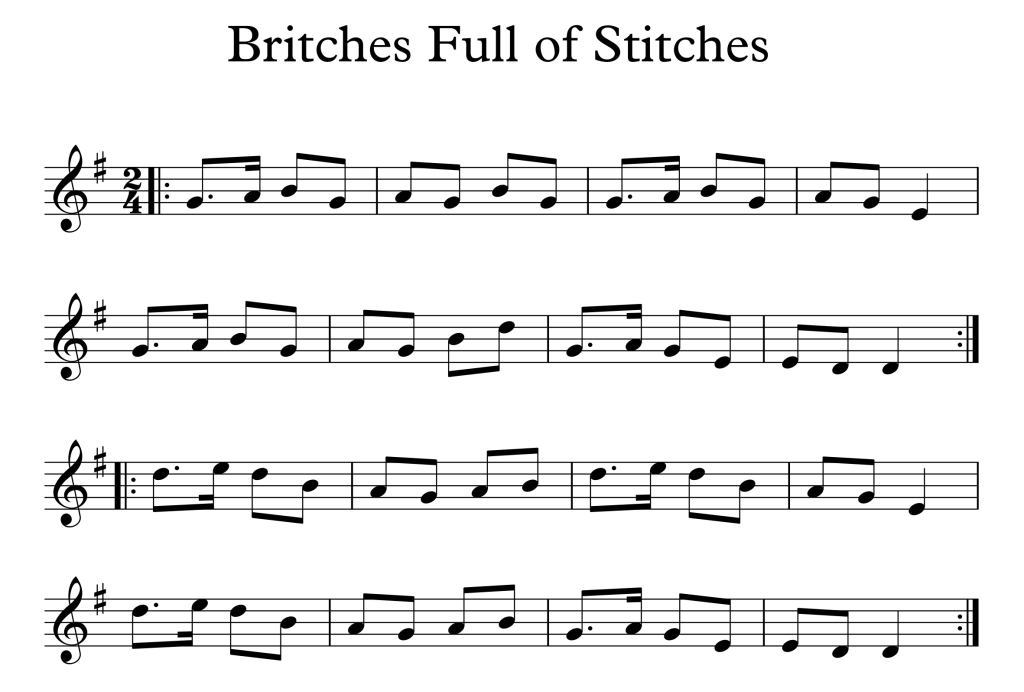 If I had to choose just one tune to crown as the ultimate beginner tune for any traditional Irish musician, I would have to pick The Britches Full of Stitches. 
The Britches is potentially the most popular beginner tune in the world of traditional Irish music. Due to its simple melody, it's an ideal tune for beginner players of any instrument. It has been many generations of musicians' first foray into the world of traditional Irish music.
The melody is easy to play on any instrument. For button accordion and concertina players, playing in the key of G will allow easier movement of the fingers, avoiding the tricky low F# on the concertina! It will also give much needed practice working the bellows. 
I find it works best for beginner banjo, fiddle, flute and whistle players in the key of A major however.
Some might be surprised to find me recommending the key of A major for flute and whistle players. For certain tunes, A is an easier key to navigate as it typically avoids the tricky low D. I recommend any beginner first learns the tune in A to avoid this and the slightly difficult cross fingering for high D. (If you're not raising your top B finger to play High D, you should be!)
Polkas are wonderfully accessible tunes for beginners. Don't worry about the breakneck speed they're usually played at in a session. Feel free to take them at your own pace for now. 
Have a listen to this version by the iconic fiddle player, Martin Hayes. Here he takes the polka at an unusually slow pace, exploring and embellishing the melody and really allowing this often overlooked tune to shine:


Runners Up – More Tunes Suitable for any Instrument
Dilín Ó Deamhas
Dilín Ó Deamhas (pronounced dil-een-oh-dowse, as in house) is a traditional Irish song with a simple melody and lovely lively lilt.  I would recommend listening to the song first, to get the rhythm and timing of the tune into your head.

While notated as a slip jig in 9/8 there's plenty of freedom in terms of phrasing. It can also be played in 12/8 throughout. Take your time. Play the tune as slowly as feels comfortable and feel free to pause at the end of a phrase for now. 
This is the joy of playing a song or an air – you can take some extra liberties that would normally be frowned upon with dance tunes! (Though not too many, or you'll get me into trouble.)
Note: The alternating high D to high E can be tricky on the flute and whistle at first, so this might be a tune for flute and whistle improvers, rather than beginners. It's well worth circling back to however at a later stage of your playing. 
Here's a version from Irish folk singer, John Spillane's, 'Irish Songs We Learned At School'. You'll note he's singing it in 12/8, so you can simply count along in 4.
Shoe The Donkey
Shoe the Donkey is a simple mazurka (a Polish folk dance) with accompanying dance steps which are great fun to dance at an Irish céilí, or even a session if there are any dancers present (and enough space in the pub).
The dance starts out a nice steady pace. Then the musicians will speed up as the dance progresses, until the dancers are flying around the floor struggling to keep up! It's all in good fun and the steps, like the accompanying melody, are simple, allowing even those with two left feet to take part. 
This tune will provide some much needed practice for the C natural cross fingering on flutes and whistles, and will give concertina players a workout as  you get used to locating and playing your low F# key!
Dawning Of The Day
The melody of The Dawning of the Day, or Fáinne Geal an Lae was originally written in the 17th century by harpist, Thomas Connellan. Today, it's one of the most popular traditional Irish airs. 
Most will recognise it as the melody of the iconic ballad, Raglan Road, written by Patrick Kavanagh and made famous by The Dubliners. 
This tune has a beautiful, sweet melody and can be played at a slow steady pace. Ideal for beginner players!
The melody is surprisingly beautiful for such a short and simple one. That being said, I couldn't resist sharing this recording by the late, Mícheál Ó Súilleabháin. Mícheál's masterful improvisation on and embellishment is stunningly beautiful – something for beginner musicians to aspire to:
Get Session Ready with a Selection of Polkas
These simple polkas are incredibly playable and perfect for beginner musicians. They're also incredibly popular session tunes, well worth knowing. Jack Ryan's Polka, Polka Gan Ainm and Terry Teehan's Polka.


Jack Ryan's Polka

Polka Gan Ainm
Now, please forgive me, as I'm cheating a little here. 'Gan ainm' is the Irish for 'untitled' and it's any traditional Irish musician's go-to when they've forgotten the name of a tune. I've learned many a 'Polka Gan Ainm' in my time. 
This second tune is a popular little ditty but the only reference I can find to it online refers to it as The Little Diamond Polka. It's not however, The Little Diamond. That particular tune features further on my list of ideal beginner tunes for Irish button accordion players.
I usually recommend that banjo, fiddle, flute  and whistle players try the above tune in A as it's a bit more finger friendly. This can be achieved by playing every note one step higher. This avoids the difficult low D on flute and whistle and allows fiddle and banjo players to make use of the open A string. 

Terry Teehan's Polka
Terry Teehan's, also known as The Newmarket Polka, is a tried and tested favourite for beginner musicians on any instrument. Again, I've provided the notation in two keys. 
The notation in G major, above, is ideal for accordion and concertina players. 
In fact, button accordion players can play this entire tune without having to compress the bellows once. You can achieve this by playing the E keys on the outer row, which are played by pulling the bellows, rather than those on the inner row.

Fiddle, flute and whistle players may prefer to try the tune in A at first (see notation below), as it's a little more user friendly. For fiddles the G major version makes use of the open D string, limiting the amount of finger work on the fingerboard. When playing in A major however, much of the action in the second part takes place on the open E string, which again, cuts down on finger work.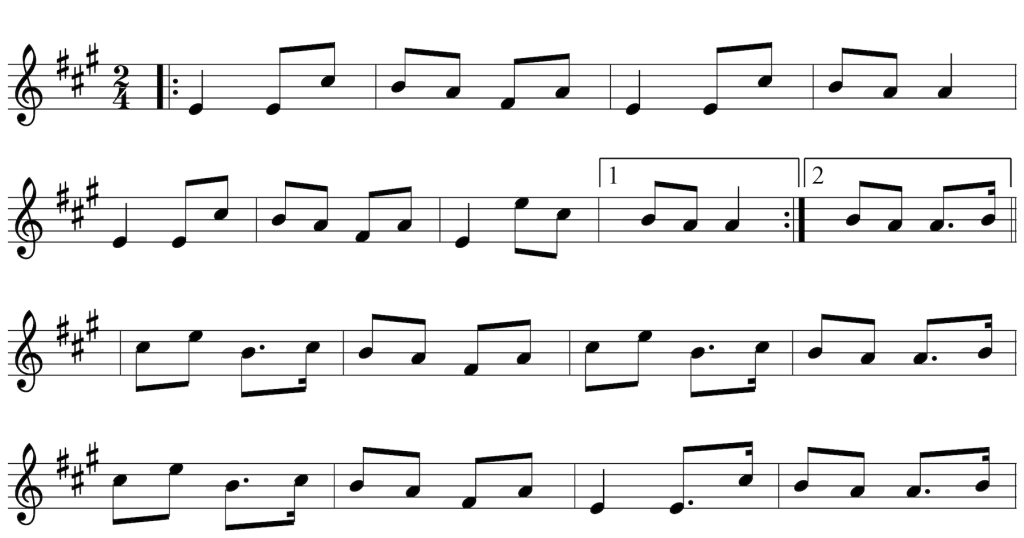 Banjo players have the best of both worlds really and can try the tune in whichever key you prefer!
What's The Best Tune For My Instrument?
Not all tunes are considered suitable for beginners across the board. Different instruments require different playing techniques. A beginner fiddle tune for example may not be suitable at all for a beginner concertina player, and vice versa.
If you struggle with any of the above tunes, don't worry. There might be a few elements that are tricky to play on your chosen instrument. 
To find out which traditional Irish tunes are best for your instrument of choice, check out my specialised guides for:
I guarantee you'll find a tune to inspire you. 
What Next?
If you've mastered every tune included in this post, fair play. You're well on your way to being session ready! 
The most important thing you can do now is listen to as much traditional Irish music as possible.
If you're itching to learn more tunes and expand your knowledge and repertoire however, I highly recommend the brilliant Foinn Seisiún 1.  
Foinn Seisiún is a series of tune books published by Comhaltas Ceoltoirí Éireann. The first book in the series, Foinn Seisiún 1 contains a fantastic collection of 116 of the best session tunes that any new musician needs to know. 
In addition to the book, there's also an accompanying traditional Irish music CD which features recordings of each of the tunes. 
With these tools in hand, you'll be a master of the tradition in no time at all!