Traditional Irish Music is a living, breathing tradition kept alive by thousands of people around the world, passed down from generation to generation. Like most living traditions it is continually evolving and growing, changing with time, being shaped by the young musicians at the fore.
Allow me to introduce to you (in no particular order) a collection of artists who are busy exploring vibrant musical landscapes, keen to take us on exciting new musical adventures.
After all, there's always room in the CD collection for more albums – or perhaps more fitting for today's digital age, more room on the playlist!
1. Kevin Meehan
Hailing from North Dublin, Kevin Meehan is one such aforementioned up and coming trailblazer on the Irish music scene. 
While there's no doubt he is following in the footsteps of the greats of the modern Irish whistle – Michael McGoldrick, Brian Finnegan and John McSherry – Kevin is also carving out his own unique style, and finding his own musical voice. 
Kevin studied music in the World Academy of Music in the University of Limerick and, despite still only being in his 20s, has toured extensively throughout Europe and the USA with bands Athrú and Tróda.
2020 saw the release of his debut solo album, Spanish Point which was met with widespread critical acclaim and has most definitely earned the McNeela seal of approval. Though, to call it a solo album would give the listener false expectations, and do nothing to warn them of the exciting musical journey that awaits them.
Featuring sixteen guest artists from Ireland, Scotland and New Zealand, Spanish Point weaves an intricate musical tapestry, exploring a myriad of textures and arrangement styles, with the whistle taking both a supportive and starring role throughout. Kevin's musical prowess shines through each mix however, demonstrating both his technical ability on the tin whistle, and his innate musicality.
Featuring an enjoyable mix of newly composed tunes and standard Irish and Scottish repertoire, Spanish Point is a wonderful demonstration of Kevin's skill as a composer. His tunes not only lend themselves well to his chosen instrument, but also sit comfortably and confidently alongside the compositions of long established musicians:
Something Old, Something New, Something Borrowed
As a traditional Irish musician it can be difficult to strike a balance between the old and new – between honouring what's gone before but challenging yourself to explore new sounds and styles.
While Kevin definitely leans towards the contemporary Irish sound that has emerged from the Irish trad scene in the last few generations (think Flook, John McSherry Band, Lúnasa, The Olllam) there are still glimmers of his traditional roots on this well balanced and well curated album.
Drawing inspiration from the vibrant Irish and Scottish music traditions, traditional style tune sets and solo performances sit along driving syncopated numbers accompanied by funky bass, synth and even brass, without feeling out of place. 
'Skillfully weaving traditional and contemporary sounds with technical brilliance, Kevin Meehan's music sparkles with pure joy.'
– Muireann Nic Amhlaoibh, Danú
I know I've already drawn the undeniable comparison between Kevin Meehan and the contemporary whistle players who have clearly inspired him, but it would do this young musician a disservice to label him as a 'young John McSherry'. It's clear that Kevin is intent on forging his own musical identity, and possesses the skill and drive to do so.
One to watch, and definitely one to listen to, Kevin Meehan most definitely has a bright future ahead of him:
2. John Francis Flynn
A stalwart of the Dublin trad scene for many years now, it's only in recent times that John Francis Flynn has branched out on his own. Since doing so, the flute-player-turned-balladeer has caused quite a stir, winning not one but two prestigious awards at the 2021 RTÉ Radio 1 Folk Awards – Best Folk Singer and Best Emerging Artist.
In addition to these well deserved accolades, John's debut album I Would Not Live Always was nominated for Best Folk Album, with the track My Son Tim nominated for Best Traditional Folk Track.  Quite a feat for a young man in the early days of his solo career!
John is a musician steeped in the rich folk heritage of Dublin city, with a deep respect for all that has come before him, including the greats of the tradition in whose footsteps he follows:
'The songs will always outlast you, that's the power of trad. The connection you have with the past and future, you are part of the journey those songs have come on and by singing those songs you're connecting with someone else's experience from the past… I think that's quite a powerful thing, the fact that it's all bigger than you.'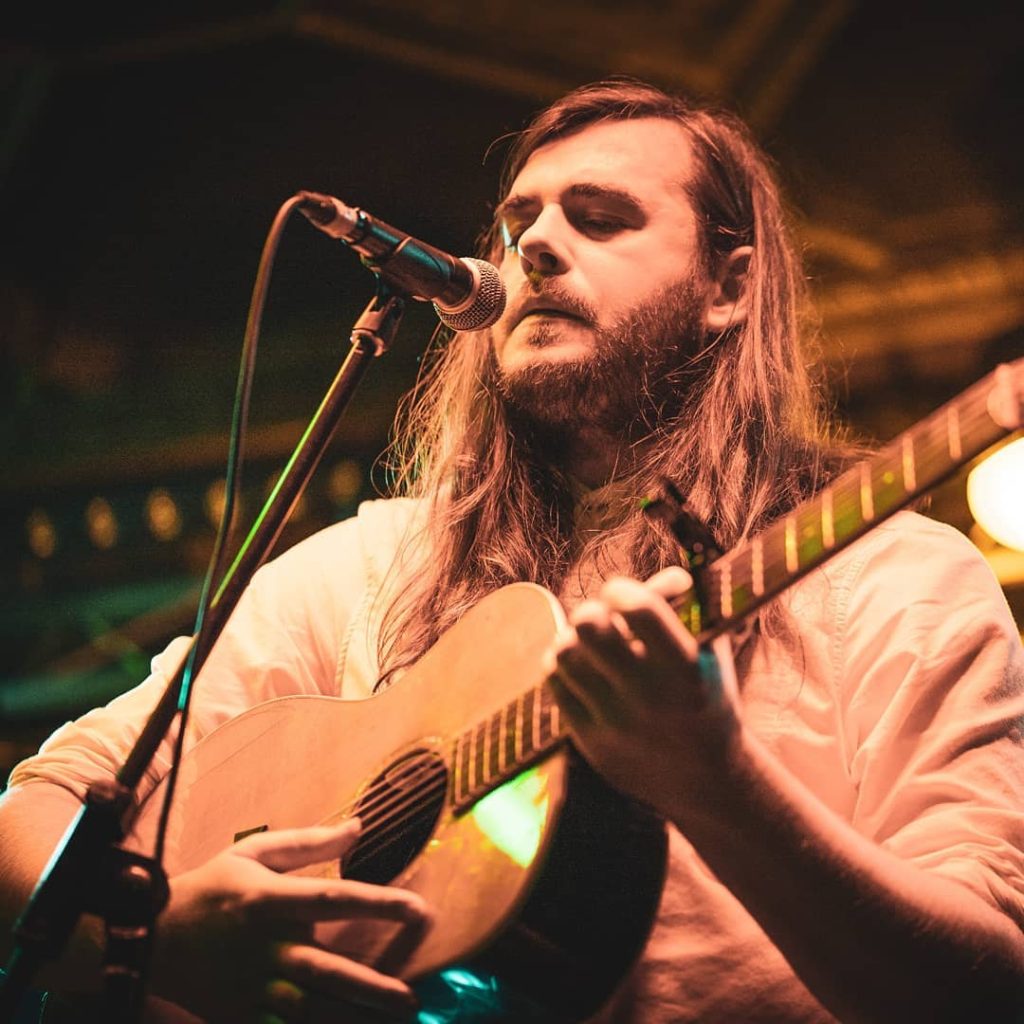 A New Irish Folk Voice
While there are obvious parallels to be drawn with the likes of The Dubliners in terms of the timbre and quality of John's voice, there's no denying that he brings something new and exciting to his unique interpretations of these iconic melodies and his musical arrangements.
These are not just bawdy renditions of Ireland's favourite ballads. John approaches each song with care, delivering tasteful nuanced performances that straddle the line somewhere between Irish trad, folk ballads and experimental electronica.
'Taking turns both tender and turbulent, I Would Not Live Always is bracing, unpredictable and without a doubt one of the most deeply affecting folk debuts of recent years.' – David Weir, Folk Radio UK
Having recently toured with the brilliant Lankum, John's own popularity is sure to soar:
3. Moxie
Originally formed by the Kelly brothers from Sligo alongside fellow up and coming musicians Darren Roche and Cillian Doheny, Moxie first emerged as an exciting new voice on the Irish trad music scene in 2011 – pushing the boundaries of traditional Irish music, yes, but still playing in what could be described as a vaguely traditional style.
The band released their debut album Planted in 2014, before Josh Sampson joined the band as a drummer – one of the first steps towards a big change in the group's sound. 
Moxie has since undergone a sort of metamorphosis, emerging in recent years with a new musical sound that would best be described as alternative folk. This new musical style has furthermore been augmented by the addition of a sixth band member – vocalist Julia Spanu.
The band members themselves describe their sound as 'alt-folk, with a vision to go beyond traditional roots' saying that their music is 'a reflection of the times we live in today'. While the bands roots are in Irish trad music, Julia's pop oriented writing style has definitely expanded Moxie's musical horizons, helping to craft a unique sound.

Cultural & Musical Fusion
Moxie's second album and latest release, The Dawn of Motion, marks a distinct move away from tunes towards songs, and an exciting fusion of musical styles and cultures. 
Their first single from the album, Is Ainm Dom (Irish for 'is my name') heralds this change.
In this exciting musical offering, Julia – who is French, but was born in Tunisia – explores her relationship with her adoptive country, Ireland, blending Irish and Arabic lyrics to create a cultural and musical fusion.
'Fused with Moxie's traditional signature sound, the song is a celebration of contemporary songwriting and past heritage. Funky electric guitars and clever instrumentation allows the sound of accordions to soar above colourful electronic modulations, paired with Spanu's spirited vocals and intrepid lyrics.' – Hotpress Magazine
If it's accordions and banjos you're after, fear not. The band's traditional Irish roots peak through from track to track, though the overall flavour is distinctly pop and rock infused.
Moxie is a band for bold adventurers, who will bravely follow them on their wild journey, and definitely one to watch. Listen to how Julia weaves the Arabic and Irish languages in this stunner:
4. Séamus & Caoimhe Uí Fhlatharta
Séamus and Caoimhe Uí Fhlatharta are a brother and sister duo from the Connemara Gaeltacht on the west coast of Ireland. The siblings have been deeply immersed in traditional Irish music, song and dance from birth.
It's no surprise so that the pair have grown into incredibly accomplished instrumentalists, singers and dancers. However it's their exquisite sean nós singing that's currently capturing the hearts of listeners everywhere.
Traditional sean nós singing (sean nós literally translates as 'old style') is typically sung by one solitary unaccompanied solo singer.
Séamus and Caoimhe however, as you can hear in the video below, join together as a soulful duet. The siblings have received widespread acclaim for their unique interpretations of well known sean nós standards. Their subtle musical arrangements offer stunning harmonies that create an understated yet powerful and highly emotive vocal performance.
The Irish language is at the heart of all of Séamus and Caoimhe's musical endeavours and their grá (love) for its rich heritage is evident in every performance:
5. Alannah Thornburgh
Alannah Thornburgh is an Irish harp player from Co. Mayo. She began playing music at the age of five, learning the tin whistle and fiddle under the guidance of her father. At age eight she began studying classical piano, finally turning to the Irish harp at the age of eleven. Since then Alannah has become an established performer in the Irish trad music scene, with numerous All Ireland titles under her belt.
Today Alannah is an established musician with a deserved reputation as a skilled performer and composer. Her talent has not gone unrecognised. In 2021 she was nominated for 'Best Emerging Artist' and 'Best Instrumentalist' at the RTÉ Folk Awards.
Alannah's music explores her family's musical heritage, reimagining airs and tunes from the Irish harping tradition alongside music from the Appalachian folk traditions. Her original compositions are based on this juxtaposition of familiar melodies with contemporary harmonies and technique, creating an innovative style of her own.
'Unforced, fluid and utterly at home in her own sound.' – Irish Times
Finding a Voice
In 2021 Alannah released her debut solo single The Front – an homage to the late composer and fellow Mayo native, Conor Walsh.
Arranged by Alannah for the Irish lever harp, the work is one of Conor's own, written in his signature minimalist style:
'Conor and I shared similar musical styles, both heavily informed by the rural landscapes and rich heritage the west of Ireland has to offer. He was a profound influence on my musical development and his words of advice and encouragement still resonate with me today.'
Alannah's second single, Branjo, sits closer to her traditional Irish roots. This contemporary reel is reminiscent of the musical stylings of Bill Whelan (of Riverdance fame).
In Alannah's own words: 'I wanted to create… unresolved sound, an audible tension that reflected the headspace I was in at the time of writing.'
Alfí
In addition to embarking on her new solo career, Alannah is also a founding member of the band Alfí alongside fellow musicians Fiachra Meek and Ryan McAuley. 
Featuring an unusual line up of harp, five string banjo and uilleann pipes/whistle, the trio fuse Irish and Appalachian folk music and song to produce a truly unique sound. Sharing Alannah's success, the band also proudly boast a number of awards including a nomination for Best Emerging Artist at the 2019 RTÉ Folk Awards.
The trio released their debut EP Wolves in the Woods in 2019 – a whimsical folk fairytale, with elements of old time, Appalachian folk and of course, traditional Irish music, shining through:
Alannah is currently working on recording her debut solo album, and I for one can't wait to hear it!
6. The Bonny Men
Having been on the scene since 2011, some may argue that The Bonny Men no longer count as up and coming, but I think it would be foolish to dismiss this bright young ensemble so early in their career. We definitely haven't seen all they have to offer just yet. 
If you haven't heard of The Bonny Men until now… well, this is your chance to catch up. 
The Bonny Men are comprised of two sets of siblings, Natalie and Maitiú Ó Casaide, Barry and Conor Lyons along with Turlough Chambers, Moss Landman and Adam Whelan – each masters of their instruments with a number of titles among them including multiple All-Ireland Champions, World Bodhrán Champion, and a recipient of the prestigious TG4 Young Musician of the Year.
Irish Trad with an Edge
Since their formation, The Bonny Men have rapidly become one of the most exciting acts to emerge in the Irish trad music scene.
Their third and most recent album, The Broken Pledge, offers traditional Irish music with an edge, delivering a new and vibrant sound that still echoes the band's iconic powerful sound.
'The Bonny Men generate a powerful sound that encapsulates the very soul of traditional music. Singing a mixture of original and contemporary folk songs, laden with creative harmonies, and playing sets of tunes bursting with explosive energy, their music always delivers.' – The Bonny Men
The Bonny Men are acclaimed for their clever and intriguing musical arrangements that are most definitely never shy or lacking in personality. This exciting group is only on the way up, so keep your eyes and ears peeled:
7. Éadaoin Ní Mhacaín
Hailing from Balla Co. Mayo, Éadaoin Ní Mhacaín is a multi-award-winning multi instrumentalist who has toured all over the globe. In addition to numerous All Ireland titles, Éadaoin also holds a first class Master's degree in Traditional Irish Music from the University of Limerick.
In 2014 Éadaoin became the first Irish harpist to win the Trophée des Harpes Camac at Festival Interceltique de Lorient, France which attracts upwards of one million visitors each summer.
A gifted harp player, Éadoin is probably best known as the founder of her eponymously named band EADAOIN, in which she played fiddle alongside BBC Radio 2 Musician of The Year, Mohsen Amini on concertina, BBC Radio Scotland Young Traditional Musician of the Year 2019, Benedict Morris on fiddle and Cormac Crummey on guitar. What a line up!
Have a listen to this multitalented group in action:
Taking Flight
In recent years – in addition to touring the world with the hugely successful Irish Dance show, Velocity – Éadaoin has embarked on an exciting new solo career. Another confident young woman striking out on her own, to spread her wings and explore her own musical stylings. You love to see it!
I don't know what's in store yet for this Irish trad virtuoso, but she is definitely one to keep your eye on:
8. Ultan O'Brien & Eoghan Ó Ceannabháin
Eoghan Ó Ceannabháin is a sean-nós singer, flute and concertina player from Dublin, who grew up in an Irish speaking family of singers and musicians, originally from Connemara in the west of Ireland. You might recognise him from the lineup of the inimitable Jiggy.
Ultan O'Brien is a composer, Irish fiddle and viola player originally from Co. Clare, but now also based in Dublin after studying music in DIT Conservatory of Music. 
Longtime collaborators, this pair have crossed musical paths many times before – including as co-founders of the popular Irish trad group Skipper's Alley. Their most recent partnership sees a departure from their previous musical stylings.
This dynamic duo released their debut album, Solas an Lae, in 2020 to rave reviews and widespread critical acclaim. In fact, the recording won the prestigious Best Folk Album at the 2021 RTÉ Radio 1 Folk Awards. (Are you sensing a theme yet?).
Solas an Lae is a spellbinding exploration of the relationship between the Irish fiddle and voice. Newly composed ballads sit comfortably alongside traditional sean nós songs, and are interspersed with lively tune sets and even some traditional Irish lilting:
Contemporary Irish Trad
While the term 'contemporary sean nós' may be an utter contradiction, it's the most accurate one I can think of to describe the soundscape of Solas an Lae. The sound in places is most definitely what most people would refer to as experimental, but Eoghan's unaffected vocals, accompanied by Ultan's unique fiddle and viola playing, resonate deeply, carrying the listener on a compelling journey.
'The human voice and the fiddle are often thought of as musical cousins. Solas an Lae is an exploration of that relationship — an effort to bounce songs and strings off one another to see what might emerge.'  – Eoghan & Ultan
Eoghan has been a key figure in leading the recent campaign to Save The Cobblestone and his staunch political activism is reflected in the choice of songs. The dissonance and tension of the musical arrangements reflect the often bleak subject matter of the lyrics: 
'The importance of the tradition is to recognise that it is not a static beast but one that keeps moving, branching, embracing—and singing about the issues that matter, great and small.' – David Weir, Folk Radio UK
True to its name however, Solas an Lae – which translates as 'The Light of Day' – offers lighter moments amongst the depth of the duo's raw, gritty sound. Ultan O'Brien and Eoghan Ó Ceannabháin are two young musicians who are confident in their musical voice, and unafraid of sharing it with the world. I for one look forward to seeing what else they have to say.
9. Ye Vagabonds
Ye Vagabonds are another sibling duo of Brían and Diarmuid Mac Gloinn. The brothers grew up in rural Carlow as part of an Irish speaking musical family with strong connections to the northwest of the country. Their mother is originally from Arranmore – a Gaeltacht island off the coast of Donegal – and she passed her love of not only her native area, but also her language, on to her sons:
'You get a real sense of belonging and of having an Irish heritage… Our mother grew up speaking Irish – our family goes back so many generations there. Our grandfather actually wrote a book in which he collected the recollections of his mother. So there is a strong sense of belonging.'
The pair moved to Dublin in 2012, developing quite a name for themselves in the Irish trad and Dublin folk scenes. In 2019 they swept the boards at the RTÉ Radio 1 Folk Awards and continued their success in 2021, taking home the coveted Best Folk Group and Best Traditional Folk Track.
Awards aren't everything as we know. While it's wonderful to see the skill and hard work of these musicians celebrated, even without all of these awards under their belts Ye Vagabonds are a folk duo that would be well worth listening to. Their signature blend of harmonic folk music is influenced by traditional Irish and European music, American old time, and the music of the 1960s folk revival, and sits at the fore of the new wave of Irish folk currently taking the world by storm.
Connecting with Rural Irish Communities 
Most recently the brothers completed their 'All Boats Rise' canal boat tour – a novel idea which took them on a journey in a slow barge along the inland waterways of Ireland.
For over a month they toured the Irish waterways, giving small, informal performances along the way. The were accompanied by filmmaker Myles O'Reilly, who documented the experience. You can get a brief glimpse into their journey in the video below:
It's evident in all they do, particularly through their music videos, that Ye Vagabonds share a deep connection not only with the rich musical heritage of Ireland, but with its landscape – its waterways and islands – and the communities that are shaped by it.
They bring to mind the seanchaí (minstrels) of old – roving the land, sharing stories and music with those they meet, celebrating all that they encounter along the way and developing symbiotic relationships with the communities they encounter.
Long may their roving continue: