Irish music has gained such popularity worldwide that you can now find superb Irish music being played as far afield as China, Japan, Brazil, Australia, all throughout Europe, and of course, the USA. 
At home here in Ireland there's no shortage of sessions to choose from, but how, and more importantly, where, do you find them? 
Well, first things first…
Beware the Tourist Trap
If you're visiting Ireland for the first time it's important to know that the quality and authenticity of the music found in many Irish pubs can vary wildly.
There's a big difference between Irish pub music and an authentic Irish trad session for example.
Many venues – particularly those based in Temple Bar in Dublin (though Killarney in Co. Kerry is another place to be wary) – are designed as tourist traps, offering "Irish music" with a side of glitz and glam.
You'll find everything from Riverdance-style shows filled with stylised dancing and costumes, to one man and his guitar belting out Ed Sheeran's Galway Girl. Neither option is ideal for any Irish music enthusiast seeking the real deal. 
How to Identify an Authentic Irish Music Session
A true traditional Irish music session – that's open for others to join in with – will usually feature a group of musicians huddled in the corner of a pub. Irish music sessions are typically lacking in what we Irish refer to as 'notions'. The more casual the better.
If you see a stage or microphones, it doesn't mean the music won't be enjoyable to listen to, but it's definitely not an open session for other musicians to participate in. So if you're looking to flex your own musical muscles, this won't be the spot for you.
Now it's not a hard and fast rule, but microphones and stages can sometimes be a warning sign that what you're about to listen to may not be viewed as authentic or traditional. You can defer to your own judgment here. If you hear strains of Danny Boy, run away.
Some pubs however hire in the very best musicians they can find to keep their punters entertained. So if you find yourself in one of the spots listed below, the presence of a microphone is purely to help you better hear the music. 
Each of the locations below has the McNeela Seal of Approval and will help you in your search for that truly authentic Irish music experience.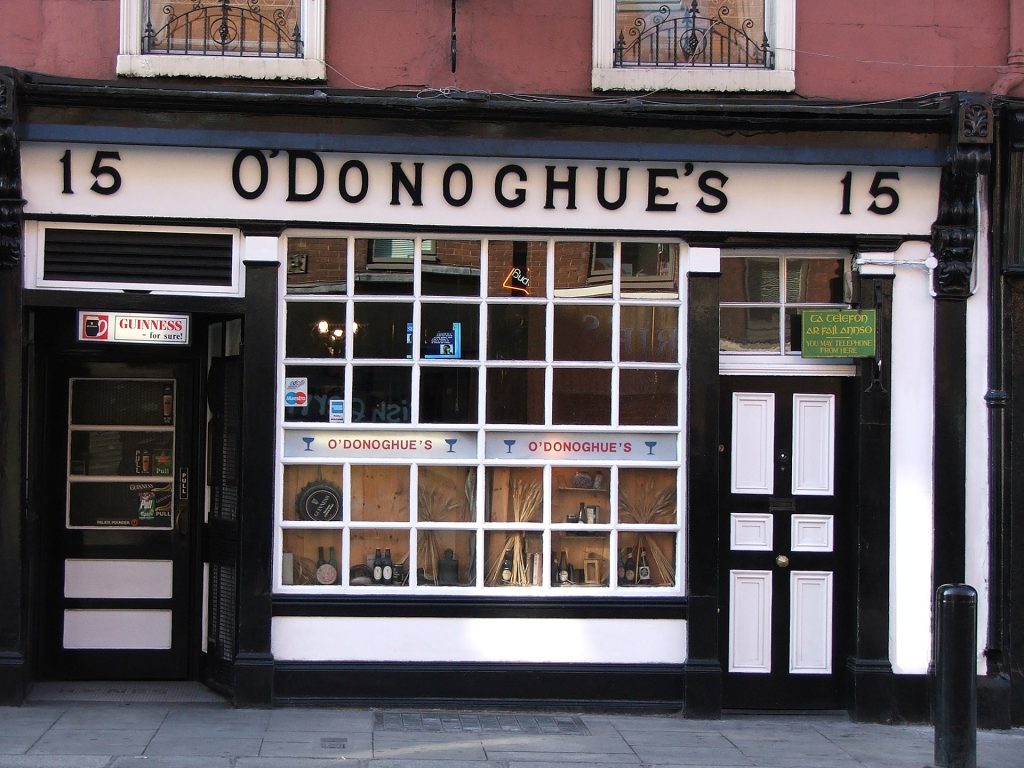 O'Donoghues Pub, Merrion Row, Dublin
The Best Places in Dublin to find Irish Music
There are some safe havens in Dublin's city centre that are guaranteed to provide true Irish music. These beloved spots below will rarely steer you wrong: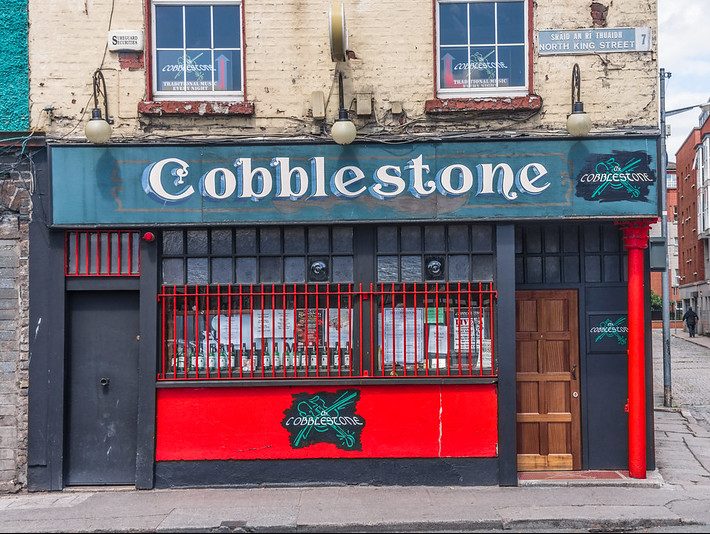 The Cobblestone Pub, Dublin
The Cobblestone Pub
Run by the Mulligan family for many generations now, The Cobblestone Pub in Smithfield has become synonymous with the best of traditional Irish music, song and dance.
This iconic Dublin pub is most often found bursting at its seams, full to the brim with the best of Ireland's musicians. I've spent many a great night there – pints and tunes flowing.
A word of warning for the uninitiated. The Cobblestone attracts the very best of the Irish trad scene in Dublin. These are experienced musicians who are there to play tunes at an expert level. If you want to join in, make sure your own playing is up to scratch!
It's also worth mentioning the small size of the pub. It can be tough to find a seat once a session has kicked off – but don't let that put you off. The atmosphere in the pub is always friendly and welcoming – The Mulligan family are a lovely bunch. 
So whether you're a Dublin local or visiting from out of town, The Cobblestone should definitely be on your list of session haunts. 
Piper's Corner
Piper's Corner, located on Marlborough Street in Dublin city centre, is co-owned by Irish uilleann piper Seán Potts so it should come as no surprised that it's home to some wonderfully authentic traditional music. 
A relative newcomer to the trad scene in Dublin, this cosy pub hosts nightly sessions featuring some of Ireland's most talented Irish traditional musicians. 
As its name implies, Piper's Corner is a trad-friendly pub. Not only that, but it's one of the few venues in Dublin city where Irish is spoken. Many of the staff members are fluent, so if you'd like to practice your cúpla focal, this is the place for you:
O'Donoghues of Baggot Street
Be warned that there are two O'Donoghues pubs in Dublin City – one on Suffolk Street, and the other on Merrion Row, Baggot Street. It's the latter that comes with the McNeela seal of approval.
A favourite of Christy Moore and the Dubliners back in the day, O'Donoghues boasts an illustrious musical history. Séamus Ennis, Joe Heaney, The Fureys, Phil Lynnot and many more great Dublin musicians have all played here, and today it's still home to some great Irish music sessions, seven nights a week. 
O'Donoghues draws a diverse crowd – serious trad musicians, tourists, office workers in suits finishing work for the evening, folk balladeers, locals – but everyone mingles happily, finding their own place in this cosy but busy pub.
The whole place is adorned with drawings and photos of some of the iconic musicians who have added to its unique musical heritage. So if you get tired of the tunes you can always take a break for a quick game of 'Guess Who'.
O'Donoghues bears such legendary status in the world of traditional Irish music that the great Andy Irvine himself penned a song about his fondness for the establishment, reminiscing about the good old days:
Conradh na Gaeilge
The headquarters of Conradh na Gaeilge on Harcourt Street have long been home to some of Dublin's best Irish music sessions. 
Club Conradh is an Irish language speaking pub that hosts everything from trad sessions, to sean nós singing circles, and formal concerts.
It's an ideal location for those who are fluent in Irish, and for those who just want to try out their cúpla focal.
Be warned however, it's an incredibly popular spot with the local university trad societies. While that brings some mighty musicians and even better tunes, nights can get a little wild! It's worth checking out what's scheduled for the night before heading in: www.anclub.ie
Walsh's Stoneybatter
Located just around the corner from The Cobblestone, Walsh's in Stoneybatter is another top spot for a few tunes.
Singer-songwriter Lisa O'Neill and folk duo Ye Vagabonds are the pub's resident musicians. They perform every Sunday and Monday, respectively and are frequently joined by a host of Dublin's finest musicians.
Walsh's is the perfect spot to sit back with a few cosy pints to enjoy a nice informal session. 
The Ferryman
The iconic Ferryman Pub in Dublin city centre has been delighting customers with music for many years now. Owned by musician Tom O'Brien – a member of the legendary O'Brien family – it's no surprise that the music that flows through his veins also flows through the pub.
In the '90s, The Ferryman was one of the few pubs in Dublin city offering quality trad music and developed a reputation for its top quality sessions, frequented by some of Dublin's finest musicians. You could often find Tom pulling pints behind the bar or pulling up a stool to play a few tunes on the fiddle.
Today it still offers great music for those who want to play or listen. Here's the venerable uilleann piper Mick O'Brien and fiddle virtuoso Aoife Ní Bhriain (Tom's brother and niece respectively) playing a few tunes in this iconic pub:
The Palace Bar
The Palace Bar is one of the few spots in Temple Bar that I would recommend for tunes. So many of the other venues located there fall prey to the 'tourist trap' label, but The Palace frequently houses authentic, informal trad sessions. It's on most Dublin musicians' radar as a decent spot for a tune and a pint, so it's unlikely to disappoint.
Established in 1823 The Palace Bar has a longstanding relationship with the arts scene in Dublin. From the 1930s to the 1950s it garnered a reputation as a literary pub, becoming a haven for some of Ireland's greatest writers including Brendan Behan, Patrick Kavanagh, Flann O'Brien and Samuel Beckett, to name but a few.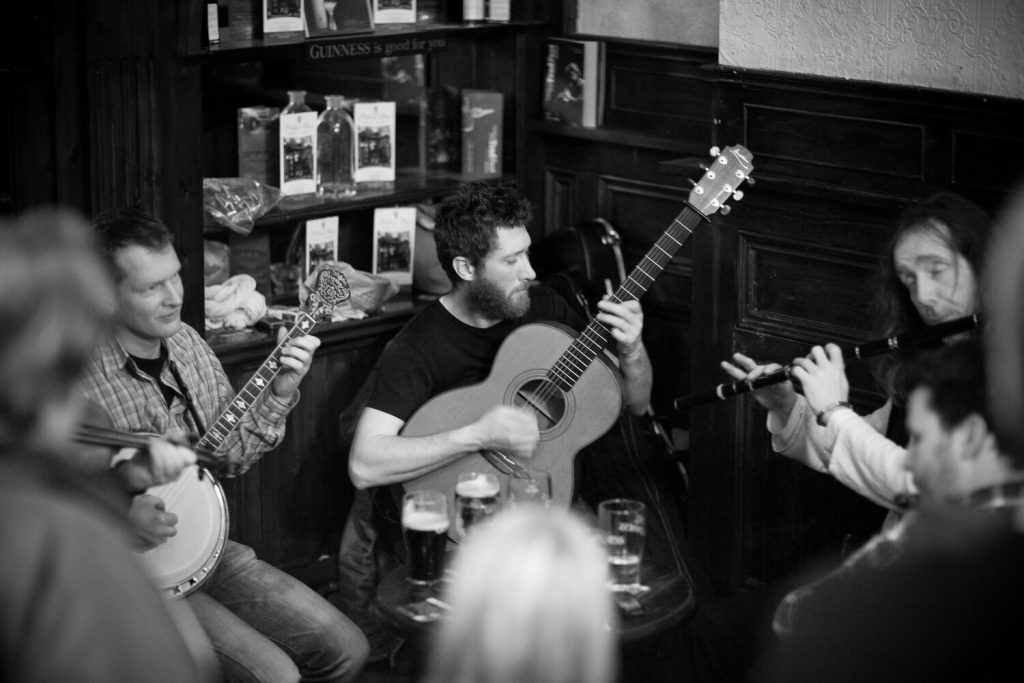 The Palace Bar, Dublin
Dublin's Honourable Mentions:
We really are spoiled for choice here in the capital city. I could sit here writing about my favourite pubs and sessions all day, and still not have a full comprehensive list – there are almost too many to mention.
There are however a few more iconic locations that it would be remiss of me to exclude, including some a little further outside the city.
These old reliables are firm advocates of real Irish music and guarantee an authentic Irish music experience:
Irish Music Festivals

Fleadh Cheoil na hÉireann
Organised by Comhaltas Ceoltóirí Éireann, Fleadh Cheoil na hÉireann is the world's largest annual celebration of traditional Irish music, song and dance. This week long festival features Irish music competitions, concerts, workshops, informal sessions and much more.
The best of the best gather at the fleadh to compete, to teach, to learn and to play tunes galore. There's music played on every street corner in every available venue from morning 'til night. So if you're looking for the most authentic Irish music experience, this is it!
The All Ireland Fleadh draws huge crowds, attracting roughly half a million people each year. This year it's heading to Mullingar, Co. Westmeath from 31st July to 7th August.
Accommodation gets snapped up in record time, so if you want to head along I recommend making your plans now. 
There's no other experience in the world quite like attending a fleadh. I highly recommend experiencing it for yourself.
Willie Clancy Summer School – Miltown Malbay, Co. Clare
Similar to the fleadh (but without the competitions) the Willie Clancy Summer School has been drawing Irish music enthusiasts in their droves to Miltown Malbay, Co. Clare for fifty years now. 
The Willie Clancy Summer School was first established to commemorate the great uilleann piper, Willie Clancy and it's continued to evolve over the years, becoming a sort of music Mecca for Irish musicians from both Ireland and abroad.
Each year the summer school features a brilliant line up of teachers, offering workshops for all traditional Irish instruments. As you can imagine, there are plenty of sessions for keen musicians to attend, alongside recitals, lectures, céilís and more.
Music comes from every direction in Miltown Malbay and this immersive musical experience is not one to be missed. 
If ever there was a year to attend the Willie Clancy festival, this is it. It's the 50th anniversary so there's quite a lot to celebrate. I'll be there this year as usual so I might catch you for a tune!
Joe Mooney Summer School – Drumshanbo, Co. Leitrim
Every July Drumshanbo plays host to the award winning Joe Mooney Summer School – a week long festival of traditional Irish music, song and dance.
Named after the late great Joe Mooney who did so much to promote his beloved hometown, the festival endeavours to promote and preserve Leitrim's rich heritage of traditional music.
Musicians come from far and wide for a wonderful laid back week of music making. Drumshanbo is a magical spot, especially when it's enveloped by music each summer. 
The Best Irish Music Pubs Throughout Ireland
Dublin's not the only place you'll find some brilliant Irish music of course. Our tiny island is packed full of thousands of venues where tunes and pints are flowing.
I'd love to name them all, but I could be writing for years. So instead, here are a few spots that come highly recommended.
Matt Molloy's – Westport, Co. Mayo
If you find yourself out West searching for a few tunes, you won't find a better spot than Matt Molloy's. Owned by the legendary Irish flute player Matt Molloy himself, this lively spot is host to music every night of the week.
Molloy's Pub draws visitors from far and wide who come to enjoy the finest Irish music played by some of the greatest musicians in the country. Even US President Joe Biden hasn't been able to resists its charms. You can't really beat the Biden seal of approval.
A regular haunt of many venerable musicians, Molloy's is bursting at the seams with music. So if you're a fan of Matt's flute playing (and who isn't?) then I highly recommend a trip to see the maestro himself in action, alongside whichever pals have joined him for the night:
Cryans Teach Cheoil – Carrick On Shannon, Co. Leitrim
Music is so deeply engrained in Cryan's that it's practically part of the very foundations themselves.
So if you're ever in Carrick on Shannon some fine evening, simply listen out for the flowing tunes and follow your ears to one of Ireland's greatest musical pubs.
The atmosphere in Cryan's is always friendly and welcoming. There's never been a bad night had there. The craic, and the tunes, are mighty:
De Barra's Folk Club – Clonakilty, Co. Cork
'There's Carnegie Hall, The Royal Albert, Sydney Opera House and then there's De Barra's.' — Christy Moore
Located in the beautiful seaside town of Clonakilty, along the Wild Atlantic Way in West Cork, DeBarra's Folk Club has been a home for live music for more than 40 years now.
It's earned a reputation not just throughout Ireland, but worldwide, as an independent and grassroots Irish music venue.
The pub itself is cosy and welcoming – as all the best pubs should be. The walls are decorated with a multitude of instruments – uillean pipes, fiddles, flutes – serving as a reminder to visitors that yes, you have arrived in an authentic traditional Irish music venue.
De Barra's host everything from open sessions, to intimate gigs and big name headline performances in their purpose built auditorium. There's something for everyone!
Mac Diarmada's – Doolin, Co. Clare
You'll have to forgive me for not mentioning every brilliant Irish music pub, venue or arts centre in the county Clare, but it's quite a mammoth task.
There's definitely something in the water in Co. Clare because generations upon generations of traditional Irish musicians have originated from its many townlands and localities, developing a thriving music scene that's probably deserving of its own blog post.
Alas, there are only so many hours in the day, so if any of our many wonderful Clare musicians are reading, please feel free to mention your favourite spots in the comments.
A firm favourite I had to mention however is Mac Diarmada's or McDermott's in Doolin on the Wild Atlantic Way. Now, any pub in Doolin will serve you well and deliver a side of mighty tunes, but there's something special about McDermott's. 
This family owned pub has been in the McDermott family for four generations. With music every night of the week from some of Co. Clare's best musicians, it's well worth a visit. I guarantee you're in for a treat!
Tí Chairbre – Drogheda, Co. Louth
Tí Chairbre, or Carberry's Pub in Drogheda Co. Louth is a great spot for a session. Owned by the same family since 1880 Tí Chairbre is about as authentic as it gets.
There are no notions here, just good old fashioned tunes!
Everyone is welcome at the open sessions on Tuesdays, where any musician can just turn up and play, but Tí Chairbre tends to attract a high calibre of musician. So whether you want to play along or just sit back and listen, it's bound to be an enjoyable hew hours.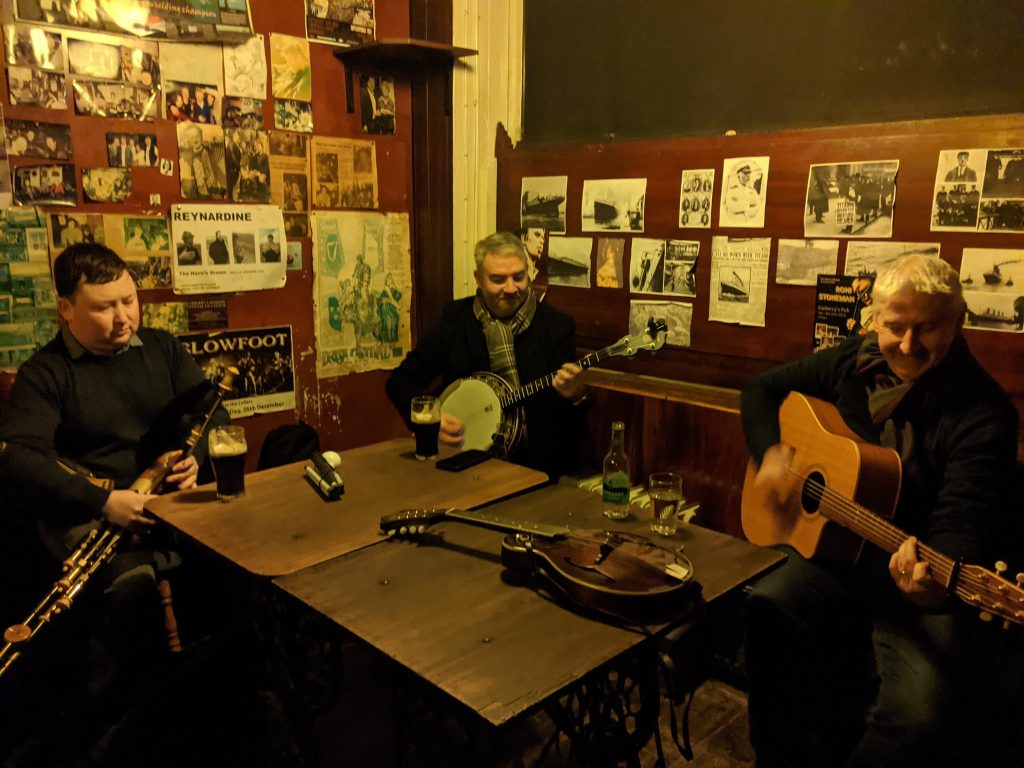 The Crane Bar – Galway
Galway is a city that's known for its vibrant arts scene but there's one pub that stands out when it comes to traditional Irish music.
The Crane Bar on Sea Road is one of Galway's best known traditional music pubs and one of the few remaining pubs hosting authentic sessions. It's a popular haunt for local and visiting musicians alike with live traditional Irish music played nightly.
The sessions at The Crane are all about the music and not at all about ego or pretension – you should find them incredibly welcoming. Another great thing about this venue is that, should the mood strike you, there's plenty of room to dance and it's not unusual for people to take to the floor for some good old fashioned Irish set or céilí dancing. 
Of course, like most venues, they do still host more formal performances, bringing in some of Ireland's best musicians. In the video below you can enjoy a performance in The Crane Bar by We Banjo 3, recorded for TG4's popular Irish music show, Geantraí:
Honourable Mentions:
A few more spots around the country where the tunes and pints flow in equal measure, that come highly recommended:
Shoot The Crows – Sligo
Bofey Quinns – Corofin, Co. Clare
An Spailpín Fánach – Cork
The Corner House – Cork
Connollys of Leap – Leap, Co. Cork
Levi's Corner House – Ballydehob, Co. Cork
Leo's Tavern – Crolly, Co, Donegal
Slieve Bloom Bar – Kinnity, Co. Offally
Jim o' The Mills – Thurles, Co. Tipperary
Gunnings – Mullingar, Co. Westmeath
The Chambers – Mullingar, Co. Westmeath
Irish Music Cultural Centres
Irish music isn't just found in pubs. There are a number of cultural centres throughout Ireland where Irish music sessions can be found on any night of the week.
Comhaltas Ceoltoirí Éireann is Ireland's national organisation responsible for the promotion and preservation of traditional Irish music, song and dance. It runs a number of regional cultural centres throughout the country where live music is available to musicians of all ages and abilities:
There are also countless other Irish arts organisations who host Irish music sessions including (but definitely not limited to) Áras Chrónáin and The Séamus Ennis Centre.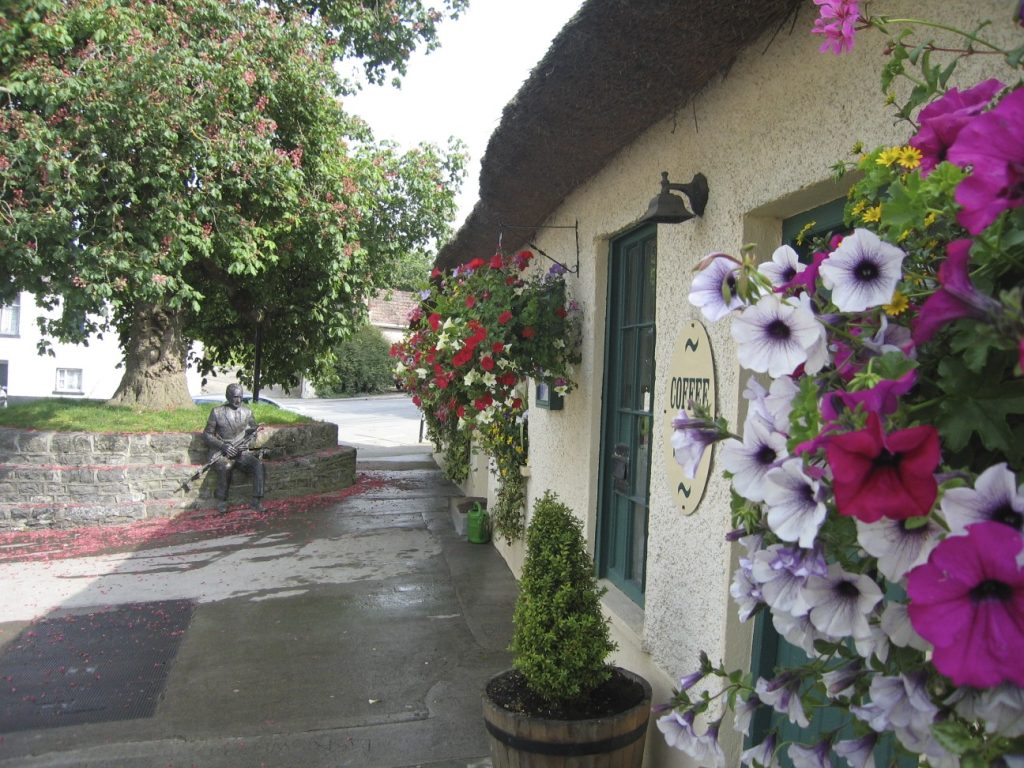 The Séamus Ennis Centre, Naul, North County Dublin
Local Comhaltas Branches
There are hundreds of branches of Comhaltas operating throughout Ireland and most branches run a number of activities including traditional Irish music sessions.
These groups are run on a voluntary basis and are incredibly welcoming to musicians of any experience level. So if you're looking for a few tunes with your local Irish music group, I highly recommend contacting your local Comhaltas branch. I promise they will embrace you with open arms. 
You can find your local Comhaltas branch via the Comhaltas website.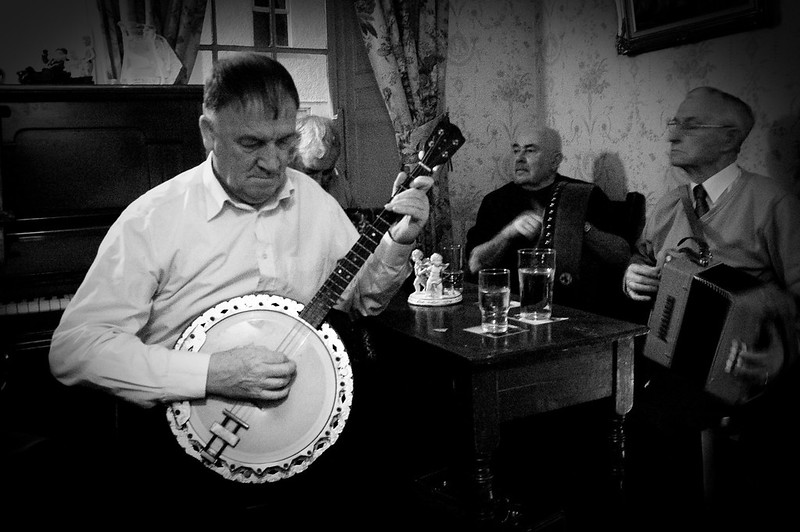 'In the parlour at McCollum's' – Photo by Gerald Moore
Where to Next?
So there you have it folks, a (brief) roundup of McNeela's favourite Irish music venues and sessions throughout Ireland. If I've missed your favourite venue make sure to let me know in the comments below. 
If you've never been to a session before make sure to read my Guide to Irish Session Etiquette – The Irish Trad Session Explained.
If you're a seasoned pro then what are you waiting for? There are tunes to be had! Off you go to make some music and enjoy the greatest gift the world has ever given us – traditional Irish music. 
[Images: Featured image by by Clem Onojeghuo on Unsplash]