If you're looking for the best bodhran for traditional Irish music then look no further. Check out this handy list below featuring a quick and easy guide to these iconic Irish frame drums.
1. Shallow Rim Non Tunable Bodhran
This style of bodhran is perfect for beginners, especially young musicians. If you're just starting out and want to master the basics before moving on to more advanced playing techniques and a more advanced instrument then a shallow rim, non-tunable bodhran is just for you.
At this early stage you don't need a tunable bodhran, and a shallow rim is particularly helpful for young players with shorter arms and less reach, allowing for greater movement and a more comfortable playing experience.
The McNeela 14″ Non-Tunable Bodhran and McNeela 16″ Non-Tunable Bodhran are perfect starter instruments for beginners of any age.
A 14″ diameter bodhran is ideal for young musicians, while a 16″ drum will offer more than enough scope for an adult beginner, producing a traditional sound that will have you well on your way to becoming a seasoned Irish bodhran player.
2. Deep Rim Non Tunable Bodhran
Again, this style of bodhrán is perfect for a beginner who doesn't want to worry about tuning while still trying to figure out how to hold and play your new drum.
A deeper rim will produce a deeper bass tone, allowing you to explore different bass sounds on your bodhran. A 16″ diameter drum is suitable for most beginners.
Bodhran Rim Depth Explained
It's easy. The deeper the bodhran rim, the greater the resonance of the instrument. Deep rim bodhrans produce a deep bass tone, giving that iconic boomy bass sound that has become popular in recent years.
Some players, especially young or petite musicians experience issues with very deep rimmed bodhrans however. If the player's arm is too short, holding the bodhran and manoeuvring the hand inside can become awkward. This is why many bodhrans feature a cutaway in the frame. This leaves a space for the player's arm, leading to a more comfortable playing experience.
For young players, or those with shorter arms, we recommend a shallow rim bodhran. They still produce a great depth of tone, but you'll be more comfortable while you play.
To learn more about bodhran size, diameter and rim depth check out my expert guide: McNeela's Expert Guide to Buying A Bodhrán
The McNeela 16″ Deep Rim Non Tunable Bodhran is an ideal starter instrument for beginners of any age.
3. Shallow Rim Tuneable Bodhran
A tuning system will help you take your playing to the next level, offering improved sound quality and making it easier to care for your drum head's goatskin.
Why Do You Need a Tuneable Bodhran?
Being able to tune your bodhran is a basic need for any serious player. Bodhrans are highly sensitive to the weather – particularly humidity and changes in temperature. Overly dry conditions can cause the skin to tighten, raising its tone. Damp weather conditions on the other hand can cause the skin to soften and loosen, lowering the pitch.
Tuneable bodhráns feature a tuning system that allows you to adjust the sound of your instrument whenever you need to by adjusting the tension of the skin. This handy tuning tool will really help to bring your bodhrán playing to the next level, ensuring a quality sound each time you play.
The McNeela 16″ Tuneable Bodhran is a great starter instrument for those looking to progress to a drum with a tuning system. This intermediate bodhran features a 6 point tuning system that uses an Allen key to turn the tuning pegs. (Don't worry, it's included with your purchase.)
Remember, you don't need to worry too much about mastering the tuning system or finding the perfect tone when you're just starting out. That will come with practice and experience. As you get used to your bodhran you'll learn how you like it to sound.
4. Deep Rim Tuneable Bodhran
As I've already mentioned, a deep rim bodhran will produce a greater tonal range than a shallow rim bodhran, allowing you to explore an exciting range of bass tones.
The lush bass sound of a deep rim bodhran, combined with the control of a quality tuning system will offer you a playing experience like no other. For those who wish to truly master the Irish frame drum, I highly recommend investing in this style of bodhran.
The McNeela Classic Performance Bodhrán, is a quality accessible instrument to explore this next level of music making. Best of all, it's available as either a 14″ drum or 16″ drum in a range of colours, styles and tonewoods.
Whichever size you choose, it's important that your new frame drum feels comfortable to play.
14″ vs 16″ – What's the Difference? Drum Diameter Explained
The smaller the frame drum, the more flexible the drum head. This means a 16″ drum will be more responsive to your hand pressure than an 18″ model, and as a result will offer greater tonal variation, giving you a greater variety of sounds to work with.
Despite their small size, 14 inch bodhrans offer a superb tonal range and are highly versatile drums. A 14″ diameter combined with a 6″ rim for example will give you a rich booming bass that you wouldn't expect from a bodhran of its size. These are great all-rounder drums that can cater for both traveling professional musicians and younger bodhran players.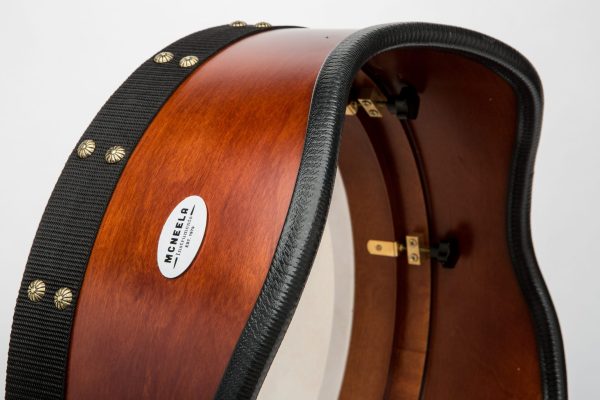 5. Cutout Bodhrans
Many bodhrans, particularly those with deep rims, feature a cutout in the rim to allow for ease of movement. This creates a superior playing experience, offering greater comfort which in turn allows the player to play for a longer period of time without experiencing fatigue.
McNeela Instruments has taken the idea of the cutout one step further however. Introducing The Wave Bodhrán.
McNeela's Wave Bodhrán
With its unique undulating rim, The Wave allows the player to utilise every last inch of the drum head, fully exploring the properties of the goatskin and the astonishing tonal range it offers.
The drum features an extra deep rim, but thanks to the wave cutouts it doesn't interfere with ease of play. This extra depth, coupled with the undulating rim, helps to produce a truly lush bass sound, with superb resonance and a characteristic tonal quality completely unique to the Wave.
What musicians are saying about The Wave:
'I recently purchased a McNeela Wave bodhán with double Lambeg head. This bodhán is beyond extraordinary. I've had the opportunity to use it in a recording studio and in performance. Its voice is marvelous. Responsive beyond all expectation. The double Lambeg head Wave bodhrán is capable of producing warm, creamy sounds in the low and mid registers and also delivers a great pop at the high end. For those of us players who use melodic tones in our music, this drum is a dream come true. The McNeela Wave bodhán with double Lambeg head is one of the most versatile and expressive drums I have ever played or owned.' – Bill T
Thanks to the 8 point hand tuning system, you are fully in control of your sound. Best of all, for a truly personalised musical experience, The Wave comes with a choice of skin – Lambeg or Vellum goatskin – and the option of adding an additional skin to create a distinct sound.
McNeela's Signature Bodhrán
While less dramatic than The Wave, McNeela's Signature Bodhran is another worthy investment that will elevate your playing and transform you into a master percussionist.
Like The Wave it offers a choice of Lambeg or Vellum skin for a superior sound and playing experience:
The Importance of the Bodhran Skin
Regardless of which bodhran you choose, it's important that it comes with a high quality skin.
Lambeg vs Vellum Goat Skin
Hand produced in Northern Ireland for the famous Lambeg drums, Lambeg skins were first adapted for use on the bodhrán by the legendary maker, Seamus O'Kane. These skins produce a strong clear tone, with an exceptionally resonant high end. Lambeg skin is the perfect choice for bodhrán players who favour a more melodic style of playing. They do however also offer a rich, resonant bass and plenty of volume – making them perfect for session playing.
Vellum is the art of producing paper from skin – many ancient Irish manuscripts, including the famous Book of Kells, are written on Vellum. Vellum skins offer a warm mid range while producing deep, dark, rich bass notes. They also allow for excellent sustain. Vellum skin is typically quieter and slightly more subtle than Lambeg skin.
Whether Lambeg or Vellum, each skin that we use here in McNeela is hand-selected for quality, responsiveness and sustain. This is a natural sustainable product and each skin will be unique to your bodhrán, waiting for you to explore its characteristic sound.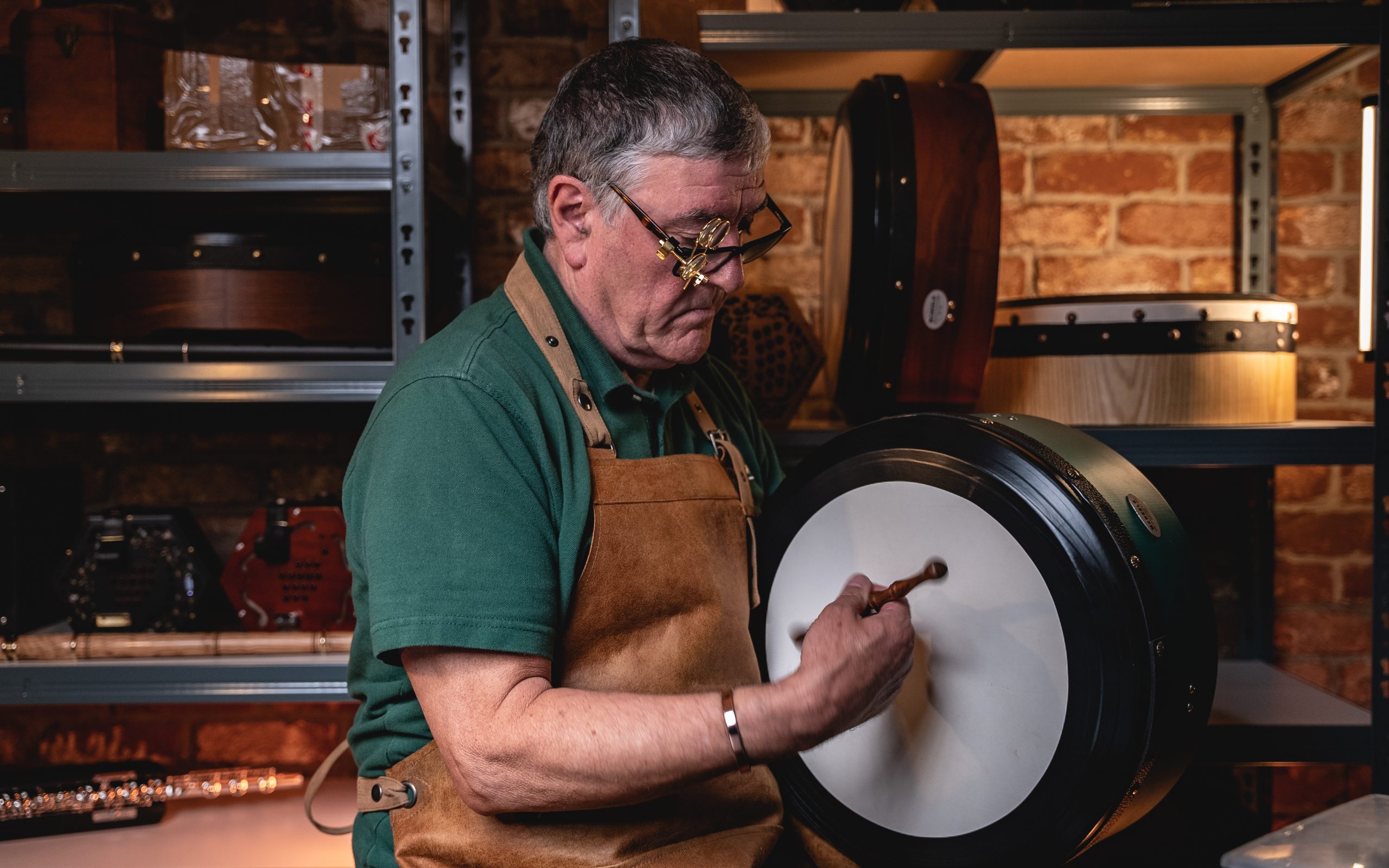 Paraic McNeela: The Bodhrán Maker
Paraic McNeela began making bodhrans in 1979. He's been honing his craft ever since, constantly improving the sound and playability of his musical instruments. Today his bodhrans are played by musicians all over the world from beginners to professional musicians.
Check out the McNeela Instruments full range of bodhran drums and percussion instruments, alongside their extensive range of Irish musical instruments in the McNeela Music Store.