What Type of Musical Instrument is a Bodhrán?
The Bodhrán is a circular frame drum most commonly found in Irish traditional music. It gained significant popularity during the great folk music revival of the 1960s and has continued to evolve ever since.
Today a complex, modern playing style has emerged which fully explores the musical scope of this versatile Irish drum.
What's the Meaning of the Word Bodhrán?
While the etymology of the word is often disputed, the word bodhrán originates from the Irish word 'bodhar' which means deaf. This word exists in similar forms in many Celtic languages, not just the Irish language.
Historically, bodhar has several different meanings and has been also been known to refer to a particular tone or sound (known in music as 'timbre').
How Do I Pronounce Bodhrán?
The most important thing to know is that the D is silent.
The first syllable is pronounced bow – just like wow. The second syllable is pronounced rawn like yawn.
Put it all together and you get bow-rawn. Easy!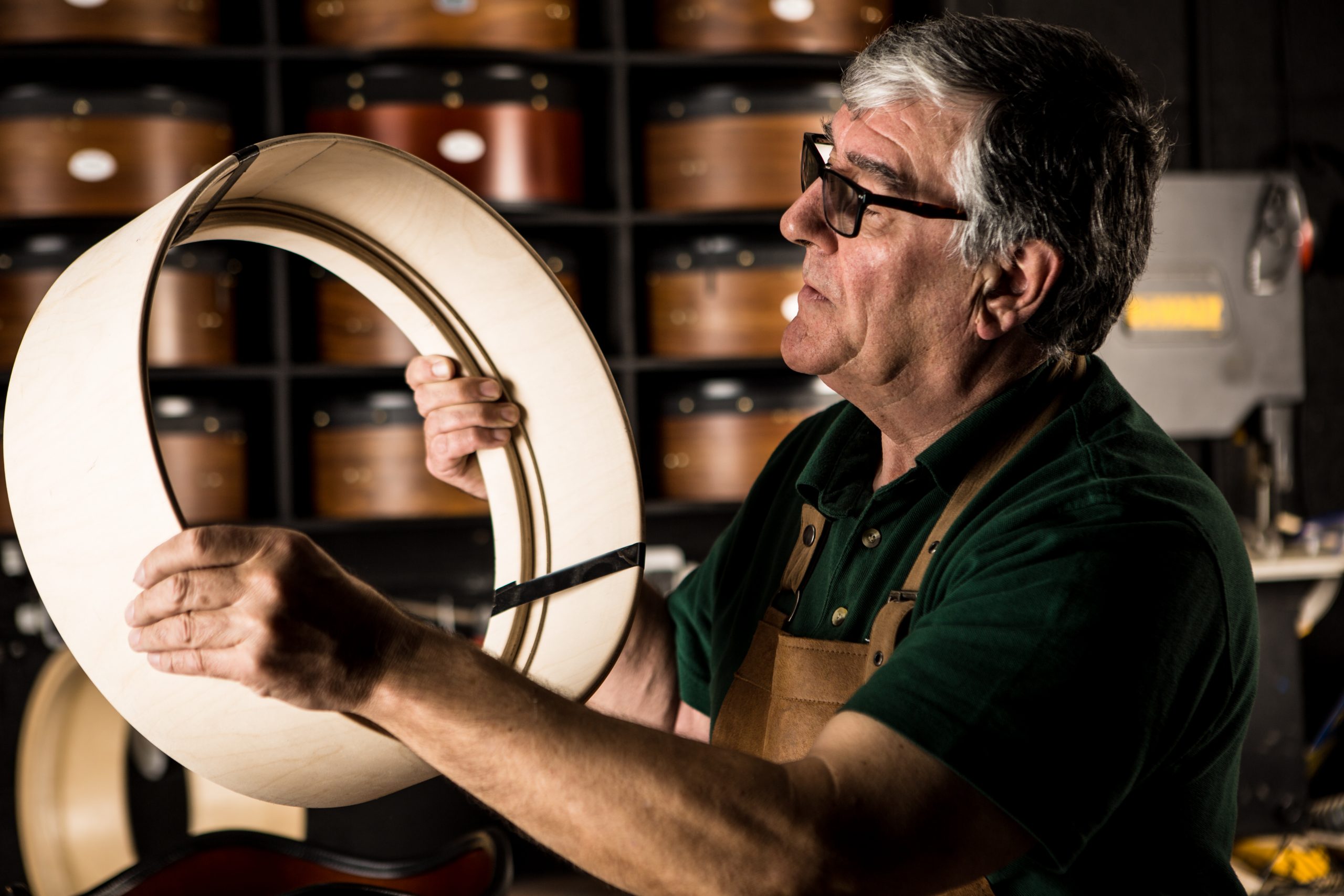 What is a Bodhrán Made Of?
Traditionally a bodhran drum is made of a cured goat skin, stretched across a circular wooden frame. The skin is then tacked or glued into place.
In the early 20th century homemade frame drums were constructed using willow branches as frames, with leather drum heads and pennies as cymbals. (These no longer exist on the modern bodhrán…)
Today's bodhran drums are more sophisticated musical instruments, carefully constructed using the finest tonewoods and featuring inbuilt tuning systems to control the quality of sound.
Learn more about the bodhrán construction process here: The Art of Bodhrán Making

The History of the Irish Drum
The history of the bodhrán is far more disputed than that of any other Irish musical instrument. In fact, it's rare you'll find two people – whether they be musicologists, historians, instrument makers or percussionists – who will agree on the subject.
There are several theories however…
The Origin of the Bodhrán
It's tough to uncover an accurate history of this iconic Irish drum. Frame drums have existed in many cultures across the world since approximately 3000BC if not earlier.
Many believe the bodhrán may have originated in the farming sector as a winnowing tool, or that it was used for wool dying. Others claim it to be an ancient shamanic drum – the native drum of the Celts – predating christianity.
Musician Ronan Nolan (former editor of Irish Music Magazine) claims that the bodhrán evolved in the mid 19th century as a sort of 'poor man's tambourine', without the cymbals, played with the fingers rather than a tipper or beater. There's no denying the similarity between the two instruments.
It's important to note that, regardless of its origin, the bodhrán was not commonly played in traditional Irish music until the 1960s. The modern bodhrán playing style that exists today is a very recent development indeed.
'If you just go back a small bit, the bodhrán was played one day a year. All the old lads I talked to around 1970/71 told me "you take out the bodhrán any day of the year other than 26 December and you're mad. It's like wearing shamrock on the first of June.'
– Mícheál Ó Súilleabháin, 1996 Crossroads Conference
The Mummers Irish Frame Drum
In Ireland December 26th is known as Lá an Dreoilín or The Day of The Wren – the celebration of an Irish mumming tradition.
For at least 400 years Irish mummers or Wren Boys have dressed in straw outfits while going house-to-house entertaining residents with their music, song and dance. This custom almost died out in the the mid-1900s, but has thankfully seen a surge in interest and popularity in recent years. The bodhrán however has always played an important role in this ritual.
Like many customs in Ireland, Lá an Dreoilín most likely began as a pagan festival with Celtic origins. For druids in Ireland prior to Christianity the wren was a sacred bird.
The Christian tale behind this unusual celebration tells us that St. Stephen himself, while hiding from his enemies, was betrayed by a warbling wren, and so, to pay for his ancestor's misdeeds, the poor little Irish wren was hunted each year.
Thankfully, in modern times it is seen instead as a day of celebration. Watch the video below to learn a little more about modern Irish mumming:
The Role of The Bodhrán in Irish Music
Today the bodhrán is often described as the 'heartbeat of Irish music' but this has not always been the case. The bodhran's rapid shift in popularity is largely owed to renowned Irish musician and composer Seán Ó Riada.
In the early 1960s Ó Riada added this overlooked (and often vilified) percussion instrument to the lineup of his iconic ensemble, Ceoltóirí Chualann. The rest as they say is history.
Ó Riada elevated the status of not just this lowly Irish drum but of traditional Irish music itself. By fusing elements of classical and Irish music together, and exploring the use of harmony in exciting new arrangements, Ceoltóirí Chualann took audiences by storm, wowing them with both their live performances and recordings.
No longer was Irish folk something to be found only at sessions in kitchens or pubs – it had become a genre worthy of theatres and concert halls. The humble bodhran drum shared in this prestige.
Modern Irish Bodhrán Playing Styles
While Ó Riada originally re-introduced the instrument, it was Irish percussionist extraordinaire Peadar Mercier who took this Irish drum to new heights, using the cipín or beater that is popular today rather than playing in the old style with his hand.
Once its popularity took off there was no stopping it. In the hands of Peadar Mercier (followed by his son Mel Mercier), Tommy Hayes, Johny Ringo McDonagh, John Joe Kelly and countless others, the bodhrán reached exciting new heights, pushing the boundaries of traditional Irish percussion.
To learn more about some of these influential bodhrán players and to discover their signature styles and the impact they've made on the world of Irish traditional music, check out my blog post: 5 Bodhrán Players You Should Know
Wherever or however it started, there's no denying this iconic Irish drum has come a long way.