Welcome to the second instalment of my brand new "Meet the Maker" series where we learn about the talented craftspeople behind the instruments we know and love. Today we're looking at the work of the iconic Irish bodhran maker, Seamus O'Kane.
Any Irish musician worth their salt knows the name Seamus O'Kane – and with good reason. Seamus is one of the most influential bodhran makers to have ever graced the world of traditional Irish music.
Irish Bodhran Maker Seamus O'Kane
'He's a big name in the bodhran world and for damn good reason. His drums are sound, refined and have a history that few other makers and models can equalize.' – Shallibodhran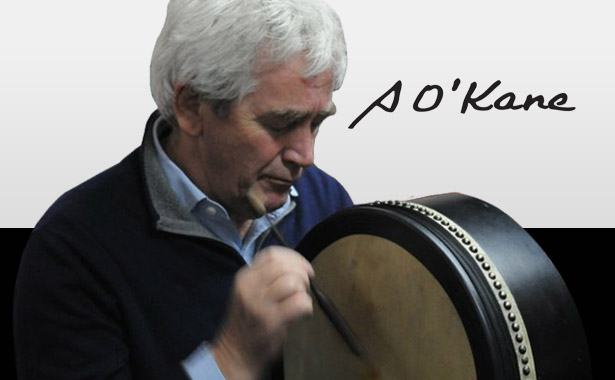 Seamus O'Kane is the father of the modern Irish bodhran. The most popular bodhran styles on the market today exist because of the far reaching influence of O'Kane's instruments.
A native of Derry in Northern Ireland, Seamus had a keen interest in music from a young age. His love for percussion was inspired by a gift of a musical instrument from his father:
'My father once went to Dublin and brought us all back a present. I was 6 years of age and my present was a wee tin drum with 2 sticks. That was a bad mistake for my father to make. I got to play it for one full day and then it was disappeared, when my parents got me to bed, never to be seen again…' – Seamus O'Kane
Seamus also developed a passion for construction, building his own makeshift drum kit at the age of 12 using a variety of tin drums and a square of hammered corrugated iron for cymbals.
Love at First Sight
In the late 1960s while on teaching practice during his final year of college, Seamus heard a bodhran being played for the first time on a music record, and thus began his life long love affair with this iconic Irish frame drum.
Seamus set out to build his very own bodhran, working solely from a description of the instrument given to him by a friend. It was rough, but this attempt was the first step on Seamus' journey as a bodhrán maker.
It was the legendary Peadar Mercier of The Chieftains however who further encouraged Seamus, teaching him his own bodhran construction method. Peadar would instruct Seamus to repeat his instructions until he got it right – hard work that paid off and changed the fate of the Irish frame drum.
Seamus recalls the experience fondly:
'He was so helpful that I am forever grateful to him. He set me on the path that has given my life such richness of experience and pleasure.'
– Seamus O'Kane
Seamus O'Kane: Innovator of the Irish Drum
Throughout his career Seamus has introduced a number of revolutionary changes to traditional bodhran construction:
Irish Bodhran Tuning & Tensioning
In 1975 while holidaying in Gaoth Dobhair, Co. Donegal, Seamus was attending nightly music sessions in Hiúdaí's bar. He was experiencing a problem however. The high humidity caused the skin to slacken, rendering his bodhran unplayable. On returning home, he sought to remedy this.
Several months later at a different session, Seamus met with an old friend, Joe Diamond who was playing a banjo that he had built himself. While examining the instrument Seamus found the inspiration to solve his bodhran skin problem.
His solution? The addition of a screw-driven, moveable, internal tone ring. The precursor to the modern bodhran tuning system as we know it today.
While the tone ring mechanism on the Irish tenor banjo pulls from the outside, O'Kane's would instead push from the inside, allowing the player to tighten or loosen the tension of the drum skin as necessary. This simple yet innovative idea would change the world of bodhran making and bodhran playing forever, eliminating the threat of atmospheric conditions to the tension of the drumhead and making the bodhran tunable.
It took a while before other other bodhran makers took notice of Seamus' innovation, but once they realised its potential, they adopted this new style of bodhran contruction. This trend was also copied in the making of frame drums throughout Europe and can now be found worldwide:
'To see my idea being copied gave me a sense of great pride. Initially the idea that such an ethnic drum design should be tampered with caused annoyance amongst other big makers. Progress gladly prevailed.' – Seamus O'Kane
Lambeg Skin
Seamus pioneered the use of Lambeg skins. This thinner goatskin broadened the tonal range of the bodhran, producing clear crisp tones which allowed players to further explore the potential of the drum:
Bodhran Taping
Taping bodhrans is a technique where the skin around the rim of the drum is lined with black electrical tape. Taping dampens the sound of the bodhran, reducing unwanted overtones and improving its harmonics, creating a richer tone. It is largely accepted today as best practice.
Seamus O'Kane was one of the first bodhrán makers to start taping his bodhrans, learning the practice from the iconic bodhran player Johnny Ringo McDonagh. Seamus began taping the skin around the rim of his drums from the 1970s onwards, adopting this new technique into his bodhran design.
This new taped drumhead would soon become the norm for both bodhran makers and players alike. With a broadened tonal range and improved harmonics, Irish musicians began to fully examine the capabilities of the bodhran.
A Lasting Influence on Traditional Irish Music
O'Kane revolutionised bodhran making across the globe. Owning one of his instruments is like owning a piece of history. An iconic name in the world of traditional music, Seamus O'Kane has most definitely earned his legendary status. To learn more about Seamus and his drums, visit his official website: www.tradcentre.com/seamus
Musical Inspiration
If you're feeling inspired and want to get started on your own bodhrán journey, then why not take a look at our wide selection of McNeela Bodhrans. Paraic McNeela has been making bodhráns since 1979 and his unique range of bodhrans are perfect to help you take those all important first steps. 
We stock bodhrans from 12 to 18 inches in diameter, with rim depth of 3 to 6.5 inches. Our drums are skinned with ethically sourced, sustainable goatskin that has been hand selected for its quality, making each bodhran truly special.
In addition to a wide range of tunable and non-tunable bodhrans, we also offer a range of accessories, so if you're looking for the perfect beater or tipper to accompany your brand new instrument, we have plenty for you to choose from.
BROWSE THE MCNEELA BODHRAN RANGE
[Featured image via Mulroy Music]